Photography: Anjuli Gopalakrishna, Sophie Leung & Priyanka Tiku Gupta
Having a mentor support you can really benefit your career growth and help you overcome hurdles at work.
Yes, we're all about believing in ourselves and having the confidence to push past limits or go beyond the goals we set. But there's something to be said for having guidance along the way, too. Especially from someone who's been through it all and has pearls of wisdom to share. That's where a career mentor comes in. This is someone who offers advice based on their expertise and experience to help you grow, develop, progress and overcome challenges. A great mentor can take your career to the next level with the right support and guidance. They can also help you avoid mistakes, expand your network, and give inspirational insights.
Read on as business owners tell us about their experiences with mentors and how they benefited from that relationship.
Entrepreneurs on why having a mentor can be the best thing for your career
1. Sophie Leung, 36
Women's core confidence coach, founder of Sophie Leung Co. & The Thriving Women's Way; follow her on Instagram
Throughout my career as a former HR professional and now entrepreneur, I always had (and still have) a few mentors and coaches as a support system. Having both helped me gain an external perspective I couldn't see. It enhanced my confidence and clarity in reaching the next level of success in my career and in my life – to become the leader I am today.
I found my mentors within my organisation and through networking, friends and family. Some were more experienced in my area of expertise; they were open to sharing their knowledge and views, which helped me hone my skills. Some were in different industries or teams, which opened my mind to different perspectives and ideas.
Mentors can help open opportunities and make connections for you. They bounce off ideas with you and show you the bigger picture, whereas coaches hold a mirror for you to dive deeper into understanding yourself. They empower you to get unstuck and keep you accountable for achieving your goals.
Without my mentors, coaches and supportive bosses, I wouldn't have gotten where I am today. Now, I lead my own company as a women's confidence coach, impacting people's lives and mentoring youths.
2. Anjuli Gopalakrishna, 47
Founder of A G Tech
Mentoring is a mutually beneficial relationship in which both mentor and mentee stand to gain. A few years ago, I decided to make a career change from fashion to digital marketing. I took all the certifications on the planet to learn and acquire new skills. To apply my newfound learning to real life, I reached out to Taru Jain to explore the possibility of working for and being mentored by him.
Why him? He's a successful businessman who runs a digital marketing training company called Future Marketer and later, Maxential. He trained folks at big names like Starbucks, Johnson & Johnson, Grab, Nestle and many more.
After a long chase of staying in touch and keeping him updated with my work, in Nov 2020, I got a chance to work with him on a very big project. It involved creating bespoke e-learning courses to teach digital marketing skills to 800 people in the global marketing workforce of a Fortune 500 MNC.
From my experience, Taru Jain was a wonderful mentor. He has a way of entrusting you with big responsibilities and empowering you to work independently. Yet he demands nothing but the best work from you! He made me the lead client-facing contact very early on. I'm grateful for the opportunity I got to sit in Zoom rooms with global capability leaders in digital marketing and independently collaborate on a project of such a big stature.
Apart from executive presence and gravitas, my key learning from his mentorship was this idea: Dissent is an obligation. In my past life as a client servicing person in the fashion world, exceptional customer service was all about bending over backwards to please the client. We'd accommodate their requests for change in style, delivery and whatnot. Pushback was encouraged only to a certain extent and as a last resort.
Working for Taru Jain was different. Every time I went to him saying, "The client wants it this way and therefore we did it this way", he would set me right – that's not why we should or shouldn't do it. He told me to show them the right thing or the right way to do it. Even if it means dissenting from the client's way. That's why you are the expert, he said. And that's why they hired you to do the job.
This clear distinction between being a mere 'vendor' versus being a reliable 'expert' and equal partner in the game was a beautiful lesson I learnt. In turn, he learned a lot about using e-learning authoring tools to create and deliver an asynchronous e-learning course. It was a mutual win. A perfect mentor-mentee relationship.
3. Priyanka Tiku Gupta, 45
SHE Coach & Founder, follow her on Instagram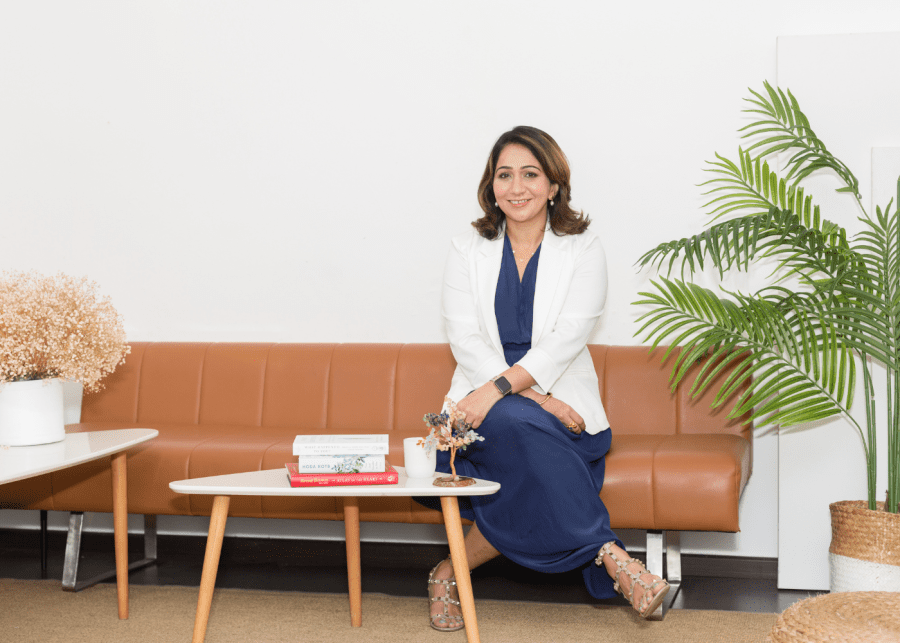 As an ICF-certified coach, I'm trained in methods of objective assessment, active listening, and reflective questioning that encourage client self-discovery. In a coaching relationship, there's a supportive and co-creation partnership in which the coach serves as a thinking partner to the coachee. Through powerful questioning and using the coachee's skills and knowledge, the coach guides the coachee to solution-oriented and action-driven outcomes.
Meanwhile, mentoring is a supportive and advising relationship between two people in the same career field. The experienced mentor trains, teaches and advises the less experienced mentee. In the past, it was assumed that a mentor has to be "older" to be more experienced. But nowadays, we're seeing a trend of reverse mentoring where the older team member is seeking new and innovative thinking from younger team members.
A mentor imparts knowledge, expertise and wisdom to mentees who are usually colleagues in the same organisation or industry. The mentor usually answers the questions and provides support and specific solutions to the specific challenges raised by the mentee.
So, can you wear multiple hats for coach, mentor and boss? Yes! As a regional client director at MediaCom, I adapted my leadership style from being a boss, coach or mentor. This changed depending on the type of employee, what motivated them, their seniority and experience, and how critical or urgent the task was. I worked collaboratively with my subordinates and set annual goals and plans. I helped them plan, organise, control, and coordinate their tasks; and I ensured these aligned with the organisation's goals and the employee's professional goals.
Feeling inspired yet? If you need expert advice or peer mentoring for your business, check out Launchpad, a networking platform that encourages connection, business support and community.