When we need a short break from Hong Kong, you can often find us jumping onboard a ferry to Macau for a change of scene, but we're not just going for the casinos. Here are the best art galleries in Macau to discover
Instead of just pulling down the handle of a slot machine in a casino to idle away your time, there is actually so much to discover in The 853. If you've read our alternative Macau city guide, you'll find out there are a number of independent bookstores, underground gig cafes and vegetarian restaurants in Macau worth checking out. This time, we've scouted out the coolest design spots and art galleries in Macau, so there's more for you to see. And if you want to make a cultural weekend of it, then check out our guide on where to stay in Macau, all tried and tested by us, of course!
Art galleries in Macau (and other design spots we love)
Taipa Village Art Space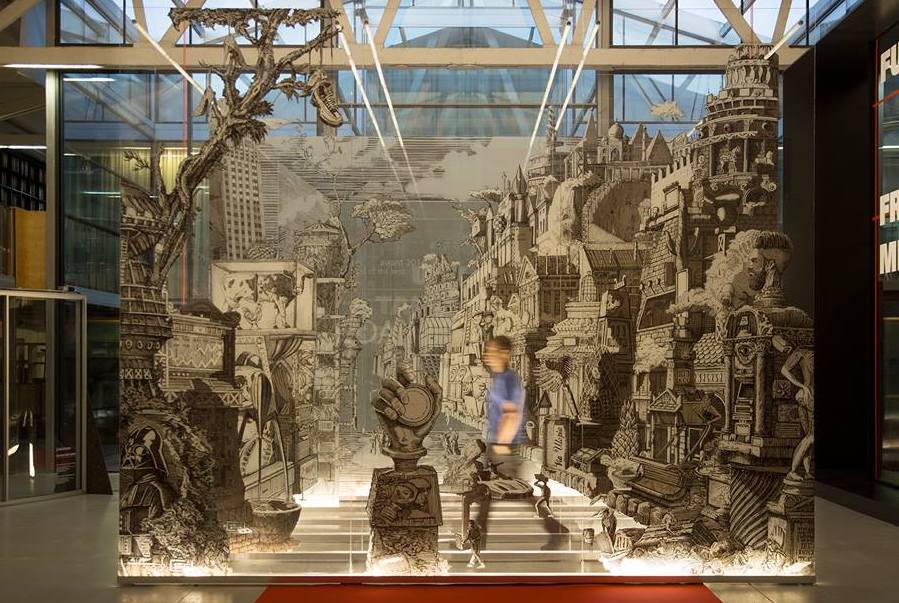 Located in the heart of Taipa Village, Taipa Village Art Space is known as a cultural pilgrimage for art lovers to discover something different and unique amidst the concrete jungle. It's one of our most beloved art galleries in Macau as they always offer an awe-inspiring art journey.
Taipa Village Art Space, 10 Rua dos Clerigos, Old Taipa Village, Macau, p. +853 2857 6118, 氹仔木鐸街10號
10 Fantasia
10 Fantasia is one of the most interesting and multi-functional art galleries in Macau (or basically just a giant art space). Serving as an incubator for local emerging artists in Macau, they feature new talents from different areas, from visual arts to performing arts. There are two exhibition halls and nine showrooms, as well as classrooms and a library at 10 Fantasia,  that's why you can always find an array of exhibitions, talks and workshops being held – even children can participate in their drawing or music classes!
10 Fantasia, Edificio Kei Luen, 17 Rua de São Miguel, Macau, p. +853 2835 4582, 澳門望德堂區瘋堂斜巷10號
Navy Yard No.1 – Contemporary Art Center
Formerly known as D. Carlos I dock mechanical room, The Navy Yard No. 1 – Contemporary Art Center is a historic site, as it used to be the dock mechanical room of Government for building and reconditioning ships. Hoping to help promote local arts, it now invites a range of artists from different regions to do art exhibitions, as well as experimental performance art programs.
Navy Yard No.1 – Contemporary Art Center, Rua de S. Tiago da Barra, Macau, p. +853 8988 4000, 澳門媽閣上街
Macau Museum of Art
The Macau Museum of Art consists of different exhibition areas, such as the Gallery of Chinese Paintings and Calligraphy, the Gallery of Chinese Ceramics. Dedicated to promoting art education of all sorts at every level, The MAM has organised a number of interesting exhibitions showcasing Ming and Qing dynasties calligraphy and painting since 2014. It's definitely one of the must-go art galleries in Macau!
Macau Museum of Art, Avenida Xian Xing Hai, Macau, p. +853 8791 9814, 新口岸冼星海大馬路
Tap Seac Gallery
Established to further public appreciation for the arts in Macau, The Tap Seac Gallery has become one of the destinations for art lovers since 2015. Not only does it host a number of visual arts exhibitions and cultural events, The Tap Seac Gallery itself is also a one of the most distinctive historic buildings in the area with a European and neo-classical flair – definitely worth checking out.
Tap Seac Gallery, 95 Avenida Conselheiro Ferreira de Almeida, Macau, p. + 853 2836 6866, 澳門塔石廣場文化局大樓
Macau Design Centre
As Macau's first innovative multi-functional design centre, Macau Design Centre is the spot for you to learn more about Macau design. The five-story center consists of a bookstore, a cafeteria, creative shops, exhibition halls and more – they also hold exhibitions and seminars for visitors of all ages, so there's no excuse not to jump on that ferry right now.
Macau Design Centre, 5 Travessa da Fabrica, Macau, p. +853 2852 0335, 澳門製造廠巷5號
Vintage Pepperland
One of the most lovely vintage design spots in Macau! All about being fun and quirky, Vintage Pepperland sells an interesting array of vintage dresses, tote bags and accessories. And we just love it.
Find out more about vintage stores in Hong Kong.
Vintage Pepperland, 41B Rua Nova de São Lazaro, Macau, p. +853 6683 8877, 瘋堂新街41B號富成大廈地下
iAOHiN Gallery (NOW CLOSED)
Located on Macau's historic Rua da Tercena, iAOHiN Gallery has been one of the most vibrant art galleries in Macau since 2007. Showcasing a diverse range of artworks created by emerging contemporary artists living in and outside of Macau, iAOHiN hopes to facilitate a cultural dialogues betweens artists and visitors. Themed exhibitions and workshops are held regularly, and they make sure originality and creativity are their priority!
iAOHiN Gallery, Rua da Tercena 39, Macau, p. +853 2892 2598, 澳門果欄街39號