The Rolls Royce of luxury hotels, The St. Regis Bali Resort is in a class all of its own…
Overlooking a pristine ribbon of Nusa Dua's white-sand beach, infinite ocean views, lush gardens and a crystal clear saltwater lagoon, The St. Regis Bali Resort is nothing short of refined, barefoot elegance. And with its fine dining restaurants, the world-class Iridium Spa and its legendary bespoke Butler Services (just one of The St. Regis brand's heritage traditions), every destination within this spectacular address is truly divine.
But that's just the beginning of a stay at The St. Regis Bali Resort. You see, as Bali's Finest Address, it's not about the destination, but rather the journey. It's so much more than 'just' exemplary service, award-winning fine dining and six-star splendour. Instead, it's about luxurious daily rituals that encourage you to slow down, soak in the hours of the day, and of course, finish with a glass of Champagne (this is The St. Regis, after all).
We're talking heavenly stretches in the beachside yoga pavilion at sunrise, before a long and leisurely gourmet breakfast mid-morning. Then, as the day draws on, a classic Afternoon Tea at The St. Regis Bar helps you to lose track of time between lunch and dinner, while a Champagne sabering and cultural fire dance marks the magical transition from day to night, illuminated by candy-coloured skies and a palm tree backdrop.
We were lucky enough to call The St. Regis Bali Resort home for two dreamy nights, and we certainly soaked up every hour of the day. The thoroughbred of luxury island accommodation, we stayed in the breathtaking one-bedroom Strand Villa, which sits directly on the sands of Nusa Dua, with its own private butlered sun-loungers, glittering pool and tropical gardens. And yet, this was just the beginning…
Welcome to six-star paradise
As one of the only resorts in Bali that offers absolute beachfront private villas (where you can open the door to your exclusive abode and sink your toes straight into the soft sand) stepping into our Strand Villa was simply breathtaking. A sophisticated vista of bespoke furniture, crystal chandeliers and Balinese artwork is framed by floor-to-ceiling windows, unveiling the tropical landscapes and ocean horizon out yonder.
Winding through this spacious abode, we found our very own lounge with plush sofas, countless living spaces (including our own kitchen), and the sweeping master bedroom with an ensuite bathroom that's almost twice the size. There sits a giant bathtub, the fluffiest towels, a collection of luxe amenities and an all-marble rain shower big enough for two.
And guiding us through our new beachfront home was our very own personal butler, who had already run us a warm bath (strewn with a layer of rose petals), left homemade cookies by the bedside, and offered to help us unpack our bags, even pressing certain garments before hanging them in the walk-in wardrobe.
Now this is living…
Fine dining, refined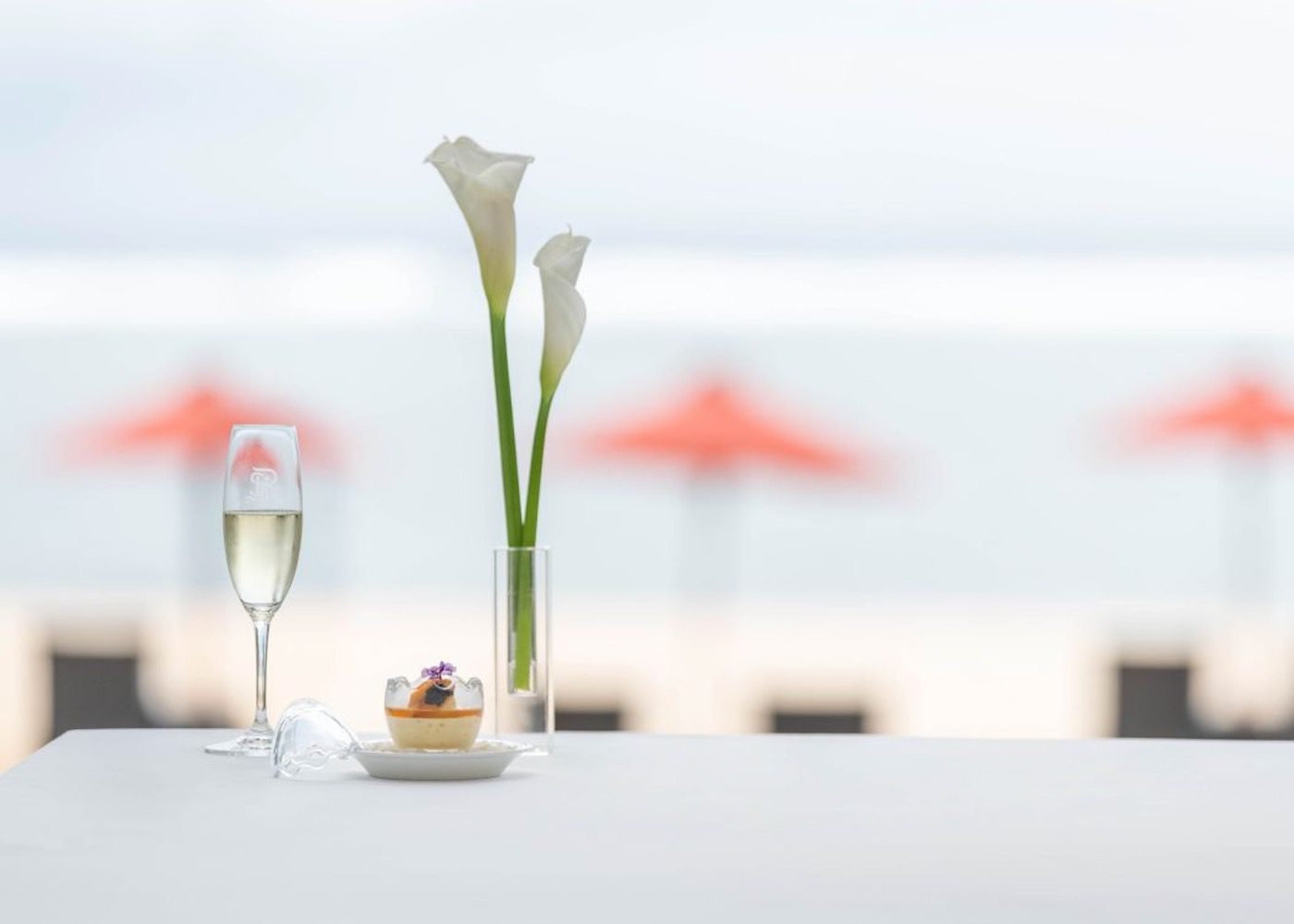 Like we said, The St. Regis Bali Resort takes every moment of the day very seriously, and so the dining rituals here are second to none. The days begin with a gourmet breakfast spread at Boneka, where fresh lobster and superb steaks are served alongside smoked salmon, artisanal cheeses, still-warm bread and a la minute eggs. You can order from the menu, or graze your way through the live cooking stations and buffet spread, which rivals some of the best brunches on the island.
Then there's the high tea experience at The St. Regis Bar, where the signature Bali Mary – a Balinese infused version of the St. Regis' world famous Bloody Mary – is served beside classic sweets, pastries and sandwiches. As the last plate is cleared, the iconic Champagne sabering marks the move towards sundown, where a captivating fire dance takes place by the Grand Staircase, and every lantern throughout the resort is ignited by fire…
Once darkness falls, wander through the resort's manicured, starlit gardens towards the al fresco Dulang Restaurant, where an authentic and exquisite Indonesian feast is served up amidst tropical gardens. You'll feast like a king on platters of royal specialities that showcase the cooking traditions and rare ingredients of Bali, like chilli bonito baked in banana leaf, chargrilled satay smoking on a grill, and an entire cart of tableside sambals. It's at once a delicious and cultural experience, with Balinese dancers and rindik instruments serenading the majestic evening.
Last but certainly not least, a stay at The St. Regis Bali Resort simply wouldn't be complete without securing a hot-seat at Kayuputi, the award-winning fine dining restaurant that foodies around the world travel to try. A shining beacon of the island's culinary scene (and a thirteen-time winner of the Wine Spectator Award), Kayuputi stands proudly on the beachfront, home to its Asian-influenced haute cuisine from Executive Chef Agung Gede and his impeccable team. With its priceless setting, magnificent ocean views and oh-so decadent menu, Kayuputi is unrivalled. And if you're in the neighbourhood on a weekend, the iconic Saturday and Sunday brunches are where you can savour a seemingly endless parade of hand-crafted canapés, fine caviar, local lobster, oysters, foie gras and high-grade meats. It's one experience you simply cannot miss.
Pampered perfection
Throughout our spectacular stay at The St. Regis Bali Resort, we were pampered, preened and treated like a VIP at every turn. There were candlelit dinners on the beach, refreshing dips in the saltwater lagoon, thoughtful notes left by our bedside and sweet treats delivered to our doorstep after turn-down. And that's before we even mention the countless glasses of Champagne to raise a glass to each daily ritual…
But one of the dreamiest, most ahh-inducing moments at the resort (and perhaps in our entire life?!) was during our trip to Iridium Spa. Like stepping through the gates of heaven, the spa is an oasis of peace and tranquillity, woven by calming reflective pools, striking Balinese sculptures and blissful gardens. We were treated to the 90-minute Signature Massage, which uses specialty products and traditional Indonesian healing practises with borrowed techniques from Shiatsu, Indian and Ayurvedic philosophies. We've spa'd a lot across Bali, but this was one of the best we've experienced.
Pampered, perfectly content, and forever inspired to celebrate every hour of the day, The St. Regis Bali Resort is indeed Bali's Finest Address…
The St. Regis Bali Resort, Kawasan Pariwisata, Lot S6, Nusa Dua, p. +62 361 847 8111.