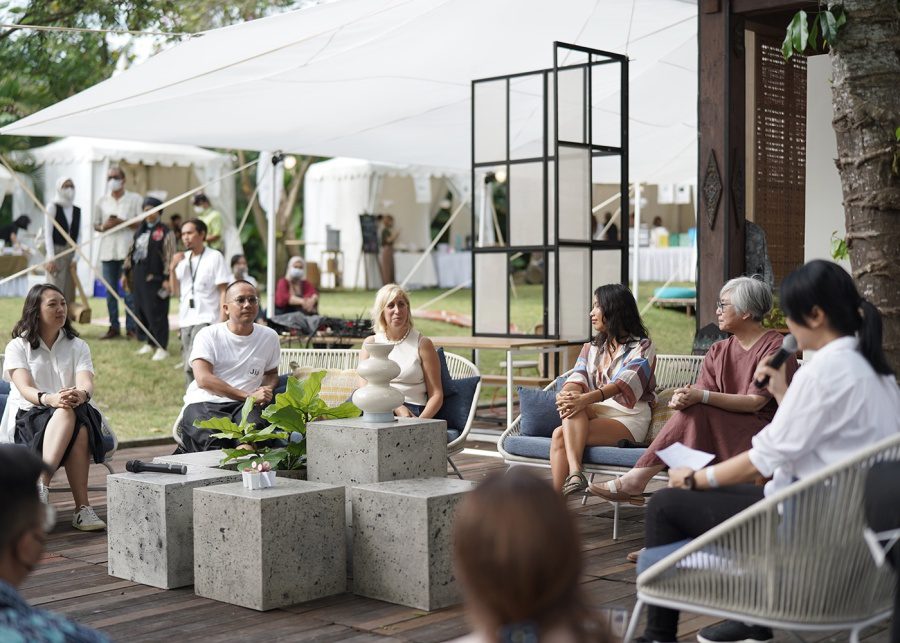 Back for a second time at Plataran Canggu, Jia Curated Kiosks is once again presenting a long and immersive weekend of local art, culture, spaces, tastes, live performances and creative community connections…
After a very successful launch in early July, Jia Curated Kiosks is returning to Canggu once again, this time with the theme "Material Alchemy". In case you missed the last event, Jia Curated Kiosks is an immersive festival that's designed to bring people together, connect the creative community and celebrate all of our favourite things: artisanal homewares, local culture, delish food, impressive live performances, and all-local Indonesian art and design. It's happening over three days – from the 9th to 11th December 2022 – and is taking place at the ever-stunning Plataran Canggu,
Trust us when we say you'll want to mark your calendars for Jia Curated Kiosks 02. It's the only festival in Indonesia that spotlights local artisans and handmade items, featuring a wholly immersive festival experience that invites you to gather with friends (and even your furry companions!) over good food, music, art, homewares, and great company. You'll get the chance to meet the makers, join interactive workshops, groove to local bands, taste your way through local cuisine, and connect with Bali's creative community. The last event attracted more than 3,500 likeminded festival-goers, and this second edition is set to be even bigger and better than before…
There's going to be so much to see, do and experience at Jia Curated Kiosks 02, you'll definitely want to try it all. So, here's a taster of what you can look forward to at this community event, and all the fabulous happenings that you'll want to take part in…
Things to see and do at the Jia Curated Kiosks 02 weekend festival
Browse wholesome homewares
Jia Curated Kiosks has been put together by Budiman Ong and Rudi Winata, the founders of Jia by OCK – an Indonesia-based homewares collective that tells a story – together with Yang Yang Hartono, an avid textile collector. It's only fitting then, that at this three-day festival, you'll get the chance to browse your way through more than 30 different wholesome homeware brands from Bali and neighbouring islands.
Each brand has been carefully selected by Jia by OCK for the different stories they tell: be it the history of the makers, the philosophies behind the products, or the story of how they came into being. And most of all, all of the homeware brands joining the Jia Curated Kiosks festival share the same value: to respect traditional crafts while creating pieces that make modern life easier. We can't wait to shop eco-textiles from Threadapeutic, all-local furniture from Wof Wooden, natural homewares from Umah Living, and of course, all of the fabulous Jia by OCK bowls, baskets, journals and bathroom sets.
Join interactive workshops
Like we said, Jia Curated Kiosks will be so much more than simple retail therapy, so throughout this three-day event, you'll get to try out all the immersive, artisanal workshops taking place throughout the weekend, hosted by local brands and artisans. You'll find us at the Paint a Piece ceramic workshop with Kevala, the portrait sketching session with Sketchy Tuesday, the Indigo Workshop by Pagi Motley, and the Making Banana Paper showcase by Greenman Banana Studio. You'll also want to try the Family Fun Yoga by Ubuntu Bali, and catch the craft showcases and exhibitions dotted throughout the festival itinerary. This year, over 20 Indonesian designers will be showcasing their work for you to see, touch and experience at the festival. We can't wait!
Check out the live music and performances
In between shopping, crafting and mingling, you'll want to check out the cultural and artisanal performances at Jia Curated Kiosks 02. We can't wait to watch blues guitarist Made Mawut, and multi-instrumentalist Krisna Floop. And to really keep the festival vibes alive, you'll want to groove to acoustic folk group Catnip Biscuit, and to the sounds of old-school funk and disco from Ika & The Soul Brothers.
Feast on delish local food
Last but certainly not least, one of the main highlights at Jia Curated Kiosks will be the lineup of delicious local food to feast on. There'll be 30 different food and beverage kiosks to graze through throughout the weekend, including many of your all-time foodie favourites. We're talking Ayurvedic bites from Vedic Kitchen, craft beers from Kura Kura, artisanal cheeses from Rosalie Cheese, coffee and cakes from Rusters, local wine from Plaga, and so much more. Bring an appetite, and get ready to feast!
All the details you need
Jia Curated Kiosks will take place at the stunning Plataran Canggu, spread out over more than 1000 square-metres of outdoor and semi-outdoor labyrinth-like spaces. You'll get to wander through the festival and its collection of kiosks, passing through antique carved doorways and a 250 year-old joglo. Even the Jia Pavilion celebrates local art and culture; a space designed in collaboration with DDAP Architect and Kayu Lapis Indonesia – a company that focuses on environmentally-friendly wood products. This architectural and eco-friendly heritage venue is the most idyllic setting for a festival that celebrates the stories of local food, music, creations and mindful experiences – and we can't wait to see you there!
When: 9th – 11th December 2022, 10am – 8pm
Where: Jia Curated Kiosks at Plataran Canggu, Jl Pengubugan, Banjar Silayukti, Canggu-Kerobokan.
Price: Free!
For more information on the upcoming festival, follow Jia by OCK on Instagram. See you at the festival!