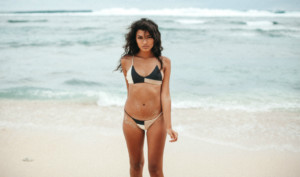 Get ready to hit the surf or laze by the infinity pool of a beach club in these gorgeous bikini's and onepieces from new Bali brand, Tann Line.
If you are getting ready for your holiday to Bali, we can guarentee you have already thought about bikini shopping.  This is the time where all your hard slogging at the gym will pay off so it's imperative that you find the chicest, most flattering and unique bikini to don on Bali's finest beaches.  And lucky for you, we have it covered.
Introducing hot new swimwear label Tann Line – a Bali based brand that have totally nailed it.  Taking inspiration from vintage 70s shapes and combining current catwalk trends, the first collection from Tann Line is all about flattering shapes, neutral tones [with a splash of gold], and stunning patchwork vibes.  This swimwear is perfect for the actice yet fashion savvy woman, so if you love nothing more than looking and feeling your best whilst you are out enjoying a sunset surf, you will no doubt fall in love like we have.
Tann Line swimwear can be found in all Lost in Paradise stores [in Canggu, Seminyak and Ubud], so don't waste time with online shopping and 'will-they, won't-they' fit – just head to the nearest store once you land on the island, and get beach ready!
Tann Line swimwear is available from all Lost in Paradise stores, in Canggu, Seminyak, and Ubud.  Follow Tann Line on instagram @tann_line and keep your eyes peeled for their website coming soon!