Photography: Adam Wilson via Unsplash
You don't have to wait for the weekend raise your glass!
These days, delivery is the name of the game. From restaurants to hawkers, dessert shops to bubble tea stores, there's nothing quite like having it all in the comfort of home. But don't forget the booze! Whatever your poison – beer, wine, sake, spirits – we've got you covered. Check out these alcohol delivery services and throw your own little house party (for one) or clink glasses with your other half on virtual dates.
Spirits and more
Alcohaul
Featuring a neat selection of booze at wholesale prices (read: buy more for lower price tags), Alcohaul offers next-day delivery services. Plus, it won't charge you a dime for delivery if your order adds up to more than $100. Those who like to try new things will find yourself spoilt for choice with the massive range of wine, beer, cider, sake, umeshu, spirits, aperitifs, vermouth, mixers, syrups, sauces and basically anything you'd require to concoct the cocktail of your dreams. Fuss-free snacks are also available for anyone who likes to sip and nibble.
Alcohaul, order online.
Temple Cellars
Your wine chiller looking a little empty these days? Fret not, bottles are just a click away. Boasting the country's biggest range of beers, wines and spirits, Temple Cellars offers free delivery within the hour for orders above $150. It brings in new varieties every so often and puts together sweet packages for special occasions too. Plus, we're lovin' the wicked range of bottled cocktails by local bars such as Operation Dagger, Native, Ah Sam Cold Drink Stall and The Elephant Room. Oh, and if sake is what's on your mind, head over to its sister site Sakechan for happiness in a bottle.
Temple Cellars, order online.
Alcohol Delivery
This is essentially your one-stop-shop for anything and everything alcohol-related. The extensive online store is home to tequila, vodka, gin, rum, brandy, cognac and whisky, as well as sake, umeshu, soju, wine, champagne, beer and cider. Plus, it promises to deliver its goods to your door in an hour – chilled, no less. Thinking of throwing a house party (perhaps virtual for now)? Get your hands on the drinking games for maximum entertainment.
Alcohol Delivery, order online.
Liquor Bar
In desperate need of a G&T after a long day? Browse through Liquor Bar's offerings and get your bottles delivered to you on the same day (you can top up $25 for the express option too). Besides its long list of spirits, craft beers, sake, shochu and wines, the retailer also stocks soft drinks and juices so you can get everything you need for a dinner party at home.
Liquor Bar, order online.
Cellarbration
Sending booze to homes since 2012, Cellarbration prides itself on having the largest collection of wine, spirits and beers in the region. Those with an eye for discounts can keep tabs on its warehouse sale promos for regular deals. Or go straight to the liquor of your choice. Think whisky, gin, vodka and tequila, alongside wines sorted by type, country and varietal, as well as beers and mixers.
Cellarbration, order online.
Prime Liquor
Fast service is what this platform aims to give its customers, with a promise of delivering alcohol to you in 45 minutes – even at midnight. If you're amassing supplies for your depleted liquor cabinet, chalk up a bill of more than $120 to get free delivery. This joint has all kinds of good stuff for a fun time at home – think soju bundles, Roku gin and tonic packages, and all the beers, ciders and wines you can get your hands on.
Prime Liquor, order online.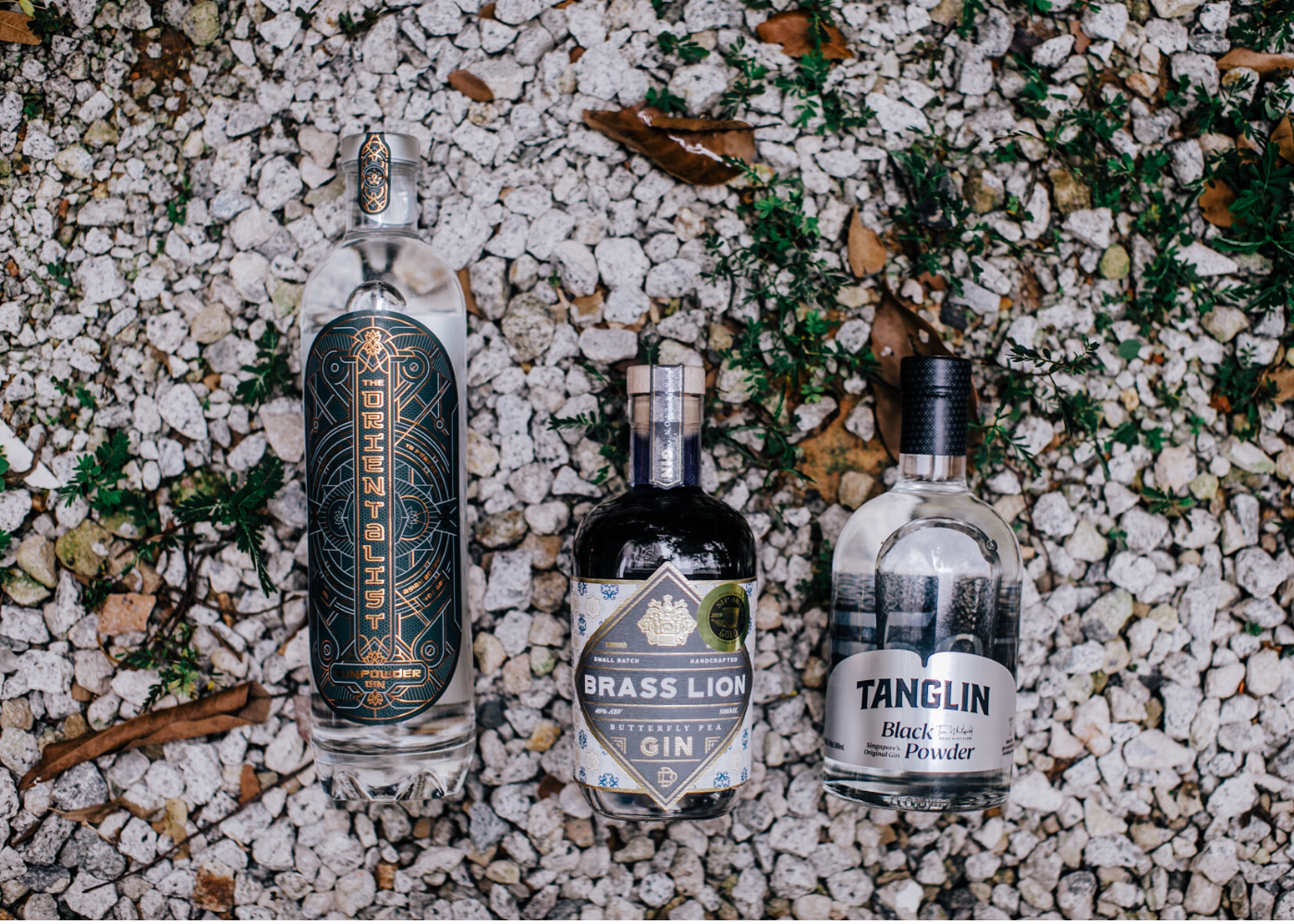 Selects Singapore
Shop premium spirits, sake, wine and craft beer from Selects Singapore, which focuses on independent local and regional alcohol brands. You'll find a great selection of goods from homegrown small-batch producers including Brass Lion Distillery's Butterfly Pea Gin and Tanglin's Black Powder Gin, alongside craft beer from The General Brewing Co and Brewlander Singapore. Need a last-minute stock-up? Get your order in before 4pm for same-day delivery.
Selects Singapore, order online.
Destination Beverage
A supplier to bar establishments in the city, Destination Beverage houses premium rums, great gins, French liqueurs and brands like Tito's Handmade Vodka and WhistlePig Rye Whisky from the US, as well as Copperhead Gin from Belgium. Treat yourself to bottle packages or browse through the range of cocktail kits to make your own Singapore sling, pisco sour, espresso martini and more.
Destination Beverage, order online.
Wines N Spirits
In the mood to guzzle down cocktails at home? Try the bottled versions from this retailer – or purchase your favourite spirit to make your own concoctions. Champagne, sparkling, red and white wines are on the list here as well, alongside beers and ciders.
Wines N Spirits, order online.
Paneco
This international online alcohol retailer brings the booze to your door with spirits, wines and beers from across the globe. It stocks coffee too, if you need a little mid-day perk-me-up. New to the cocktail world? Scroll through its recipe section to learn how to shake up your own cosmopolitan, martini, mimosa, margarita, and yes, even the iconic Singapore Sling.
Paneco, order online.
Sparkling, red and white wines
Bound by Wine
You know what's better than wine delivered to your door? A wine subscription that ensures you're perpetually well-stocked with favourites, both new and old. This works great for those new to the scene or drinkers who aren't entirely sure what to go for (we can't all be sommeliers!). Just sign up for the weekly or bi-weekly delivery, which will be crafted according to your preferences. Each bottle order will go into your virtual wine diary for you to access anytime. Oh, and the more you review and rate your wines, the closer you'll get to uncovering the flavour profile you love!
Bound by Wine, order online.
Through the Grapevine
Got a thing for sustainable, organic wines produced by family-run vineyards? Forget mass-produced bottles and get acquainted with boutique varieties spotlighted by TTG. From Mount Brown Estates to Wild River, the collection here includes both New and Old World classics for your sipping pleasure.
Through the Grapevine, order online.
75cl
Working directly with wineries to nab wholesale prices, this wine shop brings you the finest varieties of the grape stuff. It only features bottles that the team loves, shipped to Singapore from family-owned vineyards around the world. You can narrow down your search by country and price range to find the chardonnay, riesling, cabernet sauvignon or shiraz best suited to your taste.
75cl, order online.
EWine Asia
Specialising in fine wines and spirits, this streamlined platform lets you browse by style, grape variety, vintage, price, region, country and bottle size. Customers can also search for promos, award winners, organic and biodynamic wines, and filter to suit your mood (date night, anyone?). Meaning you'll have a much easier time finding whatever it is you're looking for.
EWine Asia, order online.
Beer and cider
Thirsty Beer Shop
Can't wait to crack open a cold one? Thirsty's here for you. Part of the beer scene since 2012, the store highlights more than 100 great craft beers – all affordably priced, too! You can comb through the selection according to your fave flavour profile, filtering by light, medium, bold, dark, complex, sour and fruity bottles. Ciders are included here as well, alongside wines and a small range of spirits.
Thirsty Beer Shop, order online.
Trouble Brewing
We're not looking for trouble, just damn good brews. And this local craft beer brand offers just that. Toast to its Singapore brews like Stolen Boat summer ale, Road Hog session IPA, Brick Head pilsner and Middle Child wheat beer. Or go ahead and treat yourself to boozy cocktails such as I Am Coconuts (red chilli and kaffir lime-infused white rum with lime and coconut syrup) and Laiba Sour (whiskey, lemon, nutmeg).
Trouble Brewing, order online.
Sake and shochu
Sake.sg
Working only with renowned and established breweries in Japan, this sake retailer is obsessed with its drink of choice. Find your favourites, learn more about its partners, and read about the basics of sake on its site. Can't get enough? Pick a subscription package and you'll be pleasantly surprised by the bottles that arrive at your door every month.
Sake.sg, order online.
Inter Rice Asia
Inter Rice Asia is well-acquainted with all there is to know about the fermented rice drink – and serious sake lovers will find everything they want here. From junmai to honjozo to daiginjo, originating from multiple regions across the country, there's plenty to pick from. You can also find your preferred flavour and search through its collection for sweet, dry, complex, light and full-bodied varieties.
Inter Rice Asia, order online.
Sake Inn
Sake Inn has been around for over a decade, bringing you a range of popular sake, shochu and liqueur bottles from Japan. Think barley shochu, sweet potato shochu, plum liqueur, yuzu liqueur, junmai, daiginjo and loads of other good stuff. If you're craving for a bite to eat, pair your alcohol delivery with Japanese munchies available on the site.
Sake Inn, order online.