The golden hour is gorgeous in Singapore!
Capture Instagram-worthy photos at these gorgeous sunrise and sunset spots in Singapore.
Catching the sunrise or sunset in Singapore is a magnificent thing. It's definitely worth waking up at the crack of dawn for a nature hike or booking an alfresco dinner at a stunning restaurant. There's just something about these majestic moments that make you feel completely serene. Gotta appreciate the beauty of nature! Lucky for us, the city's full of pretty parks, breezy beaches and solid cycling routes. Just take your pick…
Best places for sunrise and sunset views in Singapore
1. Labrador Nature Reserve
Love a good seaside view? This nature spot in Singapore is the very image of tranquillity come sunrise or sunset. It's quiet and calm – the only residents here are birds and squirrels. Couple that with cool breezes, picturesque panoramas and majestic cliffs, and you have a winner.
Labrador Nature Reserve, along Labrador Villa Road
2. Seletar Fishing Village
Did you know the quiet neighbourhood of Seletar is home to our island's last fishing village? It's a hidden spot with rustic huts and wooden boardwalks. You can explore the nearby greenery and waterfront views on foot or on two wheels before settling down for sunset sights at the beach area. It's quite a tranquil experience – perfect for a solo photography jaunt or a chill date.
Seletar Fishing Village, Seletar North Link, Singapore 797445
3. Raffles Marina Lighthouse
As one of the few remaining functional lighthouses in Singapore, this underrated gem looks best at sunset. It's totally worth the trek to Tuas! Stroll along the pier and snap photos as you go or pick a spot to sit and stare at the amazing view.
Raffles Marina Lighthouse, 10 Tuas West Drive, Singapore 638404
4. Yishun Dam
You may or may not want to join other couples in Singapore for an outdoor date experience at sunset, but catching the sunrise here is always a good idea. Make your way to this dam located in the northern part of the island for a beautiful start or end to the day. Heads up: the best way to get here is by car.
Yishun Dam, Yishun Avenue 1, Singapore 769130
5. Marina Barrage
Marina Barrage isn't just an idyllic kite-flying and picnic spot. This waterfront venue is also an amazing place to catch the sun's reddish-orange rays in Singapore. The reflection of the sun's morning hues on the reservoir is pretty much a picture-perfect moment. Plus, it doubles up as a romantic evening date with your significant other!
Marina Barrage, 8 Marina Gardens Drive, Singapore 018951
6. Lower Seletar Reservoir Park
Imagine the sun juxtaposed against the turquoise waters. Lower Seletar Reservoir Park is an awesome place to spot the sunrise and sunset in Singapore. Plant yourself on a bench along the edge of the reservoir: the great view will make the 5am wake up call worth it. You can also walk over to the Heritage Bridge or the jetties for more incredible views.
Lower Seletar Reservoir Park, Yishun Avenue 1, Singapore 769139
7. Marina at Keppel Bay
A picturesque place for alfresco dinners and evening strolls by the water, Marina at Keppel Bay boasts a view dotted by yachts. Even if you're not here for the food (restaurants include Bayswater Kitchen and Prive Keppel Bay), a delightful jaunt down the boardwalk at sunset makes for a dreamy date.
Marina at Keppel Bay, 2 Keppel Bay Vista, Singapore 098382
8. Woodlands Waterfront Park
Head all the way up to the north of Singapore. Here's where you'll find an underrated park that boasts glorious views of the sunrise and panoramic sights of the Straits of Johor. Popular among residents in the neighbourhood, Woodlands Waterfront Park offers a few trails, from running to cycling tracks, so you can squeeze in some exercise before you soak in the spectacular sunrise or sunset.
Woodlands Waterfront Park, Admiralty Road West, Singapore 759956
9. Sembawang Park
A mix of industrial grunge and idyllic seaside vibes can be found on this beach. Marvel at the cranes and constructions in the distance for a sunrise with an edge, or settle for the postcard-perfect coconut tree-by-the-beach sunset – whatever floats your boat. It's all about pretty panoramas! Plus, you can pop by Sembawang Hot Spring Park before or after to keep the relaxing day going.
Sembawang Park, Sembawang Road
10. Changi Boardwalk
It may be far out in the east, but on the bright side, think of all the food in the area when you're done sun-watching. Since the sun rises from the east, Changi Boardwalk is probably one of the best places in Singapore to catch the sunrise. Make your way to the coast and enjoy the morning breeze while waiting for the sun to make its fabulous morning appearance. From Changi Ferry Terminal, walk along the boardwalk until you've spotted a small hut – that's the spot for the morning spectacular. Oh, and its Sunset Walk isn't called that for nothing. The views are unobstructed, giving you a front-row seat to the glorious action.
Changi Boardwalk, 7A Gosport Road, Singapore 509710
11. Marina Bay
Aside from being Singapore's swankiest district with a glitzy shopping mall and world-class attractions, Marina Bay is also a great place to capture an enthralling sunrise or sunset with the striking cityscape as your backdrop. Located adjacent to the Central Business District, it's perfect for an early morning jogging session to see the sunrise before work or an evening stroll after you're done for the day.
Marina Bay, Singapore
12. Merlion Park
This one's a hotspot. You'll find photography enthusiasts gathering in the mornings for a shot of that iconic, futuristic Singapore skyline bathed in the morning light. Chasing the sunrise is truly a sport. Take a selfie with the Merlion while you're at it. And if you're camping out for the sunset, end off your romantic night with a breezy stroll along the waterfront.
Merlion Park, 1 Fullerton Road, Singapore 049213
13. Kranji Reservoir Park
A favourite amongst sunrise photographers, Kranji Reservoir is peaceful and secluded enough to make you feel like you're not in Singapore. Sure, you probably have to get up super early to visit, but it makes for a tranquil morning. And the amazing photos you'll get are definite keepers. Pack a picnic with you if you're stopping by in the evening for a quiet date!
Kranji Reservoir Park, along Kranji Way
14. Mount Faber Park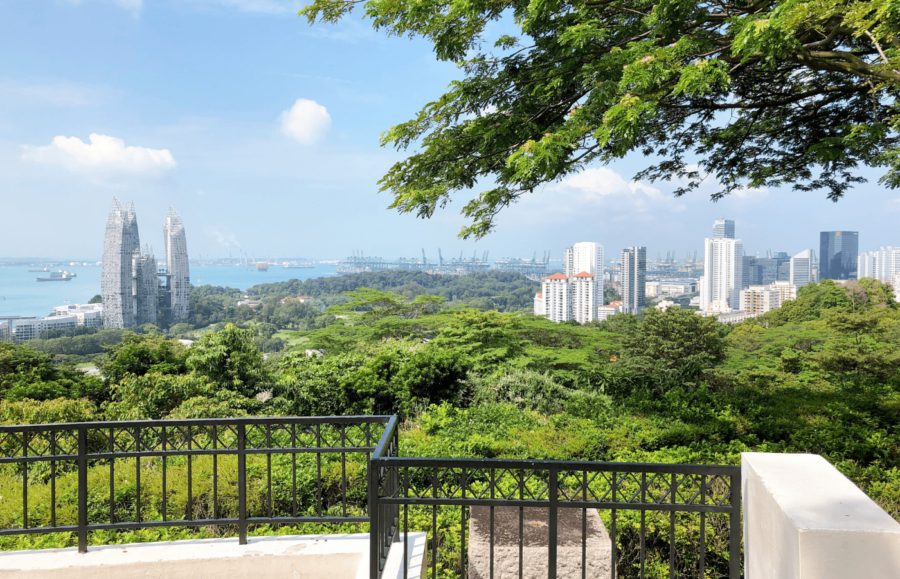 Another great spot to see the sun in action? Mount Faber. Catch the Singapore city skyline gradually appearing or disappearing across the horizon at the top of the hill. It's all about amazing aerial views complemented by a bird's eye sweep of the surrounding neighbourhoods. Oh, and hiking enthusiasts can make a pit stop here on your way through the Southern Ridges trail.
Mount Faber Park, junction of Kampong Bahru Road and Telok Blangah Road
15. Punggol Waterway Park
Even though the famous Instagram tree has ceased to exist, you can still capture spectacular sunny sights at Punggol Waterway Park. Just remember to go all the way to Sunrise Bridge for the best view. And if you're not an early bird, check out the Sunset Strip with waterfront views of Jewel Bridge. Don't say we didn't tell ya!
Punggol Waterway Park, Sentul Crescent, Singapore 821313
16. Kranji Marshes
Explore the freshwater marshland of Kranji for a rustic time. As one of the largest freshwater marshes in the country, it brims with a diverse array of flora and fauna. For undisturbed sights, head to the observation tower during sunrise or sunset to look out at the changing skies lit up with reddish-orange rays. It's nature's finest hour!
Kranji Marshes, 11 Neo Tiew Lane 2, Singapore 718814
17. Pasir Ris Park
There's plenty to do at this charming and tranquil park – from water sports to cycling, inline skating to barbecue gatherings. What's more, you can see the sun gracefully emerging into the dark morning sky. Enter the mangrove forest at the park via the boardwalks, keep going until you arrive at the three-storey Bird Watching Tower, and make your way to the top for the best view ever!
Pasir Ris Park, along Pasir Ris Central, Singapore 519639
18. Coney Island
This rustic park is home to myriad feathered creatures, making it perfect for a day of bird-watching. You can also take a hike around Coney Island on a bicycle or on foot. While cycling on the main path, look out for signs that'll direct you to five beach areas. While these sandy spots don't offer pristine shores and azure waters, they do provide a tranquil seaside break. And if you head there early enough, you might just be able to catch the breathtaking sunrise.
Coney Island, beside Punggol Promenade Nature Walk
19. Tanjong Rhu Promenade
Want to avoid the jostling crowds and their cameras? This is the spot for you. The Tanjong Rhu Promenade trail beneath the ECP highway winds along the water, giving you peaceful, undisturbed sights of the sun over the horizon. For another view, head to the Tanjong Rhu Lookout Tower and admire the vibrant skies.
Tanjong Rhu Promenade, Tanjong Rhu Bridge flyover
20. East Coast Park
Ask any regular sunrise spotters and they'll point you to East Coast Park. With the beach and ships adding to the charm, it's highly likely you'll get gorgeous photographs. Do an early morning jog along the park or a crack-of-dawn cycling session to get there on time! Psst: Bedok Jetty is a great spot to watch the idyllic scene, whether you prefer the sunrise or sunset.
East Coast Park, along East Coast Parkway and East Coast Park Service Road
21. Gardens by the Bay
It's always better to climb up high for the best sunrise views. So head to this park before dawn (it opens at 5am) and wait for the sunrise to get lovely views of the Supertree Grove framed by sunlight, plus the reflections they make on Dragonfly Lake. It's totally worth the early wake-up call! But if you're not a morning person, sunsets are just as exquisite.
Gardens by the Bay, 18 Marina Gardens Drive, Singapore 018953
22. Pulau Ubin
Be adventurous and jump on a boat to Pulau Ubin to catch the sunrise! The first boat leaves as early as 6am and the ride only takes about 10 minutes. That leaves you plenty of time to walk over to one of the beaches, settle down at a nice spot, and catch the first ray of light at the kampong island. After that, you're good to go for a full day of exploring.
23. Pandan Reservoir
Journeying to the west? Make a date with Pandan Reservoir for a quiet sunset viewing. Stroll along the waters of this hidden spot or amp up your adrenaline with a jog – either way, it'll be an idyllic experience at the sleepy spot.
Pandan Reservoir, along West Coast Road and Jalan Buroh
24. Bishan-Ang Mo Kio Park
We think all Bishan and Ang Mo Kio residents can agree that the park gets a gorgeous orange tint come sunrise or sunset in Singapore. There are also a couple of dog runs so your furry friend can have some fun while you enjoy the scenic greenery. Alternatively, have a picnic with the fam on the open lawn or one of the grassy banks by the river.
Bishan-Ang Mo Kio Park, along Bishan Road and Ang Mo Kio Avenue 1
And that's our list of amazing sunrise and sunset scenes in Singapore. Happy exploring!