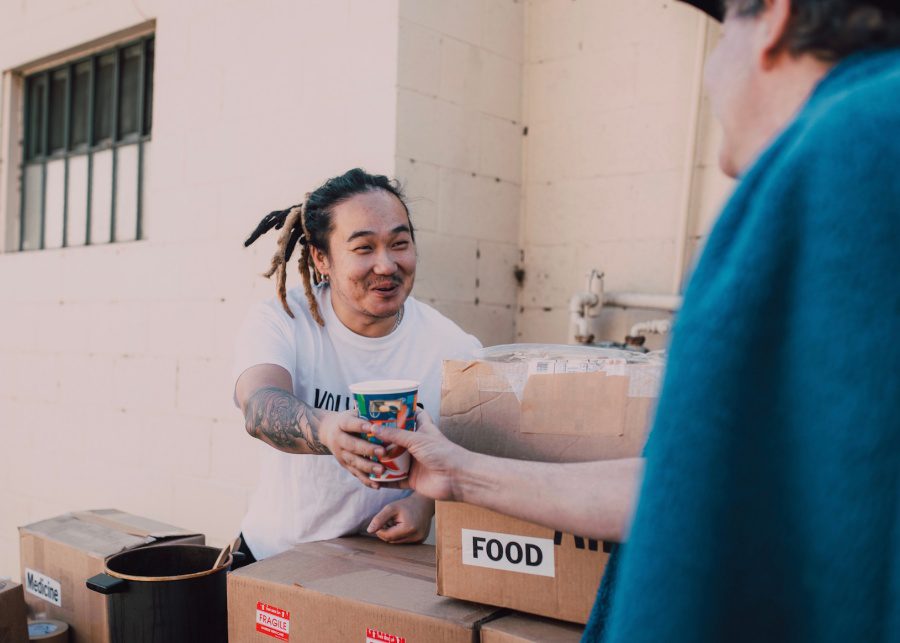 Photography: Rodnae Productions
Are you hoarding more stuff than you need? Here's where to donate clothes, accessories and food in Singapore.
Here's the downside of living in a shopping paradise: we're guilty of having more than we need. It's easy to become wrapped up in our material comforts with little thought for the less fortunate. So if you'd like to make a difference (but lack the time to volunteer), you might want to donate clothes or pre-loved items in Singapore. Heads up, though – you should check with the organisations before lugging your stuff over. Some of them may have restrictions on specific types of clothes and household goods.
Where to donate clothes and more in Singapore
1. HCSA Community Services
This charitable organisation in Singapore is on a mission to empower the vulnerable through its signature programmes. This includes giving hope to abused teenage girls, helping single parents who need support, and assisting ex-offenders in their journey to rebuild their lives.
Donate: HCSA accepts anything from groceries to toiletries to household supplies. However, you'll want to check the catalogue for the list of donations to make sure you're not giving them anything they don't need. Do ensure each item is in good condition as well. Reach out to them to indicate your interest in donating, and the programmes team will arrange a date for you to swing by and drop off your stuff.
HCSA Community Services
2. Society for the Aged Sick
SAS is a not-for-profit nursing home that provides care services to people in need of daily assistance and nursing care – particularly the less privileged. The services extend beyond medical and nursing care to include physiotherapy, dietary services and emotional support.
Donate: They accept food donations like Milo and milk powder, as well as other household appliances and furniture like microwaves and office chairs. Deliveries should be directed to 130 Hougang Avenue 1 during office hours.
Society for the Aged Sick
3. Books Beyond Borders
Books Beyond Borders is a social enterprise in Singapore that aims to improve education in rural Nepal. It generates funds from the sale of secondhand books, as well as through community donations. All profits after business expenses go to its cause.
Donate: Books Beyond Borders accepts fiction and nonfiction books written in English. Please check its giving guide for a preview of the types of books it accepts. Books can be dropped off at Kong Beng Industrial Building. Pick-up can be arranged if you have over 20 books to donate in excellent condition.
Books Beyond Borders
4. Blessings in a Bag
A community organisation powered by youth for youth, Blessings in a Bag supports low-opportunity youth with alternative learning experiences. It partners with social service groups to connect people with the needy, collecting all sorts of donations and used goods for local community programs.
Donate: Check out its wish list for regular updates on what it's looking for. Items can range from household products to supermarket vouchers to furniture. Anyone keen to contribute can get in touch with these folks via email at [email protected] along with photos and descriptions of your donation.
Blessings in a Bag
5. Uniqlo
Uniqlo wants to maximise the use of clothes its customers no longer wear. The brand collects and distributes its pre-loved garments to refugees and the underprivileged.
Donate: You can donate used Uniqlo clothing at any Uniqlo store during operating hours by approaching any of the staff or counters. You're required to wash the clothes prior to donation to ensure they're in good condition and make sure other personal belongings aren't stashed away with the donations.
Uniqlo, multiple locations
6. Dignity Mama
An initiative by Project Dignity, this program enables young adults with disabilities to learn entrepreneurial skills via books. Its stores, located in hospitals around Singapore, stock pre-loved books to encourage a culture of giving and reading in Singaporeans.
Donate: If you have any unwanted books lying around, don't trash them. Simply reduce waste and go eco-conscious by donating them to Dignity Mama. Children's books, comics, magazines, fiction and non-fiction titles are accepted, but take a look at the site for specifics on what not to donate.
Dignity Mama, multiple drop-off locations including Ng Teng Fong Hospital and National University Hospital
7. Green Square
Green Square aims to provide free textile recycling services to residents and organisations in Singapore. Fabrics collected will be sent to developing countries, where importers will sell them to the needy at affordable prices. It also promotes awareness of reducing, reusing and recycling through educating students in schools.
Donate: Simply drop off your clean, wearable clothes at any of the various collection points around Singapore. Accessories like belts and bags are also accepted, alongside household linen such as bedsheets and towels. But refrain from packing used socks, pillows and books in your donation. Oh, and your good deeds will be rewarded – just refer your friends and get a 10% discount at online boutique Zerrin when they hop on board the recycling train!
Green Square, multiple drop-off locations including The Green Collective at Funan and Valleypoint Shopping Centre
8. The Food Bank Singapore
Founded by two passionate people with a determination to fight hunger and reduce food wastage, Food Bank sources and rescues over 800,000kg of food each year for its beneficiaries. The food collected is distributed to various food relief efforts such as daily meal programmes and emergency food rations delivery. Everything goes through its network of partners, which include family service centres, soup kitchens, voluntary welfare organisations and schools with children from low-income families.
Donate: With plenty of bank boxes dotting the island, you can easily find one to drop off non-perishable food (or adopt one for your office!). Food Bank accepts any unopened, non-expired dry or packaged food items for its cause. Alternatively, you can also give monetary donations – just $2 can provide a meal to someone in need.
The Food Bank Singapore, multiple bank box locations including White Sands Mall and The Centrepoint
9. The Salvation Army
The Salvation Army is our favourite spot for hunting down vintage knick knacks and furniture. You can find all sorts of gems at its massive Praisehaven Mega Family Store! Committed to lending a helping hand to the underprivileged, its programmes reach out to different parts of the community like the elderly, needy families and children who require care and protection.
Donate: Recycle and help those in need by giving them your pre-loved clothing, furniture, household goods, electronic devices, toys and books. Collection services for bulky items such as furniture and appliances can be arranged as well. You can also make monetary donations online or look into options like child sponsorship and fundraising.
The Salvation Army, multiple donation booths including Upper Bukit Timah Road, Bishan and Tanglin Road
10. Home
The Humanitarian Organization for Migration Economics (Home) is a welfare group that protects migrant workers' dignity and rights. Since 2004, it has helped countless migrants, some of whom are survivors of human trafficking or forced labour. Home also provides shelter, assistance and free food for abused domestic workers, legal aid for migrant workers returning home, and training programmes such as English language and computer classes.
Donate: Home relies on monetary contributions to support the migrant worker community, so you can help out by giving anything from $10 to $500. That will go towards medical treatments, skills training and shelter for the beneficiaries. You can also give women's clothes, unopened food or toiletries to the shelter. Craft items such as sewing machines and paints are accepted, too. Additionally, you can sponsor an outing for migrant workers.
Home
11. Pass It On
This non-profit project works as an online platform to distribute unwanted items to needy and low-income families in Singapore. It's done in partnership with voluntary welfare organisations. And you can even fulfil specific wants of these families or the elderly by looking at the requested items on their wish list.
Donate: Home appliances, furniture, medical aids, mobility aids and learning aids are accepted here. You can also take a look at the Grant a Wish program to see whether your items match a family's needs. Take note: you'll have to liaise with individual organisations to pass the donated goods to their beneficiaries.
Pass It On
12. The Fashion Pulpit
This one's not a donation drive but it definitely contributes to less wastage and sustainability. The Fashion Pulpit has a permanent space where you can swap your clothes any day of the week. Advancing eco-friendly fashion and having a guilt-free shopping experience at the same time? We're all for it!
Donate: Sign up for a membership package (or opt for a la carte payment) and you can exchange your clothes for points, which can be used to shop for items in-store. The Fashion Pulpit takes apparel in any size, brand and style, alongside accessories, bags and shoes.
The Fashion Pulpit, #01-04, Marina One The Heart, 5 Straits View, Singapore 018935
Time to declutter and donate your clothes, books, shoes and more for a good cause!