For those once-in-a-lifetime, spontaneous moments that deserve to be immortalised on glossy paper, we've sussed out some of the best photo booth services for hire in Singapore.
Out of all the ways to keep wedding guests entertained in between the dinner courses, renting a photobooth is a winning formula for instant fun. Plus, unlike official wedding snaps, which can take a few months to receive and pass around digitally, they're printed out in a jiffy for guests to keep. For those once-in-a-lifetime,  spontaneous moments that deserve to be immortalised on glossy paper, we've sussed out some of the best photo booth services for hire in Singapore.
Worried that some of your less outgoing guests won't be too comfortable with taking fun, candid photos? With Hello Forever, in addition to instant photo printing and top class professional lighting and camera systems, you'll get an ambassador who'll help get even the most camera-shy party-goer to strike a pose. It even has an affiliated wedding service, giving you some romantic lighting treatment that your special day deserves.
Tel: 9193 6221.
With over seven years under their belts, it's safe to say that Fabfoto are pros in the photo booth business. Want to give your guests a fab souvenir from your wedding day? In addition to an instant photo printing booth with customisable backdrops and free photo frames, Fabfoto also provides other services such as a GIF booth, roving photographer, a red carpet treatment, and Instagram hashtags to commemorate your special day – making it a one-stop service for every event.
Psst…exclusive deal just for our readers: quote 'Honeybrides' to get 5% off your total bill with Fabfoto!
Tel: 8499 6924 or email: [email protected]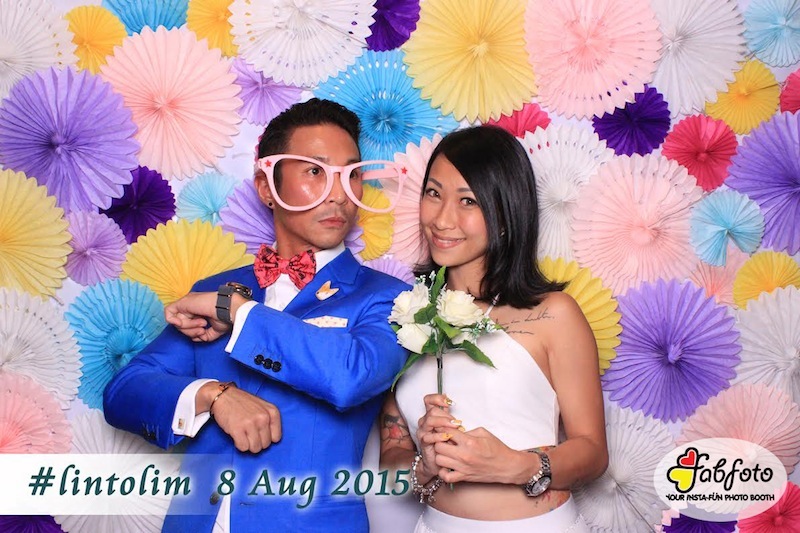 Whether your wedding is lavish or low-key, Aww Snap has you covered with its flexible range of packages. Prefer a no-frills photo booth for some quality snaps? Pick from an inventory of over 60 backdrops and you're good to go! Aww Snap even features a Bespoke package that lets you work directly with designers to create a custom back drop with five unique props – meaning that anything is possible if your imagination knows no bounds!
Tel: 9450 6358.
If you were at Honeycombers' Orange Oasis party, you'll be familiar with these cheery, gung-ho snappers from Babooth. The whole team had a blast playing with their props and getting the most unglam, silly mugs captured by its fun-loving photobooth crew. They even have a slow-motion video booth if you'd rather capture your guests in slow-mo weirdness! We dare you not to laugh at the results.
Tel: 9827 4233.
We've always wanted to mingle with robots! Get acquainted with Suzie and Lexie, One Eye Click Live's completely automated machine that shoots and prints photos. Whether your booth's set up in a hotel ballroom or a garden, these fun little machines will deliver you professional snaps without ever having to lift a finger.
Tel: 6466 6744.
Looking for that celebrity red carpet experience? Make a grand entrance and unleash your inner diva with Running Media Photobooth's Celebrity Experience package. What your guests will get is a 'star shot' upon arrival, dedicated on-ground crew and a collection of wacky props sourced from all over the world. Hollywood heroes aren't the only ones who get all the fun!
Tel: 8292 0816.
Take the photobooth phenomenon to social media! Unlike the other mentioned photobooth services, you'll be doing all the photography yourself here, so make sure you get your best Instagrammer friend to snap the shot. Once you've taken a photo on Instagram (and thrown in your fave filter), just post it with the event hashtag, and your tagged photos will appear on a slideshow before being printed out.
Tel: 9180 8631.
Play superhero, pirate or rockstar with Four Stops' massive collection of zany props. Pick one of its four packages, and you won't only snag high-quality instant prints taken by a professional photographer, but also full-resolution digital photos. And FYI, booking one of Four Stops' roving photographers along with a photo booth will net you some pretty attractive discounts – yes, you heard it from us!
Tel: 8718 1895.
When you've gotten into the groove of a fun photobooth session, the last thing you want is for it to be marred by a long queue of grumpy guests and slow printing. With Busybody, all it takes is eight seconds for a high quality print! You'll also get a personalised logo designed by its team of designers. How's that for a moment worth remembering?
Tel: 9844 4757.