To help you get a knock-out body, we asked Natalie Ryneveld and Anastasia Kolonas, two of the workout experts from GuavaPass, to recommend some stellar gyms that target all the vital areas...
Setting a fitness goal for yourself as the wedding date draws nearer? While we think all brides look radiant and exceptionally beautiful on the big day, we understand that many feel the need to pay extra attention to exercise before donning their fabulous wedding dresses.
For the arms
Level (top photo) is a slick, personal training-only gym, with a friendly team who can help brides target certain parts of their bods. We like this CBD spot because it's not uber-macho, and there are lots of interesting, accessible ways for ladies to lift weights and tone up those bingo wings. For arms, you can also weave boxing into your Level routine, which is really good for toning your triceps and biceps. In a way, boxing is sort of like the inverse of running – it's cardio using your arms instead of your legs. Also, unlike MMA, it won't cause unsightly bruises (a huge no-no for brides!).
If you'd like to take the intensity up a notch, Croyez Studio has a powerplate boxing class called P Box. The vibrating powerplate boosts your muscle strength, core stability and metabolism. Dumbbells are also used during P Box classes, so your arms will be getting a hardcore workout.
Level, 137 Telok Ayer Street, #01-03, Singapore 068602, p. 6222 4766
Croyez Studio, 8D Dempsey Road, Singapore 249672, p. 6474 4133
For the thighs
Crucycle's spin classes are great for your lower body in general. Aside from pumping your legs on the pedals, the motivational instructors will have you standing up and down, crunching to the side and leaning back, which exercises your core as well.
Momentum Bootcamps's training sessions include lots of lunges, running with ropes and high knees, which are effective too. The boot camp is run by two mums who are supportive, motivated and maternal – you'll come away feeling nurtured. And since it's held outdoors in green spots like Botanic Gardens like MacRitchie Reservoir, you also get a dose of revitalising fresh air.
Crucycle, 68 Duxton Road, Singapore 089527, p. 6509 8880
Momentum Bootcamps, meet-ups at various locations including Botanic Gardens, p. 9233 4370
For the abs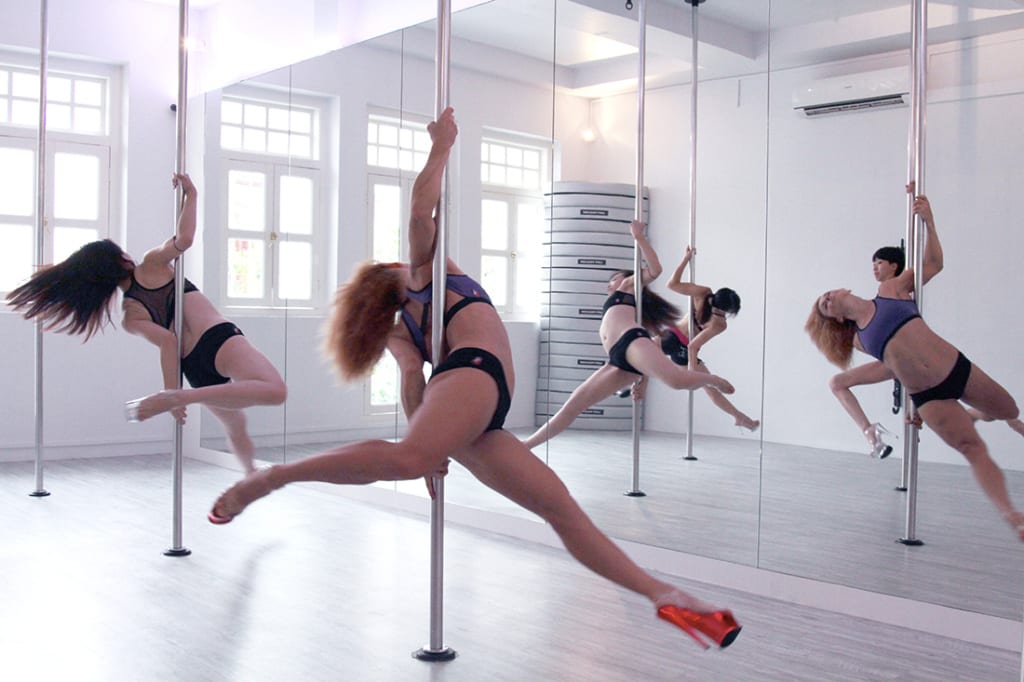 Pole dancing is excellent for your core. Milan Pole Dance Studio's beginner class is somewhat yoga-based, and includes lots of crunches to prep you for climbing up the pole and learning spins. They also have a fun aerials class.
Milan Pole Dance Studio, 11A Bukit Pasoh Road, Singapore 089825, p. 6222 9086
For the butt
Yoga's really helpful for firming up your butt, especially if you include a lot of lunge, chair and warrior poses in your practice. We're fans of Space & Light's bright, inviting facilities, which has a lovely view of the harbour.
Space & Light Yoga, #03-09 VivoCity, 1 HarbourFront Walk, Singapore 098585, p. 6376 9697
For the chest and back
We recommend a TRX workout at Radiance PhysioFit or Altitude for an awesome chest-and-back workout. With the system of ropes and bands, you'll be relying on your body weight throughout, which ensures you'll stay trim instead of bulking up. Altitude is suitable for folks who want a tougher challenge. The studio can simulate altitudes of up to 4,500 metres, which pushes your body's metabolism and endurance. Such conditions are meant to help people who are training for a climbing expedition or triathlon, but it's handy for burning more calories, too.
Altitude, 11 Jalan Bingka, Singapore 588908, p. 9373 9034
Radiance PhysioFit, #01-02 and #02-02 AXA Tower, 8 Shenton Way, Singapore 068811, p. 6822 1618
For the mind
Yoga Mala has weekly non-guided, sunrise meditation sessions that can help ease your mind from stress and tension. If you'd like to relax and detox at the same time, head to the sauna rooms at Anti-Oxidant Wellness to sweat it out. Each room is equipped with a heated anti-oxidant bed that release negative ions into the air, which cleanses the body of free radicals and bacteria.
Yoga Mala, 49A Circular Road, Singapore 049404, p. 8498 1649
Anti-Oxidant Wellness, 1 Thomson Ridge, Singapore 574633, p. 6756 0636