Photography: Jeshoots.com via Pexels
Gathering your friends for a Superbowl or Fight Night watch party? Watch live sports in Singapore without leaving the comfort of your home.
Nothing quite beats watching any sporting match go down live and in person. But sometimes you just don't have the luxury of time or money to make it to the stadium. Even worse, if the game isn't hosted in Singapore. Hello, virtual streaming options. Sure, you could head to a sports bar to catch the game and get a beer while you're at it. But if you're not keen to fight with the crowd to get a seat come peak sports season, never fear! We've got the lowdown on where you can watch any sports screening in Singapore, right from the comfort of your own home.
Where to watch live sports screenings in Singapore aside from cable TV
1. Mixed Martial Arts
Better known as MMA, this adrenaline-pumping sport incorporates techniques from various combat sports around the world. And then you have Vale Tudo, a no holds barred full-contact combat sport which was brought to the United States from Brazil. As varying martial artists were pitted against each other, fighters started to mix styles and the sport slowly started to develop its own style and flavour. Something interesting to note is that depending on which competition you're watching – between UFC, One Championship, or Bellator for example – the rules vary.
You can subscribe to cable options like Starhub to watch UFC competitions or Singtel to get access to One Championship on the sports channel. Alternatively,  head over to the official YouTube channels where the fights are live streamed for your viewing pleasure.
2. Rugby
No, rugby is not the same as American football, where all the hunky jocks gather together to fight for the quarterback position. During our research, we found out that the two sports are actually different. You learn something new every day! But that doesn't change the fact that it gets rough out there. From tackles to scrummages, rugby involves physical aggression and endurance combined with speed and agility.
To catch the Bledisloe Cup or Rugby Championship, subscribe to the Premier Sports package available via Singtel. You can also sign up for BeIN Sports Connect. We've heard this is the only place where you can watch the Rugby World Cup Sevens 2022 and 2023.
3. Tennis
When we think of tennis, we often think of Serena Williams and high-class members of society playing in fancy country clubs. Plus, the sound of the ball being whacked by the racket is so oddly satisfying. Whether played individually or in doubles, our hearts race just watching competitors chase after a tennis ball, wondering if they'll be able to serve it. We also can't get over how funny some of the old school rules were. For example, how until 1961, the server had to keep one foot on the ground at all times.
While we dream of flying out to London to catch Wimbledon live for ourselves, we'll settle with streaming it for the time being. Tournaments are often broadcasted on ESPN, which you can subscribe to and get access to a plethora of other sports. Alternatively, download Spotv and get live sports on demand.
4. Golf
Golf may not be a sport with the most movement or action, but we can't deny there's something captivating about it. While the goal seems straightforward – hitting balls into holes, how hard could it be? – the amount of strategy and consideration that goes into one swing is often unnoticed. And apparently, golfers are quite a dramatic bunch, with no-shows and controversial figures making appearances.
If you're keen to catch the Professional Golfers' Association (PGA) championship, stream the game via ESPN or GolfTV where you can also watch clips and highlights from the PGA Tour. Alternatively, visit Liv Golf's website or head to its Facebook or YouTube pages where games are streamed for free.
5. Formula 1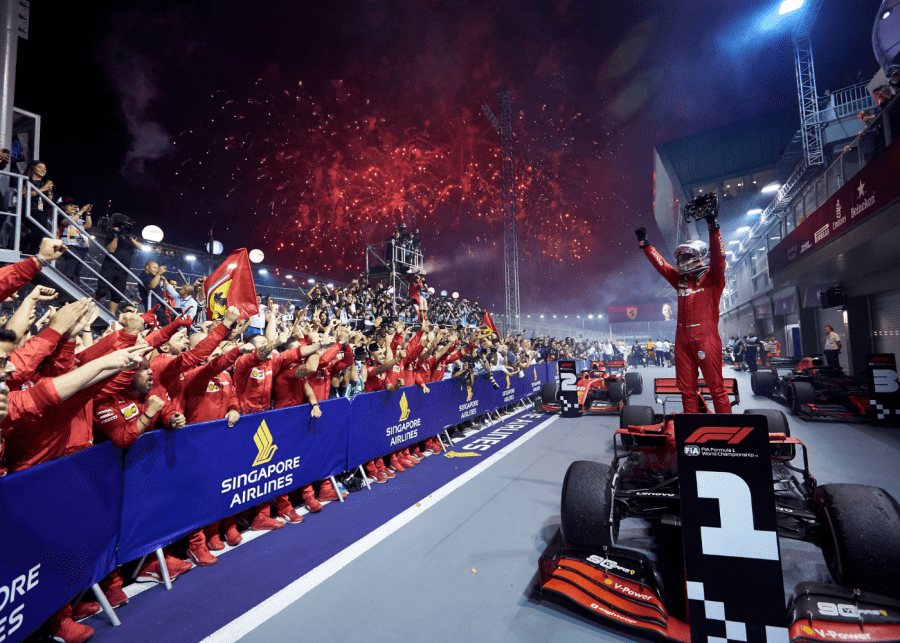 This high-octane sport has seen its popularity skyrocket over the years, and we can imagine why. This international racing championship has a rich history dating back to the 1920s, with technological developments in between that saw years of engine development in the making. There's even Formula E now, which is an electric car version of the typical motor racing championship.
If you're not lucky enough to snag tickets to catch the Formula 1 Grand Prix in person, you can always watch the action from home on Starhub or Singtel. For super fans, Formula 1 also has its own live stream subscription with documentaries, past races, and real-time leaderboard data. Which means you can follow the race down to the very millisecond.
6. Soccer
Of course, we can't forget about the sport showcased on almost every sports bar screen around town. When the Premier League takes the world by storm, we're sure you'll know of at least one friend that sacrifices their sleep just to watch the game. It's even got some of us sports newbies curious about what the fuss is about.
It's easy to find the game on channels provided by Singtel and Starhub. For those that prefer going the live stream route, get a VPN and you'll be able to access the stream on BBC iPlayer. Popular sites like ESPN or BeIn Sports Connect also showcase and stream soccer, so you've got plenty of options.
Bonus: The Olympics
We can't end the list without mentioning this iconic international multi-sport event. By watching the Olympics, you get a chance to catch a glimpse of lesser-televised sports. Watch fencing, archery, sailing, or sharpshooting competitions. We're leaning towards figure skating, made popular by the likes of Yuzuru Hanyu and Shoma Uno.
Besides being broadcast on local cable television, you can also catch live streams of different events on the official Olympics website. Other sites like Eurosport and NBC Sports also provide coverage!
And there you have it, all the places you can watch live sports in Singapore in the comfort of your home.