Savour every bite of the botan shrimp, caviar and sea urchin, a sensational seafood medley
The hallmark of every masterchef lies in their innate understanding of both produce and provenance – celebrated chef Tetsuya Wakuda revels in his dedication to the finest flavours
One thing is certain: when it comes to fine dining in Singapore, Waku Ghin sits comfortably amongst the city's Michelin posse. Tetsuya Wakuda, the restaurant's chef-owner, is a revered name in the region – Michelin-feted talents such as Sam Aisbett (Whitegrass) and Rishi Naleendra (Cheek by Jowl) have honed their culinary skills under his tutelage, before moving on to helm their own establishments here.
Having tasted the bold creations of his protégés, some of which hinted at their tenures at Tetsuya's in Sydney, I was naturally curious about the fine dining Yoda himself. Waku Ghin is a reflection of his classicist nature; the interiors eschew any attempt at gimmick – no bare-bones, floor to ceiling concrete or hidden entrances, thank god. Instead, the restaurant keeps to a tried-and-true formula of chi-chi carpeting, sleek marble countertops and intimate dining rooms with a customised grill, an integral element to the whole experience. But we are not here to gawk at the decor. This chef-owner boasts a solid rep in the dining scene here, and I was about to find out why.
The philosophy
It's easy to understand the hype that surrounds Waku Ghin. After all, Chef Tetsuya embraces a quintessentially Japanese ethos of diving into the essence of every ingredient – a philosophy that, in my opinion, can do no wrong. From sourcing to farming and harvesting everything from greens to caviar, he has forged close relationships with suppliers all over the world, whom he personally visits to check on the harvest and also the cultivation process. Most Japanese (or at least, Japanese-inspired) restaurants in Singapore ship their ingredients from Japan's Tsukiji Market, but Waku Ghin favours Chef Tetsuya's hometown of Shizuoka, known for its fresh seafood and proximity to Mount Fuji. His passion for quality produce extends to Tasmania, where he's been a brand ambassador since 1994. According to general manager Timothy Lim, it's where the environment is one of the most pristine in the world – a prime canvas for agriculture. This is why diners can expect the degustation menu to vary daily, as it depends on the availability of fresh, seasonal produce.
The highlights
This keen inclination towards provenance has served him well, as the Japanese-leaning menu delivers like a dream. Those familiar with Chef Tetsuya's repertoire will know that Waku Ghin's signature botan shrimp, caviar and sea urchin is worth the anticipation. His mastery of flavours is obvious here, as the medley of seafood melds both sweet and umami in a single mouthful and you just know you have to savour every bite. And one should too, as the dish is topped with rich, golden oscietra caviar (in its rarest and most prized form) that's specially cultivated according to Chef Tetsuya's requirement of size, colour and salt content. Oh, we've got to talk about the botan shrimp – a Hokkaido specialty fished off the prefecture's deep seas. Its plump, orange flesh so exquisitely fresh and succulent, you could almost taste the ocean rolling off your tongue.
Executive Chef Masahiko Inoue, our shokunin for the evening, emerges with the Hokkaido king crab, which he then proceeds to steam on a mound of sea salt. The grill sizzles to life, and et voila – the succulent crab emerges with a dash of lemon and olive oil. For something that's deceptively simple, the crustacean's natural saltiness permeates the dish, and you drink it all in. The next two courses are, of course, well-executed as you would expect from a two Michelin-star bigwig. The Tasmanian abalone, served with white asparagus and butter sauce, comes nicely grilled, with a hint of smokiness. Being slightly squeamish about live seafood presented for preparation (I'll take mine from the supermarket, thank you very much), I try not to picture the shellfish shown to me earlier. Still, all is forgotten as the light dusting of spring onions lifts an otherwise rich and almost cloying dish.
The French elements are few and far between and by the fifth course, it's almost as if you're dining at a fancy kaiseki-inspired restaurant. Leave all assumptions at the door: Chef Tetsuya reveals his French training with the braised Canadian lobster, which reminisces a comforting bowl of lobster bisque, but with a slight twist. Lemon-infused olive oil is added to give the broth a refreshing lightness, and the result is absolutely delectable.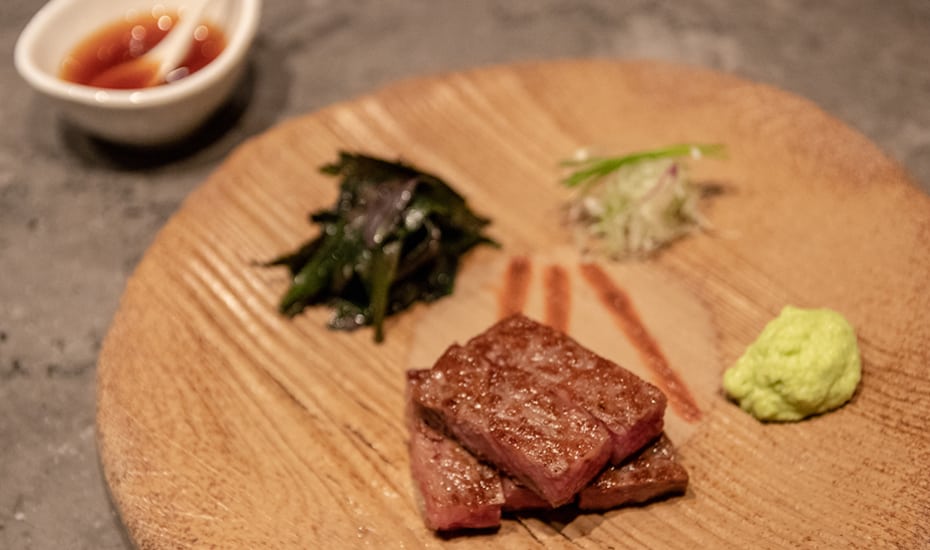 Peak Waku Ghin arrives in the form of the Japanese ohmi wagyu steak, which is by far my favourite course. Seared sirloin A5 beef from the Shiga prefecture, topped with freshly grated wasabi and citrus soy dressing – it's an unusual combination but the aromatic flavours are mind blowing. Chef Masa beams as he explains how grating the wasabi in circular motions using a specially customised grater helps release the aroma of the root vegetable. Sourced from Shizouka (the prefecture apparently produces 80% of all wasabi in Japan), the crop takes at least three years to grow, making its cultivation process a challenging and expensive one.
The finale
We are led to a cosy drawing room with a view of the Marina Bay Sands skyline, and this is where dessert awaits. If you've got a sweet tooth, you'll want to make some space for the Japanese musk melon with cointreau granita and fromage blanc sorbet. The ever tireless Chef Tetsuya oversees each harvest and only a handful of melons make the cut – even if they are specially grown for the Japanese royalty. The wild strawberries (sourced from Spain, no less), nestled on a bed of orange blossom honey cream, are pleasantly fragrant. Is it satisfying? I can't say – but only because they are not my favourite fruit. All in all, these creations by Executive Pastry Chef Yasushi Ishino offer a nice flourish to the palate, easing you into a food coma. Ah, bliss.
The verdict
Waku Ghin dispenses with the smoke-and-mirrors trap that some fine dining establishments fall into. There's no trying too hard to impress an Insta-savvy diner here, because an incredible meal is anchored by quality ingredients and a passionate appreciation of the farm to table process. But take some snapshots for posterity, if you must. It is truly quite an unforgettable experience.
Waku Ghin launches a new lunch menu…
Treat yourself to a well-deserved lunch at the end of the work week with Waku Ghin's five-course executive lunch menu, available every Friday from 12-2pm. At $180++, lunch-exclusive highlights include al dente pasta with sweet botan shrimp, briny oscietra caviar and creamy murasaki sea urchin from Hokkaido – complete with dessert to round off your fine dining experience.
Win a The Bar at Waku Ghin dining experience for two worth $200!
Want to try your luck at winning a dining experience for two at The Bar at Waku Ghin? All you have to do is follow @wakughin on Instagram, tag a friend you'd like to bring and comment on why you deserve to win. Terms and conditions apply.
The 10-course degustation menu is priced at $450++ per person, with two seatings per night at 5.30pm and 8pm.
Waku Ghin, L2-01, Level 2 Dining, The Shoppes at Marina Bay Sands, 2 Bayfront Avenue, 018956, p. 6688 8507.
This article is sponsored by Marina Bay Sands