Amazing meat-free plates await at these vegetarian restaurants!
It's a revolution! At these vegetarian (and vegan) restaurants in Singapore, plant food is good food.
Singapore is a foodie's paradise when it comes to eating out, with dining spots catering to all taste buds and lifestyle choices. Even non-carnivores will be chuffed to discover that heaps of places have brilliant menus loaded with satisfying veggies. If you think it's time to add more plant-based foods to your life, or if you're planning to go all the way with a meat-free lifestyle, read on for our guide to awesome vegetarian restaurants in Singapore (plus some love for vegan grub). We'll prove that going green isn't as hard as you think.
Best vegetarian restaurants in Singapore
1. Whole Earth
Available for takeaway and delivery. 
Thai-Peranakan dishes take the spotlight at this vegetarian restaurant – surprising, considering how meat-heavy these cuisines are. It's Michelin Bib Gourmand-approved, so we suggest you give the menu highlights a go. Must-tries include Penang rendang (made of shiitake mushrooms), deep-fried tofu with crispy oats, monkey head mushroom and broccoli with a sauce of angelica root and wolfberries, and olive rice or XO fried rice for that carb fix.
Whole Earth, 76 Peck Seah Street, Singapore 079331
2. Elemen
Available for takeaway and delivery.
Elemen doles out flavourful vegetarian food in Singapore – think salads like quinoa or rojak fruit and mains of claypot truffle fried rice and porcini mushroom pizza. Swing by if you're looking for an earthy feast. It offers wallet-friendly sets – $26.80 for five courses or $32.80 for eight courses, including starters, salads, soups, mains and desserts.
Elemen, multiple locations including Millenia Walk and Paya Lebar Quarter
3. Real Food
Available for takeaway and delivery via Deliveroo.
This isn't a showy cafe with fancy creations and pretentious-sounding menu items. Instead, it's a humble store with simple but delish offerings like dumpling soup, curry noodles, pesto pasta, pancakes and more. Oh, and everything's pretty pocket-friendly, too.
Real Food, multiple locations including Orchard Central and Oasia Hotel Novena
4. Joie by Dozo
Joie (pronounced 'joy', not 'joey') is a meat-free dining spot that serves up luxurious options like bailing mushroom on paper hot pot, zucchini tower and vegetarian sashimi. Can't make up your mind? Opt for the multi-course lunch (six-course for $39.80) or dinner (seven-course for $69.80) sets.
Joie, #12-01, Orchard Central, 181 Orchard Road, Singapore 238896
5. Warung Ijo
Available for takeaway and delivery via WhatsApp at 8857 8600.
It's all about Indonesian fare made vegetarian (or vegan, depending on your preference). Tuck into crowd favourites like the kampung fried rice (a variation of the classic nasi goreng kampung), mee goreng (stir-fried Indonesian noodles) and bakso soup (a plant-based version of Indonesian meatball soup). For sumptuous veggies that'll please even the salad-haters, order the sambal sweet potato leaves or vegetable curry for the table. And try the deliciously aromatic otah if you're craving this local bite.
Warung Ijo, 337 Beach Road, Singapore 199565
6. Fill a Pita
Available for takeaway and delivery.
We're always up for Middle Eastern food, especially at affordable prices. This eatery focuses on fresh ingredients, which is perfect to feed anyone looking for vegetarian food in Singapore. The hummus is creamy – just the way we like it – and the wholemeal pita sandwiches (especially the falafel one) never fail to hit the spot.
Fill a Pita, available online
7. Teng Bespoke
Available for takeaway and islandwide delivery.
Teng Bespoke ain't your average Japanese restaurant – it's all about spotlighting vegetarian food in Singapore. Its bestselling sashimi platter is made up of five types of mock seafood: salmon, prawn, squid, scallop and tuna. Another popular dish? The avocado maki. Slices of creamy avocado sit atop the maki rolls, which are filled with mock prawn, mock sashimi, nori and cucumber. Yum.
Teng Bespoke, #01-50, Sunshine Plaza, 91 Bencoolen Street, Singapore 189652
8. Afterglow
Available for takeaway and delivery.
Leave all notions of boring vegetarian food at the door. Thanks to its industrial-chic interior, this is a trendy go-to spot for raw, plant-based food. Try impressive plates like lentil flaxseed nuggets, tofu cream cheese platter, raw crispy lasagne and chocolate salted 'caramel' fudge. Plus, cold-pressed juices and unique lattes to wash it all down.
Afterglow, 24 Keong Saik Road, Singapore 089131
9. Cafe Salivation
Available for takeaway and delivery.
Want out-of-the-ordinary vegetarian food in Singapore? Pay a visit to Cafe Salivation for its fun take on international vegetarian cuisine. You'll find a smorgasbord of dishes including burgers (veggie ones, of course!), pasta, baked dishes, pizzas, Mexican plates, eggless cakes and more. The menu also has items suitable for vegans, Buddhists and Jains, plus delicious morning grub like scrambled paneer on toast that will make your meat-munching pals jealous.
Cafe Salivation, 176 Race Course Road, Singapore 218607
10. LingZhi Vegetarian Restaurant
Available for takeaway and delivery.
This long-standing restaurant has been putting out classic Chinese creations since 1991. Look forward to prettily plated dishes such as braised spinach soup with bamboo fungus. Plus, hearty stuff like vegetarian satay, which is made with mushrooms and other greens.
LingZhi Vegetarian Restaurant, multiple locations including Liat Towers and [email protected] Square
11. Ananda Bhavan Restaurant
Available for takeaway and delivery.
Established in 1924 (yes, really), this chain of Indian restaurants has been winning the hearts of vegetarians with fuss-free menu items including thosai, prata, naan and meatless kebabs. If you're not familiar with Indian cuisine, get ready for a culinary adventure at this place.
Ananda Bhavan Restaurant, multiple locations including 95 Syed Alwi Road and 58 Serangoon Road
12. Herbivore
Vegetarians have it tough, as far as Japanese food goes. The most common options are often limited to vegetarian ramen, or cucumber and avocado maki sushi rolls at supermarkets. But at Herbivore, its menu includes rarities like unagi, teriyaki chicken and salmon sashimi… none of which contain meat. Plus, the kitchen avoids using garlic and onion, so you'll find Jain-friendly dishes as well.
Herbivore, #1-13/14, Fortune Centre, 190 Middle Road, Singapore 188979
13. Annalakshmi
Available for takeaway and delivery.
This social enterprise restaurant is volunteer-run and offers a medley of lunch offerings with no fixed prices. The dishes you'll be served vary according to who's manning the kitchen, but staples like dhal, chutney and sambar are always present. While it's pay-as-you-wish, that's no excuse to short-change the team! The vegetarian restaurant has helped many people going through financial difficulties get a wholesome meal during dire times. So if you can afford it, it's worth putting in a little bit more for those who can't.
Annalakshmi, #01-04, Central Square, 20 Havelock Road, Singapore 059765
14. Lotus Vegetarian Restaurant
Available for takeaway and delivery via WhatsApp at 8668 0090.
Want to go crazy with your veggies? Head this way to enjoy scrumptious plates of edamame with Sichuan peppercorns, kung pao lion's mane mushroom in yam ring, cereal 'prawn', Hong Kong fried noodles, and sweet and sour abalone mushroom.
Lotus Vegetarian Restaurant, #02-07, Royal Square @ Novena, 103 Irrawaddy Road, Singapore 329566

15. Sufood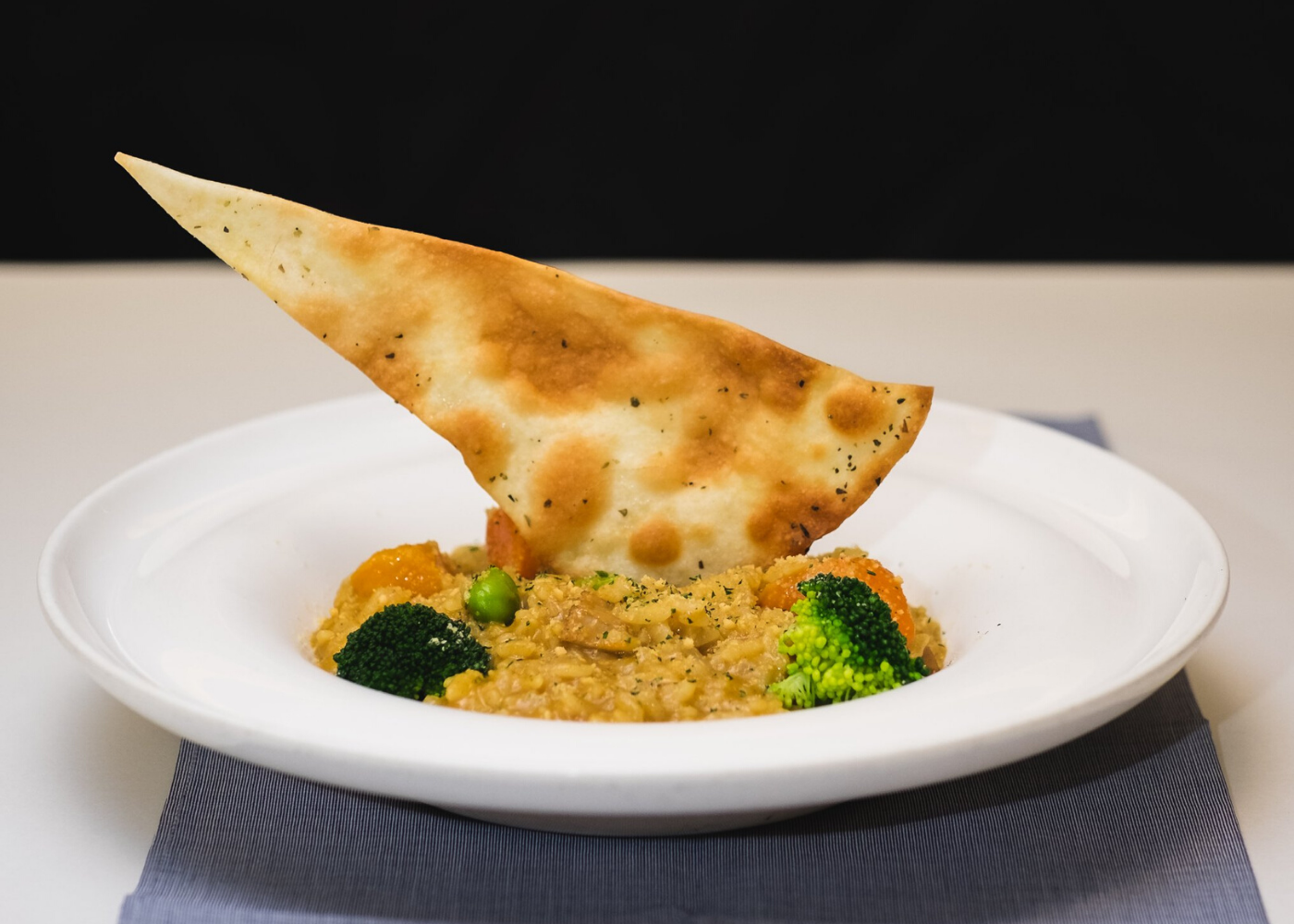 You won't find mock meats at this vegetarian restaurant. Hailing from Taiwan, Sufood puts out Italian-inspired plates. Signatures include fruit and veggie salad, five-grain rice with black truffle and mushroom, chickpea rice burger and broccoli and mushroom pita pocket.
Sufood, #02-19, Raffles City Shopping Centre, 252 North Bridge Road, Singapore 179103
16. Gokul Vegetarian Restaurant
Available for takeaway and delivery, call 86178782.
You'll be spoilt for choice with the cuisine types on offer, from North and South Indian to Asian fusion. Dum biryani, murtabak, Chinese rojak, nasi lemak and 'chicken' rice are some signature vegetarian dishes that are real crowd-pleasers.
Gokul Vegetarian Restaurant, 19 Upper Dickson Road, Singapore 207478
17. Komala Vilas
Available for takeaway and delivery via Foodpanda, Deliveroo and GrabFood.
Both North and South Indian signatures are on offer at Komala Vilas, a chain of vegetarian restaurants in Singapore that started back in 1947. Can't decide what to pick from the extensive menu? We suggest you go for the vegetable biryani or the naan with palak paneer.
Komala Vilas, multiple locations including Serangoon Road and Buffalo Road
18. Original Sin
Available for takeaway and delivery.
The Holland Village stalwart serves some of the best Mediterranean-style vegetarian food in Singapore – you won't even miss the meat. Don't leave without trying the baked portobello mushroom with spinach and ricotta cheese (aka Magic Mushroom), or the Principessa Salad, which features roasted pumpkin, avocado, asparagus and other mouth-watering ingredients.
Original Sin, #01-62, Block 43 Jalan Merah Saga, Chip Bee Gardens, Singapore 278115
19. Madras New Woodlands
Available for takeaway and delivery.
Like Komala Vilas, this name needs very little introduction. You'll get a lot of Indian food aficionados swearing by either, since they've been open for years and have developed their own loyal followings. If you find yourself at Madras New Woodlands, make sure you try the VIP thali set. It's a massive platter of various dhals, curries and a hearty portion of rice. Of course, you also have an extensive selection of Indian vegetarian dishes to choose from. Wanna stave off the food coma? Order a cup of masala tea or coffee.
Madras New Woodlands, 14 Upper Dickson Road, Singapore 207474
20. The Boneless Kitchen
Available for takeaway and delivery.
Don't despair if you're a vegetarian with a weakness for Korean food. At this K-joint, all dishes are 100% vegetarian and vegan. They're made entirely from scratch, including the kimchi and gochujang (you won't find garlic or fish sauce in there!). The menu features familiar favourites like spicy kimchi stew and bibimbap, only with plant-based proteins.
The Boneless Kitchen, #01-31, The [email protected], 1 Irving Place, Singapore 369546
22. Project Acai
Available for takeaway.
Singapore's first dedicated acai cafe sources organic and sustainable acai for its sin-free superfood bowls. All the items on the menu are dairy-free, gluten-free and vegan. Try the acai sundae bowl filled with bananas, goji berries, strawberries, chia pudding, cookie crumble and cashew cream, along with a drizzle of nut butter.
Project Acai, multiple locations including Holland Village and Takashimaya
Be kind to your body and the planet by going meat-free at these vegetarian restaurants in Singapore.