Photography: Bite Beauty via Facebook
Step up your beauty routine with these cruelty-free, vegan and vegetarian cosmetics that don't test on animals.
Living clean and green ain't just about eating organic produce and dining at healthy cafes. It's also about the skincare in your beauty stash. If you're increasingly conscious of how the impact of your products on our earth, we need to talk about vegan and cruelty-free makeup. Cruelty-free simply means the product is in no way tested on animals, while vegan means it's cleared of animal-based ingredients. The two don't always go hand-in-hand, so it doesn't hurt to check the label (look out for the cruelty-free bunny!). Whether you're a hardcore vegan or looking to enhance your makeup routine with naturally sourced ingredients, we're here to help you navigate the world of vegan and cruelty-free makeup.
Vegan and cruelty-free makeup brands that are kind to the planet (and your face)
1. For velvety lippies that suit all skin tones: Solos Cosmetics
Vegan and cruelty-free
This vegan brand really thought things through during its process (right from the vegan formula to the use of semi-recycled plastic packaging – fewer plastics FTW!). The result? Sustainable lippies that are free from animal testing, palm oil, gluten and artificial fragrances. FYI: the Lipmattic range also comes in cute squeezable tubes to avoid product wastage. These velvety lips creams are offered in playful nude, red pink and plums shades. Our suggestion? Get one for every mood. And the liquid liners? One of the best we've tried!
Solos Cosmetics, available online
2. For artfully chic looks: Sahursart Beauty
Cruelty-free and vegan 
It's one thing to come across a beauty brand that's vegan, gluten, paraben and cruelty-free. But it also makes us squeal in delight when it's a homegrown business. Beauty guru Sahur Saleim's makeup line consists of fine AF lipsticks in matte and cream colours. Plus, an eyeshadow palette with poppin' shades and intense colour payoff. Shoutout to the whimsical packaging that's a nod to her favourite paintings. Time to channel that inner diva!
Sahursart Beauty, available online
3. For superfood-powered makeup: Bite Beauty
Vegan and cruelty-free 
There's a lot to scream about Bite Beauty. Not only is the makeup brand vegan, cruelty-free and gluten-free, but the formulas are also derived from superfoods. So all the good stuff is packed into each product. You simply have to try the popular Power Move Creamy Matte Crayon. It's powered by superfoods like pomegranate and wild African mango so you get nourished lips along with a bold colour payoff. Other highlights include the fade-resistant cream blush, long-wear eyeliner and full volume mascara.
Bite Beauty, available online and at Sephora stores
4. For glitter and all things metallic: Atomic Makeup
Vegan and cruelty-free
When we think of vegan and cruelty-free makeup, our minds immediately go to muted tones, understated hues and lotsa matte. But what about something for us extra AF ladies who live for glitter, shine and all things metallic? Say no more and click on NYC-based Atomic Makeup's e-store. It's got silky and metallic matte lippies, glitter mousse eye shadow that's formulated with primer, body glitter (Disco Jelly) and sparkly highlighter that anyone will notice from miles away. Need we say more?
Atomic Makeup, available online
5. For a cult favourite cruelty-free brand: The Body Shop
Cruelty-free and vegetarian
Safe to say, The Body Shop is one of the first beauty brands most women ever use. It's always been synonymous with the cruelty-free tag, putting its foot down on animal testing. Aside from formulating a stellar makeup range that's free from parabens, petrolatum, mineral oil and gluten, all ingredients (beeswax, argan, acai, rosehip oil, just to name a few) are fair trade, sourced from small-scale farmers and traditional artisans.
The Body Shop, available at multiple locations
6. For all the makeup essentials you need: ESQA
Cruelty-free and vegan; also halal certified 
There are many things to shout about ESQA. It's the first and leading vegan line in Indonesia and all products are cruelty-free and certified halal. Though embellished with regal, rose-gold packaging, we're pleasantly surprised to know that nothing goes over $35. The line consists of matte lippies, blush, cheek and eye shadow palettes, liquid concealers, eyebrow kits and powder foundation – yup, all the makeup essentials you need. It's a win in our books.
ESQA, available online via Akinderbeauty
7.. For budge-free makeup that stays put: Smashbox Cosmetics
Cruelty-free; selected vegan products
Smashbox is all about long-lasting makeup that stays put. Yes, it's perfect for hot and humid Singapore. No surprise its stellar range of photo-finish primers is such a big hit. And if you harbour the aspiration of looking like a bronze goddess, its metallic matte lipsticks are right on the money.
Smashbox Cosmetics, available online and at Sephora stores
8. Lily Lolo
Makeup infused with skincare? Bring it on! Lily Lolo's selection of gluten-free and vegan makeup products are great for those with sensitive skin. In fact, it's non-comedogenic (no blocked pores!), and free from chemicals, parabens and other nasties. We particularly like the Mineral Foundation with SPF 15 and Natural Big Lash Mascara.
Lily Lolo, available online via Powella
9. For seamless and streak-free application: 13rushes
Cruelty-free
Sometimes, makeup is only as good as its tools and half the job is done when you have the right makeup brushes in your pile. 13rushes produces synthetic brushes that are meticulously crafted by 26 craftsmen and undergoes 12 production stages. What's more, these gems are sustainable and animal-friendly. The clinch? The brushes have a good grip and soft bristles that offer supple coverage and perform brilliantly with powder, cream and liquid makeup.
13rushes, available online
10. For edgy looks: Urban Decay
Cruelty-free
This bold and edgy beauty brand prides itself on staying cruelty-free. Expect an endless selection of high-performance beauty products. The range features super-pigmented and buttery eyeshadows including the Naked palettes. Plus, creamy, kissable lip products such as the Vice Liquid Lipsticks that come in matte and metallic finishes — perfect for all-day wear!
Urban Decay, available online and at Sephora stores 
11. For gorgeous packaging: Tarte
Cruelty-free and vegan
A hot fave amongst makeup gurus, Tarte touts itself as a leader in eco-chic beauty. Its products are infused with superfruit and plant extracts, vitamins, and are free of parabens or synthetic fragrances. But what do we love most about it? The pretty packaging with vibrant colours and gorgeous prints – all made from sustainable and recyclable materials.
Tarte, available online and at Sephora stores
12. For power tools sans the guilt: Ecotools
Cruelty-free and vegan
Due to its availability in drugstores, Ecotools makes a great starter kit for any makeup newbie. But don't dismiss it just yet. 100% cruelty-free and vegan, these synthetic brushes are made from recycled plastic and aluminium, and feature handles crafted with bamboo. Makeup brushes aside, Ecotools also stocks powerful hair brushes with an EcoVent design that dries hair quicker and more efficiently as compared to commercial brushes.
Ecotools, available via Accendo 
13. For contours that slay: KVD Vegan Beauty
Cruelty-free and vegan
Known for its high-pigmentation, long-wear and eye-popping shades, KVD's cosmetic brand embodies a style of Old Hollywood glamour fused with rock 'n' roll. Expect black, goth-like packaging with colours befitting Monroe-esque bombshells. From budge-proof lipsticks and eyeliners to foundation in all shades, there's something for everyone at this highly raved makeup brand.
KVD Vegan Beauty, available online and at Sephora stores
14. For inclusive shade ranges: Fenty Beauty
Cruelty-free and mostly vegan
RiRi's hyped up beauty brand is the real deal. Fenty Beauty's shade ranges are one of the widest around! We're talking 50 fair to deep shades for its liquid foundation and concealer. It's cruelty-free and most of its products are vegan, although some do contain ingredients of animal origin, like beeswax.
Fenty Beauty, available online and Sephora stores 
15. For (cool) luxury makeup: Hourglass Cosmetics
Cruelty-free and vegan
Despite the price tag and rabid following, luxury makeup brands aren't always clued in on new trends or technologies that give younger and hipper cult cosmetic brands an edge. Founder of Hourglass Cosmetics Carissa James identified this void early on in 2004, and has since filled it with breakthrough formulas, innovative ingredients and cool packaging. Entirely cruelty-free, the brand has been 100% vegan since 2020. Now, you can easily bag products without animal-derived ingredients.
Hourglass Cosmetics, available online and at Sephora
16. For full coverage: Cover FX
Cruelty-free and vegan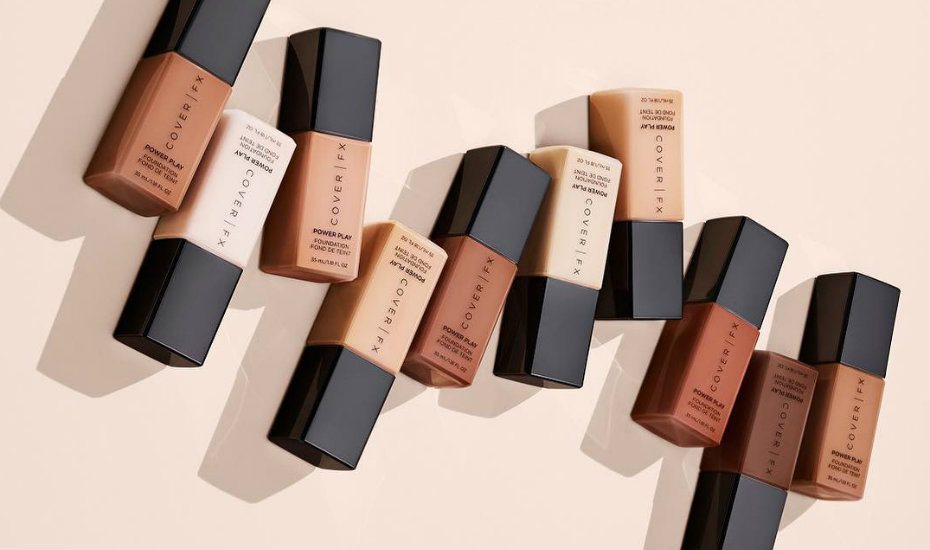 When it comes to true full coverage, look no further than Cover FX. The vegan brand's high-performing formulas and diverse foundation range are suitable for those with sensitive skin, acne, rosacea, or other skin conditions. Its cream concealer is also fab for concealing under-eyes and blemishes. And it's made without parabens, sulphates and talc — win!
Cover FX, available online and at Sephora
17. For au naturale makeup: Too Faced
Cruelty-free
Prefer natural-looking makeup with a slight edge? Too Faced is the one for you! Its cruelty-free products come in a range of colours that focus on neutral shades. Oh, and did we mention its adorable packaging? You won't find a beauty junkie without its iconic Chocolate Bar eye palette (we can't get enough of its divine chocolatey scent), Primed & Poreless pressed powder (which is great for oily skin), and the Better Than Sex mascara that women can't stop raving about.
Too Faced, available online and at Sephora stores
18. For high-performance foundation: Alima Pure
Cruelty-free and vegan
Cruelty-free and crafted from the purest, natural ingredients for maximum impact, Alima Pure's range of foundation shades are far from dull. Its luxe, high-performance products are created to enhance your best features. They're absolutely fab for all-day wear.
Alima Pure, available online
Time to upgrade your stash with elite vegan and cruelty-free makeup!