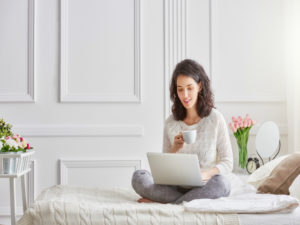 Addicted to shopping on US websites and think you've nailed the art of shipping to Singapore? If you haven't tried PacMe yet, you might want to think again...
There's nothing quite like the feeling of scoring a sweet online shopping deal to get the adrenaline pumping, though sadly for us, the best deals are often found on US websites. Savvy shoppers will already know that the best way to get 'round this dilemma is by using a US-based package forwarding company. And, if you haven't heard of PacMe, let us introduce you to the service that offers more than simple package forwarding and will swiftly become your new bff. Here're a few reasons why PacMe are totally bossing the shipping domain right now.
They consolidate and repack
That time when a company sends you a relatively small item in a huge box and you get stung on shipping fees. Urgh – we've all been there. It sucks getting charged for the weight of an item as well as the amount of room it takes up on the plane. If you groan every time someone mentions 'dimensional weight', then PacMe is worth investigating; its nifty consolidation service will ensure all of your purchases are sent to you snugly in one box – minus the unnecessary excess packaging or empty space – meaning you'll pay less on shipping fees.
The more you shop, the more you save
We're not kidding, and expert international shoppers will know that it's usually not worth it to ship just one pair of coveted shoes (the first few kilos of any shipment are always the most expensive). PacMe make this very clear to customers and advise to always ship over 10 kgs worth of goodies, as that's where the savings kick in. The cost gets even lower with every kg added. An excuse to buy more? Can you say shopping spree?
Fed up with non-existent customer service? Us too, and we're kinda impressed by the testimonials from PacMe regulars. Talk about going above and beyond, they've been known to include surprise extras in customer shipments, and even hand carry urgent or fragile items on the plane!
The idiot-proof website
We heart the PacMe website; it's super easy to track packages, ask questions (there's a dedicated chat box for every package), and is brimming with info that will ensure you'll get the best value for money when shipping from the US. Online shopping just got dangerously simple…
Honeycombers deal!
Sign up for here for a free PacMe account using the code HONEYCOMBERS at PacMe.com
This article is sponsored by PacMe