Mongolia is an adventurer's dream. Photography: Lightscape via Unsplash
Ready for epic adventures? Check out these overlooked destinations in Asia for unique travels.
Everyone's hyped up to travel now that the gates have re-opened to countries all around the world. But Japan? Bali? Australia? Been there, done that. In the age of Instagram and TikTok, authenticity (yes, it's ironic) is key to us experience-hungry folks. If you're ready for an adventure of a lifetime, check out our top picks of unique travel destinations in Asia.
Unique travel destinations in Asia for 2022
1. Malapascua, Philippines
There's a reason why Malapascua tops our list of unique travel destinations in the region. It's an amazing spot for underwater activities and it's the only place in the world where you can dive with thresher sharks. Explore its sandy beaches and make time to dine at amazing restaurants within the area. Tip: we recommend Ristorante Angelica for simple and delicious Italian cuisine. We love how there are plenty of luxury resorts dotting the island to choose from. It'll be a cosy stay with scenic beach views you'll miss dearly when you're back in Singapore.
2. Haputale, Sri Lanka
Big fan of nature? We got you. Take a trip to the town of Haputale in Sri Lanka. It's full of lush greenery and agriculture like roaring waterfalls and tea plantations. Frolic through tea fields at the Dambatenne Tea Factory – and don't miss out on the factory tour while you're there. But if you love a good dose of the outdoors, visit Horton Plains National Park and take on the World's End hike. For a fully immersive experience of local Sri Lankan culture and food, sign up for cooking classes led by locals. You'll take those amazing Sri Lankan curry recipes back home with you. What a treat!
3. Mongolia
Mongolia is an adventurer's dream. Its landscapes are unparalleled and breathtakingly diverse. They include snowy mountain peaks, the Gobi Desert (the fifth largest in the world), towering sand dunes, red canyons, vast steppes and nature reserves. Did we mention the sprawling grasslands where thousands of white gazelles roam? It's also one of the few nomadic countries in the world, with pastoral herders making up a large portion of the population. Venture into the wild: we recommend going horseback riding through valleys or exploring desert dunes on a camel. But a good hike up the mountains will also offer eye-opening visits to majestic monasteries.
4. Sulawesi, Indonesia
Think Bali is the Island of the Gods? You ain't seen nothing like Sulawesi. Despite being one of the main islands of Indonesia, it's quiet on the tourist front (and thank heavens for that). We'll happily wax lyrical about its beauty – the rough-and-raw isle is teeming with natural landscapes. In Tana Toraja, you'll be greeted by emerald green rice paddies and rich tribal culture (where you can observe unique death rituals including effigies and cave burials). Plus, spellbinding dive spots with diverse marine life in Bunaken and Togean Islands, as well as volcanoes and lush rainforests.
5. Timor-Leste
Also known as East Timor, Timor-Leste is Asia's newest country – it gained independence from Indonesia in 2002. Still untouched by tourist hordes, the primarily Catholic and former Portuguese colony boasts incredible natural beauty. Think crystal clear waters teeming with marine life, tropical reefs and magnificent mountainous regions. Take your pick from varied itineraries that include cultural visits to traditional Bunak houses (they're an ethnic group living in the mountains). But don't miss out on activities like diving and hiking, too!
6. Ladakh, India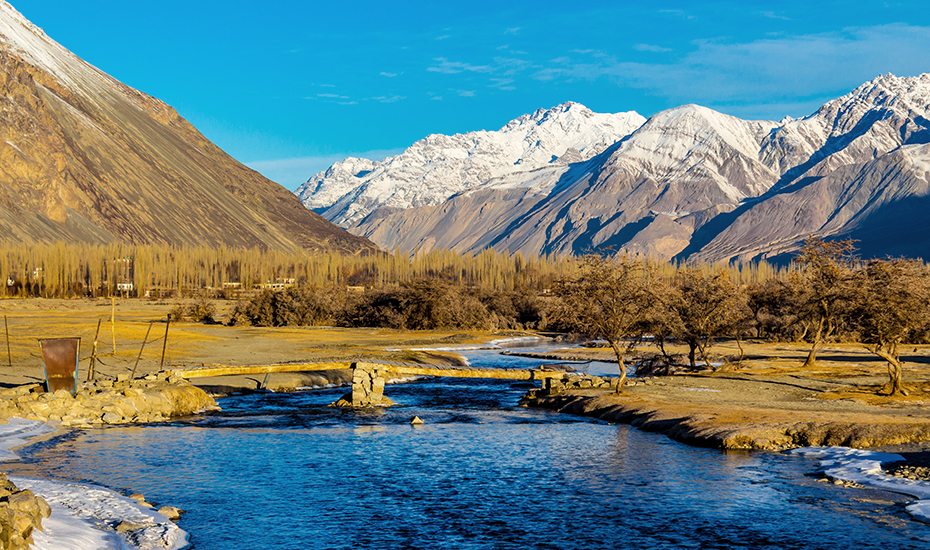 For a unique take on India, skip the busy main cities of Mumbai, Delhi or Rajasthan and head to Ladakh. It's a favourite amongst trekking and mountaineering enthusiasts. The region located in Jammu and Kashmir is known for its barren landscapes and awe-inspiring jagged peaks. Of all the unique travel destinations in the world, you'll find visual marvels aplenty here. Think stunning lakes in assorted shades of green and blue nestled in the Himalayas. Buddhism is their way of life, so expect to see many a monastery nestled deep in the mountains.
7. Koh Kood, Thailand
With its untamed forestry, untouched beaches and lively fishermen trade, Koh Kood is reminiscent of ancient Siam. It's a far cry from buzzy Phuket or even Krabi, but it's only an hour away from Bangkok. Book yourself a luxe stay to explore the nearby waterfalls and nature trails. Or better yet, do absolutely nothing except lounge around and snooze away on beautiful beaches.
8. Cao Bang, Vietnam
Located in the northeast of Vietnam, the province of Cao Bang offers the best of local culture and landscapes. Your adventure will take you to spectacular sights within hidden trails – towering peaks and magnificent caves included. You'll also come across the remote villages of hill tribes. A must-do stop-over on your trek? The picturesque Ban Gioc Waterfalls that straddle the border between China and Vietnam (they're the largest in Asia).
9. Bhutan, Nepal
The magical Buddhist kingdom of Bhutan isn't for everyone. Getting here is a journey and the airport landing is said to be one of the most hair-raising travel experiences. But, it offers a recharge of your spiritual batteries with a side of adventure. In a country without high-rise buildings, busy roads and shopping malls (well, with the exception of one), the spiritually drained will be well sorted. Make a trek to the sacred temple of Tiger's Nest (also known as Paro Taktsang) in Paro Valley. Though strenuous, you'll be rewarded with spectacular views of the picturesque mountain scenery. Don't miss out on visiting the grand dzongs across the country, too. Tip: plan your trip to coincide with its riotous, colourful festivals.
10. Uzbekistan
This often overlooked Central Asian gem has a fascinating past. You'll find icons of the Silk Road in cities like Samarkand, Bukhara and Khiva. This includes an arsenal of majestic madrassas covered in spellbinding tilework, ancient palaces and mosques to delight even the most hardened of cynics. The city is also abundant with ruined forts, monasteries and bazaars displaying local crafts, embroideries and ikat silk. But stay alert and cautious when you're travelling here – especially in public areas with large crowds (and avoid the border region with Afghanistan).
Bookmark this list of unique travel destinations in Asia for your next holiday!