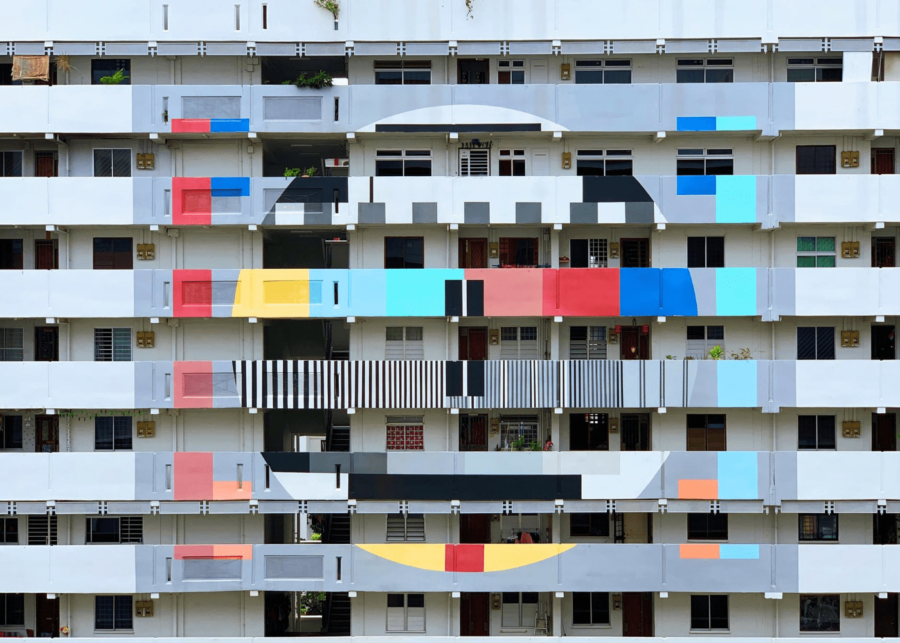 Photography: Nicole Nithiyah
These are no run-of-the-mill HDB blocks. Ready your cameras for interesting architecture, distinct designs and colourful murals. This is home, truly.
Singapore is a concrete jungle peppered with historical sites and heritage buildings, rich heartland history and grandiose architecture. Our neighbourhoods are no less intriguing, brimming with nuggets of our past. Blocks of HDB (Housing Development Board) flats are a common sight but some are far from your cookie-cutter designs. Presenting: Remarkable HDB blocks that feature uncommon shapes, distinct designs and a splash of vibrant murals.
Unique HDB blocks in Singapore
1. Tampines GreenVines
Who can forget the recent Tampines BTO that went viral for its vibrant tiles and decor? We still haven't gotten over the numerous photoshoots that surfaced after the discovery of this lift lobby at 640B Tampines Street 62. Despite HDB's decision to repaint the red ceilings, we think it's still totally a vibe. Of course, you can also make your way to the yellow landing instead which offers a cheery and nostalgic 90s aesthetic.
2. Tampines Street 42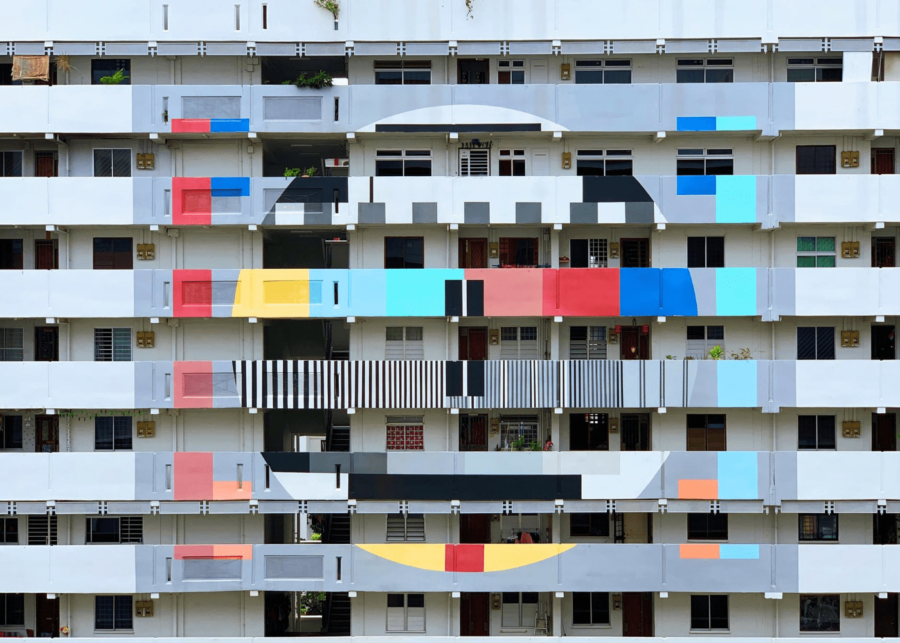 You might have seen this mural on countless IG posts but seeing it in the flesh sure brings on the wow factor. These nostalgic TV test screen murals are plastered across 15 blocks at Tampines Street 42. The retro design was decided on by a vote amongst residents. If you ask us, the intricacy and vibrancy of the design should be applauded. Tip: Head up to the eighth storey to get the perfect shot.
3. SkyVille @ Dawson
For killer views of Singapore's cityscape, make your way to SkyVille @ Dawson at Queenstown. The luxurious facade and splendour of the area may give you hotel vibes but we can confirm it's an HDB flat. There's a roof garden on every 12th floor but head up to the 47th storey for a bird's eye view of the city. There are also ample seats for you to have a tête-à-tête with friends. But be mindful of your noise level after 10pm; it is a residential area after all.
4. Block 168A Stirling Road
We didn't really understand the concept of these 'butterfly blocks' until we saw it for ourselves. Look closely and you'll notice the curved design on Block 168A loosely forms the wings of a butterfly. This unique layout was constructed in the 70s in an effort to create more character in public housing estates through innovative designs. We'd say the pastel colours help, too! Tip: Enjoy a better view from the open-air car park at block 171A.
5. Potong Pasir
How rad are these sloped roofs at Potong Pasir? And if you look closely, you'll notice a 'Welcome to Potong Pasir' sign at the top of block 142. How welcoming! It's truly one of the highlights in this laid-back 'hood.
6. Tiong Bahru
We can't stop going back to Tiong Bahru. From old school charm to quaint streets, time stands still in this heritage 'hood. You'll find horseshoe-shaped flats and pre-war apartments along Moh Guan Terrace, Yong Siak Street and Guan Chuan Street. It was one of the first public housing programmes by the Singapore Improvement Trust (STI),  which is the predecessor of the Housing Development Board (HDB).  It's also home to the first air raid shelter to be built in a public housing project. The Art Deco pre-war apartments is an Instagrammer's dream, with unique curved landings, rounded portholes, wonderful symmetry and a mix of curves and lines.
7. Blocks 141 and 130 at Pasir Ris Street 11
To keep up with its coastal heritage, many HDB blocks in Pasir Ris are designed with maritime-inspired features – think lighthouse-shaped turrets, porthole-shaped openings at void decks and clam-shaped frames on windows and balconies. Walk along block 130 and you'll notice cool porthole motifs. Plus, find lighthouses facades at the top of block 141.
8. Block 34 Whampoa West
Whampoa West beckons a 320m-long corridor of flats, making it one of the longest in Singapore. Imagine walking from one end to the other! Despite that, the meandering corridors make for a great IG shot, plus it provides a great sense of community.
9. Block 497 Tampines Street 45
How's this for grandeur? Block 497 at Tampines Street 45 is like a plaza on its own with a mini island of red brick flats surrounding a basketball court and playground. No doubt, we've got countless photographs of the symmetrical arches and magnificent blocks. We even spotted a family shooting some hoops on the court and a group of teenagers chilling after a friendly basketball match. We'd certainly be in high spirits if we lived here too!
 10. The Clover @ Kebun Bahru
The clover-shaped HDB estate at Block 259 Ang Mo Kio Avenue 2 is truly one-of-a-kind. No, really, it's the only circular block of flats in Singapore. Built in 1981, it was yet another effort by the HDB to amp up the unique factor of residential areas. As quirky as it is, the building's irregular shape was dubbed as impractical by some. But hey, it does offer amazing views of Bishan Park and Peirce Reservoir.
11. Selegie House
Ah, another photograph that has been hackneyed over and over again – especially this image above with the Singapore flags. But we ain't complaining. Selegie House consists of a block of 20-storey flats and two blocks of 10-storey flats. The 60m-high block 9 was the tallest mixed development building in Singapore after its completion in 1963. Today, we can appreciate the tessellation pattern of the corridors.
12. Pasir Ris Drive 6
Did you know there are riverfront flats in Pasir Ris? Those residing along Pasir Ris Drive 6 can wake up to the views of Sungei Api Api. But non-residents can also catch the view from the bridge at Pasir Ris Park Area 2 or along 418 Pasir Ris Drive 6, where a juxtaposition of old low blocks with a cool pitched-roof design and your usual higher blocks of HDB flats make for a great Instagram shot.
These HDB blocks are far from boring, fosho! Did we miss a unique design in Singapore? Let us know at [email protected]!