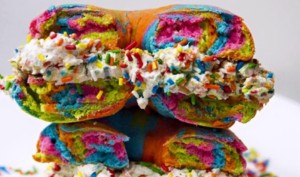 (via Word Cafe's Facebook page)
Are you secretly a unicorn? Hit up these cafes and restaurants that are now coming up with multi-coloured, vibrant foods and drinks that are also perfect for Instagram
If you've always wanted to live in a fairytale, you've gotta at least eat like a mythical creature – and do we have a majestic one in mind. Unicorn fans, trot to these cafes in Singapore for kaleidoscopic, rainbow-hued pastries, burgers, coffee, and other magical concoctions that will get you flying high with shimmery, silver wings. Oh, and don't forget to up your 'gram game with these top Instagram tips.
Rainbow Bagels
Inspired by the food trend in New York, WORD café came up with its own incredible version of rainbow bagels. Stuffed with a strawberry cream cheese filling, marshmallows and biscuit crumble, it's no shocker that these aesthetically-pleasing pastries receive so much attention on social media.
WORD, 906 Upper Thomson Rd, Singapore 787110. Tel: 9699 4829 Opening Hours: Tuesday – Thursday 12pm – 10pm, Friday – Sunday 12pm – 1030pm
Unicorn Tears and Gold Brew
Living up to its name, Dapper Coffee is known for inventing its own delicious and adventurous brews. Need to shake up your cappuccino routine? Order the Gold Brew (a cold brew) and it will produce a lustrous gold and glittery effect when shaken. Alternatively, the Unicorn Tears is a non-caffeine option for non-coffee fans who still want a splash of sparkle in their beverage.
Dapper Coffee, 73 Amoy Street, Second Floor, Singapore 069892, Hours: 8AM–5PM, Mon to Fri (closed on weekends)
Rainbow Toasties
Who doesn't love a good, melt-in-your-mouth grilled cheese toast; especially if there's a gooey, rainbow surprise smack right in the middle? This wonderful brunch delight can be found at Epicurious. Don't be too concerned about the artificial colouring, as healthy vegetable puree is used to imbue that touch of magic you need to start your day.
Epicurious café, UE Square Shopping Mall, 81 Clemenceau Avenue, 01-13 Open 8.30am to 5pm (Tuesdays to Sundays), closed on Mondays
Rainbow Burger
Want some bright hues on your bun? The Handsome Burg (charming name, no?) is something that foodies will be curious to have a taste of. The burger buns here are soft rainbow croissants, used to sandwich a thick, juicy beef patty. It may look a tad bizarre for a savoury dish, but where's the fun in backing down from an adventure?
WORD, 906 Upper Thomson Rd, Singapore 787110. Tel: 9699 4829 Opening Hours: Tuesday – Thursday 12pm – 10pm, Friday – Sunday 12pm – 1030pm
Rainbow Latte
Cold brews not your thing? Visit I Am café and start sipping on this mesmerising coffee. With such intricate latte art – embellished with a dazzling array of unicorn-approved colours, no less – it's almost too pretty to drink!
I Am, 674 North Bridge Road, 01-01 Open: 11am to 11pm (Mondays to Thursdays), 11am to 1am (Fridays and Saturdays), 11am to 10pm (Sundays)
The Talad Drinks
These multi-coloured, layered drinks are a sure way to jazz up your Instagram feed. Not only are they pleasant to the eyes, these bottled thirst quenchers are also delicious, varying in more than 15 different flavours. If you didn't manage to get your Talad fix at Artbox Singapore last month, fuss no more, because they're readily available at The Talad Drinks and Thai Kitchen eatery, only minutes away from Toa Payoh MRT station.
The Talad Drinks and Thai Kitchen, 190 Toa Payoh Lorong 6 #01-520, Singapore 310190. Opens 11.00am – 3.30pm, 5.30pm – 9.00pm
Unicorn Poop
Yup, you read that right. They're so elegant and out of this world, and with a polarising name like that, we can't wrap our heads around this dome-shaped beauty. It is an original from Cream & Custard, using mainly raspberry mouse, vanilla cake and popping candy, amongst other things. Hats off to the creator, for creating an ideal representation of a unicorn's poop – as magical and adorable as we would imagine it to be.
Cream & Custard, Blk #01-894, 46 Jln Bukit Ho Swee, Singapore 160046 Opening hours: (Mon to Sat) 11am – 7pm, Closed on Sundays Tel: +65 9111 8696
The foodie in you still not satisfied? Feed your sweet tooth with Korean desserts or go big with more amazing buffets and eateries!