The main man behind the bar at Tippling Club: Joe Schofield
In this debut edition of Bar Banter, we chat with the young British mixologist who's launching a new chapter for the Tanjong Pagar restaurant and bar.
Like adding a secret ingredient to enhance an already rocking recipe, Joe Schofield might just be the next best thing that's happened to Tippling Club. When we first encountered the 26-year-old Briton, he was determinedly chipping at a giant block of ice in our Honeycombers HQ, preparing miniature negronis and daiquiris for our thirsty-for-tipples team. It was at that moment where we learnt that Joe Schofield was actually the new Head Bartender at Tippling Club, and he had just launched the Tanjong Pagar resto-bar's new cocktail delivery service with Deliveroo – a novel campaign that he's personally spearheading. But that's just the tip of the iceberg when it comes to what Schofield has in store for the future of Tippling Club. We find out exactly what's up his sleeve, what it's like having worked in the best bars in the world, and which Singaporean food he absolutely loves.
Hey Joe! Thanks for stopping by the Honeycombers HQ the other day to deliver those cocktails (they were really potent). What made you wanna kick off this cocktail delivery service with Deliveroo?
Thanks! When Deliveroo approached us, we wanted to do something different from the typical food delivery offering. The food at Tippling Club is meant to be experienced and enjoyed at the restaurant in order to showcase the techniques, creativity and flavours on each plate. Hence, we thought it'd be a good opportunity to present our cocktails, and we've managed to pre-bottle them while maintaining the same level of quality and consistency that people generally expect from drinking at the bar.
We've kept the menu simple and familiar: a range of classic cocktails with a Tippling Club twist. Each bottle comes with a bag of quality, hand-cut ice. All you have to do is add the ice, give the bottled cocktail a couple of hard shakes, and that's it – fresh, tasty cocktails in the comfort of your own home or office. And if you bring the bottle back to us on your next visit, you get 10% off your first round of drinks.
Sounds like an ace deal. Without further ado, congratulations on being appointed Head Bartender of Tippling Club! How does it feel to hold this honour?
It feels great! I've admired Tippling Club and Chef Ryan Clift for a long time. Their work is so creative and forward-thinking. I've also always wanted to move to Asia, and heading such a recognised bar in the region is an incredible privilege.
How does Tippling Club and everything that it stands for gel with your own personal philosophy in the food and drink industry?
Chef Ryan Clift and the team here are so passionate about what they do, and they're always looking to push the envelope in both food and drink. I believe that challenging yourself and constantly innovating to continually surprise your guests is one of the most fulfilling things about being in F&B. Tippling Club represents all of that.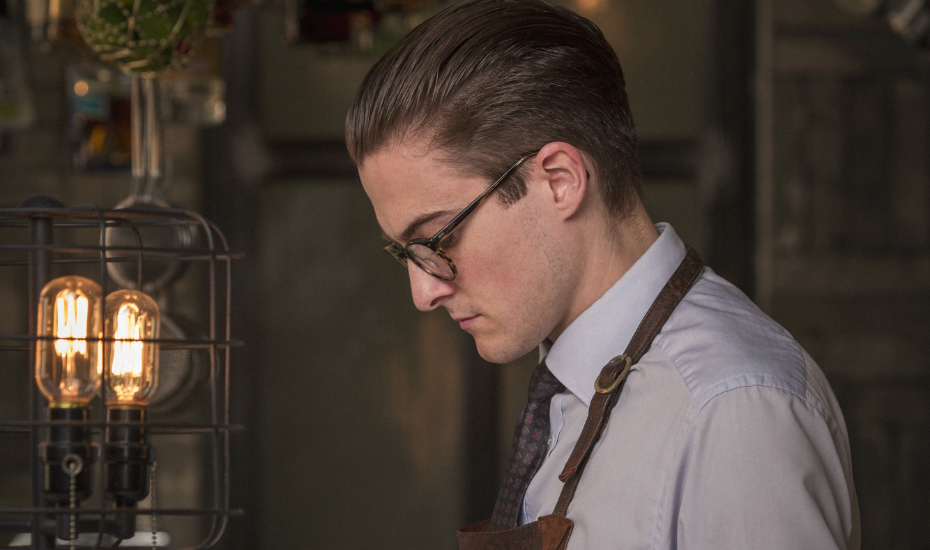 Your current role at Tippling Club comes after your stint at The Savoy in London. Has the transition to Singapore been tricky on a professional, and perhaps, personal level?
Definitely. I oversee not just the bar team at Tippling Club, but also the bar programmes at Ding Dong, Open Door Policy and Open Farm Community. It's a challenge, though one that I embrace, to develop bar programmes for various establishments. It's important that they complement the distinctive cuisines offered and yet are strong enough to stand on their own.
Being in Asia has introduced me to an amazing variety of flavours and ingredients, too. It's been a great journey so far constantly working with people from different fields, deepening my understanding of techniques and just pushing myself creatively.
What are some of your favourite local foods? And what are some that you absolutely can't stomach (we don't judge)?
Xiao long bao and wanton mee soup my favourites, amongst many others. It's hard to choose just a few, because the variety of food here is amazing. And I have honestly not found something I haven't enjoyed; I'm even partial to durian!
Do you feel that cocktail connoisseurs in Singapore are any different from those back home?
Absolutely; they constantly look to switch it up here. I think it has something to do with the cocktail culture being relatively young in Singapore. The people in the local bar industry are very much dictating trends with fresh ideas, and a lot of the drinks on menus here are not that common in other places I've worked in, such as the UK or Australia. The receptiveness of customers in Singapore definitely also encourages bartenders to try new things.
If you think back, what made you fall in love with mixology in the first place? And how do you respond when some people think that it is an easy art?
It was the chance to see people enjoying something you have created, as well as always being surrounded by great people in a fun environment. In some ways, I agree that there are certain aspects of bartending that are quite easy – you can teach someone to make a cocktail in a matter of minutes. But there are always more challenging aspects, such as back-of-house prep, creating bespoke ingredients and management of a venue.
We hear you were studying contemporary art when you stumbled upon bartending. Are you still an arts buff today?
Absolutely. Whenever I'm travelling, I will always find time to visit a gallery or a museum. I was in New York two weeks ago and I finally got the opportunity to visit the Guggenheim.
You've worked at some of the best bars in the world, including The American Bar and Beaufort Bar. What, in your opinion, makes an excellent bar? And an excellent bartender, for that matter?
Whenever I visit a bar, I always look for a couple of things. I enjoy innovation; a great atmosphere and a great bartender do it for me. I think the latter comes down to the ability to host and smile. Everyone remembers a good experience and that is normally delivered by the person serving you.
We also hear that you're working on a new cocktail menu for Tippling Club due end of this year. Could you drop us some spoilers on what to expect?
I've been working on this menu with Ryan for about six months, pretty much ever since I arrived in Singapore. All I can say is that we've been trying to keep it under wraps and we want to debut it with a big bang. It's going to be the first of its kind in Singapore. The menu and drinking experience is definitely going to showcase the synergy we have between kitchen and bar, in terms of both flavour and technique. I think a drink should always tell a story and be representative of the venue. In the new menu, we have developed quite a few left-field garnishes with help from the kitchen. Some drinks will tell a story using conceptual ideas.
And finally, what is your go-to cocktail? And a bar you'd recommend that isn't Tippling Club?
My go-to cocktail is a negroni. One of my old colleagues told me once that if you are tired of the negroni, you are tired of life! And one of my favourite bars is Cufflink Club; they have a great team over there and are always very welcoming.
Tippling Club, 38 Tanjong Pagar Road, Singapore 088461, p. 6475 2217