Photography: Amos Lee via Unsplash
Behold, all the best things to do in Singapore, from comedy and art experiences to vintage shopping and nature adventures.
Isn't it amazing how our little red dot is such a bustling, urban hub peppered with skyscrapers all around? But don't mistake the city's reputation as an itsy-bitsy island for a snooze-fest. If you're looking for fun weekend things to do in Singapore, you've come to the right place. We present you with a plethora of awesome activities you can do on our sunny island.
Best things to do in Singapore: Explore the city
1. Get inspiration from the island and create your own fragrance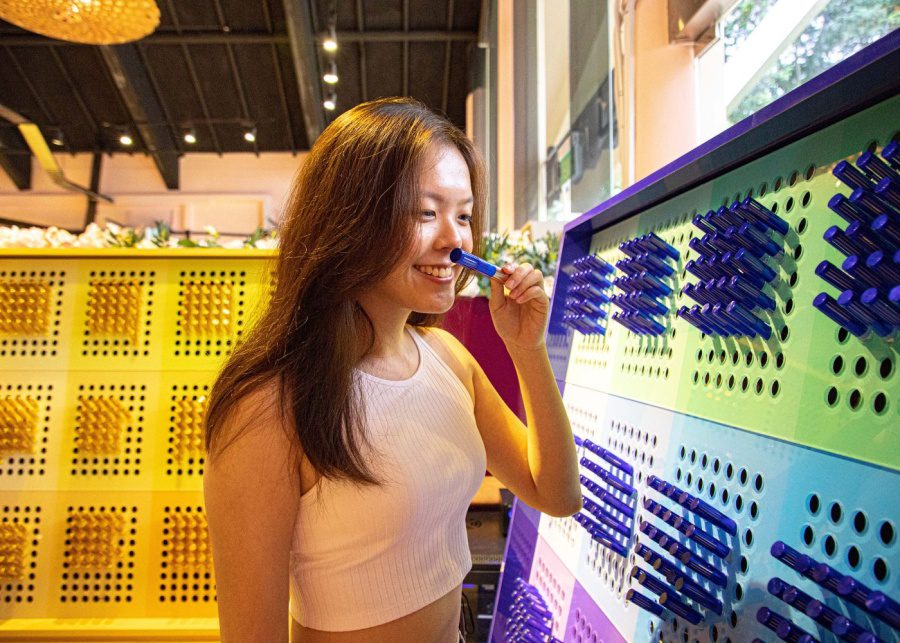 Embark on a sensory journey with Scentopia's perfume making workshop. You'll design a bespoke fragrance using ingredients from local rainforests – like the scent of orchids. At Scentopia's perfume bar, the experience begins with a personality assessment to find out which scent suits you best. Next, pick your fave aroma oils from over 6,000 scents. Can't decide? Don't worry, just create two different samples to see which combination you prefer.
Once your perfume is done, the team will pack and customise it, leaving you with a unique scent that's one-of-a-kind. Psst: based on your aroma profile, you can download a virtual guided meditation experience from Scentopia's website!
2. A day-tonight-carnival beach experience
Looking to do more than just sun-soaking at Sentosa? Hit up this on-site carnival. Central Beach Bazaar is an activity-filled escape. Once you're done running around on the beach, grab some grub at the International Food Street. This lineup of food trucks offers street food for light bites and snacks. And at night, catch the Wings of Time light show in all its beautifully-lit glory.
3. Lose yourself in a world of lights
ArtScience Museum at Marina Bay Sands is a looker thanks to its iconic, cracked egg-shaped facade, but what it stores within is even more eye-popping. One highlight that always lights up our day? Team Lab's exhibition: Future World. It's essentially a kaleidoscopic universe of interactive projections, light sculptures and vibrant photo ops.
4. Go island hopping
Take the day and explore the offshore islands of our city by ferry. We say the tranquil beaches of Kusu Island are perfect for a picnic, while St. John's Island is an idyllic spot for quiet holiday bungalows complete with barbecue pits. For a more outdoors-y experience, cycle on to Coney Island and get back in touch with Mother Nature.
5. Do it for the 'gram
No need to be shy about it. We're slaves to social media, too. And that includes capturing our #OOTD shots in the most photogenic of spots. Sick of the same ol' scenery in Singapore? Check out Instagram-worthy spots in Singapore and nab that money shot.
6. Book a stay at heritage hotels
The Lion City might be a young nation, but we've got some historical clout. Step back in time with a staycation at Raffles Singapore, our finest colonial-style lodging. If you prefer romantic strolls by Singapore River, choose to stay at The Fullerton Hotel Singapore, which used to be a post office in its past life – its plush, fancy digs will leave you gasping in delight.
7. Admire street art
Some people, like the ever-renowned Banksy, take art to the walls – the street walls, that is. While Singapore has strict policies on street art in public places, we actually have hotspots that are (legally) tainted with unique and striking artworks. Keen to discover street art in Singapore? Head over to Haji Lane, Clarke Quay, Kampong Glam and more to find fascinating artistic doodles on walls and public spaces.
8. Uncover Singapore's secret spots
They're not really a well-kept secret, now that we're sharing it with you. But if you're up for off-the-beaten-track adventures, embark on a journey to find hidden caves, beaches, forts and more.
9. Admire architecture
We've got no lack of iconic buildings in Singapore, so architecture buffs will be pleased as punch to stroll around the city and take in intriguing structures such as The Interlace, Golden Mile Complex and Hill Street Building.
10. Chase the sun
We live on an island, so getting to the coast is easy for Singaporeans. But coasts aren't the only spots to catch the golden hour of sunrise and sunset, not when we have bays facing the sea and even high vantage points such as Mount Faber.
11. Find the Gotham City building
Bruce Wayne, you in? While you probably won't spot Mr. Batman himself in Parkview Square, aka Singapore's Gotham City building, you can totally pretend to be intruding on his premises thanks to the Art Deco-styled architecture. This building even houses an impressive gin bar called Atlas, and a free museum featuring contemporary artworks.
12. Roam around the red light district
As clean as this Garden City may be, it has its fair share of vices. Geylang is a notorious hotspot. But we're not telling you to… y'know. Instead, explore the neighbourhood's animated and time-worn roads filled with street food, durian stalls, cafes and boutique shops.
13. Check out an outdoor escape room
Looking to discover more of Singapore with a fun, immersive experience? Try your hand at Hidden Singapore's unique puzzle-solving game that takes you all around a local neighbourhood. Gather a group of friends and start solving clues that'll take you across Tanjong Pagar, Holland Village, Chinatown, and more.
14. Shop for cool crafts
Can't pass up on an opportunity to shop your heart out? You'll love lifestyle marketplace Curbside Crafters – the first of its kind in a shophouse located in the heart of Kampong Glam. Swing by to browse through myriad handmade crafts like resin earrings, felted soap, wooden jewellery, aromatic candles, plushies, illustrated designs and more. While you're getting your retail therapy fix, treat yourself to light bites, desserts, teas and coffees.
Oh, and keep tabs on the space for craft workshops. Crafters and entrepreneurs can rent pop-up booths at the adjoined heritage shophouse to showcase goods or host creative classes. Just get in touch with 'em on Instagram!
15. Check out cool HDB flats
Marvellous architecture aside, Singapore is home to pretty cool HDB flats. From circular flats at Block 259 Ang Mo Kio Avenue 2, to 'horse-shoe' shaped flats at Moh Guan Terrace in Tiong Bahru, it's an Instagrammer's paradise.
16. Experience a slice of India
For a tiny peek of India in this multicultural city, journey through Little India. Smell the scent of flowers and spices, taste the best of Indian cuisine, admire the beauty of classic sarees and traditional jewellery, and watch the world go by in one of the many cafes.
17. Explore a mangrove trail
Known as Singapore's first Asean Heritage Park, Sungei Buloh Wetland Reserve is rich in biodiversity and has an extensive mangrove forest filled with monitor lizards, otters, eagles and even crocodiles. The space is open all year, but visit during the migratory season from September to March when shorebirds, waders, plovers and sandpipers make an appearance.
18. Uncover Orchard Road's history
Heritage shophouses (some housing quaint watering holes, no less!), majolica tiles and verdant foliage: Emerald Hill is where it's at! If you've done your fair share of strolling in sleek, modern malls, delve into the historical side of Orchard Road along this street.
19. Stroll along Singapore's bridges
We may be small in size, but boy do we have a lot of bridges – all with their own unique elements! From futuristic designs like Helix Bridge and Henderson Waves to the heritage structures of Cavenagh Bridge and Elgin Bridge, there's so much ground to cover.
20. Visit a mall rooftop garden
An urban farm in the middle of the city is one thing, but in a mall? That's Singapore for ya. Located on the seventh level of Funan, the farm has 50 varieties of plants, some of which are harvested at the farm-to-table Japanese restaurant Noka on the same level. Funan also has a co-living space, a futsal court, indoor cycling paths and rock-climbing facilities. Yeah, we know, extra AF.
21. Swing by Sembawang Hot Spring Park
A natural hot spring in Singapore? Who would've thought! Take a little field trip up to the north and dip your toes in the heated natural spring waters. You can even try to (soft) boil eggs.
22. Gaze at heritage buildings
Another unique trait that Singapore holds: the perfect mishmash of old and new buildings. We love gawking over our skyscrapers but we also have a soft spot for heritage buildings steeped in rich history and culture. To explore more of the city, check out a heritage trail.
23. Get inked by a master
Has Singapore left a mark on you? If so, why not make it a permanent one? When you're ready to make the commitment, head to the city's best tattoo studios featuring some of the most talented tattoo artists on the island. We can't say this won't hurt, but it'll be worth it.
24. Behold the jewel of Changi Airport
If having the world's tallest indoor waterfall at 40 metres high in a mall doesn't entice you to visit Jewel Changi Airport, we don't know what will. With over 280 unique retail and dining options, this swanky mall in the east is truly a gem.
25. Journey through heritage-rich Chinatown
Chinatown is one of our oldest 'hoods with a whole lotta history and an incredible amount of good eats. From homely classics to Michelin Bib Gourmand winners, there's no lack of delicious grub. Plus, keep an eye out for knick knacks like gorgeous white and blue Chinese porcelain homeware.
26. Enjoy performances by buskers
Aren't we a talented bunch? Watch street musicians turn a public space (notably Orchard Road) into a concert with foot-tapping numbers. It's a great respite from the hustle and bustle.
27. Visit the largest songbird display area
Witness a bevy of songbirds in uniquely crafted cages (hoisted 20ft up on poles) showcasing their tunes at the Kebun Baru Bird Singing Club. Located in the heartlands of Ang Mo Kio, it's a great space to sit back, relax and chat with the hobbyists.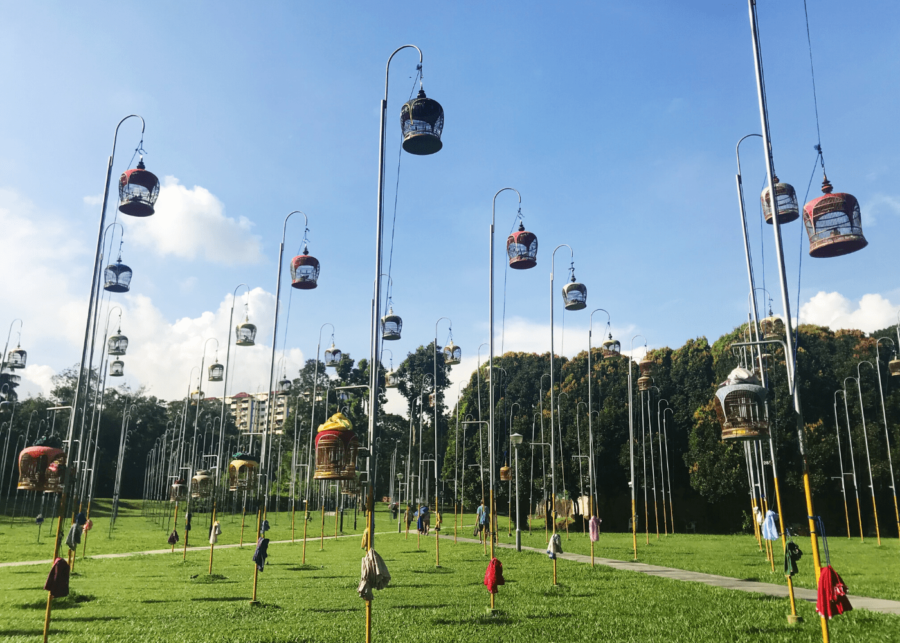 28. Stroll through a kampong in the city
The last surviving village in mainland Singapore, Kampong Lorong Buangkok has surprisingly resisted the onslaught of modern development. Take a trip to this enclave to catch a glimpse of the kampong life, lush greenery and rustic houses. (But be sure not to disturb the residents.)
29. Marvel at black and white buildings
For a change of scenery, head to Wessex Estate. Once a British Army base built in the 1930s and 1940s, these black-and-white colonial buildings surrounded by foliage now house numerous art studios and galleries.
30. Go on an adventure to Coney Island
Hidden away within Punggol, Coney Island is located near Punggol Waterway Park. This lush island boasts wild sprigs, wildlife (think otters, butterflies and birds) and quiet beaches. Perfect for a cycling day out!
31. Set foot on Kampong Glam's buzzing streets
Singapore's Arab quarter Kampong Glam is home to vibrant murals, local eats, quaint boutique stores, hip cafes, a stunning mosque and more. While you're there, pick up a vial of Egyptian or Middle Eastern fragrance, or bring home beautiful traditional batik pieces.
32. Explore a restored military fort in Sentosa
You've been to the beach but have you seen the underground bunkers and artillery of Fort Siloso? Located on the sunny island of Sentosa, military museums and guns await at this under-the-radar attraction.
33. Enter the island's iconic temples
Curious about the different religions that co-exist on our multicultural shores? Hop on a temple trail for an adventure through historical buildings and colourful scenes.
34. Climb to the top of the city
For a bird's eye panorama of splendid Singapore, head to nature parks with a view. From the TreeTop Walk at MacRitchie Reservoir Park to Mount Faber to Henderson Waves, these outdoor spots offer cool breezes, sunny rays and spectacular sights.
35. Get schooled on heritage as you stroll
Fancy a pre-planned itinerary? If you want a good dose of culture sans the hassle of planning your day trip route, try walking tours in Singapore.
36. Find the Merlions
Betcha didn't know Singapore has six Merlions! That's right, and two aren't even (legally) supposed to be there. Part-lion, part-fish, the iconic symbol represents Singapore's original name Singapura (which stands for 'lion city') and her origins as a fishing village. Find these statues at Merlion Park, Ang Mo Kio, Tourism Court and Mount Faber.
37. Check out a cool back alley gallery
Find your way to the back of Muscat Street and you'll stumble across Gelam Gallery. This permanent outdoor art space features framed artwork by local artists and is always buzzing with tourists and art enthusiasts posing for the 'gram.
38. Step into a butterfly park and insect kingdom
Yes, this exists, tucked away in a rainforest in Sentosa. The sunny outdoor conservatory is where you can see different species of butterflies IRL (you might even spot one emerging from its cocoon if you're lucky!) alongside other insect displays.
39. Locate hidden gardens
We're not all concrete here in Singapore. Our city is full of secret parks and lesser-known green spaces for you to get a mid-day breather amidst the bustle.
40. Slide down dragon and elephant playgrounds
Want some old school thrills or a throwback picture? Suss out the two dragon playgrounds in Toa Payoh or the elephant playground in Pasir Ris for terrazzo-tiled fun.
41. Traipse through a quaint neighbourhood
One of the most charming, quiet 'hoods in Singapore, Everton Park is home to cool cafes, beautiful heritage murals, old school stores and even a vintage-style barber.
Best things to do in Singapore: Eat and drink
42. Table for one, please
Got some time to kill before your next meet-up? Why not treat yourself to some good food and a coffee, or even a quick tipple? No matter where you are, you'll be able to find a cafe or hole-in-the-wall resto for a solo meal.
43. Dine like a local
We might not have the oldest of cultures, but our food culture is certainly our pride and joy. You haven't experienced Singapore until you've sweated it out in a hawker centre.
44. Get the Michelin-starred experience
Nothing signifies upscale quite like the symbol of a Michelin star, and you'll find these scattered across the culinary cornerstones of Singapore's fine dining scene. But if you want a mix of contemporary and fancy, check off our list of top restaurants.
45. Turn up the romance factor
Got a date? Or perhaps a special occasion coming up? Serenade your other half at romantic restaurants in Singapore, or get in the mood for love by wining and dining with your partner at intimate bars.
46. Drink like no one's looking
You wanna chill out with a tipple, but you'd also like to do so in the privacy of a secret hideout. So stay away from the usual suspects and stealthily skedaddle your way to hidden bars and speakeasies instead. Finding the entrance is just half the fun!
47. Relax under the stars
We sure do love our alfresco restaurants, whether they're in green gardens, breezy beaches or under the twinkle of fairy lights. Got a thing for alfresco bars? Say no more.
48. Enjoy an exquisite steak
Can't turn down a juicy slab of beef? We've got premium cuts, splurge-worthy faves and easy-on-the-wallet meats from the best steakhouses in Singapore.
49. Sip on a cocktail at the city's top bars
Our cocktail bar scene is amazing, seriously. From experimental concoctions and unusual ingredients to classic drinks done perfectly (or with a twist!), a night out at any watering hole in town is guaranteed to end in fun.
50. Tuck into traditional Peranakan cuisine
One tenet unique to Singaporean heritage is Peranakan culture – it has a good mix of Chinese and Malay influences. The best way to discover it? Through its colourful, spice-laden cuisine. Check out our fave Peranakan restaurants in Singapore and make sure you order iconic dishes like buah keluak, babi pongtay and chap chye.
51. Start the day right with breakfast
Comb through our breakfast bucket list to chow down on classics such as scrambled eggs and avocado toast, as well as local delights including roti prata, kaya toast and congee. It's fuel for the day ahead!
52. Chow down on Western food
Dreaming of chicken chop, fish and chips or pork chop? We've scoured the island for the best Western food spots in town. Some of 'em are charmingly old school and rustic – love it!
53. Savour Singapore's famous dishes
Some say our national dish is chicken rice, while others claim they can't get enough of laksa or nasi lemak. To us, it all boils down to the good ol' chilli crab. A seafood classic and signature Singaporean dish, the delicacy can be found at numerous seafood restaurants in the city. Caution: you might not wanna wear white for this.
54. Jump on the bubble tea bandwagon
Singapore has plenty of national drinks, but not many that people would actually queue for hours. While originating from Taiwan, bubble tea has found its zealous fanbase here, and you too can become a convert after you've sampled cheese teas, fruit teas, milk teas and more.
55. Go to a farmer's market
Going out for brunch with your girlfriends while getting the groceries for dinner may seem like a Herculean task, but we assure you it's not. With farmer's markets and artisanal grocers popping up everywhere in Singapore, you can easily get organic produce and rare imports, while digging into delectable menu offerings – all under one roof.
56. Hit your caffeine quota
Can you smell the coffee? We sure can! Cool coffee roasters and cafes are all over town, so go ahead and grab your espressos, lattes, macchiatos and whatnot. (Fret not, tea lovers. We've got your back too.)
57. Have a swirling good time
At one of our great wine bars, that is. No matter if you're a vino expert or a newbie – it's always wine o'clock at these spots, where you can pair your red, white and bubbly with cheese and charcuterie.
58. Dine in the middle of a garden
Talk about a romantic date. The Summerhouse's igloo-looking domes give you the ultimate private dining experience in an intimate garden under the stars. Select from three themes (bohemian, Scandinavian and lounge) and clink glasses under the stars.
59. Chug local craft beer
So you thought Tiger was the only homegrown beer we produce? Think again. Local breweries are popping up in the unlikeliest of places, but they sure are close to our hearts. We're thirsty for crafty local lagers and stunning saisons already…
60. Bow down to the King of Fruits
Singapore's national fruit is a true mixed bag – you either love it or hate it. Durian lovers (or the curious) should get their hands on this creamy, fleshy, pungent fruit. Durians are available for takeaway but they're best eaten fresh at a fruit stall so the smell doesn't trail with you. Geylang has a great stretch of open-space stalls.
61. Spend an afternoon cafe-hopping
At this point, cafe-hopping might well be one of Singapore's national pastimes, and we ain't complaining! Join in the fun by eating and Instagram-ing your way through our list of the best cafes and brunch spots. Or live the tropical life at gorgeous garden cafes.
62. Try 'mamak' food
The Koreans have ram-don, we have mee goreng. Mamak food is a blend of Indian and Malay cultures, and it's also popularly known as Indian-Muslim food. The signature fried noodle dish is totally customisable – you can select your choice of noodles, protein and spice levels. Other notable dishes include nasi goreng (fried rice), murtabak, a fried doughy pancake stuffed with meat, veggies and egg, as well as frothy teh tarik (pulled tea). Many of 'em are also late-night restaurants!
63. Swig local drinks
Everyone raves about Singapore's local food but we definitely have a separate fan club for our beverages. Try local drinks like bandung (rose syrup with evaporated or condensed milk), chendol (a dessert-drink with coconut milk, red beans and green jelly) and, of course, our countless kopi (coffee) variations.
64. Dine in a unique setting
Curious to try a themed cafe or unconventional dining experience? Our city has underground hidden eateries, theatrical dinners, sky high culinary treats and more.
65. Chow down on fresh seafood
If you like your seafood super fresh and straight from the source, there are a select few restaurants that source their seafood from kelongs (floating fish farms) found in waters off Singapore, Malaysia, the Philippines and Indonesia. We've also got lobster dishes if those are more up your alley!
66. Find under-the-radar cafes
Wanna escape the crowds and find a quiet spot? Make your way to hidden heartland cafes for a peaceful afternoon filled with coffee and good food.
67. Hunt for old school local snacks
From ice gem biscuits to White Rabbit candy, we love a sweet trip down memory lane. Whether you're reminiscing childhood days or curiously exploring Singaporean eats, these treats are worth the hunt.
68. Go beach bar-hopping
What's better than enjoying cocktails, seafood and live music? Doing it all by the beach, of course! Pop by beach clubs for the booze, breeze and parties, all with a seaside view.
69. Tuck into a dim sum feast
Maxed out on cafe brunches and can't stomach another eggs ben? Rise and shine to the world of dim sum brunches: From fancy Chinese restaurants to classic Hong Kong style picks, we have just the list for you.
70. Bring your pooch for a fun day out
Can't bear to leave your furry friend at home? Bring your canine kid to dog-friendly cafes and restaurants so both of you can have a fab time.
71. Love the earth
Bring out your refillable containers and BYO bags – zero-waste grocery stores around Singapore are all about going plastic bag-free for the environment.
72. Put your pinkies up for tea
It's time for high tea and we've collected the classiest spots to enjoy this ultimate indulgence… on a weekday. 'Cause who says treating yourself is reserved for the weekend?
73. Join the brunch bunch
If you haven't realised by now, we're obsessed with brunch. With cafes popping up everywhere, you'll be spoilt for choice. But we've done the legwork for you, picking out the top brunch spots in Singapore for your eggs benny fix. And yes, some of 'em even come with a splash of booze.
Best things to do in Singapore: Fun activities
74. Putt-putt your day away
Hidden away within Circular Road lies the brainchild of a mother-son duo who decided to use their time during the Covid lockdown to create something unique. That's how Kulnari Mystery Golf was born. Combining elements of an escape room and mini golf course, the enthralling story immerses you in the 1920s.
75. Bond at Brass Lion Distillery
Gin lovers, we've found the perfect playground for you. Brass Lion Distillery opens its doors with a wide array of group activities that you can embark on. Take a tour around the distillery, get a behind-the-scenes look at how the gins are made, and enjoy a three-flight tasting of its signature flavours. Or if you've got a few more hours to kill, take part in the Brass Lion Gin School. Spend a few hours learning how to distil gin for yourself and take your creation home to share with friends and family. Or opt for a guided tasting of six Brass Lion gins with an introduction to the brand, its flavours, and the inspiration behind its process.
76. Take romance to new heights
What could be better than a romantic stroll down the beach? Date night with a killer view, of course! Take your romance to new heights by having a meal amongst the stars. Or cheers to sky high views of the city at swanky rooftop bars.
77. Knock down those pins
You don't have to be a pro to have a ball at bowling alleys. From glow-in-the-dark themed nights to ones that come with arcades, these family-friendly spots are big on fun.
78. Attend trivia night
Do you know offhand how many bones there are in the human body? Do your friends call you the 'Encyclopedia of Useless Knowledge'? Well, here's your chance to show your detractors that knowledge is power (as is free beer) at challenging trivia nights and quizzes easily found at pubs in Singapore.
79. Hunt the haunted
Most of you are familiar with Old Changi Hospital, but what about Neo Tiew Estate or Old Seletar Airbase? Ghost hunting can be scarily fun (safety in numbers is probably a good idea though). So if you're not chicken, venture into these spooky spots.
80. Let loose at an adventure playground
Swing from the treetops at Forest Adventure Course! While you can bring the little ones along, it's honestly just an excuse for adults to test themselves and complete the death-defying obstacles. Set amongst leafy surroundings, it's also a great way to overcome your fear of heights and have a laugh amongst friends.
81. Stay up past midnight
Calling all night owls! The city is full of incredible things to do even in the wee hours of the morning. Don't believe us? We've got all the coolest after-dark activities rounded up for you.
82. Unleash your inner Spiderman
Sure, we might not have any mountains to scale in Singapore, but it doesn't mean your rock climbing goals have to hit a wall. Get that adrenaline rush!
83. Pamper yourself with a spa day
Whether you're looking for a revitalising facial or a massage to nudge those knots away, our fabulous spas in Singapore will have you feeling brand new.
84. Catch an arthouse film at an indie theatre
Take a break from flashy cinemas and feed your inner culture vulture at alternative cinemas like The Projector. Formerly Singapore's biggest of its kind in the 1970s, the rejuvenated film hub is now a haven for hipsters and arthouse aficionados. There's even a wicked rooftop bar – perfect for your post-show critique and tipple.
85. Blaze a trail
If you're the outdoors-y sort, check out hiking trails and nature reserves in Singapore for your trekking desires. Need us to point you in the right direction? Start with The Southern Ridges, and we highly recommend Chestnut Nature Park, too.
86. Tour Haw Par Villa
Step inside the whimsical world of Chinese legends, history and folklore at this bizarre mythological park. Created to showcase Chinese traditional values, Haw Par Villa has over 1,000 electric statues and 150 dioramas including the 10 courts of hell and the laughing Buddha. Expect a few eyebrow-raising moments on this fascinating, grisly tour.
87. Feel like you're overseas… without leaving the country
Got a case of cabin fever? 'Travel' across the globe without hopping on a plane when you explore Singapore's plethora of hidden gems. From Bali to Australia, our list of beautiful 'overseas' spots will transport you elsewhere in a heartbeat.
88. Go zen in a different way
Singapore can be a hectic country if you let the stress catch up to you, but we've got you covered with unique forms of therapy all over the island. From sound meditation and acupuncture, to Lomi Lomi and Japanese onsens, these alternative therapy and treatment options will make sure you're always cool as a cucumber.
89. Get groomed
Need some primping? The city's top hair studios and nail salons should do the trick. You'll emerge a totally new you!
90. Spend the day outdoors
Love a good outdoor activity? From picnics to fishing, farms to beautiful swimming pools, Singapore has it all.
91. Belt out your fave tunes
Doesn't matter if you're a bathroom singer, a show-stopping songstress or you can't hold a note to save your life. KTV bars provide a non-discriminatory space where the sole purpose is simple: to sing and have a ball of a time. So… clear your throat, do some lip trills and get ready to impress at karaoke bars.
92. Take on an escape room challenge
Calling all Houdinis! It's time to ditch virtual gaming and delve into this first-person reality game that replicates escaping from Dracula's castle, surviving a Zombie outbreak, and Prison Break-esque scenarios. Intrigued? Check out fun escape rooms in Singapore.
93. Feel good by doing good
There's so much you can do to volunteer and help others in Singapore. Have an interest in women's welfare? Sign yourself up with the Association of Women for Action and Research (AWARE) or Asian Women's Welfare Association (AWWA). You can also lend a hand to migrant workers in Singapore at TWC2 or Home. Or, if your heart goes out to animals, check in with the Cat Welfare Society and Action for Singapore Dogs. Psst: You can also donate pre-loved goods for charity!
94. Who let the dogs out?
We're talking about fun dog runs! Bring your four-legged furballs for a little outdoor workout at green spaces around Singapore.
95. Hunt down secret museums
Come a little closer as we let you in on the city's coolest hidden museums. From video games to musical boxes to wildlife, these niche museums are totally worth exploring!
96. Get a haircut at an old school barber
No-frills, no OTT equipment. If you're all for experiencing an old school barber cut, there are plenty across the city. For starters, check out this handy list of barbershops in Singapore.
97. Say hello to superheroes
Marvel at graphic novels, manga and merch at comic book stores that display fan favourites, new series, rare back issues and more.
98. Hop on the Singapore River Cruise
Take a leisurely river cruise on one of Singapore's iconic bumboats and treat yourself to a tour of some of Singapore's best dining and entertainment spots along Boat Quay, Clarke Quay and Robertson Quay. We recommend taking the cruise after sunset. The night view of Singapore's skyline is absolutely breathtaking!
99. Do Farmville IRL
Visit a local farm in Singapore's countryside (yes, we do have one). Animal lovers, head to Hay Dairies to see how goats are milked or Jurong Frog Farm for a close encounter with our amphibian friends. If you're interested in organic fruits and veggies, stop by Bollywood Veggies.
100. Run till you're out of gas at a marathon
If running is part of your list of annual resolutions, you'll be pleased to know the island's got plenty of races for both rookies and seasoned runners. To get your cardio fix, just sign up for a marathon.
101. Unleash your inner Legolas or Katniss
Got a thing for archery? Try your hand at the sport at archery clubs in Singapore. Who's ready to wield the bow and arrow?
102. Visit a library like no other
Firstly, reading is cool. And secondly, if you have any cynical friends who think public libraries are dull, introduce them to the Tampines Regional Library. Not only is it a sanctuary of books, but it also has a culinary studio and a hardware lab with tools. Plus, let's not forget the stylish Library@Orchard.
103. Smash stuff at the Fragment Room
Need to let off some steam? Go ape sh*t at Singapore's only rage room. Crush wine glasses, bottles, plates, bowls and electronics like TVs and radio sets. A little birdie told us you can even bring your own items… y'know, like a photo of an ex.
104. Laugh 'til you cry
They say laughter is the best medicine, and we've got just the prescription for you right here. Gather the troops for a drinking and laughing sesh at bars that hold hilarious stand-up comedy shows.
105. Watch a performance
You'll be spoiled for choice at Esplanade, a world-class performing arts centre that has a year-round line-up of impressive international music acts, festivals, exhibitions and theatre productions. It also hosts the occasional free music performance at its waterfront stage, which makes for a groovy evening out.
106. Concoct your own perfume
Ditch buying off the shelves with a scent of your choice. We've got a variety of perfume classes in Singapore, each with a different experience. Try Oo La Lab or Maison 21G for a customised scent.
107. Play paintball
Psych up your posse and get your protective masks ready for a wicked paintball game with Crossfire or Red Dynasty. Whether you're building up team spirit or finding a way to unleash your inner Rambo, this sure makes an adrenaline-pumping weekend activity.
108. Unleash your inner Picasso
Feeling artsy or perhaps you just wanna try something new? Have a seat at one of the art jamming studios and cafes in Singapore, where you'll be supplied with brushes, colours and even tea. From master painters to beginner artists, anyone's welcome!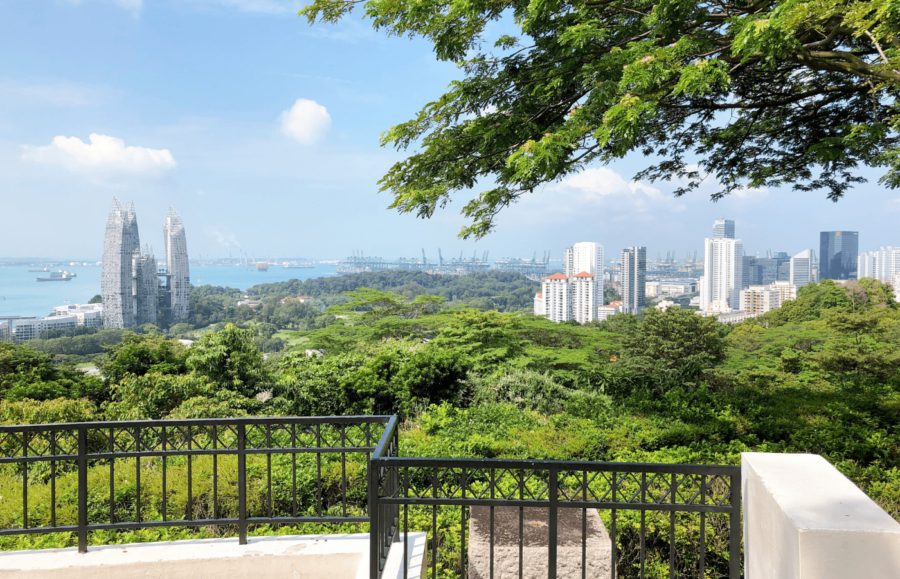 109. Have your future read
Wanna know if the cards are in your favour? Take a gamble with a tarot card reader, psychic, spiritual teacher, palm reader, or get to know your aura. Hit up fortune tellers if you're game.
110. Rent a yacht for a private party
Thinking of ideas to top last year's party? How about bringing it to the seas? For a maritime bash that your friends and colleagues will never forget, book a yacht and set sail.
111. Clean up the beach
Environmentalists will be happy to note there are multiple beach clean-up groups in Singapore. All you gotta do is sign up and you're on your way to making an impact. Plus, you get to meet like-minded people too!
112. Get a dose of art
We're always in a rush to catch the latest exhibitions that we tend to overlook the long-standing galleries with incredible finds. Permanent exhibitions are available all year round, so no need to worry about missing them!
113. Make a splash at a public pool
Cool down in the heartlands at one of the many public pools our city has to offer. These aren't just any ordinary Olympic-sized ones, either. The swimming pools we're talking about have lazy rivers, water slides and dramatic wave pools.
114. Watch the fireworks
We do love to light up our skies in dazzling fireworks during major events like National Day and New Year's Eve. Best of all, there are countless vantage points, from rooftop restaurants to public spaces, for you to sit back and enjoy the show.
115. Get soakin' wet
Cool off from our clammy climate at water theme parks. We have big guns like Adventure Cove in Resorts World Sentosa and the old-timer Wild Wild Wet at Downtown East in Pasir Ris. You can soak it up in the heartlands as well – the slides at Sengkang Swimming Complex are just as exciting (and easy on the wallet).
116. Book a barbecue pit
Take a stroll along the Singapore beaches and you'll see many BBQ pits along the coast. All you gotta do is book one in advance and they're yours for the day. Do we have any BBQ masters in the house?
117. Ice-skate around the rink
Another way to escape from the sweltering heat outside? Hit up Kallang Ice World. It's the next best thing since you'll never ever find a frozen lake here. It even offers public skating lessons if you have two left feet… on ice, that is.
118. Have a picnic
No doubt, our garden city is peppered with green spaces for the perfect picnic. Whether you're looking for a place with a view or a tranquil hidden hideout, there's something for you. Just remember to bring enough mosquito repellent and sunscreen!
119. Get your eyebrows threaded
Five minutes of hell = perfect brows for days? Seems like a fair deal to us. We can't guarantee a painless process but we do have great beauty parlours for threading and hair removal services in Singapore. Plus, some are really affordable.
120. Hop on a trishaw ride
A common mode of transport during the 1900s, trishaws are mainly used for tours today. Hop on the sidecar as the trishaw uncle takes you around Singapore's most prominent neighbourhoods and landmarks.
121. Go glamping
'Camping, but make it fancy'. Yeah, we've got just the activity for you. Singapore has been bitten by the glamping bug, and it shows with glamping companies that offer various packages, themes and experiences suited to your occasion.
122. Head out for a meal with the fam
There's nothing like taking the kids out for brunch or even dinner. To make your lives a little easier, we've rounded up the best family-friendly restaurants for you to visit. Thank us later.
123. Do the bungee jump
Dare to plummet down a sky-high tower? Adrenaline seekers, make your way to Skypark Sentosa by AJ Hackett, Singapore's only bungee tower for all the thrills. There's also a giant swing at 40m high that speeds up to 120km/h, and a sky bridge with a glass cube.
124. Catch a live one
If you have the patience (and time), try a spot of fishing or prawning. Just make your way to one of our nature reserves, jetties or parks with your gear and settle in for the day.
125. Lose yourself in a 3D show
Omni Theatre at the Science Centre Singapore is Southeast Asia's first 8K 3D Digital Dome Theatre, with 8K resolution and a 23-metre dome screen. Trust us when we say the experience is almost magical…
126. Go solo
Spend some quality me-time with our rejuvenating list of things to do alone in Singapore. Just make a date with yourself for a relaxing experience.
127. Pitch a tent and camp out
It's far from camping in the wilderness, but outdoorsy types who love to wake up to the sea breeze and the sound of crashing waves can camp in various areas in the city. Simply book a spot and you're all set.
128. Did someone say date?
If romance is in the cards for you, take your pick from our lovely list of creative date ideas. From adventures and artsy activities to outdoor fun and suggestions for gourmet lovers, there's something for everyone.
129. Lounge on the beach
Is it sunny? If so, put on your shades and plan a day at the beach. Singapore might be small but there's a whole list of beaches you can hang out at. Pack a picnic!
130. Experience co-working and co-living
See what the co-sharing trend is all about at co-working and co-living spaces around Singapore. Most of these places offer a tour of the facilities so you can find out if they're up your alley. Co-working spaces typically have a one-day trial for you to assess how well you like working there, too.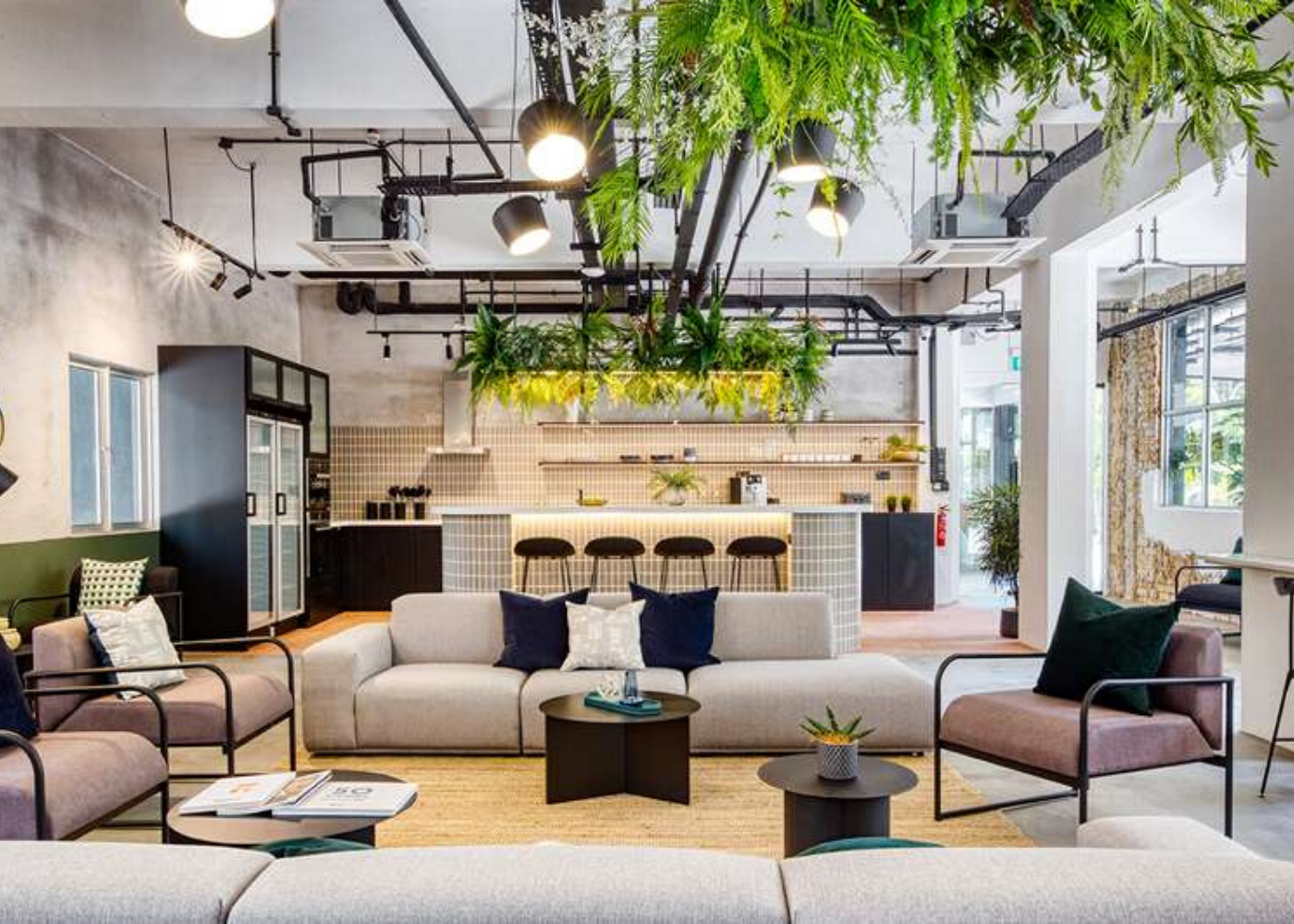 131. Cosy up with a kitty
Feline lovers, you'll go gaga over the adorable kitties at cat cafes. Grab a friend and bond over coffee, cake and cats for the purr-fect afternoon!
132. Challenge yourself to water sports
Think you can't find a place to learn wakeboarding or jet skiing in Singapore? Think again. These places let you make a splash with the water sport of your choice. We're talking about wakeboarding, windsurfing, jet skiing, kayaking, dragon boating and more.
133. Tone up like a ballet dancer
With barre classes becoming more mainstream, we're seeing multiple ballet-inspired classes popping up. Want in? We've rounded up some of the best barre studios in town to get in shape like a dancer!
134. Say namaste
Get your asanas on at yoga classes. With everything from prenatal to hot yoga, you'll find the best yoga studios for your fitness needs.
135. Spend time with animals
We might be known as a concrete city, but that doesn't mean we lack animals to admire and protect. Spend a day with giraffes and white tigers at the Singapore Zoo, or watch out for bats and flying squirrels at the Night Safari.
136. Leap for fitness
Love jumping around? Book a slot for a trampoline class to bounce your way to a fitter physique! This is fitness and play all rolled into one.
137. Cycle across the city
Hop on a two-wheeler and explore Singapore with cycling routes that take you from the heartlands to the rivers and wetlands to untouched nature.
138. Find your perfect gym
It's tough to start a workout routine, and even tougher to continue. Luckily, we've rounded up the best gyms in Singapore, with facilities, trainers and classes to get you that banging bod. If you want to kill time on a lazy Sunday, why not give one of these fitness studios a go?
139. Bake up a storm
It's easy. Just sign up for a baking class and you'll be well on your way to making sourdough bread, pastries, desserts and other sweet treats.
140. Tap into your inner Iron Fist
Singapore's an extremely safe place to live in, but it won't hurt to take up a martial arts or boxing class for self-defense, y'know? Punch and kick your way to fitness at Muay Thai workouts and fight clubs.
141. Get artsy and crafty
Nothing's more satisfying than creating someone new with your hands. Instead of buying a mass-produced souvenir, make your own creation at craft workshops that offer lessons on pottery, printmaking, sewing, terrariums and more.
142. Immerse yourself in art and culture
Think rare masterpieces, historical artefacts, revolutionary sculptures, thought-provoking paintings and cultural relics. Our guide to the city's finest museums and galleries has it all.
143. Wander around our Unesco World Heritage Site
That's the Singapore Botanic Gardens for ya. We may be a city filled with green spaces, but this massive park is our pride and joy, and we've got a complete guide on what to see, do and eat there!
144. Ride on a cable car
Part of the Sentosa experience is taking a cable car ride to the island. Enjoy aerial views of Mount Faber, Harbourfront and Sentosa, and you can even have a meal in the cabin.
145. Learn some Singlish
Have you gotten used to the lingo 'round these parts yet? If you need some help, check out our Singlish dictionary for helpful words and phrases that you might hear.
146. Spend a day out at Universal Studios Singapore
You pay a pretty penny to enter this amusement park but it is oh-so worth it if you haven't been. Universal Studios Singapore is a playground for all ages with tons of rides, performances, and characters you can meet! And we love the Halloween Horror Nights season.
Best things to do in Singapore: Shopping
147. Snag new literary finds
…And a few cool snaps for the 'gram at the city's bookstores! Armed with your latest bookish haul, hit up our favourite reading spots, which are guaranteed to get you in the reading zone.
148. Head to the city's iconic shopping belt
The first place everyone flocks to for shopping is Orchard Road. There's a mall for every mood – from the glitzy Paragon to the underrated Far East Plaza. Plus, browsing through all the malls is totally achievable if you pace yourself.
149. Unearth retro gems
Thrift store galore! If nothing gives you a thrill quite like rocking old school threads, we've got just the thing for you. From designer pieces to costume bling, vintage shops and secondhand stores are brimming with gems. One man's trash is another man's treasure, as they say.
150. Go for analogue at record stores
Calling all audiophiles. We have the deets on where to go crate digging for old school vinyls. Yes, the vinyl scene is alive and kicking in Singapore. Nip into record stores for all the vinyl, turntables and record players you'll love.
151. Experience late night shopping
Grocery shopping at midnight – why not? Night owls and insomniacs can get their shopping fix at this late night shopping mall. From fresh produce to electronic gadgets to jewellery, Mustafa Centre is truly an Aladdin's cave located in the heart of Little India. But be warned: at such low prices, the temptation to buy everything is hard to resist.
152. Shop around the heartlands
They say you haven't really been to Singapore until you've explored the treasures of our heartlands. Take a bus or train and explore cool neighbourhoods like Tiong Bahru, Toa Payoh, Joo Chiat, Jalan Besar and Bedok. Make friends with the aunties and uncles at wet markets early in the morning as you do some fresh grocery shopping and browse through trinkets at small stores.
153. Calm down with aromatherapy
Scent up your home with soothing fragrances, room sprays, candles, essential oils and diffusers. Your abode will never feel the same again!
154. Wander through Pasir Ris
Journey to the east and explore things you never knew about Pasir Ris. The coastal 'hood is brimming with rich history and interesting tidbits. Trivia: did you know it holds one of two mangrove forests in Singapore, has HDB flats with riverfront views, and is home to Singapore's only commercial saltwater fishing pond?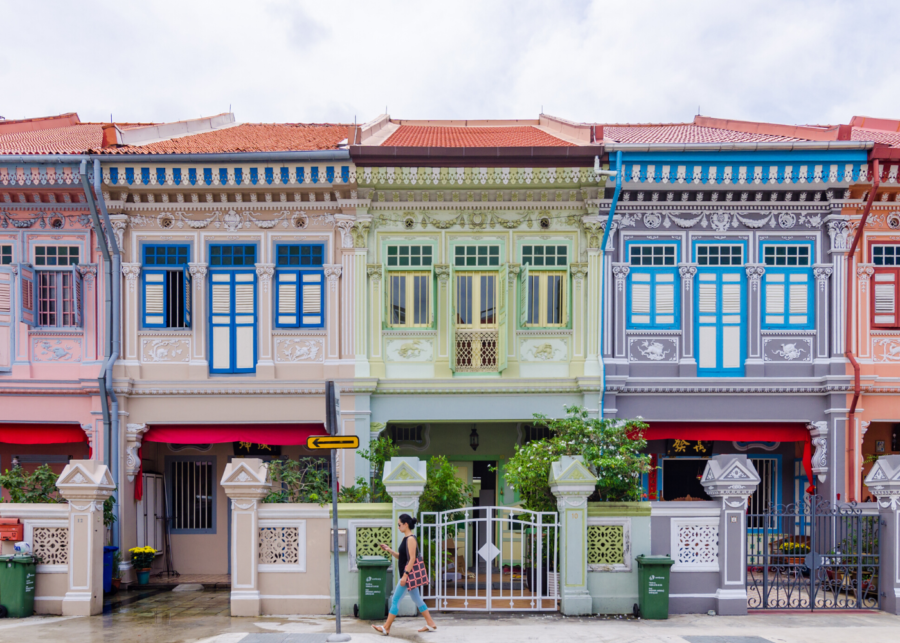 155. Show love for local
We break down the A to Z of local fashion with all the top homegrown designers who are putting our little red dot on the map.
156. Embark on a mall crawl
Two main things that Singaporeans love to do: Shop and eat. It's no wonder the city is teeming with malls – and they aren't just there for retail therapy. From interesting themes to attractive features, there's no doubt you can spend hours in one spot.
157. Go kayak fishing
Adventure junkies, slap on the sunscreen and put on your best hat 'cos we're going fishing! For some fun in the sun, look no further than Fever for kayak fishing in Singapore. Fever combines the best of kayaking and fishing to bring you a spectacular activity for beginners and intermediate anglers. Simply pick a kayak fishing tour of your choice and hit the waters. Flex those leg muscles for a little race to the fishing spots with your friends – the tour group provides everything from fishing gear to bait.
158. Shop premium brands at a discount
If you're on a budget (or you simply love a good deal!), outlet malls are your best bet. You can shop for affordable sports gear, purse-friendly designer bags and more.
159. Play locally-designed games
Monopoly is fun, but locally-inspired board and card games are even more exciting. They're also a brilliant way to get acquainted with local customs and humour while having a blast!
Go ahead and explore the best of Singapore with our extensive list of things to do.