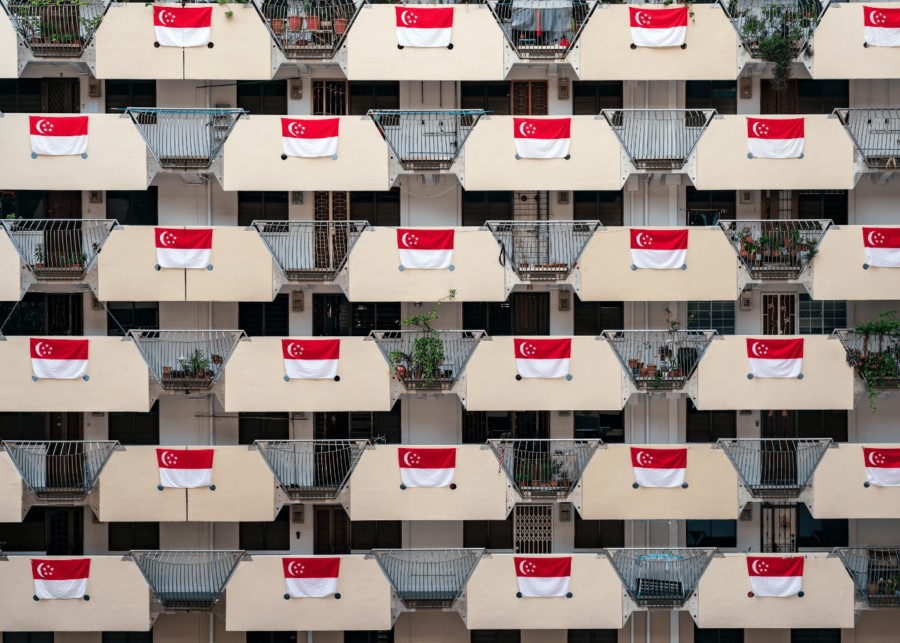 Enjoy the light up of historical buildings, indulge in a boozy brunch at home and more things to do in August.
"Welcome to level eight of Jumanji." Just kidding! We don't know how we did it but somehow we've made it to August. And boy, have we adapted. Virtual activities are now a norm, and though National Day's a little different this year, we're making the most out of it. From mesmerising light ups around the city to plentiful Zoom events, get psyched for all the amazing things to do this August.
Best things to do in August 2020
Participate in our Beauty Awards
It's finally here! Our first ever Beauty Awards has arrived. Vote your fave products across 16 categories, share your reviews plus a cool beauty trend, and walk away with bucket loads of goodies. FYI: We're giving away up to $5,000 worth of beauty prizes!
Vote NOW
Beauty: Visit local skincare brand Re:Erth's first flagship boutique
Mochi skin connoisseurs and minimalist skincare advocates, rejoice 'cause Re:Erth is opening its first flagship at Tangs at Tang Plaza. The chic retail space is not only too pretty to miss but also spotlights the Re:Erth Sustainability Corner. Drop off your empty skincare packaging here to be fully recycled and converted to non-fossil derived fuel. This cool feature is part of a long-term recycling initiative in partnership with Environmental Solutions (Asia). You'll also receive Rewards Garden Petals with every empty skincare bottle recycled, and they can be used to redeem Re:Erth products.
Re:Erth flagship boutique, Level One, Beauty Hall, Tangs at Tang Plaza, 310 Orchard Road, Singapore 238864
Food: Singapore Virtual Food Festival 2020
21–30 Aug
The Singapore Food Festival is going virtual, thanks to the current climate. This year's edition encourages you to "Rediscover the Foodie in You", and boy do they have quite the line-up. Enjoy virtual food tours, live masterclasses, chef collabs, fun cook-alongs with ingredient kits that you can purchase; plus food bundles and limited edition food merchandise by more than 25 F&B partners and top names in the culinary scene.
Singapore Virtual Food Festival 2020, explore online
ICYDK: You can now adopt a pet!
That's right! Wildlife Reserves Singapore (WRS) has officially launched its Adopt an Animal programme. Available in three tiers – $200 (Wildlife Ranger), $800 (Wildlife Guardian) and $1500 (Wildlife Ambassador) – you can pick from over 10 adorable species. There's Ben and Bella the African penguins, Psota the Pygmy hippopotamus, Bosco the Red ruffed lemur, Ah Meng the Sumatran orangutan, Pedro the California sea lion, Coco the Aldabra giant tortoise and Bunny the Two-Toed Sloth (pictured above), just to name a few. You'll also receive an e-certificate of adoption, special privileges and invites to WRS events and previews. All funds will go towards supporting the overall care of the animals plus conservation projects, and research and education programmes.
Adopt an Animal
Fashion: The Front Row, Singapore's Virtual Fashion Festival
20 – 29 Aug
Strut your style at home with the virtual fashion festival, The Front Row. The 10-day event will showcase the latest collections by local and regional brands through virtual runway shows, fashion filmlets and 3D graphic animation on a cool 360º platform. Yup, The Front Row will feature its very own virtual fashion village. Zones like The Runway Room, The Gallery, Designer Hall and Coffeeshop will host special programmes, podcasts, panel discussions, and styling and sustainability workshops by industry experts and the who's who of the fashion scene. You can also shop at the Designer Hall (pictured above) and win exciting prizes along the way.
The Front Row, experience online
Party online: Together Forever: The Zoom Edition
21 & 28 Aug
Miss the clubbing scene? Nineteen80 retro bar has just the event for you – and you don't even have to leave home. Join resident DJs from 11pm via Zoom for a megamix of jams from the 80s to the 00s. Feeling parched? Pick your poison at the I-MISS-YOU-NINETEEN80 cocktail delivery service.
Nineteen80, 11pm-1am, via Zoom
Beauty: The Body Shop unveils its first Activist Workshop concept store
If you're at Orchard Road, you gotta drop by The Body Shop's new sustainability-focused Activist Workshop store. True to its ethos, the store encourages visitors to give back to the environment. The space itself is fitted with reclaimed wood, as well as eco-friendly and recycled materials. We absolutely love that you can bring your used The Body Shop's empty packaging (washed and cleaned, of course) to recycle.
Other notable highlights include the Activism Corner to discover all about fighting for a fairer world, the Scents of Life collection where you can create a bespoke scent, and a gifting station to personalise your gifts. There's even a water station to fill up your bottles!
The Body Shop Activist Workshop, #B3-66, Ion Orchard, 2 Orchard Turn, Singapore 238801
Workshop: Remember When #6: From Memories to Monologues
From 13 Aug
Seniors can participate in a creative writing workshop to translate life memories into monologues. Led by theatre director and drama educator Jeffrey Tan, the seven-session workshop will be held online. Participants will recite their work during the eighth and final session at The Arts House's Play Den.
Remember When #6: From Memories to Monologues, 13 Aug – 15 Oct, $25 for all 8 sessions
Beauty: Launch of Tropika Club
On-demand beauty, wellness and fitness services booking platform Tropika goes live. Enjoy discounts up to 50% on facials, haircuts and treatments, massages, hair removal services, eyelash extension, and even health and wellness services like Zumba and conscious breathing exercises. There are over 3,500 listings so you'll be spoilt for choice. Select your preferred service based on location and book 'em right on the spot.
Tropika Club
Arts: Singapore International Festival of Arts v2.020.
All month
Over the last few months, The Singapore International Festival of Arts (SIFA) has brought you fun-filled music events behind the screen. Get ready for more. From 15 Aug, catch a digital preview of The Year of No Return. The show was slated to premiere this year but has been postponed to 2021 thanks to the pandemic. Instead, enjoy vodcasts via a Zoom play-reading session, released on the 15th of each month.
Singapore International Festival of Arts v2.020., various events online
Watch: Local dramas and movies on Netflix
All month
They may not be perfect but they sure are nostalgic. If you grew up watching gems like Phua Chu Kang Pte Ltd, Growing Up and Under One Roof, we're happy to report that Netflix will be launching these, along with 106 Singapore-made films and series from this month. Search "SG Now Streaming" and binge-watch away.
Watch on Netflix
Beauty: Explore Lancome Genifique #LiveYourStrength virtual flagship store
From 28 Aug
Experience Lancome's popular Advanced Génifique Youth Activating serum via an immersive 3D virtual shopping experience. The virtual store sees five unique zones – discover, explore, inspire, live and shop. By the end of it, you'll probably be an expert on the cult Advanced Genifique range. Visitors can even redeem a seven-day Lancôme Advanced Génifique trial kit at the virtual flagship.
Lancôme Advanced Génifique #LiveYourStrength Virtual Flagship, from 28 Aug – 20 Sept, stay tuned for updates 
Arts: Proposals for Novel Ways of Being
All month
We've said it once and we'll say it again – no coronavirus is going to stop the arts scene from thriving. Case in point: The National Gallery Singapore and Singapore Art Museum are joining forces with 10 other local and indie art institutions to launch a new initiative. Titled Proposals for Novel Ways of Being, the project will feature a series of online and physical exhibitions by over 170 local artists.
Proposals for Novel Ways of Being, Aug 2020 – Feb 2021
Eat & Drink: St. Regis Boozy Brunch: The Ultimate Cocktail Experience
All month
Indulge in Brasserie Les Saveurs' boozy brunch right in the comfort of your home. Dressing to your nines is totally up to you but just be prepared for a scrumptious array of dishes. Entrees like herb-marinated salmon, grilled Boston lobster, pan-seared toothfish, baked lasagne, beef tenderloin with foie gras and a sweet dose of desserts will leave you in high spirits. Plus, the range of cocktail pairings will put the 'booze' in boozy brunch.
St. Regis Boozy Brunch; $398 for 2 pax; 12pm-8pm; available for takeaway and delivery
Arts & Culture: LumiNation 2020 Online
All month
Put on your explorer cap and discover the hidden histories and untold stories of Singapore with The Arts House's LumiNation. The Migration Edition of the event will delve deeper into the lives of immigrants and their role in shaping the nation's history. Feed your mind through a series of digital talks and video projects.
LumiNation 2020, Sat – Sun, various timings, online
Experience: Light ups around the city
Until 30 Aug
Here's something that'll literally lighten your mood. In celebration of Singapore's 55th birthday, 10 historic buildings and cultural institutions across the Bras Basah.Bugis Precinct and the Civic District will light up in our national colours of red and white.
Most light ups begin from 7.30pm – midnight, various locations including Asian Civilisations Museum, The Esplanade – Theatres on the Bay, The Arts House, Central Fire Station, National Gallery Singapore and more.
Art: Our Heartlands collection
All month
You know the saying, "home is where the heart is"? Well, with that, 100 local artists are presenting their artworks online in relation to the shared spaces of Singapore. From a random coffee stand at Bras Basah Complex to the iconic Changi Airport, the Our Heartlands collection offers a different perspective on sites in Singapore.
Our Heartlands, view online
Theatre: Checkpoint Theatre's Two Songs and a Story
6 – 31 Aug
Watch a beautiful blend of original music and monologues right at home with Checkpoint Theatre's Two Songs and Story video series. Brought to you by five solo performers – ants chua, Inch Chua, Jo Tan, Rebekah Sangeetha Dorai, and weish – the series explores the challenges of life and relationships during these times.
Two Songs and a Story, tickets from $15, stream online
Music & Arts: Red Dot August 2020
All month
Yup, we've got another National Day-related event in the mix. Esplanade presents a line-up of free online programmes catered to everyone. We're talking storytelling sessions to watch with the kids, poetry plays, an improv game show and multiple musical acts.
Red Dot August 2020, 1 Aug – 7 Sep 2020, online
Eat: Indulge in an exquisite buffet
All month
The Line at Shangri-La has quickly adapted amidst the Phase 2 measures. Instead of gathering around multiple buffet counters, diners can order your favourite international and local dishes from the table through a digital menu. Plus, the refreshed menu highlights vegan creations by in-house plant-based chef Damian Piedrahita, as well as delectable Lebanese recipes.
The Line at Shangri-La Hotel Singapore, 22 Orange Grove Road, Singapore 258350
Watch: Emily @ Home
All month
Fans of the beloved local stage performance Emily of Emerald Hill can watch Margaret Chan's version in the comfort of home. On top of that, theatre geeks can show off their acting chops by submitting their interpretation of Emily based on five iconic passages from the play. Fun stuff, we tell you.
Emily @ Home, until 30 Sept, watch online
Experience: On-site and online initiatives at National Gallery Singapore
All month
National Gallery Singapore is joining in the festivities with a gallery light up. If you've witnessed previous light ups, you'll know you're in for an illuminating treat. From 24 July to 30 August, 7pm to midnight, watch the gallery facade feature our national colours and project 60 original artworks by local artists. The gallery is also holding a series of digital art programmes and exhibitions. Miss your trips to the historical site? Enjoy up to one year of free membership and unlimited access to all exhibitions.
On-site and online initiatives at National Gallery Singapore, all month, online or at 1 St Andrew's Road, Singapore 178957
Staycay city: Enjoy exciting staycation promotions
All month
The pandemic has put a damper on our travel plans but with these staycation promos in place, you won't notice your passport collecting dust in your cupboard. From irresistible packages to exclusive offers – including late check in and check out, plus hotel dining credits – the hotels in Singapore will satisfy your vacation cravings.
Arts: @Home, Truly, a digital exhibition
All month
Do we have our history buffs in the house? Fuel your mind with the highs, lows and everything in between of Singapore's storied history with a granddaughter and grandfather duo. This is a digital version and teaser of Home, Truly: Growing up with Singapore, 1950s to the Present, a physical exhibition that will open later this year.
@ Home, Truly, 3 Aug – 31 Dec, online
Culture: Italian Film Festival
All month
The Projector is throwing a virtual Italian Film Festival on its online streaming platform, The Projector Plus. Teaming up with the Embassy of Italy in Singapore, it offers a deluge of relatively new Italian films available on a pay-per-view basis till 31 September. Plus, the alternative cinema has joined forces with Institut Français to bring French Cinema to our sunny shores, including movies like Les Invisibles, Baden Baden and more.
Italian Film Festival, till 31 Sept, online
Eat: World Oyster Festival
All month
Greenwood Fish Market had us at oysters. The eighth edition of the World Oyster Festival is back for the whole month of August, and shellfish enthusiasts can look forward to 28 types! From the rare Canadian Belons to the classic French Gillardeaus and new additions like the American Moonstones, now we know why people say "the world is your oyster." These guys do delivery too, in case you're wondering.
World Oyster Festival, Greenwood Fish Market, multiple outlets including Bukit Timah and Quayside Isle
Past events
Celebrate National Day
Bust out the red and white, NDP theme songs and local delicacies – it's our nation's birthday! Celebrate with a livestream of a small-scale NDP parade, exclusive menus, special National Day events, and even a fireworks display right at your neighbourhood (if you're one of the lucky ones).
Experience: Singapore Science Festival
Until 8 Aug
The virtual edition of Singapore Science Festival is teeming with interactive events and activities to get your science on. Highlights include X-periment, an emporium of the latest innovations by 25 tertiary institutions, live science shows by science busker extraordinaire David Price and a virtual record breaking activity. Yup, you can be part of the Singapore Book of Records for the "most number of people doing a science experiment together on an online platform" by attempting a "magic milk" experience.
Singapore Science Festival 2020, online
Culture: Zoom into History
8 & 9 Aug
Watch artefacts like the National brand rice cooker, the mace of the City of Singapore, Rasamma's cap, a night-soil bucket and an Orang Laut basket trap talk lesser known stories about Singapore's history and heritage. And don't worry about the entertainment quotient. The artefacts will be voiced by local comedians and theatre personalities like Fakkah Fuzz, Hossan Leong, Jacky Ng, Janice Koh, Rishi Budhrani, and Tan Kheng Hua.
Zoom into History, 3pm, register for a spot
Drink: Atlas' New Flight Series, WorldAtlas
Until 8 Aug
Travel the world through tipples with WorldAtlas. This month, Atlas is introducing two flights from Melbourne's Above Board (from now until 8 August) and Stockholm's Lucy's Flower Shop (10 August to 5 September). Each flight will be introduced by Atlas' head bartender Jesse Vida and a bartender from the destination bar via IG live.
WorldAtlas flight series, $48; flight for one, $56; for two; Atlas Parkview Square, 600 North Bridge Road, Singapore 188778
Youth Theatre Festival 2020: What If
4 – 15 Aug
Learn a whole new perspective about people with disabilities in Singapore. The Youth Theatre Festival by Peer Pleasure will feature four interactive events of conversations, sounds, imagery and animation over the course of two weeks via Zoom.
Peer Pleasure Youth Theatre Festival 2020: What If, online
Eat: Online Food Festival by Oddle
Until 10 Aug
Satiate your appetite this National Day with Oddle Eats' Online Food Festival. Enjoy $55 bundle deals from 170 F&B merchants including Birds of a Feather, Yayoi, ParkRoyal on Beach Road and Bao by Ce La Vi.
Online Food Festival by Oddle Eats, online
These events will keep you covered all month. Stay tuned for more updates and things to do in August!