Do you have enough money to quit your job?
Thinking of taking a break, or need time to reevaluate your career path? We ask financial experts what you need to consider before quitting.
If you've been thinking about quitting your job, chances are, you're not the only one. It's the time of the Great Resignation – waves of people are leaving their jobs at the tail-end of the Covid-19 pandemic. Whether it's to embark on a new path in life or simply to take a break from years of hustle, many of us are rediscovering our priorities and taking time to reflect on what actually fulfils us. In fact, a 2021 survey by Indeed found that one in four Singaporeans have plans to leave their jobs in the first half of this year. Heck, I job-hopped just recently, switching companies and careers entirely.
It's all well and good if you're young with no big commitments and responsibilities (and live with your parents) like me. But if you've got more to think about and don't have another job offer in place, how much money should you stash away before you hand in your notice? I speak to a couple of financial experts to find out.
Should you quit your job without a safety net?
So you're all ready to hand in your resignation letter, but there's one thing holding you back. You don't have another job lined up, and you're not sure if you can afford to be unemployed for the next few months. Should you take the leap?
"While mental health and career progression are important, we shouldn't neglect our financial goals and liabilities as well," says Jarrod Wong, wealth management consultant at IPP Financial Advisers. Joining the wave of the Great Resignation sounds tempting, but he shares that it's helpful to speak to friends, colleagues or family members who have done something similar – just to be prepared for reality after resigning.
Ensure that they come from a similar financial background to yourself for a more realistic comparison. You don't want to speak to someone with a much higher salary because they'd probably have a more cushy experience.
It's totally okay to quit without a safety net as long as you do your research. That way, you know exactly what you're getting into and what you need to prepare for. For a start, ensure you have enough in your emergency stash!
How much money do you need in your emergency fund?
We all know the general consensus: you need to set aside at least six months' worth of living expenses before quitting your job. But with the cost of living in Singapore rising (just think about the upcoming GST hike in 2023), is this still true?
"Six months' worth of living expenses is an industry benchmark we use, because the average time taken from application of a new job to receiving the right job offer usually takes five to six months," Jarrod says.
He explains that the six-month rule for living expenses should only be used as a benchmark instead of a one-size-fits-all template. "It really depends on your family situation and how many dependents you have. The financial profile of a single adult and a married adult with kids would greatly differ."
For example, if you're single, you can reduce your expenditure easily by sitting out on things like dining out or attending social gatherings. But if you're a married couple with children, there are non-negotiable expenses you'd have to pay for.
"Sometimes, this also depends on why you quit your job and how fast you expect yourself to be hired in the industry you choose," adds Ruo Yu Ong, financial consultant at Infinitum Financial Advisory. "If you're joining the Great Resignation with the intention to take a gap year, we'd say having one-and-a-half years of living expenses set aside would be safer."
If you have a financial planner, consult them to ensure your assets are allocated safely for such a move. "Asset allocation is crucial during periods of unemployment to ensure you're not withdrawing your assets at a loss, especially if you're thinking of quitting your job during a bear market when stock prices are falling," Jarrod says.
Questions to ask before quitting your job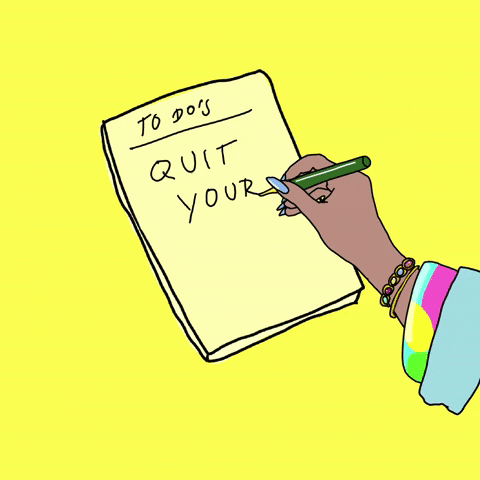 So you've got your emergency fund in check, spoken to all the necessary people and think you're finally ready to join the Great Resignation. Is there anything else you should do?
"It's important to make sure you have all your must-have insurance policies in place, because it just takes one mishap for your job switching plans to go south," Jarrod says. "You should also evaluate your skill sets and job prospects in the labour market to ensure you're still employable. The world is digitising quickly: are your skills still relevant or valuable to employers?"
Also, consider how long your savings can last you in the worst case scenario where you don't have a new job lined up anytime soon, and you need to support your family.
"Are you willing to lower your standard of living and stretch your savings if there's a need for it?" Ruo Yu asks. "Think about whether you're willing to settle for an offer you're not happy with if you can't find your ideal job. Or if you have other sources of funds to tap into."
If you can confidently answer these questions and you feel assured enough to take the leap and quit your job, go for it! Joining the Great Resignation to take a break or pursue the career of your dreams may be the best decision you make for yourself.
Leaving your job to start a business, or need some expert advice on running your own show? Join Launchpad – it's a new community platform by Honeycombers, designed to enrich and expand your network.