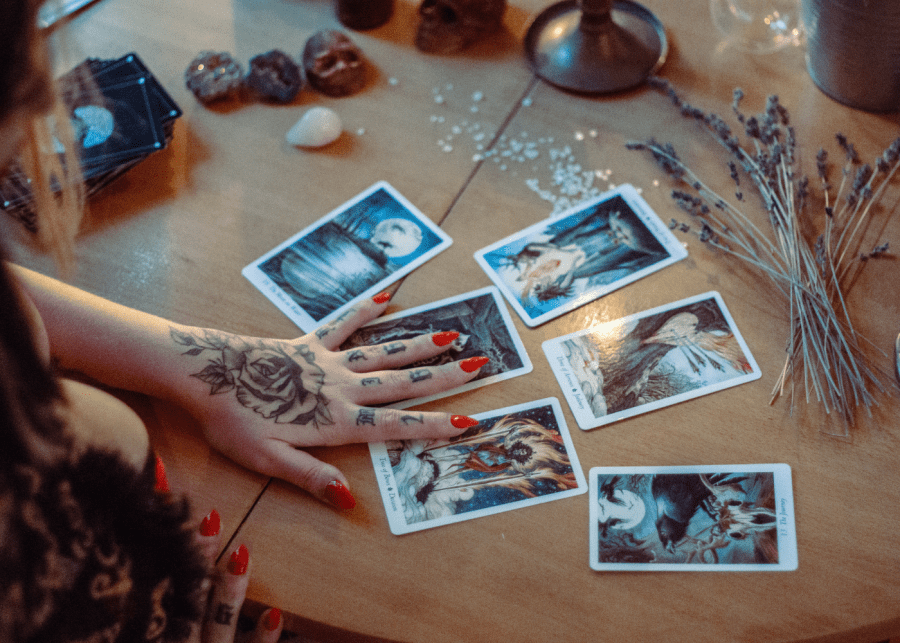 Photography: Alina Vilchenko via Pexels
We spent an afternoon with our oracle, getting to know her practice and what she does for a living. And of course, getting clarity in our lives with some tarot reading.
If there's anything you need to know about the Honeycombers team, it's that we're happy to try anything at least once. Whether it's midnight misadventures at a rock rave or trying new diets in the name of curiosity. We've already talked about crystals, reiki, and even tarot reading. But when our oracle paid us a visit, we were thrilled. Here's what went down.
Meet our Oracle, Kelly
Armed with kuehs and cream puffs for the team, Kelly arrives at the office with a hearty smile. For most of us, this was our first time meeting Kelly in person. Lucky us! Kelly conducts most of her sessions over WhatsApp. So you might not always get to meet her in person for any spiritual work. And we hope you won't have to. Visits from Kelly usually mean urgent healings, exorcisms, or cleansings of haunted spaces. Yikes.
Thankfully, the visit wasn't to purify our office. We spend a couple of minutes chatting. And as a generally curious bunch, we couldn't help but ask Kelly about her work.
The business of girl power
Kelly tells us her purpose is to serve the divine feminine, and she looks to empower feminine energies. Something to keep in mind is that this isn't limited to empowering women. Feminine energy is about introspection, empathy, and allowing yourself to be vulnerable. Her principal divinity is Guanyin, a bodhisattva associated with compassion and mercy. But she also works with other goddesses like Sekhmet (goddess of war) and Bastet (goddess of joy and protection).
When asked what it means to 'serve' Guanyin, Kelly shares that whatever she does is in tribute to the divine feminine. And since Guanyin loves compassion, Kelly's also upped a lot of her charity work. She hosts fundraisers for her charity partners Noah's Ark and Metta Cats and Dogs Sanctuary twice a year.
"Guanyin has a beautiful message and she's got so much love. It's my honour," says Kelly.
Non-believers are welcome in this space
Are you someone who rolls their eyes at the idea of tarot? All good over here. Kelly's happy to read for naysayers and anyone that doesn't believe in her practice. As long as you come with an open mind, Kelly welcomes you. And she'll never read someone without their permission.
We ask Kelly if she ever feels exhausted after readings. After all, it's all about energy exchanges. It also sometimes calls for you to be incredibly empathetic. For any of you that follow our monthly oracle readings, you'll know what we mean. But Kelly tells us that that shouldn't be the case. "It's like being at work. If we don't draw boundaries or have self-care routines, [we] will definitely get drained," she says. "It's the same in spirituality. There are meditations [and] rituals that you can do to keep your energy clean, and practices to call your energy back. If a reader is constantly drained, it means that spiritual hygiene is not being kept."
We think Kelly's an expert in managing those feelings too. She tells us about how she did tarot readings at a Formula One event in 2017. 180 readings in seven hours for three days straight, with no energy drain? She's a champ.
Let's get started with tarot reading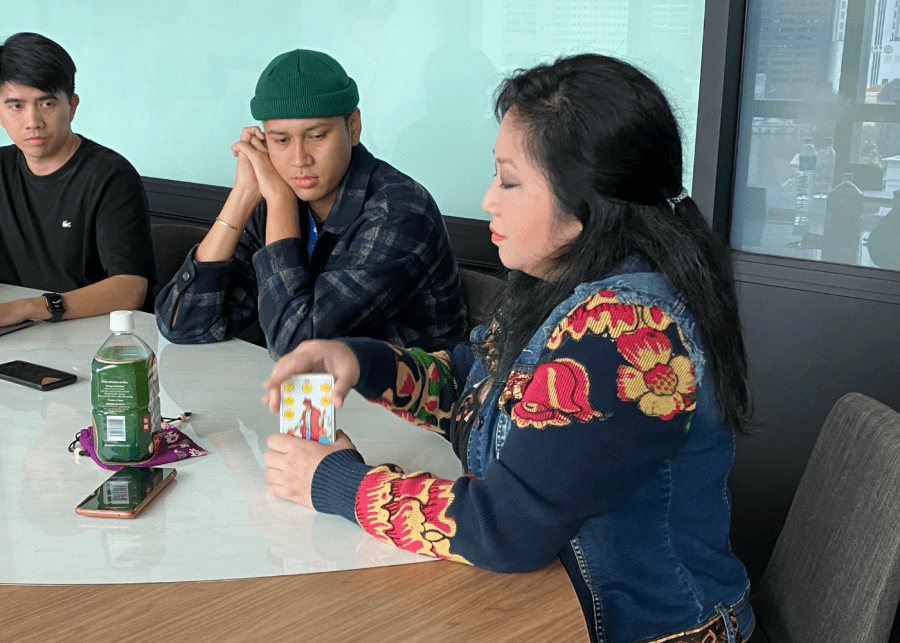 Tarot reading is usually a private affair. But since we were doing some quick-fire rounds, we took turns to ask our questions. Some of us asked about our families, love lives, and careers. All questions that Kelly is accustomed to. Some didn't have any questions at all, and even then, Kelly was able to channel something from the cards.
She asks us to think of our favourite colour as she shuffles. And when we feel like it, we tell her to stop. From there, she picks out cards to give us a reading. In between, sometimes she mentions that she hears messages or starts tasting specific flavours. Talk about spooky, because we never realised that her messages could come in all senses. She also recites a silent prayer to herself before and after each reading to call for protection and cleanse the energy.
I was both nervous and excited coming into this since this was my first time getting a tarot reading. I've always been fascinated, but never found the opportunity. It felt like I had so many questions to ask, but on a whim, I tell her that maybe I need a wake-up call. I feel like I've been delusional in some aspects of my life, and I need someone to set the record straight for me. She tells me she might ask more questions because my situation sounds complex, and begins drawing cards.
A shockingly unexpected turn
From the deck, she pulls the following: The two, five, and eight of swords cards upright, and the judgement and page of wands cards in reverse.
"You're not going to win this battle," she says calmly. And I blurt out an incredulous 'what?' in response. I definitely wasn't expecting that answer from her. She explains that there's a stalemate in my life and I should cut my losses. "What's going on?" she asks, concerned. And I laugh out of nervousness. Because really, I had no idea. But something about Kelly's comforting presence allows me to speak my mind. Although the reading comes off as negative, she reassures me that it isn't. She explains what the cards represent, and offers me some advice.
I also asked how my grandfather was doing since he passed a few years ago. Kelly can hear messages from spirits, and my grandfather was reserved in nature, so I was curious if he'd speak to her. She shares that the cards drawn have peaceful energies. In some ways, it felt like my grandfather had made his energy known to her for me. She says that he's doing well, and that brings some relief. Kelly mentions that one of the cards she pulls indicates preparation for reincarnation. And although I have no idea what it'd look like, the thought of a potentially better (second) life for him made me happy.
So, what did the rest of the team think?
"I'm not usually a spiritual person, but I've always thought being spiritual was cool. It's like a special ability to feel people around you. Kelly more or less read my whole life, which was very interesting, but I'd love to know more. As a person, I can't deny wanting to try and predict or know what's coming for me."
– Danial Zahrin, Video Producer
"I'm religious, so I do believe in spirits. Though my understanding of it leans more biblical. I wouldn't seek out tarot readings for myself, but I'm open to it. I'm too anxious to have predictions over my head. I didn't know what questions I wanted to ask so I got a brief reading. Nothing eventful is going on in my life right now, and I think Kelly's response reflected that.
I did ask about a past house haunting, which she managed to shed some light on. Details like what was haunting us (turns out it was poltergeists), why it left, and if it would be back. I did wonder if she could have spoken to those poltergeists and gotten their point of view. But I'm not sure if I really want to know since I'm quite chicken about these sorts of things."
– Samantha Yeo, Senior Lifestyle Writer
"I wouldn't say I'm a spiritual person but I'm open to trying new things. I was caught off guard during this session and didn't prepare any questions. Despite that, I received accurate readings that were reflective of my personal life. I was pleasantly surprised that my new journey (I'm moving to a new house!) is going to be a positive one with no hiccups. I was also startled when Kelly asked if I had any back or shoulder aches because I'd been facing this issue for a while. She told me to watch my posture and tend to the aches as soon as possible to avoid future setbacks. "
– Nicole Nithiyah, Associate Editor
"It's interesting to dip your toes into other beliefs. Kelly told me that there's someone in my past that's holding me back from moving forward, which was pretty accurate. I have questions to follow up with, but I think I'll wait till I get to the exciting parts. I want to be surprised. Tarot readings could be a good guide to making some life decisions, but take it with a grain of salt."
– Lord Acuña, IT Manager
"This is my first reading, and it left me with a lot of food for thought. I've always wanted to get my tarot read because I'm curious about what the cards will tell me. There were certain elephants in the room that were mentioned that gave me clarity, but I really wanted to know about my cats. I'd love to do another just to see if it matches. Maybe I might discover other things that I never gave much thought to!"
– Sufyan Saad, HoneyKids Asia Lifestyle Writer
We don't know what'll happen next in this life. But this tarot reading is definitely something we'll talk about for a long time.