Photography: Native Bar
The cocktails come in bottles and pouches complete with garnishes to mimic the bar experience at home.
Our hearts were broken when the government announced the sudden closure of entertainment venues. F&B businesses are taking a big hit right now but they're staying afloat by implementing strict preventive measures, new operation hours, food delivery services, DIY meal-kits and takeaway cocktails. We're doing our part to support our fave businesses and you can too – by ordering these takeaway cocktails for a party at home.
Cocktail delivery and takeaway from Singapore's best bars
Native Bar
Native Bar has created a new hashtag #NativeAtHome to bring us the best bar experience. The bottled cocktail line has four signature drinks including treasured classics like the Peranakan (jackfruit rum with laksa leaves, goat's milk, candlenut and gula melaka), Pineapple Arrack (Ceylon arrack, old coconuts, pineapple skin and Sri Lankan spice) and Hibiscus (hawthorn distillate, hibiscus jun, kithul and egg white), all available in 250ml and 500ml bottles from $38. The bar also has a series of infused house gins with interesting flavours like chrysanthemum, coffee, lampot pepper, matcha, cacao husk and yuzu ($88 for 500ml). Stay updated with cool promos and offers by following the social pages.
Native Bar, delivery available or pick up at 52A Amoy Street, Singapore 069878
Smoke & Mirrors
Rooftop bar Smoke & Mirrors delivers yet again, this time with its Pony Express collection. The new range of cocktails is a nod to the Married Pony menu, which serves tipples in a petite pony format. Unlike most takeaway cocktails, these have a much, much longer shelf life of 24 months. The bottles come in three sizes (from $22 each) and can serve up to four people. True to Smoke & Mirrors fashion, the full-bodied, potent cocktails will be enough to last you through the night.
Perk Alert! Enjoy 10% off your orders with the checkout code 'HONEYCOMBERS10' or simply order here. Available until 31 July.
Smoke & Mirrors, takeaway and delivery available with free delivery for orders above $100
GudSht
Did the cheeky name pique your interest? Wait till you hear about the cocktails from GudSht. Born out of the pandemic and created by the bartenders of Elite Bar Solutions, these cocktails are sure to make you chuckle. The sparkly Unicorn Bar (also the bestseller) concocted with gin, Campari and hints of yuzu, mints and plums is a refreshing respite from your Zoom meeting. Or sip on Deez Nuts, a mix of Jim Beam White, angostura bitters, chocolate bitters and walnut bitters to keep you in high spirits. Oh, and you gotta try the local-inspired tipples – Cheng Tng Gao, Pink Lemon Barley, Mao Cha (boozy bubble tea with popping boba and jelly pearl). It's the sh*t.
GudSht, islandwide delivery available, free for orders above $100
Jekyll & Hyde
If you were gutted about Jekyll & Hyde's sudden closure announcement, don't be just yet as it may be around for longer than expected. We hear the bar is hoping to move to a new location soon. In the meantime, sip on bottled cocktails – there's the fan-favourite Mr. Bean, a mixture of vodka, tau huay and butterscotch liquor, and the tongue-in-cheek Penicillin with blended scotch, homemade honey ginger syrup, lemon juice and smoky whisky, amongst others – from the rotating cocktail menu that changes weekly.
Jekyll & Hyde, islandwide delivery available with free delivery for orders above $80
Zouk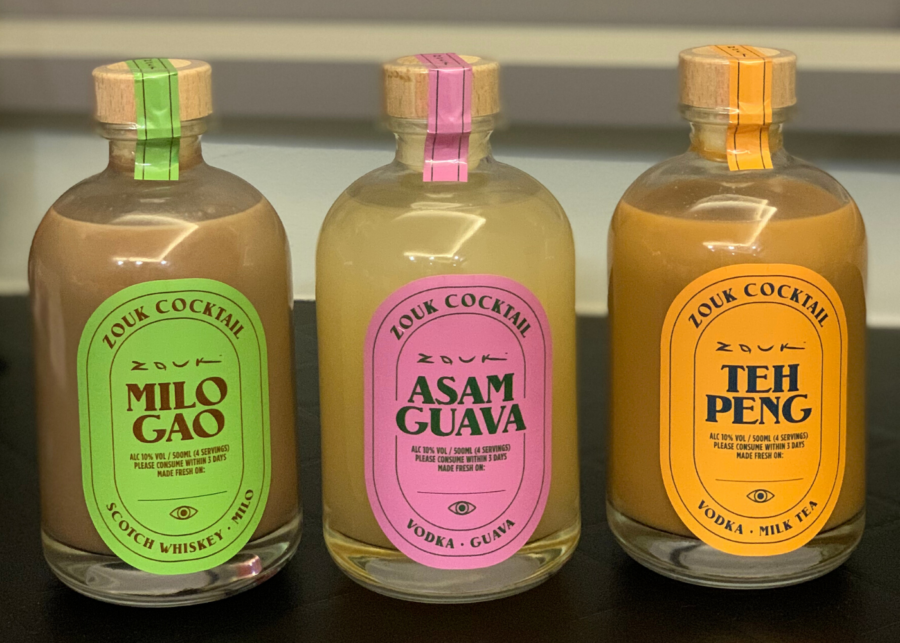 Zouk is taking us on a nostalgic ride with three local iconic flavours, doused with a bold, boozy touch. Milo Gao's got the signature malty flavour with a buzz from Scotch whiskey. Teh Peng lovers, have your fill with a vodka-spiked one and add on boba if you're craving BBT. Finally, zest it up with the Asam Guava cocktail, which even comes with asam powder for a truly authentic experience.
Zouk, available for delivery, self-pickup and takeaway
Hopscotch
Do you miss Hopscotch's elixir-looking tipples? Have a strong one right at home. Bestsellers include the fruity Mad Men Long Island Tea, Asian-inspired Osmanthus Penicillin, tart Grape Gatsby, Negroni-inspired Pot Head and easy-on-the-palate White Sands. The cocktails are sold in 200ml and whopping 1L sizes (oh yeah!).
Hopscotch, islandwide delivery available, free for orders over $100.
The Secret Mermaid
Can we all agree that The Secret Mermaid has some of the most aesthetically pleasing cocktails ever? Though we can only settle for packet forms, the flavour still hits the spot. Ranging from Peated Rosemary Manhattan and Sherry Old Fashioned to Mezcal Aviation, Espresso Tonic, Applewood Negroni and Quarantini (from $20 each), all cocktails serve two. There are also sweet stay home bundles, care packages and mermaid food (massive sammies, anyone?) to make it extra special.
The Secret Mermaid, islandwide delivery available from 4pm-12am daily. Pick-up and drive through available at #01-05, National Design Centre, 111 Middle Road, Singapore 188969 (Queen Street side).
Ah Sam Cold Drink Stall
You may not be able to enjoy cocktails at the bar just yet but bottled cocktails will suffice. We all know that Ah Sam Cold Drink Stall carries local-inspired cocktails that celebrate Singapore culture. So expect to find interesting drinks such as Silver Screen, a popcorn-flavoured Old Fashioned, the gingery Penicillin Fizz, Ju Hua Cha, an Asian G&T, and the Oriental Elixir (a classic Negroni with touches of ginseng and chrysanthemum). All bottles come in 300ml ($58) and 500ml ($88) sizes.
Ah Sam Cold Drink Stall, cocktails are available for takeaway and delivery, free one-hour delivery for orders over $75.
Lab Inc
If the scorching heat is doing a number on you, cool down with Lab Inc's refreshing vodka-centric cocktail packets. There's lychee martini, lemongrass cooler and a tropical passion teani ($38 each), along with bundle packages. Plus, it all comes in 500ml sizes so there's plenty of good stuff to go around… your household.
Lab Inc, islandwide delivery available.
Barbary Coast
If you're not quite ready to hang out at Barbary Coast's opulent ballroom, the cocktail delivery and takeaway will do you good. Enough for two to three people – or one if you're real thirsty! – the 375ml cocktail pouches ($60 each) come in notable faves. Sip on `A`a Waiū (Reyka vodka, Hendricks gin with spiced tea syrup, spent husk marmalade, lemon balm leaf, clarified milk) or Buttered Paloma (brown butter Arquitecto Blanco tequila, clarified grapefruit and clarified lime).
Barbary Coast, takeaway and islandwide delivery available, call/WhatsApp +65 8869 4798 or order online
Habouji
Habouji is making waves with Middle-Eastern and Indian-inspired cocktails, and classics with cool twists. Satiate your taste buds with 200ml and 500ml bottles of Masala Old-Fashioned (whisky, masala syrup, chai tea and angostura), Pink Habouji (gin, rosella syrup, hibiscus syrup, lemon juice, and labna whey), Expresso Habiby (vodka, Turkish cold brew, cardamon, cinnamon and nutmeg), and Spicy Gimlet (gin, passion fruit, tamarind, citric acid and peppercorn water). Your order will even come with garnishes, a cheeky note and a Spotify playlist to recreate the bar experience we miss so much.
Habouji, free islandwide delivery or collect/takeaway cocktails via Fill A Pita, #01-29, Nankin Row, 3 Pickering Street, Singapore 048660
Nineteen80 and Pinball Wizard
Boogie like you mean it with retro bars Nineteen80 and Pinball Wizard's I-MISS-YOU alcohol delivery. Signatures include Poison Ivy, a martini-style gin cocktail; Sweet Dreams, a take on the Old Fashioned; and Purple Rain, a refreshing boozy Yakult of some sort. The cocktails come in two to six serving sizes from $32. If you've got a soft spot for sparkly stuff, add on glitter shots, Crouching Tiger or Peanut Butter & Jelly for elixir-looking tipples. You'll also receive a cool digital cassette featuring bang-on 80s classics and a message from the team.
Nineteen 80 and Pinball Wizard, islandwide delivery (free for orders above $80), multiple stops available with additional cost
Laut
Inspired by Asian culture and produce, new kid on the block Laut Singapore offers six exciting cocktail flavours in 250ml and 500ml bottles. We're particularly drawn to Grass, concocted with Rojak Gin, toasted rice vinegar, pickle brine and grass kombucha; Pineapple, made with aged Malaysian molasses, borneo peppers, grilled Sarawak pineapple, and trigona mead; and Kumquat, an interesting blend of Malaysian molasses, kumquat, root tincture, and aged Vietnamese sweet potato, just to name a few. Love everything you're reading? Go for the three or six sample bundles (from $120).
Laut, islandwide delivery available, free for orders over $50.
28 HongKong Street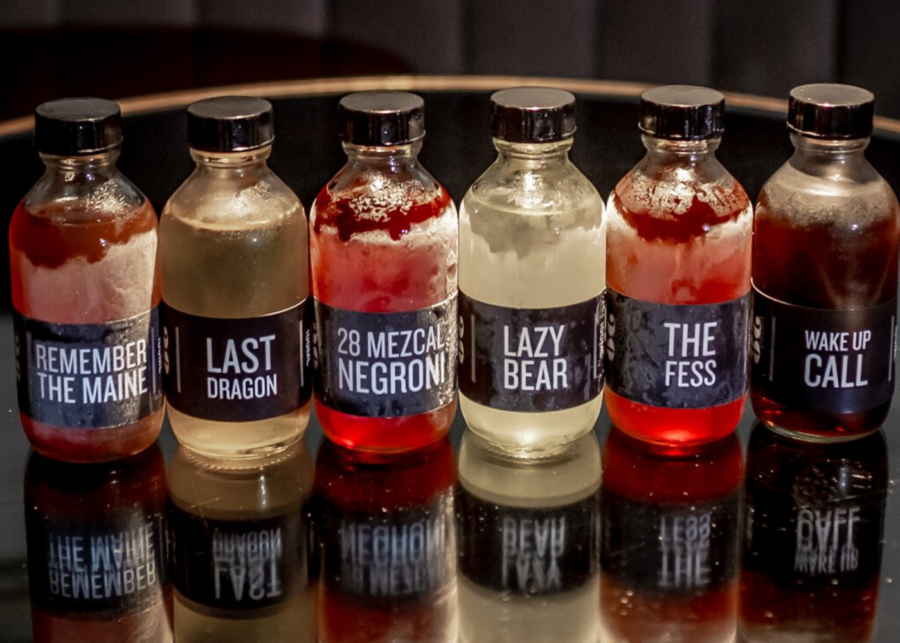 Shake up your night with 28 HongKong's delish 100ml and 300ml bottled cocktails. Stellar items available for delivery and takeaway include the smoky mezcal Negroni, night-cap worthy The Fess (rum, Italian bitters, dark chocolate and sea salt), chai-spiced The Last Dragon (Old Duff Genever, Italian bitters, masala chai, lemon and Demerara sugar), and spirit-lifting Wake Up Call prepared with vodka, coffee liqueur, coconut and cold coffee.  Alternatively, enjoy a cocktail a day with a bundle of six 100ml sizes.
28 HongKong Street, cocktails available for takeaway and delivery (free for orders above $100).
Revamp Kitchen & Bar
Raise a toast to Revamp Kitchen & Bar's Drinkeasy. Launched way before the bar closures, this platform allows you to enjoy world class concoctions in the comfort of your home. There are two tipples for you to try. No.1 is a concoction of gin, vermouth, campari and cointreau, while No.2 has whisky with vermouth, campari and cointreau. Both are specially crafted by Diageo World Class 2016 Singapore winner, Boo Jing Heng. The bottles are available in 150ml and 320ml sizes. Order a minimum of 10 bottles to enjoy free delivery.
Revamp Kitchen & Bar, order online or pick up/takeaway cocktails at 61 Tanjong Pagar Road, Singapore 088482
The Alkaff Mansion
With Una, Txa Pintxo Bar and Wildseed Cafe under one roof, The Alkaff Mansion naturally has an extensive menu available for delivery. But we're focusing on the cocktails, which you can get a bundle of five for $70 (otherwise $18 each). These range from fruity to citrusy concoctions, including Basque Berry (vodka, thyme, strawberry), El Capitan (rum, mint, lychee, lime) and The Senorita (rum, lychee, lime, cranberry).
The Alkaff Mansion, order online for delivery or self-collection at 10 Telok Blangah Green, Singapore 109178
Chimichanga
Missing Chimichanga's thirst-quenching bevs? Rejoice as the Mexican restaurant has now expanded its cocktail menu and is offering delivery services. On the line-up: Lime margarita, Aviation, Singapore Sling, Old Fashioned, Long Island Tea, lime daiquiri, Negroni and Cosmopolitan, each from $20.
Chimichanga, islandwide cocktail delivery available, free for orders above $100
Origins Bar
Origins Bar at Shangri-La Hotel offers bottled cocktails in 300ml sizes from $35 each. There are five exciting tipples to choose from including the heavy-bodied Pacificano with kaffir lime-infused Mancino Bianco vermouth, Campari and natural umeshu. Black Brew is a tipple for coffee lovers mixed with The Lovers Rum and Mr. Black Coffee Amaro, along with pomegranate molasses and chocolate bitters, while the gin-centred Super Vesper features yuzu gin, London Dry Gin, vodka and Mancino Bianco vermouth.
Origins Bar at Shangri-La Hotel, islandwide delivery available with free delivery for orders above $150
The Old Man Singapore
You can now enjoy The Old Man Singapore's iconic experimental cocktails in the comfort of your home. Take your pick from seven signatures including The Sun Also Rises (Capra fat-washed applejack, curry leaf infused Bulldog gin, sweet vermouth sous-vide pandan leaves and lime kafir), Little Wax Puppy (beeswax-infused Russell's Reserve 10 years old bourbon whiskey with eucalyptus honey and bitters), Papa Doble (pineapple sous vide Appleton white rum, clarified pink grapefruit and lime, and maraschino sous vide jalapeno) and Clear Old Fashioned (with whisky, bitters and grapefruit zest), all bottled nicely or vacuum-sealed in handy packets complete with the garnishes. Just add ice (which they'll also gladly include) and you're good to go. Orders for larger batches are also available. Just drop them a note!
The Old Man Singapore, cocktail delivery islandwide or takeaway/pick up at #01-04, 55 Keong Saik Road, Singapore 089158
No Sleep Club
No Sleep Club's got you covered with irresistibly good 750ml bottles of Aged Peppercorn (pink peppercorn gin, campari, sweet vermouth with a cherry wood finish), Havana Banana (dehydrated bananas, miso caramel, Havana Club seven-year-old rum, bourbon and chocolate bitters) and Quarantini (50/50 Gin, dry vermouth, verjus and grapefruit peel). You'll be doing yourself an injustice if you don't pair your cocktails with a truffle four-cheese toastie or, even better, a whole burnt Basque cheesecake.
No Sleep Club, order via Whatsapp at 8838 0188,  free cocktail delivery for orders above $150.
Jigger & Pony
Even with the circuit breaker closure in place, we love that Jigger & Pony still doesn't skim on attention to detail and presentation. The takeaway cocktails are great for two (or one, we're not judging) and are delivered right to your doorstep, with garnishes and all. Sip on faves such as the Old Fashioned, Madame President, Journey of the West, Sakura Martini, Little Red Dot and Jungle Bird ($30 each). Party of four? Go for the punch bowl virtual party (from $200) and they'll deliver up to four different locations. Their sister brands, Live Twice and Gibson, are also serving up cocktails and grub.
Order online, delivers cocktails islandwide with free delivery for orders above $150. Add the code 'TAKEOUT' at checkout.
Employee's Only Singapore
Craving for a stiff Negroni, Old Fashioned, cold brew martini or Manhattan? Get them all and more at Employees Only. The takeaway cocktails are available in 350ml at $80, 700ml at $140 or in flights (350ml each) of three at $220 and five at $350.
Employee's Only Singapore, delivers cocktails islandwide or takeaway/pick up at 112 Amoy Street, Singapore 069932
Almost Famous Craft Beer Bar
In case you've run out of beers or can't do the basic brands, this craft beer bar's got you covered with some cool deals. Enjoy four cans of selected brands at $36 for takeaway orders. It's 15% off for all other cans and bottles with a minimum purchase of four items. Oh, and you get 10% off takeaway beers on tap if you bring your own growler.
Order via Foodpanda or collect at #01-06 Chijmes, 30 Victoria Street, Singapore 187996
Tippling Club
Tippling Club's offering its full list of cocktails from A Guide to Modern Drinking menu. If you're within 3km of the bar, head bartender Andy Loudon will personally deliver them to you, shaking up tipples with perishables. Don't worry as there are non-perishable cocktails in the mix too! They're available in sets of two at 500ml and 700ml portions.
Tippling Club, islandwide cocktail delivery available or pick up at 38 Tanjong Pagar Road, Singapore 088461
Atlas Bar
The Atlas Collections menu is so extensive, it'll make for good reading material if there's nothing left to do. The gin and champagne bottles are sourced from all over the world with a fair share of rare and collectable names in the mix. Like what you see above? The umami-flavoured Automatic Sea Gin is distilled with sun-dried nori, seaweed, coastal bay leaves, sage and lemongrass. Upgrade your G&T with the St George Atlas Orange Gin for a citrus-y burst. Knock yourself out.
Bottles can be purchased at Atlas, Parkview Square, 600 North Bridge Road, Singapore 188778
The Elephant Room
Bring the flavours of Little India to your home with The Elephant Room's classics – Tekka ($70, 500ml), Jothi's Flower Shop ($70, 500ml), Ghee & Gin ($105, 700ml) and Pink Guava Gin ($105, 700ml), along with lesser-known spirits such as Greater Than Gin and Hapusa Gin. Oh, and you can't skip bar bites like the highly-raved Tamarind Curry Prawn, which are also available for delivery.
Order online, free cocktail delivery islandwide (minimum order of two bottles).
Manhattan
Even though the adults-only brunch is currently postponed until further notice, Manhattan still offers a great mix of bottled cocktails for as small as a party of one to bigger groups (less than 10, of course). Enjoy 300ml bottles of the Manhattan and Chocolate Negroni at $118, five variations of aged cocktails from the rickhouse (in 100ml bottles at $24 each) and a first in Asia – a custom-finished Maker's Mark Private Select bourbon at $288.
Regent Singapore, islandwide cocktail delivery available (free for orders above $100) or pick up at Dolcetto, Level 1, 1 Cuscaden Road, Singapore 249715
Level33
Yes, you may miss the amazing views from Level33 but cracking open a cold one at home is another experience altogether. Level33 is offering freshly brewed craft beers such as the popular Blond Lager ($6.50), English-style India Pale Ale ($6.50) and the unique Brut Beer (brewed in the same yeast used for Barons de Rothschild champagne) at $48 for 750ml and $96 for 1.5L in takeaway bottles and cans. A cool drive-through option is also available. Just make an order two hours in advance and collect your drinks between the drop-off areas of Tower 1 and Tower 2.
Purchase at Level33, #33-01, Marina Bay Financial Centre, Tower 1, 8 Marina Boulevard, Singapore 018981 or call 6834 3133 for pre-orders, free delivery within 500m of Level33 and islandwide (except to Jurong Island) for orders above $80.
Copper
Restaurant and bar, Copper, is offering a whopping 135 mini tasting bottles of whisky and various spirits from the Cadenhead range. You can order online and have them delivered to you or pick 'em up at the bar. That's not all – indulge in a stay-at-home tasting with the fam by purchasing tasting sets such as Around the World, Simply Speyside, Brandy Bonanza and Rum Triangle. Enjoy free delivery for orders over $300.
Copper, cocktail delivery available or pick up at #01-01, Lanson Place, 167 Penang Road, Singapore 238462
Sunday Punch
Hurray for this range of small-batch and ready-to-drink cocktails, bottled right here in Singapore. They come in 250ml and 500ml sizes with flavours including Bittersweet, a Negroni-style cocktail with festive notes (think Christmas in a cocktail) and #88, a special G&T with pineapples, lemongrass, kaffir lime leaves stirred with London Dry Gin and extra dry vermouth.
Order online, islandwide delivery and cocktail collection at select locations.
Shin Gi Tai
Japanese-inspired bar, Shin Gi Tai, is rolling out 11 bar-quality cocktails including the Negroni, Old Fashioned, New York Sour, Churchill (blended scotch whiskey, sweet vermouth, cointreau and fresh lime juice), Dita Moni (gin, elderflower liqueur, grapefruit juice and tonic) and Yakuza Bad Boy (cognac, cognac orange liqueur and calvados). Don't see your fave on this list? Just put down a request and the bartenders will whip out a bespoke tipple for you. The bottles come in 300ml and 500ml sizes, which make about four and seven cocktails respectively. Return those empty bottles and caps to enjoy a $2 discount.
Shin Gi Tai, cocktails available for delivery or pickup at 179A Telok Ayer Street, Singapore 068627
Sprmrkt
This may not be your usual pre-packaged cocktails but Sprmrkt offers an add-on shot ($6) of rum, vodka or gin to any drink. Spike fresh juices, all-natural house-made smoothies, fruit sodas and delish tea infusions for the perfect after-work tipple.
Sprmrkt, cocktail delivery available from 8 April.
---
Bonus!
Wheels On The Bars
Looking for something that's not on the list? You'll probably find it on Wheels On The Bars, a platform that connects you to an ever-evolving list of bars and cocktails – there's Bitters & Love, Drink Easy, Fung Kee Hotdogs and Moonstone Bar in the mix – for you to order delish tipples online. Want to suggest a bar or join as a delivery rider? Just reach out to these guys.
Wheels On The Bars
1887 Virtual Bar
Family-owned distiller, William Grant & Sons (WG&S), has launched a super cool virtual bar where you can catch local bartenders from Shin Gi Tai, Nutmeg & Clove, Tess Bar and more, strutting their stuff at weekly Zoom guest shifts. What's more, you can purchase a digital cocktail off the thematic menus to show your support and enjoy it after the bars reopens. WG&S will also match your donation in solidarity with the local bartending community. Now this is the kind of initiative we stand by.
Visit the 1887 Virtual Bar to purchase your digital cocktails.
Did we miss a business? Do get in touch via email and we'll gladly add them to the roundup.