Stay sweet.
Got hair, do care? Here's why women are making the switch from waxing to sugaring, and where to try this treatment in Singapore.
We're gonna come out and say it: when you live in a country where the weather is constantly shorts-friendly, hair removal can be a real #firstworldproblem. Want an alternative to waxing that is less painful and less damaging for the skin? Enter sugaring, a historical method of hair removal that is all-natural and organic… to the point of being edible.
Funny how this simple yet effective method of hair removal seemingly faded into oblivion for centuries before modern humans brought it back, and thank goodness they did. Dating back to the time of the ancient Egyptians (and said to be used by Cleopatra herself!), sugaring is a more skin-friendly alternative to waxing.
How is sugaring different to waxing?
As its name suggests, this method uses a sugar paste (that's sugar, lemon juice and water for all you DIY-ers) that is applied on the skin and removed in the direction of hair growth. This is in stark contrast to the waxing technique of going 'against the grain', and the benefits are threefold: fewer ingrown hairs, less hair breakage, and less pain.
Sugaring is also better for the skin: it only adheres to hairs and dead skin cells, meaning that you get the added perk of exfoliation without the risk of having your 'live skin' ripped out. Double win!
Want to try it for yourself? Here are the top salons around the city offering sugaring services…
Sugar(ed)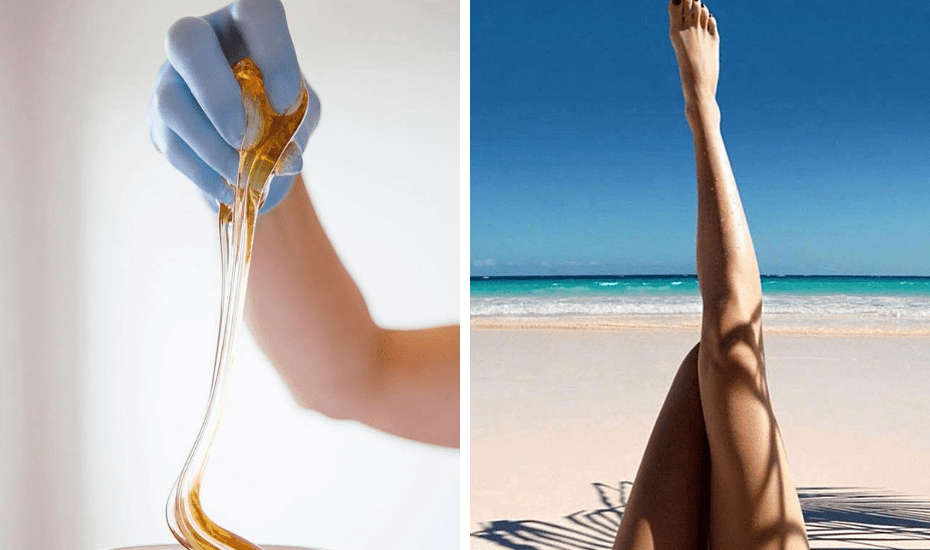 It's only fair that we kick off this list with the first salon that brought sugaring to Singapore. A friend of mine did a Brazilian sesh at Sugar(ed) and said that it only felt about as painful as a regular underarm wax. Pretty good endorsement, eh? While sugaring isn't completely pain-free (anyone who tells you otherwise is lying), I've tried it out myself and am pleased to say that the pain level is indeed lower than the usual waxing.
This breezy, tropical-themed salon started out as a humble home business, and due to popular demand founder Jasmine Yong launched her first flagship outlet in Bukit Timah. Fast forward to today, the brand has three salons with each 'sugarist' trained by Jasmine herself. Once you enter the space, you'll realise that the interior isn't decked out in stereotypically girly decor like many salons are (no pink walls in sight!). Which is great because everyone feels welcome – yep, Sugar(ed) has a strong male clientele too.
Sugar(ed), multiple locations including Bukit Timah, Katong and Keong Saik.
Flare Wellness
Flare Wellness whisks us away to a cosy and tranquil haven, created by founder Sharifah Fazzeleen out of a personal passion to help women look good naturally and feel better about themselves. The salon provides beauty services and wellness programs which include skincare workshops, therapeutic facials, and of course, sugaring. You can get everything from the back of your hands to your bikini line sugared in the comfort of this salon's cosy rooms. Plus, the central location is a plus for busy ladies who are working around the CBD!
Flare Wellness, Bugis Cube, 470 North Bridge Rd #04-03, Singapore 188735
Wax Me With Sugar
To reduce the hassle and preparation time required for a do-it-at-home treatment, get your hands on one of the ready-made sugar waxes from Wax Me With Sugar. This is also the same brand that supplies the waxes used at Flare Wellness. We love how each tub conveniently comes with wax cloth strips and a wooden spatula.
P.S. A sugar paste that is indeed made with the all-natural recipe of sugar, lemon and water should be both edible and water-soluble. If you encounter a paste that isn't, then more than likely, it's been made with the addition of resin or other synthetic ingredients.
Wax Me With Sugar, available online or self-collection at 20 Sin Ming Lane, #04-66 Midview City, Singapore 539748