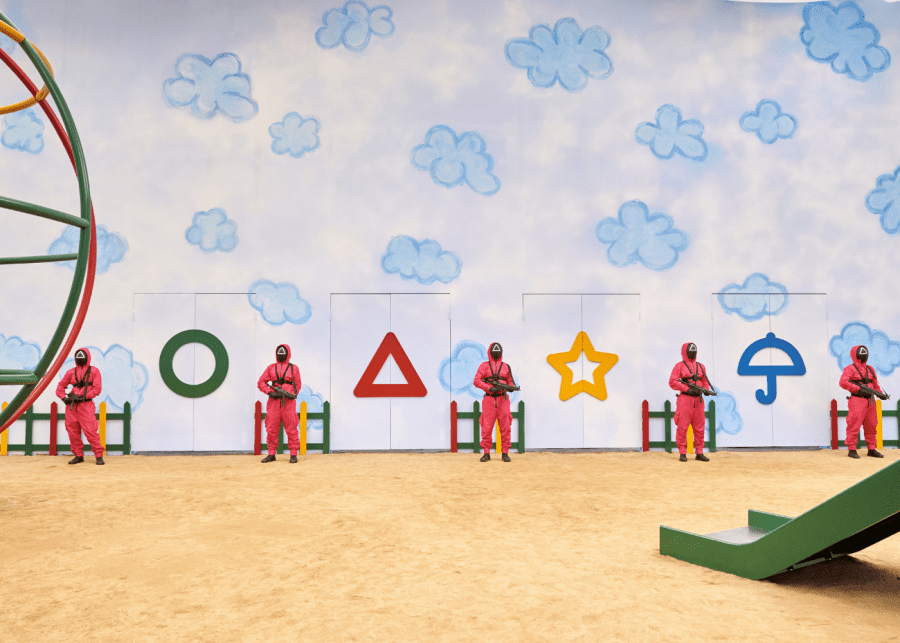 Have you watched Squid Game? Photography: Netflix
First, it was Parasite. Now, Squid Game is the latest Korean production to expose the dark underbelly of present-day society.
Squid Game: everyone's talking about it. Take a quick scroll through social media apps like TikTok and Instagram, and you'll find spoilers, memes and fan theories about the series. It doesn't stop there – the show has infiltrated real life with a Squid Game pop-up at Seoul's Itaewon Station. In Singapore, you can participate in one of the "deadly" games at Brown Butter cafe.
But for those who've been living under a rock, here's a clearer picture. Squid Game is the first Korean drama to rank #1 on Netflix's global charts and it just might dethrone Bridgerton for the title of  "Most-Watched Series". After binge-watching the show in one sitting (some nine hours or so), I get why people are fascinated and obsessed with the show.
Warning: spoilers ahead.
What is Squid Game?
I was expecting an actual squid to appear. But a few minutes into it, I realised the title was a reference to a kids' game played in South Korea. That sets the premise of the show. Written and directed by Hwang Dong-hyuk, Squid Game follows a group of people participating in a competition consisting of six childhood games (the likes of Tug-of-War and Red Light, Green Light) for a handsome cash prize.
But there's a sinister twist: if you lose the game, you're eliminated. And by that, I mean shot to death. The plot reminds me of dystopian movies like The Hunger Games, but it swaps out fantasy elements for real-life themes like wealth inequality against the backdrop of contemporary South Korea. That's what makes the show horrendously real and frightening.
In a behind-the-scenes interview, Dong-hyuk says: "The year 2008 was actually right after my debut. That was a time when I frequented comic book stores. As I was reading a lot of comic books, I thought about creating something like a comic book story in Korea, and I finished the script in 2009."
Meet the players
One of the formulas for good reality TV is picking the right contestants. Squid Game does just that by bringing together a motley group of players for its fictional competition.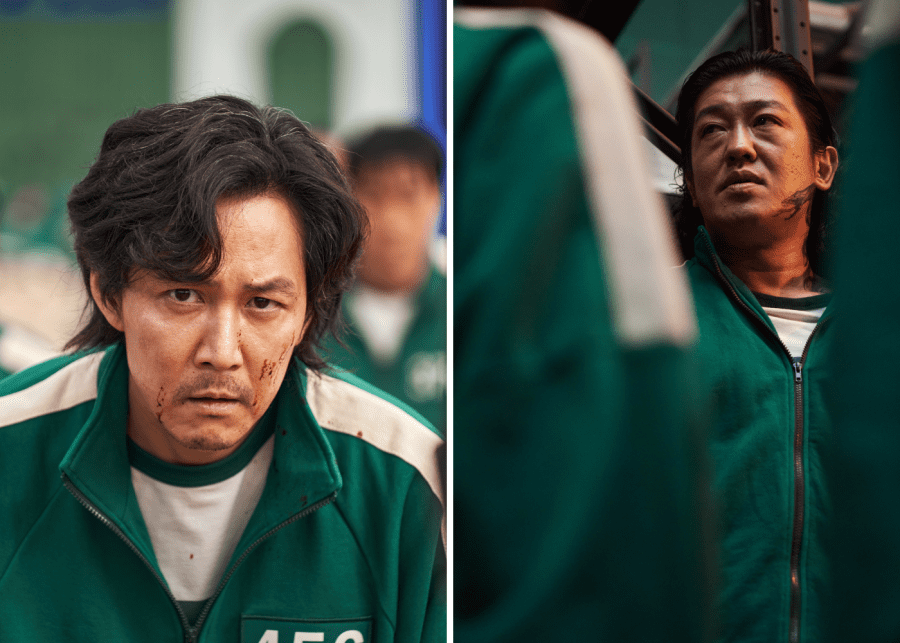 You've got Seong Gi-hun as the pitiful lead. He's a divorcee who lives with his mum and struggles to provide financial support for his daughter. Other central characters in the game include investment banker Cho Sang-woo, who's on the run for fraud; North Korean defector Kang Sae-byeok, who plays the lone wolf archetype; and Abdul Ali, the naive migrant worker from Pakistan. Of course, there's also the villain: Jang Deok-su, a debt-ridden gangster who's quite possibly the most hated character on the show.
With such different personalities and backstories, the commonality between the players is that they all desperately need money. The game starts with 456 players and 100 million won is accounted for each player. This means to say, the last man standing (alive) will take home 45.6 billion won (that's S$52.2 million). Cray!
Would you play a game of life and death?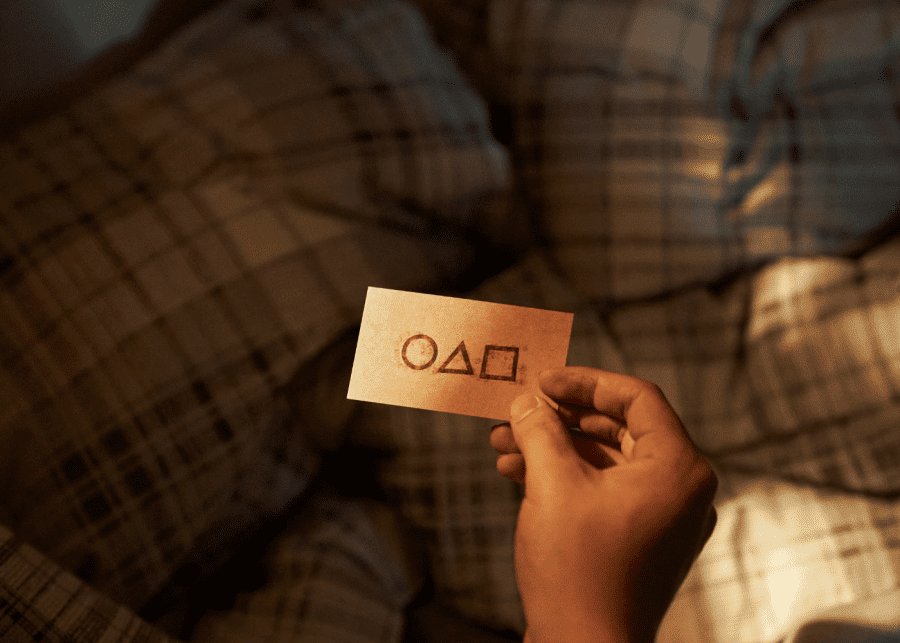 The plot slowly starts to unfold 20 minutes into the episode when Gong Yoo of Train to Busan fame appears on the screen – in a dapper suit, no less. He approaches Gi-hun and invites him to play a game of ddakji, where players try to flip their opponent's paper tile. If Gi-hun wins, he gets 100,000 won. But if he loses, he gets slapped.
After several losses and some painful hits, Gi-hun eventually wins. He collects his prize along with a mysterious card featuring a circle, triangle and square on one side and a phone number on the other. He's told to call the number if he's keen on making more money.
After dialling the mysterious number, he's picked up by a van and knocked out with sleeping gas. When he wakes up, he finds himself in a dorm filled with people just like him. Unfortunate souls who have no idea what they just signed up for.
The pastel nightmare of Squid Game
The set design, costumes, games and score (by the same composer behind the award-winning Parasite) all come together to create a magnificent cinematic masterpiece. Minimal CGI is used in the series.
"I tried to stimulate the atmosphere of real playgrounds, so that the actors can feel like they're really doing something in there. I thought those kinds of sets can give more of a sense of reality to the actors' performance," Dong-hyuk explains. So, what you watch on screen is probably what the cast sees as well, including the creepy giant doll with flashing red lights in the first game.
There's also the mind-boggling staircase maze scene, reminiscent of a lithograph print by Dutch painter MC Escher. Titled Relativity, it depicts a strange world where normal laws of gravity don't apply.
The brilliance of it all? Those stairs are splashed in bright pastel colours, creating a stark contrast between kids' games and death. That's what Squid Game is about in a nutshell – it's horrifying nostalgia. And when you inevitably scour the internet after watching it, you'll realise there are several clues hidden throughout the episodes. As the saying goes, the devil is in the details.
It's more than just winning the competition
On the surface, it's easy to see why Squid Game is making waves. Who doesn't love to see a bunch of people in competition with one another? There's a reason why Survivor is still surviving and Running Man (from South Korea) is still running.
But if you take a closer look, the show is more than just a stylised survival game. It explores several heavy themes like humanity (or the lack of it). These players are trying not to get killed off – at the same time, they're eyeing the grand prize. Remember: when someone dies, the cash prize increases by 100 million won. As the plot unfolds, you'll see players go to great lengths to come out alive and on top. Talk about high stakes.
There's also the topic of social class. You have players drowning in debt versus a group of wealthy men betting on the game. What made me uncomfortable was the fact that players joined the game out of their own free will, and the majority had the power to end it. But alas, risking their lives in a competition was more bearable than heading back to the real world. To me, it was a haunting metaphor for the modern-day society we live in, where hustle culture, capitalism and consumerism are glorified.
Final thoughts on the Netflix hit
Squid Game is a remarkable show that's as profound as it is entertaining. It offers food for thought, though some of it can be hard to swallow. But ultimately, I'm just glad we're all talking about something other than the pandemic for a change.