Say 'ooh-ah-ah' to Damai Spa's festive offerings
With Christmas just months away, there's no better time to take advantage of Damai Spa's festive treatment offers at Grand Hyatt Singapore.
In the lead up to Christmas and New Year's, it's easy to get caught up in all the frantic preparation: work; gift shopping; planning a holiday – so much to do in so little time! And by the time 1 January rolls around, our resolution is always the same: more me-time to rest, relax, and recharge.
This year, get a head start on the self-pampering with Damai Spa's year-end special. Just in time for the holidays, Grand Hyatt Singapore's award-winning spa is bringing on the festive cheer with a special offer: with every 60-minute Targeted Healing Treatment ($180++), enjoy add-on treatments at attractive prices.
At Damai Spa, one thing is for certain: you'll be thoroughly spoiled. Need to de-stress after a long, tiring day? The Targeted Healing Treatment will surely hit the spot. Using traditional deep kneading techniques that target your neck, shoulders, and back to unblock energy flow, it'll remove knots, relieve tension, and leave you feeling utterly blissed out.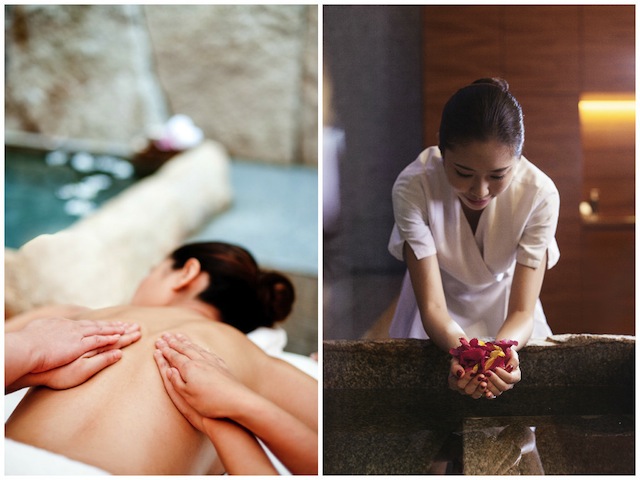 The icing on the cake? With Damai Spa's year-end offer you can select from a whopping 25 add-on treatments – ranging from scalp and shoulder massages to invigorating body scrubs and wraps, waxing, manicures, and facial booster serums – at special prices (starting from as low as $35++!) that won't burn a hole in your pocket. Talk about the ultimate head-to-toe pampering!
Damai Spa's year-end offer is available Mon-Thu, from 1 November 2015 to 31 January 2016. For the full range of treatments and promo prices, visit the Damai Spa website. T&Cs apply.
Damai Spa, Grand Hyatt Singapore, 10 Scotts Road, Singapore 228211, p. 6416 7156, e. [email protected]
This article is sponsored by Grand Hyatt Singapore.