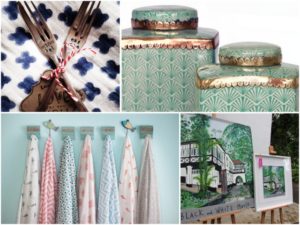 Do you always find yourself scrambling like a maniac last-minute for Christmas gifts? If so, here's an excellent reason to start your year-end shopping early: Boutiques at The Pit Building, the only curated fair in Singapore of its size, is back.
This new edition is all about indulgence, hence the theme Spoil Those You Love – Spoil Yourself. No challenge in that, considering the mind-boggling range of products from over 100 boutiques – all nestled within The Pit Building. Boutiques has it all – bespoke fashion, accessories, gifts, home wares, kids' collections, tasty treats and coffee – so it's practically impossible to leave the fair empty-handed.
Bonus for the terribly time-starved: you can whizz through your Christmas checklist in two days flat just by being there (although we can't guarantee you won't be distracted)! Here's a taste of the stellar lineup of vendors at Boutiques and their ah-mazing wares you'll want to get your hands on.
Bass Jewellery, Claudie Rota 
If your loved ones covet jewellery:
Mother, daughter, sister, or even your boss: there's not a lady who doesn't love some bling bling as a present. For classic and minimalist designs, we've got our eye on Bass Jewellery – its line of personalised initial necklaces is especially lust-worthy – and French-inspired jewellery made from semi precious stones by designer Claudie Rota.
If your loved ones wish for a home makeover:
It's true what they say: home is where the heart is. Shiva Designs Bespoke makes its eagerly anticipated comeback – this time, with a gorgeous collection of home wares such as Bonnie & Neil cushions, French vintage cutlery from Fourchette & Cie, and the label's newly launched in-house linen range. We're also smitten with textile label Feroza's line of 100% cotton hand-printed bedding, robes, and summer blankets – gorgeous!
You'll also be getting tons of compliments with the line of luxury ceramic pieces from Bowerbird: it offers beautifully patterned and hand-painted vases, bowls, and pots that are totally unique to boot. And for the perfect housewarming gift, you can't go wrong with Clare Haxby. This locally based artist is no stranger to beautiful paintings and prints that are inspired by Singapore heritage and contemporary architecture.
Rouge, Hat of Cain, ÉVOCATEUR
If your loved ones need a wardrobe refresher:
Wattletree.Asia is a Mecca for fashion-forward resort wear from rising Aussie labels like perennial-fave Zimmermann and Camilla. Rouge brings you French-Asian chic with a unique collection of ladies fashion and accessories by Paris-based French Khmer designer, Romyda Keth. Need the perfect topper for your outfit? Hat of Cain will definitely turn heads with its dapper collection of authentic Panama hats for men, women, and children. Like its name suggests, Curator's Den offers a great curated collection of avant-garde fashion labels like Zariin, Evocateur, Akaaro, and Kurshuni – a definite must-visit for edgy fashionistas.
Nina Bobo, Chubby Chubby, Little Friends By Lamasso
If your little tot needs new threads and toys:
There are plenty of pint-size gems to be had for the little ones, too. Homegrown brand, Chubby Chubby's line of beansprout husk pillows will make the perfect gifts for baby showers, while the kids' apparel from Little Friends by Lamasso is sure to turn your tots into petite fashionistas. Little travellers will definitely love Simply For Flying, an ingenious travel kit that documents their flying adventures, experiences, and memories – and keeps them entertained for hours. And don't forget to treat your little girls with exquisite, handmade Waldorf dolls by Nina Bobo, which are 100% organic filled and dressed in the finest Liberty of London fabrics.
Indian Spice Box, Jooix 
If your loved one loves original gifts:
Forget about shopping vouchers; these one-of-a-kind gems will score you major brownie points with your friends and family! Gift shopping is a total breeze with Jooix, a one-stop shop for cool collectibles and curios that run the gamut from jewellery and beauty products to stationery, home accents, and phone accessories. Spice things up with Indian Spice Box, a gastronomic delight that's filled with all kinds of Indian goodness like organic spices and a comprehensive cookbook filled with 30 recipes.
With over 2, 000 square metres of fab fabulous finds to cover, Boutiques at The Pit Building is pure shopping heaven! Bonus: the ladies behind interior design company paper+white are bringing their signature style with the launch of their very first furniture and accessories collection at the event and the exclusive paper+white lounge: a dedicated resting spot where shoppers can kick back and relax after a day of retail therapy.
Don't forget: Boutiques at The Pit Building supports several charities – so this is your chance to shop while supporting a worthwhile cause!
Boutiques at The Pit Building, Thursday 6 November (10am to 8pm) and Friday, 7 November (10am to 2pm). #02-01 and #02-02, 1 Republic Boulevard, Singapore 038975.
Payment can be made by all major credit cards, NETS, cash, and cheque. Free parking available. Follow Boutiques on Facebook and Instagram for the latest updates.
This article was sponsored by Boutiques at The Pit Building.
Top image: Shiva Designs Bespoke, Bowerbird, Feroza, Clare Haxby