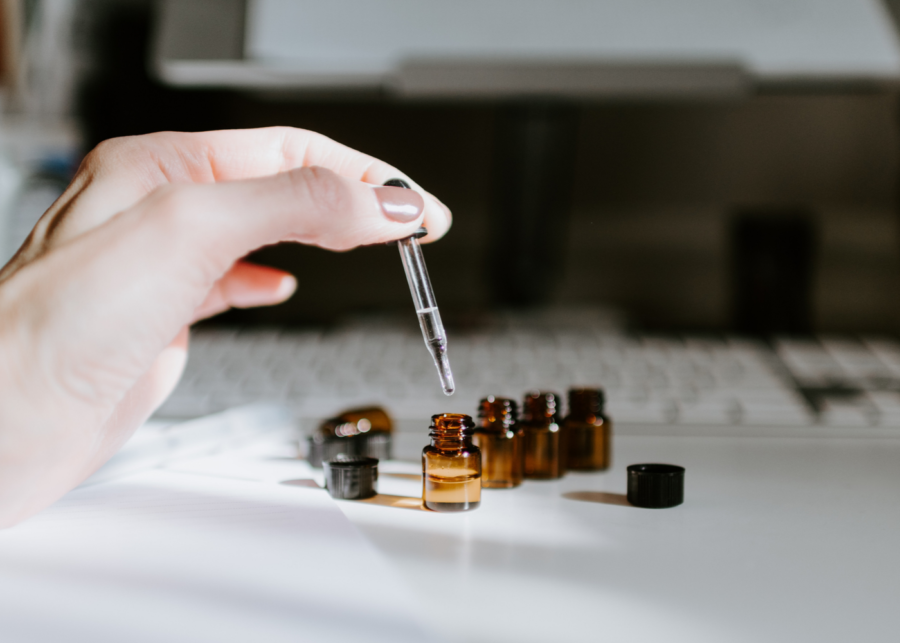 Photography: Kelly Sikkema
In this comprehensive skincare guide, we give you the lowdown on face oils, serums, facial acids, topical vitamins and more!
Skincare has come a long way. From relying on just moisturisers and toners, we are now dealing with essential and carrier oils, facial acids, topical vitamins and so much more. We know, it can be a lot to take in but don't fret. This comprehensive A-Z skincare guide has something for everyone, from beauty veterans to skincare noobs.
A is for alpha hydroxy acids (AHA). There are a few acids that fall under this umbrella such as glycolic acid and lactic acid. The former is a water-soluble exfoliant that helps to brighten and hydrate your skin, au revoir dead skill cells. Just be mindful not to use it daily if you have sensitive skin as it can be potent.
B is for beta hydroxy acid (BHA). Salicylic acid is a common BHA that helps to dissolve all the nasty things that clog up your pores. We're talking about bacteria, dirt and sebum. Since they are oil-soluble, they can penetrate deep into the skin layers, reducing redness and drying out the nasty pimples.
C is for Vitamin C. As an antioxidant and ascorbic acid, Vitamin C is proven to protect the skin from free-radical and UV damage. It also stimulates collagen and elastin production.
D is for detox. Like our bodies, the skin needs a good detox too, especially after a week of applying full-face makeup. Charcoal peel-off masks are your go-to option. This jet-black peel-off mask helps to suck out all the dirt from your pores and also unsightly blackheads and whiteheads. Not to mention, there's nothing more satisfying than peeling the gunk off your skin and seeing your face glow instantaneously.
E is for eye cream. To stave off crow's feet, puffy eyes and dark circles, moisturisation is key. When applying any kind of eye cream, make sure you use your wedding-ring finger as it's the weakest finger. The eye contour is very delicate so don't rub but dab the cream instead.
F is for free radicals. Not to make this a chemistry lesson, but free radicals are probably the worst thing for the skin. Essentially, our skin is made up of atoms and atoms are made of pairs of electrons. When it loses an electron, instability occurs and all hell breaks loose. We're talking about premature skin ageing. Free radicals are almost unavoidable, no thanks to the haze, but we can take extra measures by stocking up on Vitamin A, C and E. These antioxidants help bind free radicals.
G is for good genes. Some people just have good skin. While we give them the side-eye, we also can adopt an efficient skincare routine that targets our problem areas. From oily to sensitive skin, there's a product out there for everyone.
H is for hyaluronic acid. It is best to prime your skin with it before you lather on moisturiser and other paraphernalia as it's a potent humectant – retaining 1000 times its weight in water.
I is for inflammation. Inflamed skin can be embarrassing and there are many reasons as to why we get it. Our best bet is anti-inflammatory compounds, so reach out for products that have chamomile, maracuja oil or green tea.
J is for jojoba oil. Containing vitamin B and E, it can be used on any skin type from dry to oily. Yes, oily-skinned people can use it too. Jojoba oil has similar properties to the oils in our skin which helps to restore the sebum level – no more shiny, glossy skin that could fry an egg.
K is for Korean skincare. Unless you've been living under a rock, you would have probably known that K-beauty has been making its waves in the Lion City. Their meticulous 10-step skincare regime is all the rage, from cleansing to exfoliating and masking – no wonder Koreans have glass-like skin.
L is for layering. You can have an arduous skincare regime but if you apply them haphazardly, chances are you're not getting the most out of it. After cleansing, you should apply toner first, to remove any leftover makeup or dirt. Followed by either serum or essence to prep the skin for optimal absorption. Then comes eye cream and moisturiser. Face oils come at the end as they are potent and they are able to penetrate deeply. Last but not least, lather on some sunscreen.
M is for masks. Face masks are miracle workers, giving you the extra zhoosh your skin needs under 15 minutes.
N is for natural skincare. If you're all about sustainability, then you're familiar with terms like toxin-free, paraben-free and etc. From organic and vegan to plant-based skincare products, we have curated a niche list of brands for you to choose from.
O is for oils. Yes, we're talking about face oils aka skin elixirs. From sealing in moisture to soothing inflammations and plumping up the skin, these elixirs add that extra glow by nourishing like no other. They are skin barriers by nature, so it's wise to apply them after your moisturiser. See L for layering to get the steps right.
P is for peptides. Made up of amino acids aka building blocks of proteins, they help boost the production of collagen, keeping your skin taut and supple. It's best to mix it with hyaluronic acid.
Q is for questions. Don't settle with your usual skincare regime – who knows, your current routine might be counterintuitive for your skin type. So always keep looking for answers and we won't judge you if you google "can we mix retinol and AHA together?" Ok, maybe we will. Jk jk.
R is for retinol. Made from Vitamin A, it helps to reduce fine lines and wrinkles and help boost red blood cells to the skin – hello radiant skin! Retinol can be a bit harsh on the skin for newbies, so it's best to mix it with Niacinamide which helps to reduce the irritation.
S is for serum. These micro boosters work wonders for the skin. Depending on your needs, you can fix your concerns one drop at a time.
T is for toner. Think of it as warming up your skin, before it kicks into full workout mode. Toners help to remove any excess dirt and dead skin cells, while soothing the skin. It is best to get toners sans alcohol, if you don't want to feel as if your face has been through a tumble dryer.
U is for UVA (ultraviolet A) and UVB (ultraviolet B) rays. Here's the lowdown on these two pesky rays – the former is able to penetrate deep into our skin, giving us wrinkles and fine lines and the latter is the reason why we end up with sunburns. Both are nasty, so it's always good to lather up with sunscreen… even if you intend on being indoors all day.
V is for Vitamins. As you read, you can tell that vitamins are one of the cornerstones of good skin. From Vitamin A and B to Vitamin C and E, ensure you have incorporated them into your daily skincare routine.
W is for water. Hydration is the key to healthy skin. Apart from moisturising, remember to drink at least eight glasses of water every day.
X is for Xfoliate. Okay, we cheated but that doesn't mean you should skip on exfoliation. Helping to slough away dead skin and boosting blood circulation, exfoliation promotes growth of new skin cells.
Y is for youthful-looking skin. Skincare is not the only way to achieve radiant skin. You have to clock in enough sleep, have a balanced diet and regular physical activity, not to mention regulate your stress levels – maybe these lifestyle philosophies can help you out.
Z is for zinc. In Singapore, it's imperative we slather on sunscreen, in particular zinc oxide sunscreens. They are better equipped to protect us from UVA rays, the one that causes premature skin ageing.