Photography: Singtel
Time to discover the magic of Singtel 5G activities at Sentosa. Psst: there's a 3D2N staycation up for grabs!
With so much going on in the world around us, it's important to stay connected. But beyond relationships, what comes to mind when we think of connectivity is 5G, the new standard. Seriously, 3G and 4G networks aren't cutting it anymore. Not sure where to start? #PowerUpwithSingtel5G, Singapore's most powerful 5G network. You'll be introduced to this wonderful world at Singtel's line-up of activities in Sentosa, which will be supercharged with 5G access. Get all hyped up for a high-powered extravaganza!
Experience 5G-powered night e-Racing
Looking for an exciting activity in Sentosa? Fasten your seatbelts, let's go e-Racing at Southside! Get an adrenaline rush by racing RC cars from the driver's seat, which is connected with Singtel 5G. Remember how frustrating game lag or glitches can get? There's none of that here, thanks to the ultra-responsive and ultra-fast Singtel 5G. Plus, you can race in real-time as all action will be reflected on the miniature track with mini cars! Fun fact: the 1:10-sized model race cars can zoom up to speeds of 58 km/h and react 20 times faster than any race car driver.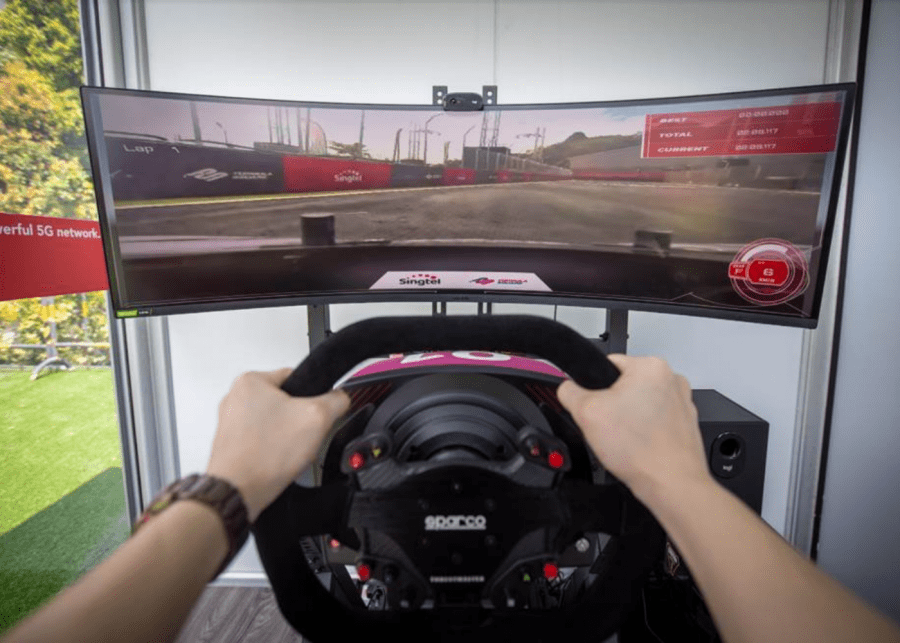 The best part: you can easily redeem one 10-minute session when you dine at The Interim Market (reservations recommended). Did we also mention this is Singapore's only 5G-powered night e-Racing activity?
Win attractive prizes on a Hidden Gem Hunt
Go on an intrepid adventure with the Hidden Gem Hunt, where you'll have to search for five hidden gems in Sentosa. Just upload your shots on Facebook or Instagram, as well as a screenshot of your post via singtel.com/5Gsentosa. You might even walk away with a 3D2N staycation at Sentosa! No time to pop by? Check out the #PowerUpwithSingtel5G contest for a chance to win a Samsung Galaxy Tab S7+ 5G – there's something for everyone!
Fun fact: Singtel is also Singapore's first 5G standalone network. It promises to be the country's most powerful 5G network with an ultra-fast, ultra-consistent, ultra-responsive, ultra-smooth, and ultra-secure experience. Ultra-attractive, might we say!
Bonus: Marvel at the city's first underwater 5G livestream of S.E.A. Aquarium
Always loved the wonders of the deep blue sea but never found the time to go down to Sentosa? Head over to Singapore's first 5G-powered telco pop-up store, [email protected] Centre, where you can feast your eyes on a gorgeous 4K livestream of the S.E.A. Aquarium. The footage is captured via a submerged camera, which is beamed to screens via ultra-smooth and ultra-consistent 5G.
The 4K livestream will also be available at Singtel shops at Tampines Mall, Waterway Point and Comcentre. Time your visit for 3.45pm (daily, except on Mondays and Fridays) to catch the frenzy of colour at fish feeding time!
Can't wait to get going? Power up your 5G island adventure with these activities at Sentosa, or visit Singtel shops safely by booking an appointment in advance. The fun's just starting!
This post is in partnership with Singtel.