A non-negotiable: the reusable bag. Photography: Darissa Lee
So Singapore won't introduce a plastic bag levy. If you do one thing this year to live more sustainably, pick from our list of how to quit single-use plastic. And stick with it.
Let's just come out and say it: Singapore has a long way to go when it comes to reducing plastic bag usage and snapping out of a single-use plastic culture. Bangladesh imposed a ban on the bags back in 2002. Ethiopia has a near total ban. Just a year after Israel introduced a law that required supermarkets to charge for plastic bags, usage dropped by 80 per cent, and bag waste found in the sea halved. Bali also banned single-use plastic this June. But here? It's the Year Towards Zero Waste and yet no levy on plastic bag usage will be introduced.
So it still comes down to more of us choosing to reduce plastic in our own lives, stop contributing to the problem and start living more sustainably. Does dipping into a zero waste lifestyle sound overwhelming? It really isn't. We can all make some easy changes that bring us closer to being #plasticfreepeople.
Besides, who wants to be part of the culture of flippant double-and triple-bagging at the supermarket; mindlessly taking plastic cutlery with each takeaway meal and needing straws and plastic carriers with each drink (Can't we master a grip on a coffee cup here?).
Yes, yes, we use plastic bags for rubbish. But do we need so many? At last count, back in 2011, the Singapore Environment Council says we went through 3 billion plastic bags on this tiny island. We don't need to show you another video explaining how non-renewable petroleum and gas is needed to make things like plastic bags, straws and cutlery that only get used once, and never break down. Horrified that every single piece of plastic cutlery and every single straw you've used in your lifetime is still hanging around? You should be. Here are a few small changes we can all make now that won't cost the earth…
Bring your own damn bag
Stats your thing? Know this: a recent study by the NEA suggested that using one reusable bag over a year could prevent over 125 single-use plastic bags going to waste. Besides, the reusable bag can look pretty cool, no? Treat yourself to some of the cool foldable shoppers by Baggu (available at An Uplifted Day) and bring them with you everywhere.
Say no to the straw
Surprise: we can drink straight from a glass at home, and are equally capable of this when we enjoy takeaway drinks. If you're actually quite fond of sipping from a straw, grab a reusable stainless steel, glass or bamboo number.
We just snapped up a bunch of bamboo straws by Bamboo Straw Girl at the Green Collective, which has gone  from popup to an impressive permanent store. Stainless steel your thing? Check out the ones by Neis Haus, which also come in smoothie and bubble tea size, so no excuses. Or check out Sonder Social's ethically made goodies. Personal fave? The stainless steel cocktail straws by The Pineapple Co. Snap them up at Kapok at the National Design Centre, or Shiva Designs Bespoke. The Clean Attempt has reusable straws in rose gold, and cool social enterprise cafe and lifestyle store The Social Space offers straws in glass as well as stainless steel.
Go back to using a water bottle
Get yourself a sleek stainless steel Kleen Kanteen or a swish rose gold Swell bottle and fill her up with filtered water. Want your drink to stay cold all day? My fave is the bamboo and stainless steel flask by Bamboo Straw Girl, also available from The Green Collective. Water in plastic bottles that's been shipped around the world? Not a good scene.
Bring a reusable coffee cup
All those takeaway coffee lids and the inexplicable plastic handles starting to gnaw away at you? Honestly, even the grumpiest kopi uncle in town doesn't mind your KeepCup (especially if you take the lid off for him). We've tried both the KeepCup and the Frank Green versions (Gallery & Co's reusable cups are a Frank Green design), the latter being slightly harder to clean thanks to the no-spill feature. Right now we're really into the Perky cup, made of biodegradable bamboo fibre and plastic-free. Get yours at The Social Space, in a bunch of rainbow designs: yes you can still appreciate pretty things while living sustainably.
And start bringing a reusable container for your takeaway
Yes, you can bring your own container to the hawker centre or food court for your ta pau. I've been doing it, and you can too. Almost nobody bats an eyelid, and you'll even get a nod of approval from some aunties. Current fave container is my stainless steel tiffin by Zebra, which is the perfect size for my laksa, yong tau fu and mega salads. Bonus points for the handles!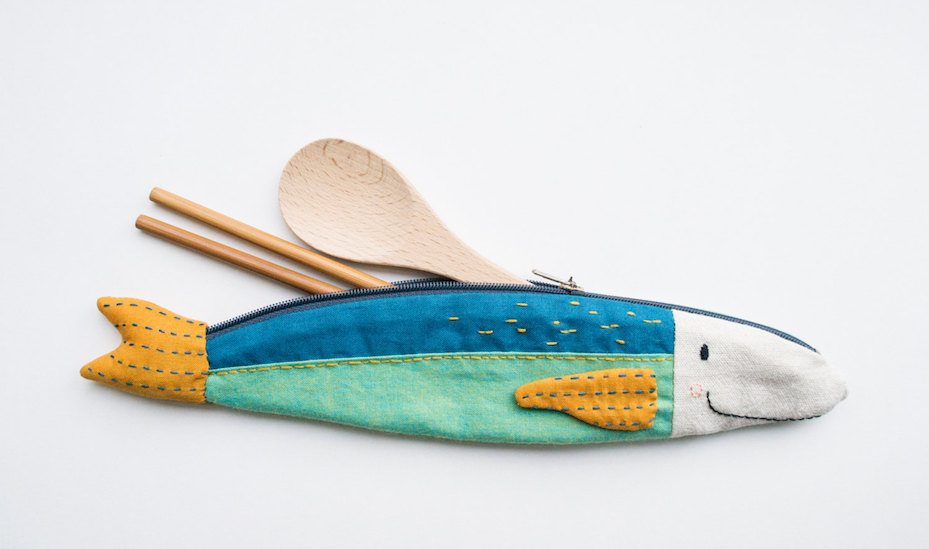 Do you need that plastic cutlery?
If you're heading back to your office with takeaway, use the office cutlery. If you're heading home, use your own stash. If you're really on the go, think about bringing your own – pick up one of the zero waste cutlery kits by Bamboo Straw Girl or Puffy Lamb at the Green Collective popup store. Or put together your own kit with chopsticks, reusable straws and the essential pack of tissues for choping your seat. We ain't gonna lie: we're kind of in love with that the locally made Momshoo cutlery pouch above. But most importantly, just say no to the cutlery, or hand it back.
PS: Kudos to Food Panda and Deliveroo for switching to an opt-in function for plastic cutlery. Getting a brunch of unwanted plastic cutlery and chopsticks delivered to your home (where you obviously have cutlery) is infuriating. And it's about time people actually had to think about whether they really need the stuff when they order in.
Enough with the shrink-wrapped fruit and vegetables
Ah, the irony of the organic vegetables at the supermarket: wrapped in plastic and flown in from Spain and the US just to clock up extra food miles. Even the coconuts at the supermarket come in a plastic film. Right now, we're rediscovering the wet markets and farmers' markets around Singapore so we can buy loose produce and pack it in our own bag. Or you might want to check out why everyone's into urban gardening…
Get to know your zero-waste grocery stores
This requires a bit of planning and involves bringing your own containers and bottles to refill with everything from olive oil to pasta. But we say it's worth the effort because it's becoming increasingly obvious that we can't even count on recycling being managed properly, and avoiding more packaging in the first place is the best route. Head to our fave cafe The Social Space for its refillery, where you can BYO containers to fill with laundry detergent, handwash and shampoos; head to Unpackt for soy sauce, vinegar, spices and snacks; and check out our guide to zero waste groceries for more spots where you can get into the routine of refilling…
Now about that cling film…
Jamie Oliver got some heat on Instagram recently for a video that taught how to poach eggs in cling wrap – and it was skin-crawling for several reasons. First of all, you should be learning how to poach an egg without the need for single-use plastic. And just a heads up: hormone-disrupting elements in plastic are a whole other story, but Cancer Research UK warns against eating food that's been in contact with cling film that's been heated.
Switch to storing your food in glass or ceramic containers with lids. Or, check out reusable Apiwraps from Neis Haus and  Bee's Wrap (available at RedMart): cotton treated with beeswax that you can use to cover bowls, wrap sandwiches, cheese etc to keep your food fresh. Bamboo Straw Girl has a selection of wild beeswax wraps, and The Clean Attempt offers beautiful wraps and even beeswax bars for repairing and extending the life of your wraps. Brilliant.
It's simple, right? Now imagine what we could do if we all made one of these moves…