Photography: Red Republic via Facebook
Tacky souvenirs are a thing of the past - we found you an awesome list of quirky knick knacks for a slice of Singapore.
Searching for a gift with local flavour? You're in luck 'cos there are plenty of cool souvenirs in Singapore. But first, forget everything you know about run-of-the-mill souvenirs. That means your mix of kitschy magnets, lacklustre chocolates and postcards with neon text (in comic sans, no less!). When you're done savouring local food and shopping homegrown designers and beauty brands, give this list of stylish Singapore souvenirs a look. We've got all kinds of amazing goodies from local indie brands and locally-based artists.
Unique Singapore souvenirs and cool gifts
1. Luxury mementos from Raffles Boutique
If you're looking for a memento that exudes luxury and heritage, this is a must-visit. Nestled within the iconic Raffles Hotel Singapore, the chic boutique offers a curated selection of souvenirs, home decor, and gourmet delights. Think: a Singapore Sling magnet, the Raffles signature kaya jam, handcrafted home decor items and more. Its retail concept marries opulence with timeless heritage, featuring a decor that pays homage to the bygone era. But Raffles Boutique is more than just a place to shop.
Check out the heritage gallery, a dedicated space that tells the history of the hotel and its evolution. Want to take home a piece of this heritage? Shop unique Raffles Hotel-branded souvenirs, from a Raffles camera pouch to a Raffles cushion cover. Whether you're a history enthusiast, a connoisseur of luxury, or a curious traveller, the exquisite items will leave you spoilt for choice.
Raffles Boutique, 1 Beach Road, Singapore 189673
2. Orchid-inspired perfumes and scents from Singapore Memories
Wanna bottle up the quintessential smell of Singapore? We think nothing represents this sunny island better than our national flower, the orchid. That's why we love the keepsakes from Singapore Memories, inspired by and made with fragrant orchids found all around the island.
Its orchid perfume collection features scents like the strong and masculine Aranda 1965; and the soft yet captivating Vanda 1981. Our favourite? The iconic Singapore Girl. An embodiment of the elegant local woman from the 1960s, this heritage perfume was revitalised by Singapore Memories in 2014 to represent the modern Singaporean woman. Besides perfumes, douse your living space with its line of room fragrances, including Therapeutic Orchids, Raffles Heritage and Atas, an ode to the local lingo, Singlish.
Singapore Memories, multiple locations including Sentosa, Design Orchard and Singapore Flyer
3. Singapore-inspired spirits by Tanglin Gin
So you love the little red dot so much that you want to bottle it up and bring it home? Here's the next best thing: Singapore Gin. Made by local distillery Tanglin Gin, this award-winning spirit offers a blend of flavours from traditional Asian ingredients such as kaffir lime leaves, ginger, dried chilli seed, mandarin peel, and cassia. You can also add to cart the Orchid Gin – Singapore's first ever – made distinctive with amchoor, java pepper, and vanilla planifolia.
Tanglin Gin, shop online
4. A box full of local snacks from Send Thinks
Nothing gives the feeling of home better than the snacks of our childhood and new ones with reimagined old flavours. If you're looking to gift someone who's missing the Lion City or you want to impress a visitor, hit them with a taste bomb that'll knock their senses out. Snack Box Singapore by Send Thinks is a curated box filled with nostalgic mama shop snacks and trending favourites from the city. Experience local faves like kaya, curry and laksa – or fall in love with a new range of flavours. Send it with a customised message and you're on your way to becoming their favourite gift giver.
Send Thinks, shop online
5. Porcelain plates from Supermama
We're loving the blue and white porcelain wares designed in Singapore and made in Japan. The exquisite plates, in particular, feature all kinds of familiar designs. Browse through collections inspired by local landmarks, iconic figures like the Merlion, and patterns such as kopitiam floor tiles. These truly embody the spirit of Singapore!
Supermama, shop online
6. Chew toys from Furball Collective
For those who believe your pet is as Singaporean as you are, Furball Collective's collection of chew and crinkle toys will give all the island feels your furbaby needs. Gift your dog or cat locally-inspired toys in shapes like kopi cups, ice cream sandwiches, gem biscuits and even an entire steamboat set. We especially love the curry fish head bed set that'll have your pup hilariously looking like they're curled up in a pot of bubbling broth.
Furball Collective, shop online
7. Peranakan-themed items from Cat Socrates
Cat Socrates is an absolute fave for its eclectic collection of locally-inspired treasures. If you're as obsessed with Peranakan tiles as we are, you'll find the vibrant heritage print on pouches, notepads, beach bags, pins, wrapping paper and bamboo plates. Pick up a copy of Singapore Shophouse while you're at it – the book is full of insightful gems!
Cat Socrates, shop online
8. Nostalgic pins from The Little Drom Store
Love jazzing up clothes and bags with quirky pins? You've come to the right place. Stock up on these little accessories splashed with local flavour. Expect to see everything from old school trinkets and Singaporean snacks to iconic playgrounds and elements from the country's past.
The Little Drom Store, shop online
9. Printed scarves from Binary Style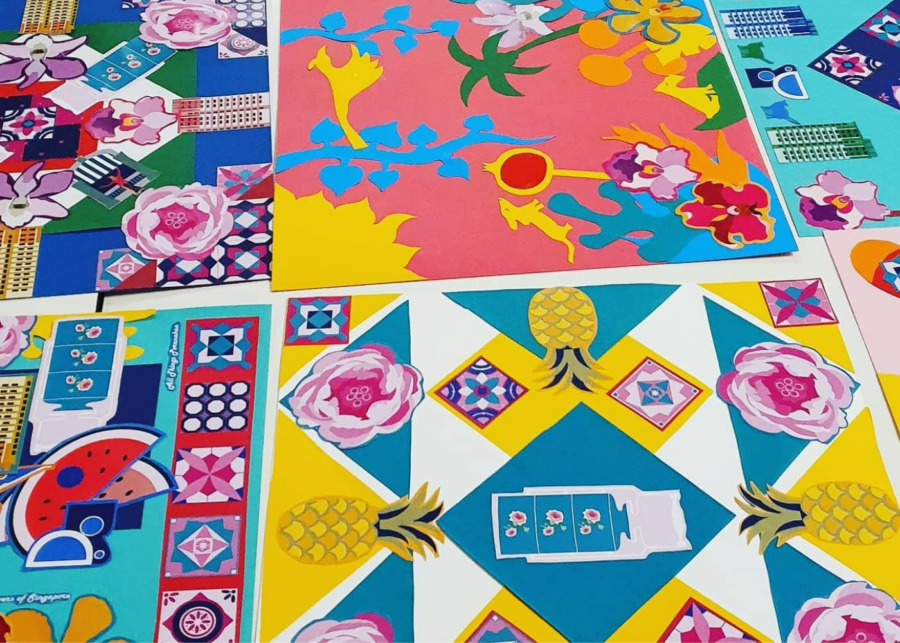 Binary Style's abstract prints are incredibly unique – just look at the one inspired by Little India. Reflecting the district's rich atmosphere, it features a sumptuous palette of deep purples and greens, fortune-telling parrots, peacock feathers, and the neighbourhood's famed windows. Other prints include traces of Joo Chiat, Tiong Bahru, Chinatown and Bugis, as well as the blooms, birds and Peranakan tiles of Singapore.
Binary Style, shop online
10. Singapore breakfast tea from TWG Tea
Wake up to the perfect brew with a mug of this local brand's breakfast tea inspired by the garden city. It's a lovely blend of green and black tea, complemented by vanilla and spices. Pair it with kaya toast or a hearty plate of nasi lemak, and you're all set to take on the day.
TWG Tea, shop online
11. Good Morning Mug from Red Republic
Paying homage to the old school "Good Morning" towels Singaporeans grew up seeing, this mug features the nostalgic print. Lug this along for your morning coffee and get a perky start to your day. Alternatively, the Singlish mugs from When I Was Four are the absolute cutest!
Red Republic, shop online
12. Merlion tees from Kattoe Design
Yeah, we know, Merlion merch can run the range from cheesy to so-lame-it's-ironically-cool. But these tees? We'd wear them, tongue firmly in cheek. They come in black or white, available in a good range of sizes. The Merlion King illustration parodies Disney's classic The Lion King with Singapore's famous animals. Yup, the zoo's Ah Meng and the Bishan otter make an appearance alongside Punggol's wild boar and the Bird Paradise's hornbill. Cute!
Kattoe Design, shop online
13. Printed cushion covers from Onlewo
Onlewo is famed for its bespoke home decor and wares, which feature familiar Singaporean motifs inspired by the city's heritage. We love the cushion covers for a lightweight gift. Plus, each has a story to tell. The Star Tile print is adapted from the tiles on shophouses in Katong, Little India and Chinatown, while Downtown features local icons and attractions.
Onlewo, shop online
14. Kopi dabao tote bag from When I Was Four
Make your love for Singapore kopi eternal with this supersized tote bag. Going the extra mile to make things realistic, the bag comes with a matching long straw and interchangeable straps, which are available in green and pink. Just like the ones at your regular hawker drinks stall.
When I Was Four, shop online
15. Paintings of Singapore landmarks from Clare Haxby
British artist Clare Haxby has an entire collection of mixed media paintings featuring local landmarks – all inspired by her time living in the Little Red Dot. These limited edition art prints make for great home decor, especially when you get to choose your favourites. The series includes Botanic Gardens, Sultan Mosque in Kampong Glam, Esplanade, black and white houses, Marina Bay Sands, the Singapore CBD skyline and rows of colourful shophouses in Joo Chiat and Emerald Hill.
Clare Haxby, shop online
Now you're all ready to go gift hunting. Happy shopping for unique Singapore souvenirs on the island!