Intimacy: Is this an offering for those passed, ancestors, the Gods, or prayers for the future?
Pause and really look at what's around you: this series of images by Asia Photo Collective captures Chinatown as you need to see it
We walk through Chinatown's colourful streets so often that we can forget to stop and really look at what's around us: the colliding lives, our community and the fleeting moments in a city that has just as much grit as great restaurants and more than enough ways to live the good life. If you're intrigued by Singapore photography, this first in a series by Asia Photo Collective is just a glimpse into our city and its many faces…
The Singapore Series
'Singapore: Asia on Training Wheels.' That's how she's generally described. A city that's flashy, comfortable, sanitised, great for your career, but lacking that original grit and grime that inspires.
I disagree.
I wanted to start a series that focused on the concept of Self. Inadvertently, I started trying to understand Singapore, beyond the fancy bars, flashy cars, the people rushing around.
There has to be so much more to her – especially a city of 6.2 million people, with a constant influx of immigrants, travellers, backpackers (I've smelt them) and dreamers. I haven't yet quite figured out whom she is – she's pretty complicated and has so many different facets, goals, ambitions secrets and hidden insecurities. The easiest way for me to understand her, was to grab a camera and 'go walkabout'.
Welcome to Chinatown
Beyond the tourists, there are a lot of people in Chinatown, and they're not all Chinese (shock, horror). What seems to be core to Chinatown is community, family and home. There's an element of loneliness, strength, secrets and comfort that comes from this part of Singapore – maybe it's time to take a walk outside…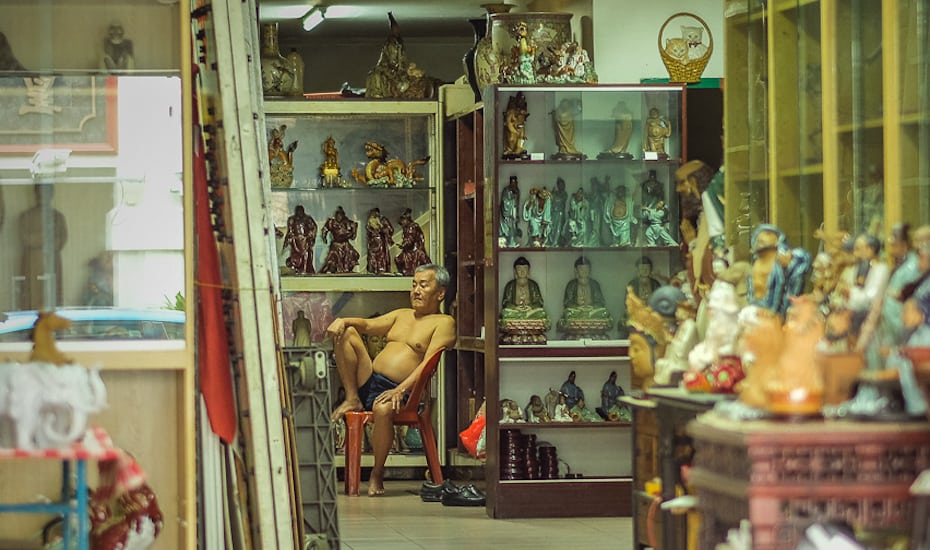 About Asia Photo Collective
These photos and more available for sale via www.asiaphotocollective.com, a new street photography photo collective born and raised in Singapore.