We speak to Mmerci Encore founder and aromatherapy goddess Alli Sim on her beauty secrets and "skin and psyche" skincare philosophy
If there was an award for most soulful skincare, Mmerci Encore would win it hands down. Helmed by former beauty editor Alli Sim, the aromatherapy and beauty label is all about holistic spa regimes and feelgood rituals made to 'champion self-care'.  Made with fresh, raw ingredients and the purest essential oils sourced from France and Australia, all products are hand-blended in Singapore in small batches.
Such attention to detail and passion for natural beauty took root early for Alli. Long before the birth of Pinterest and the arrival of DIY Insta-beauty queens, a primary school-aged Alli was already concocting beauty remedies from the comforts of her kitchen. Today, she continues to comfort the weary with her uplifting little luxuries and inspiring feed (we strongly recommend following Mmerci Encore's Instagram – it's not only filled with gorgeous product images, but travel inspo and encouraging quotes). Below, we speak to her about her transition from a beauty editor to an aromatherapy artisan, her secret beauty hacks and upcoming Mmerci Encore launches.
Hi Alli! Could you tell us a little about Mmerci Encore?
Mmerci Encore is an artisanal aromatherapy label. We create everything from aromatherapy blends that you can wear like a perfume to scents for your space, as well as goods that you can use on the body when you want to self-care and spa at home.
How did you move from being a beauty editor to creating Mmerci Encore?
Mmerci Encore started as an online journal. While I loved writing about cosmetics and reporting on the latest beauty and aesthetic trends, interviewing famous celebrities from the fashion and beauty worlds, I wanted to return to my roots where I'd blend essential oils to help others feel amazing about themselves. That's what it's about: feelgood beauty that helps you not only externally but supports you emotionally. From there, I became a certified aromatherapist and even studied aromatherapy massage as part of that.
Tell us about your first beauty memory.
I was about eight years old and used my pocket money to buy DIY beauty books from a bookclub, which ignited my love for this whole craft. I'd ferret away all these fresh ingredients from our fridge – lemons, avocados, honey, cucumbers, mayonnaise, grapes – you name it – and make facial and hair masks in my bathroom. The clean-up was terrible but the process was magical.
Talk us through your process.
The things we create are made with a lot of love and intention, so there can be seasons where we release nothing new and other times where there'll be four new products in the span of two months. I get inspiration from travel, design art and only create new things when I really believe it can help others, when we have the right know-how to make it and have found the perfect ingredients for the products.
Mmerci Encore's tagline is "for skin and psyche." Could you explain that to us?
I love commercial off-the-shelf perfumes – scent itself has an incredible ability to reconnect you with lost memories. But what I love about essential oils is that in addition to smelling great, they also have the ability to help you physically and emotionally. For example, we all know lavender essential oil is super relaxing, but it's also naturally anti-bacterial, anti-spasmodic (so good when you have cramps or aches) and anti-inflammatory (good for certain angry acne flare-ups).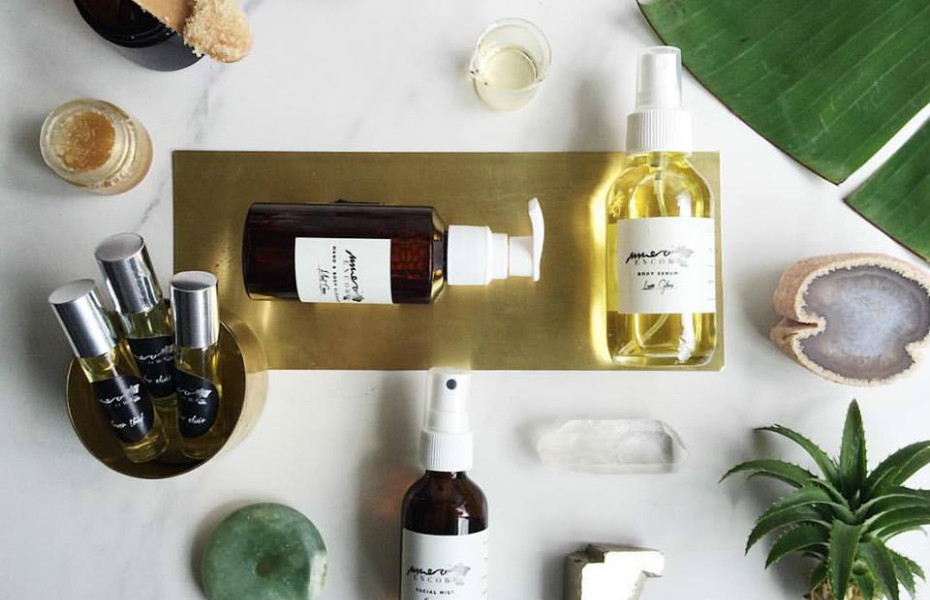 Who is the Mmerci Encore man or woman?
They're definitely well-heeled and well-travelled – their shelfies are full of cult and insider brands. They appreciate the more therapeutic and holistic aspects to beauty and connect with the fact that Mmerci Encore is made by someone and not just some thing.
In an industry flooded by large brands and beauty fads, how does Mmerci Encore keep up?
We don't. We're happy doing our thing and are grateful to have such kind, big-hearted and often hilarious clients who appreciate that. We're so encouraged by their feedback  – good or bad – because it shows they care. Seriously, our clients are the bomb.com.
In a word, we'd describe Mmerci Encore as soulful. What say you?
Absolutely. There's a lot of heart in what we do. We create things with meaning and try to keep it real in how we're communicating. I never wanted to create a brand that made people feel negative about themselves – which is why we're all about those self-care rituals and treating yourself with extra grace and kindness.
What's a must-have product from Mmerci Encore?
Everyone loves the organic geranium-based Glow Elixir, a roll-on aromatherapy perfume that's free of alcohol and synthetic chemicals.  
Tell us a beauty secret.
This will sound gross but a facialist at Joelle Ciocco in Paris told me to stop cleansing my face in the morning and to quit using foaming cleansers altogether. You simply tone and moisturise the skin in the morning and double cleanse at night with an oil or non-foaming cleanser. This is really amazing if you have sensitive skin. My skin has become less reactive since then! I also love applying organic hemp and black cumin oils to the face at night after my moisturiser, these also help rebalacne and hydrate the skin.
Favourite beauty hack?
I love using our jade facial roller. It helps to de-puff the face, ease the tired eye area and promote that glow. To get that instant toning effect, I pop the jade roller in the fridge and use it on days when I'm feeling extra over it. But if a jade roller is not your jam, then a simple ice cube would suffice!
Do you still work on your own home beauty remedies?
Definitely. I have to keep busy with my hands and love dreaming up and road-testing new ideas.
What are you working on right now? What's next, product and direction-wise?
We've got the Awakening Hand & Body Lotion coming out soon – it's a great companion to our organic sugar scrub. The scent is so luscious and instantly lifts the senses.
Want to read more interviews with beauty moguls? Read our Beauty Black Book features with founder of Allies of Skin Nicolas Travis, founder of Handmade Heroes Lynsey Lim and the creators of local makeup brand Faux Fayc.