More than just perfumes, Sifr also dabbles in candles, oils and soon, soap. Photography: Delfina Utomo
Something smells pretty good in Kampong Glam, and it's not the food. We talk to master perfumer Johari Kazura of Sifr Aromatics.
What is nostalgia but a longing for longing? The sudden clamour to remember Singapore's heritage and history has been much celebrated in its food, monuments, buildings and strange theme parks, but seldom its people. Perfumer Johari Kazura of Sifr Aromatics has lived in the Kampong Glam precinct for most of his life, growing up with the family business before starting his own brand, Sifr Aromatics.
The reality of nostalgia
Having seen buildings change, businesses open (and close unfortunately) and people coming and going as his neighbourhood has evolved Johari says:, "There's definitely a sadness in seeing how much Arab Street has changed over the years but there's hope there too. Some of the businesses that have existed a long time have been either wiped out or moved out from the neighbourhood and chances are they won't come back."
While shophouses these days are being exalted as 'hip', 'cool' or 'retro' heritage buildings, he says that most people don't understand that back then, people could not afford to have a shop and a separate home, so often, they merged the two together. "We had the shop downstairs and living quarters above. There was one toilet everyone had to share and there were snakes sometimes," he recalls.
Starting from zero
Johari's grandfather Hanifa Kazura started a small perfume shop near Arab Street in 1933, and the perfumery business continued with his children. Johari's own journey into scents began when he worked at his father's perfume shop, Jamal Kazura Aromatics. "Because the brand was so established, it would be harder to make new changes so I decided to branch out independently. Here I could take more risks and try out new and different things, from creating scents to packaging products," Johari says. Meaning zero in Arabic – to symbolise a clean slate, Sifr Aromatics was born.
After a sabbatical in Europe, taking courses in the perfume capital of the world, Grasse, in the French Riviera and meeting suppliers his grandfather had used, Johari decided to use his skills from his time in the family business and his training from the south of France to operate his business as a traditional perfumery – with a modern twist.
Unlike most perfume shops and perfume counters in malls, there will be no "assault of the senses" when you enter the high-ceilinged shophouse on 42 Arab Street. I was taken in by the midnight blue walls, the solid wood fixtures in the store, vintage-style French perfume bottles, Egyptian glass vials, literary quotes and books on the shelves, miniature trees which upon a close look were stands to hang aroma pendants (you fill them with your favourite scent so you can bring it around with you) and the rows and rows of perfumes, of course. And then there it was, the scent of something luxurious – a little bit of vanilla, sandalwood and jasmine – lingering in the air.
Making scents of everything
At Sifr, Johari is always creating something new. Like most artists, it all starts with an inspiration – an idea, a memory, or an ingredient. Johari recalls a time when he experimented with pink pepper and explained how making a scent is ultimately a trial and error process.
He says, "We're constantly rotating scents on the shelves because ultimately what influences which scents that become popular is fashion. Trends go in and go out – and in again, so sometimes surprising scents get into fashion again."
While his favourite types of scent changes – he's beginning to appreciate "that uncle smell" – Johari knows what he dislikes. "That unisex, citrus-y forgettable smell and the hyper-sweet bubblegum smell I tend to get tired of."
One of the more unusual requests was a customer who grew up on the Reunion Islands and wanted a perfume that smells of home. It gave Johari the idea to concoct something that would bottle the beachy vibes of the place and it turned out successful. "Somebody requested to smell like 'old money' and I imagined up smells like leather and tobacco," he said about a strange brief he got from another customer.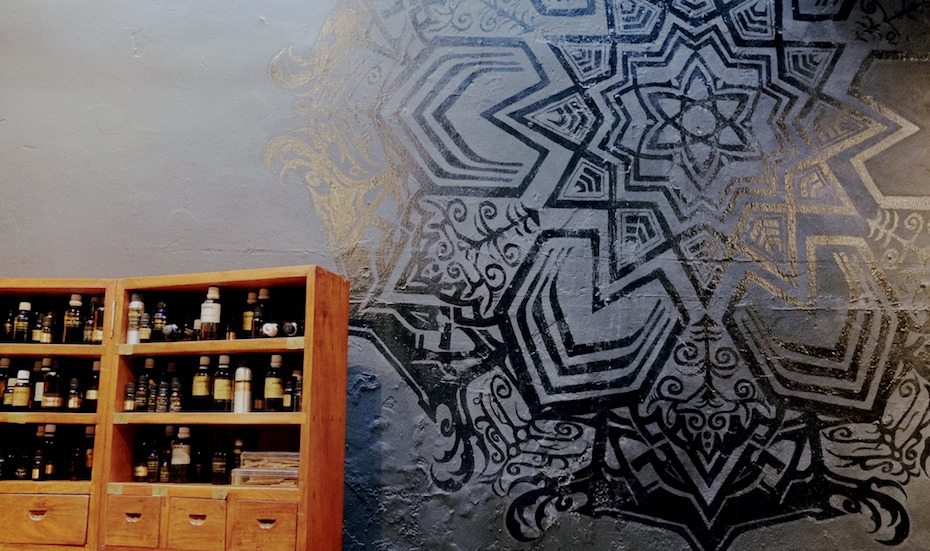 His role as perfumer doesn't just stop there at his suar wood tabletop with his extractions of ambergris and myrrh. Seeing how he has branched out from just making perfumes to candles, soaps and salves seasonally, he also dispenses some pretty good advice when it comes to scents and smells.
Being a scent connoisseur, Johari also had time to give some suggestions on spray bottles and techniques to his old NS friend and restaurateur who dropped by with some interesting ideas to infuse scents in the desserts and coffee at his joints. Let's just say, look out for wasabi-infused treats in the near future.
"I had a lot of bartenders who used to come by here and was invited to a vodka event where I made spray perfumes out of vodka infusions of tea and different things… I would just use it as mouthwash after that!," he recalled.
Past and present
Sifr is very active on social media, well-loved by Japanese tourists mostly (Johari's assistant, Lukman, is even taking Japanese classes), and receives a lot of foot traffic even on a balmy Wednesday afternoon, all thanks to social media. Despite these things, it's clear to see that Johari is an old soul.
Arthur Miller quotes on the shelf, vintage collectible perfume bottles and how he has transformed a heritage business to be a progressive brand like Sifr, it's no surprise that Johari picks the Lost Generation as his favourite era in history. Like the Ernest Hemingways and Gertrude Steins of the era, Sifr is also born out of years of tradition and conservatism.
Waxing romantic about the importance of smell, Johari says, "We perceive smells next to our brain where we store long-term memory and we remember things better with a scent, even if it's from a long time ago. We remember how cities smell, when you're somewhere else the air smells different and you know you're not home."
Coincidence that Kampong Glam itself is home to established perfumers like him and his family? Perhaps not. If to smell is to remember, then there is much to preserve and pay homage to in this historic precinct. In the words of Johari Kazura: "As long as we're living, breathing human beings, we are always smelling something. Never take it for granted."
Sifr Aromatics, 42 Arab Street, Singapore 199741