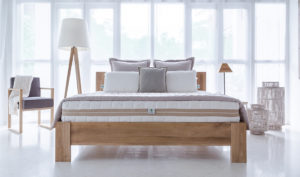 Always feel tired and exhausted? We spoke to the sleep experts at Heveya by European Bedding to get the lowdown on why your bed could be the problem.
Ever get that mid-afternoon slump? You know the one; 3pm rolls around and you can barely keep your eyes open, coffee is your only crutch, and you're counting down the minutes 'til you can crawl back under the duvet at home. We've all been there! And while diet and exercise undoubtedly make a difference to energy levels, if you've got those two things nailed and still feel tired, we reckon it's time to look a little closer to home (in your bedroom to be precise!). We spoke to the sleep experts at Heveya by European Bedding to get the lowdown on the three essentials that will guarantee a great night's sleep.
1. A mattress that is just right
One third of your life is spent laying in bed, so we reckon investing in a top-notch mattress makes total sense. Opt for a latex one and you'll get the best of both worlds; super comfy when you first lay down, yet supportive enough to ensure you won't wake up with back ache and a stiff neck. Latex is also 'breathable', meaning you'll be able to sleep cool; always a winner when contending with Singapore's humidity! What's more, if you're forever arguing with your bae about the type of mattress you need, we say get the best of both worlds by combining different levels of firmness in one! Yes, really! No more rows about the bed being too hard or too soft, #CoupleGoals!
2. Pillows as fluffy as a cloud
Plump, perky pillows are a must! And for the optimum night's rest, your neck will need tip-top support. The natural elasticity in latex pillows means they'll retain that fluffy feeling and stand the test of time. What's more, they are also naturally anti-bacterial and dust-mite resistant; sounds like a win-win for long-standing allergy sufferers to us!
3. It's all about that base
And that's certainly true when it comes to beds! For the ultimate night's kip, an ergonomic, flexible, slatted base is the way to go. The adjustable settings can be fully customised to ensure your spine is getting the support it needs, and you can say goodbye to those fitful nights of tossing and turning. Ahhh, sweet dreams!
Still ain't convinced? The good peeps at Heveya by European Bedding recognise that sleeping is personal, and even offer a one-month free trial on all mattresses. If your back doesn't like your new purchase, feel free to return and replace it for another. Huzzah!
Want to speak to the experts yourself? Click here to find out more.
Visit the new Heveya by European Bedding showroom at 32 Eng Hoon Street, Tiong Bahru
This article is sponsored by Heveya by European Bedding.