Photography: Dan Farrell via Unsplash
Call us mad but we love rubbing jade on our face, infusing crystals into water and spritzing crystal water everywhere. Find out why...
Crystals are having a moment. We won't deny, crystal-infused beauty products are our favourite beauty buy of late. But crystal or crystal-infused products are very much a thing in Singapore, and it goes well beyond the realm of jade rings and salt lamps. Whether you believe in their healing properties on a Gwyneth-grade level or just think they look damn pretty, take a peek at our guide to shop for crystals in Singapore…
Where to shop for crystal products in Singapore
1. Crystal Apothecary
Crystals + essential oils: the perfect pairing to elevate the energy at home. Say hello to Crystal Apothecary, a local brand behind this mood-lifting equation. Inspired by nature, the brand carries metaphysical products that use the healing powers of crystals, botanicals and essential oils. 100% natural hand picked crystals are used together with therapeutic-grade, GMO-free essential oils to shift the energy and vibration in a space. And it doesn't have to be a one-size-fits-all situation. Select from a range of crystal diffusers, essential oils, aroma diffusers, clay diffusers and facial rollers. Each product perfectly fuses the benefits of pairing crystals and essential oils – be it an aesthetically-pleasing home accessory, a staple in your vanity area or in the study. You'll be in high spirits all day.
Perk alert! Use the promo code 'HONEY10' at checkout to enjoy 10% off all products.
Crystal Apothecary, shop online
2. Finn Avenue Rio White Photo Frame in Selenite Crystal
Talk about a statement piece. We love how this subtle crystal picture frame with selenite crystal can brighten your bookshelf or anywhere at home. Place a picture of your loved ones or a positive affirmation or quote. Both work for us!
Finn Avenue, $119, available online
3. Amara Luxe Agate Platter
Are you a hostess with the mostest or simply love cheese? We're suckers for this Luxe platter from Amara made from slices of natural agate – which are even prettier with gold edges. Just look at how the rich black tones complement the gold. We want it ASAP! Our tip: beyond a cheese board, you can use it to stash all your crystal products or as a decorative piece at your favourite corner.
Amara, $124, available online
4. Anthropologie Agate Crystal Bookends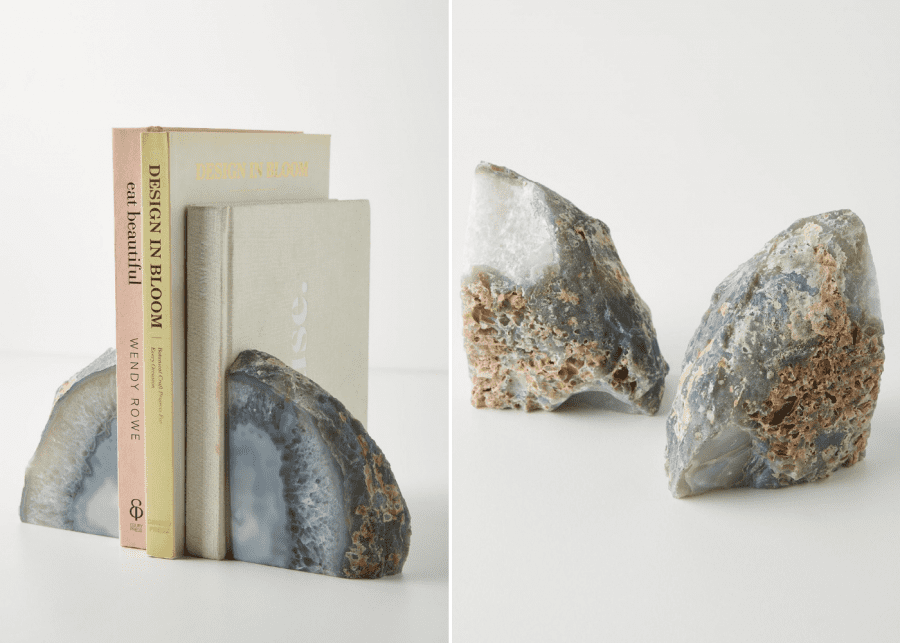 Another way to spruce up your living room or add a dose of positive energy? Crystal bookends! Hell yes, this pair of agate crystal bookends add character and a touch of pizzazz. Not to mention, it's made of natural agate from Brazil. Not quite a bookworm? Using it a decorative item isn't going to harm anyone…
Anthropologie, $85, available online
5. Nine Wicker Ave
These small-batch 100% soy wax and vegan candles are made with a blend of fragrances, botanicals and gemstones that'll immediately turn your day around. You'll notice bits of spices, dried flowers and fruits, as well as gemstones like magnesite, amazonite, ruby epidote and spodumene in your candles. They make a great home accessory and smell amazing. These lovelies sell out quick, so fastest fingers first!
Nine Wicker Ave, available online and at multiple locations including Therapy Market and Assemble/Accent 
6. Covet Crystals Jewelry
Crystals are great but crystal jewellery can sometimes look outdated or stand out like a sore thumb from your ensemble. Well, until now at least. Singaporean jewellery shop Covet Crystals creates chic, stylish jewellery pieces such as bracelets, earrings, necklaces that incorporate 100% natural gemstones and crystals. The choices are endless with over 50 gemstones to select from. You can also shop by your chakra, intention, favourite gem or colour and collections. Not sure what to get? Designer (and founder) Shu will put something together for you. It's definitely going to be tough to choose just one item from her massive collection!
Covet Crystals Jewelry, shop online
7. J-RO by Julisa rose quartz face roller
Crystal face rollers are back in vogue, with the promise of reducing puffiness, creating a lifting effect, and reducing water retention. There are quite a few on the market, but Australia-based holistic brand Julisa tops our list. Founder Juliet S has gone next level with this rose quartz roller. Inspired by the full moon, it's perfectly formed to get into all those tiny tension points that traditional rollers don't reach. It's also 24K rose gold-plated and triple-polished. It's so damn pretty we're seriously into our #selfcaresunday routine just so we can play with it. By the way, there's also a 10-minute crystal-based meditation track that you can listen to while you melt your tension away. Our trick? Keep your roller in the fridge for an extra cooling effect.
Julisa, AUD59, available online
8. VitaJuwel water bottle
The idea behind the VitaJuwel is that the crystals encased within the glass dome energise your drinking water. They are believed to help oxygenate, alkalinise and positively affect the structure of your water. Pick from 18 combinations of gems: we went with the 'Five Elements' combo to encourage balance. Does it work? We think it's a beautiful way to stay hydrated. And that's what wellbeing is all about, no?
VitaJuwel, from $149, available online
9. Frank Skincare rose quartz beauty tools
Fave local beauty brand Frank Skincare is best known for its amazing face oils. It also has a line of rose quartz beauty tools to heighten the self-care experience. Do you need four different tools in your life? Yes, you do. The roller is a fantastic face and body massager and boosts circulation. Meanwhile, the wand is for relieving tension in the neck and shoulders. Use the mushroom around the eye area, which helps to reduce dark circles. And who doesn't want a scalloped rose gold body board for gua sha? Check out the tutorial videos so you can master the right strokes and acupressure techniques, which may prove addictive.
Frank Skincare, from $38, available online
10. Balipura Auric Spray
Balipura sprays are like an aromatherapy spritz (they smell divine). But they're seriously next level. Made with volcanic spring water and essential oils, these are infused with crystal energy. They're even blessed by a Balinese priest under the full moon. Yes, we're into that. Our pick: the Let Go spray, infused with clear quartz, amethyst and sodalite. Plus, it smells like cinnamon. Give in, take a deep breath and just enjoy it.
Balipura, from $34, available online
Shop for crystals in Singapore and channel your best energy.