Bochinche
Some of the city's hottest restaurants are much more enjoyable in the middle of the day, thanks to their amazing lunchtime offerings and a quieter ambience
Food, food, and more food! With the Little Red Dot being known as a veritable foodie haven, it's only expected that you'd be spoilt for choice when it comes to deciding on a place to go for lunch. Not sure whether to go Spanish or Vietnamese; sushi or sandwiches? Why not try them all! Here's a very comprehensive guide to set lunches around Singapore to make sure that you get the best bang for your buck!

Central Business District
Violet Herbs
With its extensive use of herbs like rosemary and thyme, Violet Herbs' dishes smell as good as they taste! For a little over $40, enjoy a three-course meal where you can pair your appetiser with a main of either cold or Spanish pasta, and finish off with a nougat or saffron panna cotta for dessert.
Violet Herbs, 81 Tras Street, Singapore 079020, p. 6221 3988.
1919 Waterboat House
Conveniently located in the CBD, this classy restaurant boasts impressive bay-front views and is a hotspot for business lunches. Lunch sets are offered in courses of two ($28) or three ($35), with a choice of coffee or tea. Dig into home-cured salmon or roasted duck breast and seasonal greens, and top it all off with desserts like the chocolate mountain.
The Rooftop 1919 Waterboat House,#03-01The Waterboat House, 3 Fullerton Road, Singapore 049215, p. 6538 9038.
Bochinche
Bochinche has moved from its original Robertson Quay location to a swanky new space at Amoy Street (and right across from the Honeycombers' office too!) Known for their fine selection of South American cuisine, Bochinche currently offers a two-course ($27) or three-course ($32) lunch set. Kick off your meal with a slab of skirt steak grilled to perfection, then indulge your sweet tooth with a dessert of white chocolate parfait, chocolate sponge, salted caramel & meringue for that perfect finish.
Bochinche,#01-02, 115 Amoy Street, Singapore 069935, p. 6235 4990.
Ding Dong
Variety is the spice of life, they say! And if like your lunches with a little bit of surprise, pop by Ding Dong for their new rolling set lunches featuring quirky mod-Asian dishes. The lunch menu will be refreshed every two months, with only the most popular items remaining. Check out our Ding Dong review to get a glimpse of what you're in for. Not to mention, the two-course lunch menu only goes for $28++ per person.
Ding Dong, #01-02, 115 Amoy Street, Singapore 069935, p. 6557 0189.
Cheek by Jowl
Imaginative, unorthodox dishes are Chef Rishi Naleendra's forte, and Cheek by Jowl's two- and three-course set lunches ($30, $38) showcase some of his more creative dishes. Start off with a hot crab salad with pickled squash and crab broth, raw beef salad or salt-baked beetroot, before moving on to mains like the barramundi with prawn floss and charred lettuce. Vegetarians aren't left out either, for the roast pumpkin with spiced cashew nut is a hearty main that'll please even the more carnivorously-inclined. For dessert, pick from three creations including the honeydew melon with mascarpone, pickled rind and caraway seeds.
Cheek by Jowl, 21 Boon Tat Street, Singapore 069620. p. 6221 1911.
Sear 
A modern American steakhouse, Sear prides itself on its brilliant cuts and five-star quality steaks using European PIRA charcoal ovens. For their lunch sets, they offer a two- and three-course meal ($32++, $39++). Apt for meetings with important clients, this swanky establishment will impress your guests with its food and exquisite interior – completely furnished with towering ceilings and tall glass windows, overlooking Marina Bay at 45 storeys high.
Sear, Level 45 Singapore Land Tower, 50 Raffles Place, Singapore 048623. Lunch hours Mon-Fri 12pm-3pm 
Sabai Fine Thai
With delish culinary offerings and scenic views of Marina Bay, dining at Sabai Fine Thai is a feast for all senses! The restaurant believes in using only the best ingredients to invoke a real Thai culinary experience, and it definitely shows in their dishes. Start off your lunch with a dish of spicy papaya salad with dried shrimps to tempt your tastebuds, then dig into a main course of either stir-fried chicken or fried rice with spicy seafood. Lunch starts at $31 for a two-course meal and $35 for three courses.
Sabai Fine Thai,#01-02 Customs House, 70 Collyer Quay, Singapore 049323, p. 6535 3718.
&SONS
It's not exactly a set lunch per se, but this Italian gastrobar's lunch deal (12pm to 2.30pm) is just too good to pass up. Pasta (we love the wagyu beef cheek ravioli), salads, and hearty mains like grilled sea bass and beef sirloin steak. Lunch offers change weekly and nothing costs more than $13.90++.
&SONS, #01-19 China Square Central, 20 Cross Street, Singapore 048422, p. 6221 3937.
The Black Swan
A two-course set begins at $42, while a three-course set costs $48 (available Monday to Friday, 11:30am-2:30pm). We find it hard to resist the pan-seared foie gras and the gazpacho as starters. For mains, we highly recommend the Black Swan burger and the duck leg confit.
The Black Swan, 19 Cecil Street, Singapore 049704, p. 8181 3305.
Orchard
Alma by Juan Amador
This one-Michelin star restaurant serves Spanish-European cuisine with Asian influences – all in a casual setting, despite being housed in a five-star hotel. Its passion is to ensure an exceptional dining experience by sticking to top-notch and fresh ingredients only. A three-course meal – their lunch set is reasonably priced at $39++ – carries a decadent Boston Lobster as one of their mains.
Goodwood Park Hotel, 22 Scotts Road, Singapore 228221. Lunch hours Wed-Fri 12.00pm- 2.30pm
Aoki
Starting from $33++, Aoki's set lunches are incredibly popular. They're available Monday through Saturday (12pm-3pm), and come with a green salad, miso soup, and dessert. Our pick is the mazechirashi set – the rice bowl comes with generous toppings of raw fish, from tuna to ikura, and even uni sashimi.
Aoki, #01-17 Shaw Centre, 1 Scotts Road, Singapore 228208, p. 6333 8015.
Fat Cow
Indulge yourself in a luxurious midday meal at fine dining establishment, Fat Cow. Their set lunch (Monday to Sunday, 12pm-3pm) comes with salad, chawan mushi, miso soup, and dessert. For mains, choose from favourites like the spicy salmon donburi ($30), Kurobuta tonkatsu ($30), and the wafu wagyu hamburg ($38). Also available the chef's choice of ten pieces of premium sushi for $50.
Fat Cow, #01-01 Camden Medical Centre, 1 Orchard Boulevard, Singapore 248649, p. 6735 0308.
Bedrock Bar & Grill
This LA-themed restaurant is a welcome respite from the crowd along Orchard Road. With such exquisite offerings, Bedrock Grill's $58 three- course set lunch is worth every penny. Commence your meal with a choice of piping hot bowl of lobster bisque, home-cured salmon or char-grilled baby gem; then choose from sumptuous steak offerings (rib-eye or wagyu) as a main. For dessert, choose between a sticky stout and toffee, almond financiers or chocolate profiteroles. Also available is a $38 set menu with seafood, poultry & pie for mains.
Bedrock Bar and Grill,#01-05 Pan Pacific Serviced Suites Orchard, 96 Somerset Road, Singapore 238163, p. 6238 0054.
10 Scotts
Tucked away in the Grand Hyatt Hotel, 10 Scotts is perhaps one of the few places in Singapore with its very own waterfall, giving the entire dining place a languorous air of calmness. While not technically a lunch set, 10 Scotts' afternoon tea promotion is perfect if you've got plenty of time to spare. At $43 per pax, you'll be able to enjoy a delectable selection of soups, side dishes, oysters, crab cakes and a plethora of dim sum. Cap off your meal with a helping of dessert that includes scones and sorbet ice cream.
10 Scotts, 10 Scotts Rd, Singapore 228211, p. 6738 1234.
Robertson Quay
Chikuwa Tei
Reminiscent of restaurants and izakayas along the alleys of Tokyo, Chikuwa Tei offers familiar Japanese classics that'll whet your appetite. Fancy having noodles? Try out their tempura udon, consisting of ebi prawns and batter-fried vegetables served with hot udon. Or try the ever-popular kurobuta pork don – a rice dish piled with seared kurobuta pork and onsen eggs, garnished with sesame seeds and Chikuwa Tei's special sauce. Prices range from $12 to $26 for a set, and are served with a bowl of miso soup and fresh fruits.
Chikuwa Tei, 9 Mohamed Sultan Road, #01-01, Singapore 238959, p. 6734 4436.
Les Bouchons 
Save a trip to Paris with a visit to this classic French restaurant. Les Bouchons' lunch set ($29++) consists of a dish of the week, mixed green salad, a glass of wine and two homemade French macarons. On top of its beautiful Parisian bistro décor and the calming view of the Singapore river, completing your meal with French cookies whilst sipping on wine sounds absolutely magnifique!
Les Bouchons, #01-02, 60 Robertson Quay, Singapore 238236. Lunch hours Mon-Fri 12.00pm – 2.00pm
Bella Pasta
With riverfront views, this Italian restaurant is adorned with rustic wooden furniture and quaint cobblestone flooring. Lunch sets are reasonably priced at a little above $20; enjoy a soup and an arugula salad with roasted pumpkin and crispy parma ham, while being served a main of home-made pasta like buccatini pasta with leek and bacon. End the meal with a dessert of the day.
Bella Pasta, 30 Robertson Quay #01-09 Riverside View, Singapore 238251, p. 6836 5692.
Spathe
The weekday set lunch at Spathe is priced at $17 for two courses, and $19 for three courses. Pick items like traditional tempura prawns with mango chutney, or a cheeseburger with red pepper chutney. Besides the current set lunch menu, Spathe is also currently offering a 1-for-1 deal from Monday to Thursday; simply order the dish of the day and get another one free.
Spathe, #01-01, 8 Mohamed Sultan Road, Singapore 238958, p. 6735 1035.
Clarke Quay
Fremantle Seafood Market 
If you've been to Perth, visiting their famous seafood market at Fremantle Harbour Port is a must. For those who haven't, this restaurant along Clarke Quay is sure to give you a similar vibe. Ingredients are air-flown into Singapore, guaranteeing fresh seafood – live crabs and lobsters cooked directly from its own live seafood gallery. With one-, two- and three-course lunch sets – at $10++, $15++, and $25++ respectively – this restaurants is one the most affordable spots in Singapore to munch on seafood.
Fremantle Seafood Market, #01-06 Traders' Market, Blk 3E River Valley Road, , Singapore 179024. Lunch hours Mon-Fri 12pm-3pm
Hot Stones
Hot Stones certainly has a uniquely fiery way of cooking their meat using heated volcanic stone slabs. Their two-course lunch set meal ($15+) includes Australian sirloin steak, and the three-course meal ($25) not only offers soup and dessert, but can also have your steak with grilled tiger prawns and chicken too.
Hot Stones, 3D River Valley Road, 01-06, Singapore 179023, p. 6333 4868.
Marina Bay
Long Chim
Helmed by celebrity chef David Thompson, Long Chim is all about BKK's iconic street grub. The difference? It's crafted with a touch of sophistication, and boasts a good mix of traditional and contemporary flavours. Long Chim's three-course set lunch starts at $30++; kick off with a side of chive cakes or cured pork fritters, then ease into the kanom jin noodles which is accompanied by a choice of curry. Dessert is a slice of mango served atop sticky rice, or you can opt for black sticky rice pandanus noodles instead.
Long Chim, #02-02, The Shoppes at Marina Bay Sands, 10 Bayfront Ave, Singapore 018955, p. 6688 7299.
The Pelican Seafood Bar & Grill 
Just like the bird it's named after, this Fullerton restaurant is a maritime fixture that boasts a stunning view of the marina bay waterfront. The seafood restaurant is inspired by the likes of lavish sea travel, centred around fresh East Coast American seafood and wood-fired grilling. Lunch sets start from $38++ for a three-course meal.
The Pelican Seafood Bar & Grill, #01-01, One Fullerton, 1 Fullerton Road, , Singapore 049213,. p 6438 0400. Lunch hours Mon-Sat 12.00pm-3.00pm
Ola Cocina Del Mar
Walk into Ola Cocina del Mar, and you'll notice that the kitchen is placed in the centre of the restaurant. The idea is to allow customers to appreciate the preparation and to engage the chefs in banter at the same time. In fact, they take it so seriously that customers have to be seated at the counter to qualify for the lunch set ($28++)! Essentially a two- course meal, tapas is a choice of gazpacho or Peruvian potato and chilli salad. For main course, choose from a selection of four dishes: Catalan mushroom stew, black noodle paella with calamari, charcoal grilled chicken and a spring vegetable salad.
Ola Cocina Del Mar, Marina Bay Financial Centre Tower 3, 12 Marina Blvd, 01 – 06, Singapore 018982, p. 6604 7050.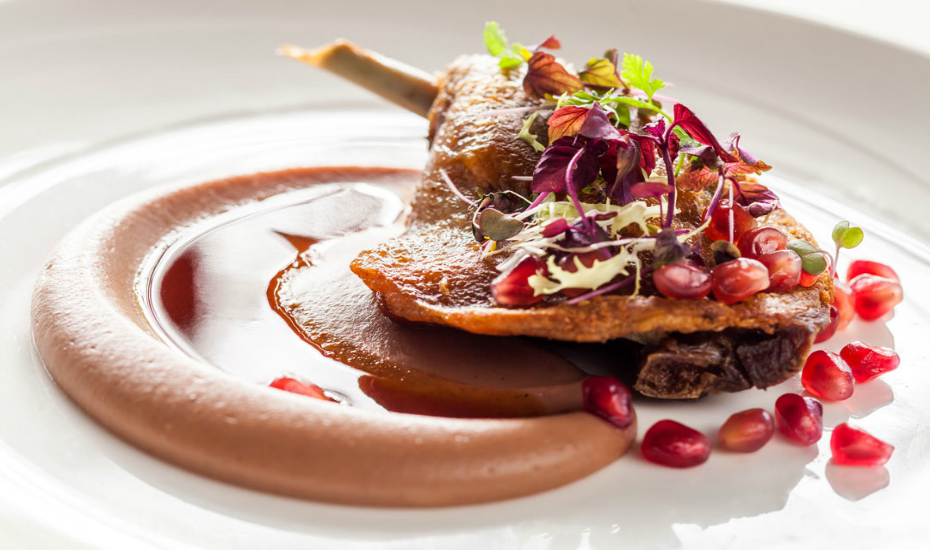 Dempsey Hill
Au Petit Salut
Housed within an elegant villa off Dempsey Hill, this longstanding French restaurant is, without a doubt, the epitome of upper-crust fine dining. Choose to dine within the tastefully decorated interiors, or at the outside patio with the sounds of untouched nature nearby. Au Petit Salut offers a plethora of irresistible mains such as oven baked snappers and beef tenderloins, accompanied by starters of baked escargots and lobster bisque. End your lunch with some crème brûlée and fig pudding for dessert. Au Petit Salut's set lunches comes in at $38 and are available only from 11.30am to 2.30pm.
Au Petit Salut, 40C Harding Rd, Singapore 249548, p. 6475 1976.
Red Dot Brewhouse 
Red Dot Brewhouse is Singapore's first locally-owned, independent, commercial microbrewery, located on the top of a small hill in Dempsey Hill Green. With a snug indoor dining area, as well as an alfresco section – perfect for admiring the thriving flora surrounding the restaurant – you're in for a romantic feast while wolfing down its three-course set lunch ($24++). It comes with a complimentary beverage of your choice; which includes its signature brew – the RedDot beer.
Red Dot Brewhouse, #01-01 25A Dempsey Road Singapore 247691, p. +65 6475 0500. Opening hours Mon-Thur 12pm-12am Fri-Sat 12pm-2am Sun 10.30am-11pm
Jumbo Seafood
Diving into a messy plate of chilli crab isn't really a workday lunch affair, but JUMBO Seafood sees no reason why this exemplar of Singaporean cuisine should be neglected. Diners can select from two five-course set menus ($48++ and $68++), specially designed to take the fuss (and mess) out from your usual chilli crab experience. In addition to the main highlight, expect dishes like mocha pork ribs and cereal prawns – shelled for your convenience! The set menu changes on a weekly basis.
Jumbo Seafood. Available exclusively at Riverside Point and Dempsey Hill outlets.
Portico Prime
Another restaurant in the Dempsey area, Portico Prime prides itself on its diverse offerings of European fare. The $35 three-course menu (regularly changing menu) starts off with salad or French onion soup, before moving on to pork meatballs or steak frites for the main course. Finally, dessert is a mango and vanilla mousseline millefeuile.
Portico Prime, 10 Dempsey Road #01-20, Singapore 247700, p. 9114 1926.
Morsels
To celebrate its new digs in Dempsey Hill, Morsels is rolling out a unique noodle set featuring souped-up beef noodles, oyster mee sua, wild Sri Lankan tiger prawn noodles and assam laksa – all noodle dishes start at $25 and come with an appetiser. Dining in a group? Order the lunch omakase sharing menu ($40 per person, and omakase must be ordered by entire table) for a selection of Morsel's signature and seasonal dishes.
Morsels, 25 Dempsey Road, Singapore 249670. p. 6396 6302.
The White Rabbit
Housed within a chapel, The White Rabbit is an Alice in Wonderland-inspired restaurant that aims to bring guests into an immsersive world of dining. Starters include options like wagyu carpaccio or yellowfin tuna, while mains are a delightful choice of king oyster mushrooms pasta, Alaskan king crab tagliatelle and more. End the course with a side of cheesecake or apple crumble tart. A set lunch comes in two courses ($38) or three courses ($42).
The White Rabbit, 39C Harding Road, Singapore 249541, p. 6473 9965.
Roadhouse
Roadhouse's menu aims to bring hearty fare from the pit stop diners of America to the heartlands of Singapore. And who can say no to free flow truffle fries? Their express lunch set comes with a choice of burger; the 'fish and chips', pulled pork pork, vegetable, or chicken cordon bleu burger. Not satisfied? For an additional $2, you can upgrade your corn cob to truffle fries
Roadhouse, 13 Dempsey Road, Singapore 249674, p. 6776 0777.
Jim Thompson
Jim Thompson needs no introduction. While the restaurant doesn't have a specific lunch set menu, its meal sets are available to order during lunch hours too. Try out the golden triangle which consists of an assortment of the restaurant's best appetisers, such as minced chicken spring rolls and green mango salad. For a larger group, do order the pattaya set, which includes Thai-styled marinated beef, and deep-fried seafood served with Thai sweet chilli sauce.
Jim Thompson, 45 Minden Road, Dempsey Rd, Singapore 248817, p. 6475 6088.
Bugis
Platypus Kitchen 
Serving casual modern food in this lively Italian- and American-inspired restaurant, Platypus' set lunches consist of a Mesclun salad or soup of the day with a main (pasta, sandwiches or chicken) for a reasonable price of $14.90++. Got a sweet tooth? Dessert can also be added on as a third course for only $3.
Platypus Kitchen, #01-90 Bugis Junction, 200 Victoria Street, Singapore 188021. Lunch hours 11:30am – 5:30pm daily
Garibaldi Italian Restaurant & Bar
Priding itself as an authority on Italian cuisine, Garibaldi offers top-notch Italiano fine dining made accessible with its new $39 set lunch menu. Kick off your culinary journey with grilled polenta cakes or buffalo mozzarella; for mains, choose from a scrumptious selection of risotto with saffron done Milanese style, or milk-fed veal tenderloin with braised Savoy cabbage and chestnut.
Garibaldi Italian Restaurant and Bar, 36 Purvis Street, #01-02, Singapore 188613, p. 6837 1468.
Cocotte
Go French at Cocotte with their Grower's Table menu, which is available as a three-course set lunch on weekdays at $32 per person. Featuring fresh produce from a sustainable organic farm in Cameron Highlands, the menu showcases creations such as roasted barramundi fillet and crème brûlée.
Cocotte, 2 Dickson Road, Singapore 209494, p. 6298 1188.
Bukit Timah
Little Diner
Taking inspiration from the restaurants of New York, this chic Manhattan-styled dining place serves up hearty American fare in seriously generous portions. Little Diner currently has a weekday two-course lunch promotion for $22.50 that includes starters like the Lafayette crabcake and mains like the classic beef burger and southern style roast chicken.
Little Diner, 789 Bukit Timah Rd, Singapore 269763, p. 6466 4088.
Corner House 
Rated #23 amongst Asia's top 50 restaurants, this restaurant attained one Michelin star for its unique Gastro-Botanica cuisine created by Chef Jason Tan. Visually pleasing, each dish is curated to feature greens and botanical elements as more than mere garnish. Their Business Luncheon set includes three courses ($58++) or four courses ($78++). Choose from three different proteins as your main: Mangalica pork jowl, New Zealand cod or Australian wagyu beef.
Corner House, 1 Cluny Road, Singapore Botanic Gardens, E J H Corner House, Nassim Gate, Singapore 259569. Lunch hours Tue-Sat 12.00pm-3.00pm (last order at 2.30pm)
Fosters Steakhouse
Previously located at Amber Mansions in Orchard Road, this longstanding English steakhouse is synonymous with quality British fare. Fosters' three-course meal will only set you back $20; have a bowl of soup for starters before digging into an appetising choice of fillet steak or Norwegian salmon, and then finish with a dessert of the day and a cuppa Joe.
Fosters Steakhouse, 277 Holland Ave, Singapore 278994, p. 6466 8939.
Violet Oon Singapore
Violet Oon needs no introduction here. To sample some of our food ambassador's trademark Nyonya fare, head over to her restaurant at Bukit Timah during the weekend for the special brunch set menu. Order the Violet's Big Breakfast; a traditional offering of otak-otak, tumeric chicken wings, sambal eggs, and kuning fish. For those with a sweet tooth, sample dessert offerings such as the French toast with banana and gula Melaka sauce or the calamansi sugar roti.
Violet Oon Singapore, 881 Bukit Timah Road, Singapore 279893, p. 9781 3144.