Photography: Annie Spratt via Unsplash
From thrilling theme park rides to beach relaxation, there are plenty of things to do in Sentosa!
Whoever says our city is a boring place clearly doesn't know all the cool things to do in Singapore. One of our favourite activities is spending a day at Sentosa. This popular island has a list of amazing world-class spots that offer a smorgasbord of fun-tastic activities. It's more than just sun, sea and sand. Turn up those thrills already! Here's our ultimate guide to Sentosa, covering everything from top attractions to beaches to restaurants.
Things to do in Sentosa: Best attractions
1. Central Beach Bazaar
Situated in the heart of Sentosa's beaches, this day-to-night carnival experience needs to be on your list of attractions to visit. It's a one-stop spot for a whole day of fun with family and friends. Located at Siloso Beach Walk, the area offers a plethora of entertainment including admiring the majesty of the Sentosa SkyJest (Southeast Asia's tallest fountain) and the Sentosa Musical Fountain, and exploring the International Food Street for scrumptious bites that'll keep you filled up through the day. Park yourselves right here for a splendid day by the beach.
Central Beach Bazaar, 60 Siloso Beach Walk, Singapore 098997
2. Universal Studios Singapore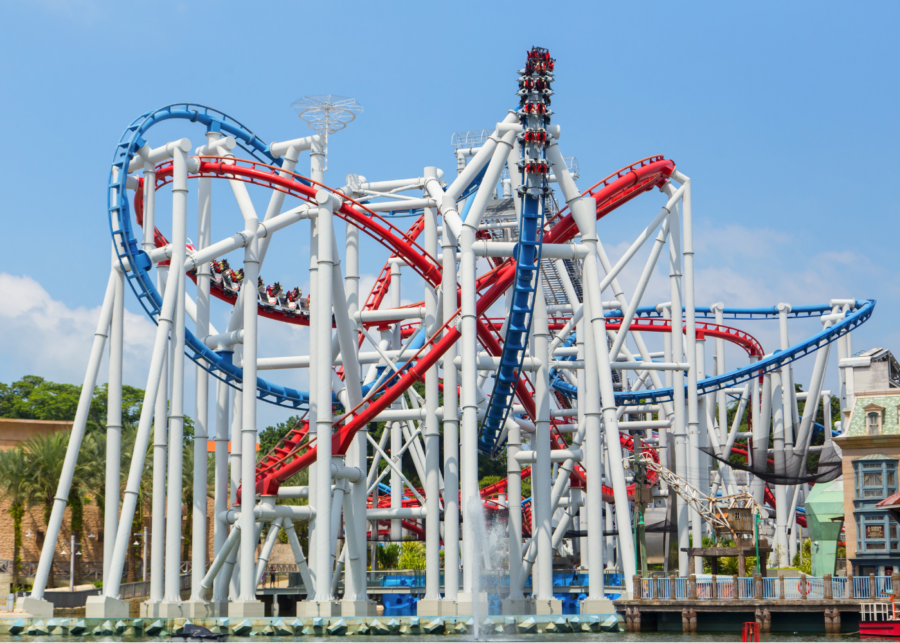 Singaporeans don't know how to have fun? Nonsense. Nothing beats this award-winning theme park for all things awesome and thrilling. There's a ride for everyone, from the scaredy-cat to the adrenaline junkie. With street performances, kid-friendly fun and electrifying entertainment, there's plenty to do. You'll want to set aside an entire day for this!
Universal Studios Singapore, 8 Sentosa Gateway, Singapore 098269
3. Skypark Sentosa by AJ Hackett
For an exhilarating activity to top off your day in the sun, head to Siloso Beach for this famous bungy jump, where you'll fly off the edge, 47m above ground. Can't get enough of the adrenaline addiction? Strap in at the giant swing with the beach below you, tackle the vertical skywalk without letting your knees go wobbly and make your way across the skybridge (no fear of heights here!).
Skypark Sentosa by AJ Hackett, 30 Siloso Beach Walk, Singapore 099011
4. SkyHelix Sentosa
This Sentosa attraction is the city's highest open-air panoramic ride. Over 12 minutes, you'll enjoy 360-degree views of Sentosa and beyond from your vantage point on the gondola. Plus, you can grab light bites and drinks at the snack bar to enjoy during your ride.
SkyHelix Sentosa, 41 Imbiah Road, Singapore 099707
5. HydroDash
Pop by the city's first floating aqua park for major thrills and spills. This fun, floating obstacle course is a great way to spend an afternoon with the fam climbing, sliding and bouncing across the colourful inflatable playground. Just be prepared to get wet!
HydroDash, Palawan Beach, Singapore 098498
6. S.E.A. Aquarium
Forget your tiny fish tanks and go for the big boys. Yup, this massive aquarium is home to fishy friends in every shape, size and colour imaginable. Think sharks, manta rays, giant octopuses, eels and seahorses. We're big on having a wander through the super cool shark tunnel! Top your visit by signing up for one of the unique experiences including diving programmes and shark encounters.
S.E.A. Aquarium, 8 Sentosa Gateway, Singapore 098269
7. HeadRock VR
One of the largest virtual reality theme parks in Southeast Asia, HeadRock VR takes you into different worlds – all in the span of one afternoon! Dive into a stormy blizzard, hop on board an extreme train, battle the waves while jungle rafting and put on your zombie-busting cap for amazing adventures.
HeadRock VR, #01-03, Southside Block B, 80 Siloso Road, Singapore 098969
8. Adventure Cove Waterpark
One for the fam, Adventure Cove takes water play to the next level. Make a splash with its massive high-speed slides and water coasters. And if you prefer nothing too extreme for the lil' one (or yourself – hey, who are we to judge), bob around in the lazy river, get wet and wild at the treehouse or jump the waves in the main pool. Psst: make a pit stop at the colourful Rainbow Reef to get up close and personal snorkelling with over 20,000 aquatic animals.
Adventure Cove Waterpark, 8 Sentosa Gateway, Singapore 098269
9. Trick Eye Museum
Can't stand the heat? The Trick Eye Museum is one of our top picks for both families or anyone up for some snaps that'll trick viewers (haters will say they're photoshopped). Step into this interactive museum for some seriously funny photos courtesy of clever visual trickery, and get creative with all sorts of quirky poses!
Trick Eye Museum, #01-43/44, Resorts World Sentosa, 26 Sentosa Gateway, Singapore 098138
10. Fort Siloso
Fancy a blast to the past? Look no further than Fort Siloso. Learn why this coastal fort was built and find out just what life was like for a soldier from times of old. You'll also get to explore the underground ammunition stores and check out WWII guns. Plus, step into the air-conditioned museum block to get schooled on the wartime years and make your way through the labyrinth of tunnels for an adventure like no other.
Fort Siloso, Siloso Point, Singapore 099981
11. Mega Adventure
If you're into high-flying adventure, Mega Adventure is where it's at. The star of the show is MegaZip, where you can fly like an eagle over the jungle canopy of Imbiah Hill. It's not one for the faint-hearted, but we'd say it's oh-so-worth-it. Once your wobbly legs have recovered, take on MegaBounce and MegaClimb… if you have nerves of steel!
Mega Adventure, 10A Siloso Beach Walk, Singapore 099008
12. Skyline Luge Sentosa
Zip down the hill on different trails (Dragon, Expedition, Kupu Kupu and Jungle) and feel the wind in your hair as you take on this heart-pumping adventure. It'll bring you through corners, curves and slopes, and you'll definitely wanna get back in by the time you reach the end of the ride.
Skyline Luge Sentosa, 45 Siloso Beach Walk, Singapore 099003
13. Madame Tussauds Singapore
Roll out the red carpet, the celebs are here! Okay, so it's more like their wax counterparts. But hey, here's where you can rub shoulders and take a million selfies with your favourite sports, music, Hollywood and Bollywood stars, as well as political leaders like the late Lee Kuan Yew. Local names such as Stefanie Sun and Fandi Ahmad also make a cameo. Finish off the tour with the Marvel 4D Experience, where your fave superheroes are brought to life.
Madame Tussauds Singapore, 40 Imbiah Road, Imbiah Lookout, Singapore 099700
14. Sentosa 4D Adventureland
Roller coasters are not everyone's cup of tea. But with this 4D motion-simulated virtual roller coaster ride, you might just believe you're actually journeying to a mysterious island, plunging down an extreme log ride or exploring a haunted mine.
Sentosa 4D Adventureland, 51B Imbiah Road, Singapore 099708
15. iFly Singapore
Looking for the ultimate thrill-seeking experience? It doesn't get more exhilarating than skydiving. No aeroplanes or parachutes are involved, so kids get to enjoy all the fun, too. This is one of the world's largest indoor skydiving wind tunnels, where you can truly experience free-falling conditions – how's that for a total adrenaline rush?
iFly Singapore, #01-01, 43 Siloso Beach Walk, Singapore 099010
16. Wings of Time
When the sun sets and you're all ready to head home, make a pit stop by this stunning light show first. Telling the tale of friendship and courage, the nightly event wows with laser, fire and water effects before ending off with colourful fireworks in the sky.
Wings of Time, located near Beach Station
---
Things to do in Sentosa: Best beaches
17. Siloso Beach
Sentosa is one of Singapore's most iconic vacation spots. And we're most fond of Siloso Beach for its fun-loving summer vibes. It may not be the most pristine stretch, but you can indulge in a plethora of water sports and chill with some beach grub by the water. At night, feel the sandy shores come alive with bar music and cool cocktails.
Siloso Beach, Sentosa
18. Tanjong Beach
Join in the fun at Tanjong Beach, which is home to everyone's beloved Tanjong Beach Club. It's well known as the beach for party-goers, but it also offers a great view of the water if you're just looking for somewhere to curl up with a book and a drink. After all, it's tucked away at one end of the island. Perfect for a quiet afternoon or a booze-fueled evening.
Tanjong Beach, Sentosa
19. Palawan Beach
This is one of the more family-friendly beaches around, with plenty of space for the kiddos to run around in the sand or play in the water. It's also where you can find the iconic suspension bridge, which links Palawan Beach to the Southernmost Point of Continental Asia, so get your cameras ready for some sweet photos when you're on an outing here with your fambam.
Palawan Beach, Sentosa
---
Things to do in Sentosa: Best restaurants
Casual eateries and fast food joints are aplenty in Sentosa, with its wide variety of dining options and restaurant types. But if you're looking for something special, here are our picks – from lovely alfresco places by the water to celebrity chef concepts.
20. Upscale dining
Table65 is the first opening by famous chefs Richard van Oostenbrugge and Thomas Groot outside of the Netherlands, and it's a one Michelin-starred experience. The fine-casual restaurant brings you a seat at the communal table with the chefs, so you can savour their creative take on modern European cuisine. At Syun, it's all about fresh sushi and sashimi paired with exclusively brewed sakes or rare Japanese whiskeys.
If you're craving Italian, head to Fratelli Trattoria (temporarily closed) for authentic Italian food made with Lombardy-inspired recipes. Or swing by Curate Cucina Pisana for pasta, seafood, Tuscan wines and fab cocktails. There's also Sol & Ora, which gives you all the best the Mediterranean has to offer (plus a beautiful sunset view to boot). Oh, and don't miss out on Ocean Restaurant, where you'll dine at the aquarium with manta rays and sharks swimming by.
21. Romantic restaurants
We're big fans of FOC Sentosa for its breezy, beachfront space (it's oh-so-romantic at night). The Mediterranean food never lets us down – you gotta try the paella! – and the ambience is simply beautiful. At Sofitel Singapore Sentosa Resort and Spa, The Cliff is a gorgeous place for exquisite pasta and wood-fired pizzas with a view of the waters beyond. Or if you would rather get on the waters to enjoy that cool sea breeze, step aboard the Royal Albatross. Book yourself a spot and you'll set sail as soon as the sun sets, clinking glasses as you're bathed in golden hour light.
22. Quayside Isle restaurants
When it's a truly special occasion, head over to the idyllic Quayside Isle, which is situated in the exclusive Sentosa Cove. Here's where you can take a breather from the bustle of the city and tuck into everything from Asian to European cuisines at casual cafes and fancy restaurants.
Craving Chinese food? Casual dining establishment Blue Lotus offers classic seafood and meat dishes, with its signature being the chilli pomelo crab – a stellar pick. Those who love communal dining can opt for Spanish tapas hangout Sabio by the Sea, or dig into authentic Greek recipes at Mykonos on the Bay.
For fresh seafood, Greenwood Fish Market is your best bet. Oh, and let's not forget about Skirt at W Singapore – Sentosa Cove. You'll be savouring every bite of your prime cuts of meat and sustainably sourced seafood.
---
Things to do in Sentosa: Bars and beach clubs
23. 1-Altitude Coast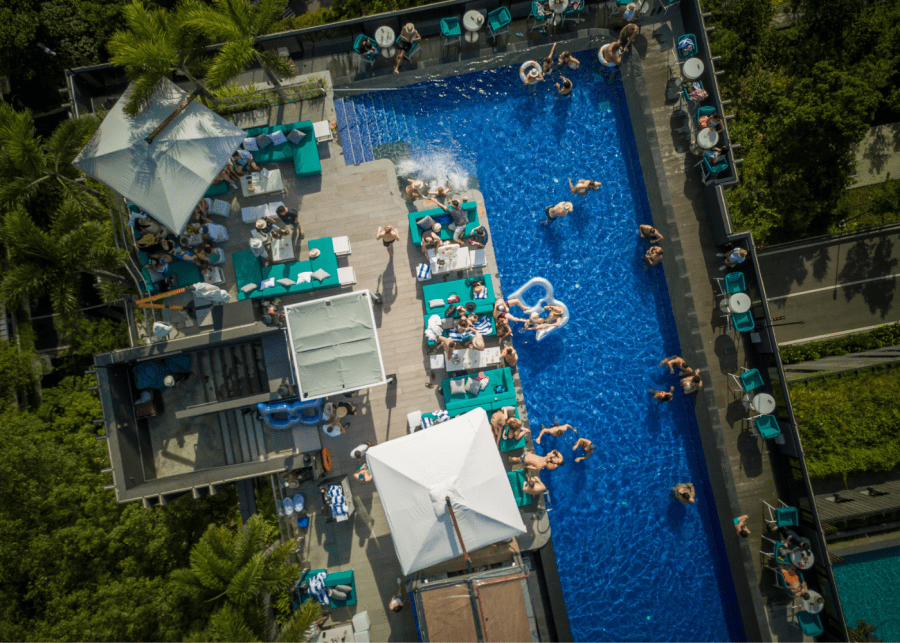 A rooftop bar and day club in one beach club experience? We love it. We welcome 1-Altitude back as it takes on new territory as an island escape. Kick back with refreshing tropical cocktails curated by mixologists while munching on bites from The Day Club menu. It's great to know that the drinks are made using natural ingredients without skimping on flavour or fizz. Be sure to get here early so you don't miss the sunset. Come dusk, the space transforms into a fun space with illuminating lights, dance tracks by the in-house DJ and a view of the fireworks display from the Wings of Time light show.
1-Altitude Coast, #07-01, The Outpost Hotel Sentosa, 10 Artillery Avenue, Singapore 099951
24. Tanjong Beach Club
Hit the shores for a balmy beach party worthy of the most devout sun worshippers. Tanjong Beach Club's plush daybeds, great grub, and sweet pool make it a perfect spot to watch the sun sink and rise into tomorrow. Come for the food, stay for play in the pool, and dance in the sand to island tunes.
Tanjong Beach Club, 120 Tanjong Beach Walk, Singapore 098942
25. Sand Bar
Situated on the busy Siloso Beach stretch, Sand Bar stands out with its vibrant alfresco digs. We're all about tropical vibes, and this beach retreat delivers that in spades. Recline on a beanbag lounger or deck chair as you take in the sunshine with a drink in hand. If you're staying till sundown, nibble on grilled fare while you knock back frozen cocktails and ice cold beers.
Sand Bar, 53 Siloso Beach Walk, Singapore 099012
26. Ola Beach Club
Always dreamt of exploring the sands of Hawaii? Ola Beach Club serves Hawaiian-inspired cuisine and light bites to fuel you up for the day. Sip on cocktails served in adorable tiki-themed mugs whilst lounging by the serene pool. If you're up for an afternoon of water sports, get on a kayak, banana boat and stand-up paddleboard.
Ola Beach Club, 46 Siloso Beach Walk, Singapore 099005
27. Le Bar
For a relaxing day, head to Sofitel Singapore Sentosa Resort and Spa and pick the comfiest spot at Le Bar. The cosy space is perfect for a catch-up with friends or a casual date over a cuppa and communal plates. Once the sun sets, bespoke cocktails take over, turning the bar into an elegant hangout.
Le Bar, Sofitel Singapore Sentosa Resort and Spa, 2 Bukit Manis Road, Singapore 099891
28. Bob's Bar
Spend the day luxuriating at Capella Singapore's charming bar, where you'll enjoy panoramic views of the sun going down the horizon. This one's for cocktail lovers – think classic concoctions, rum drinks, refreshing spritz beverages and more.
Bob's Bar, Capella Singapore, 1 The Knolls, Singapore 098297
29. Bikini Bar
Let your hair down and kick back at this groovy, sun-kissed beach bar. Frolic the afternoon away with a wide variety of ice-cold beers. If you're hungry, munch on bar bites like nachos and satay while you enjoy the beach breeze.
Bikini Bar, 50 Siloso Beach Walk, Singapore 099000
30. Coastes
Shoes are optional at beach gastro bar Coastes, an ideal spot for catching the sunset at Siloso Beach. Its signature grilled items and extensive cocktail menu have proven to be crowd-pleasers, so be sure to order those first. Vibrant and charming with its white and blue decor, this is where you can dine a mere distance away from the sea.
Coastes, #01-06, 50 Siloso Beach Walk, Singapore 099000
---
Guide to Sentosa: How to get there
Car or cab
There's a flat gantry admission fee for each car or cab entering Sentosa. There are also several parking areas in Sentosa, including Sentosa Beach Car Park, Tanjong Beach Car Park and Palawan Beach Car Park.
Cable car
Enjoy an aerial overview of Sentosa and the city skyline as cable cars bring you to different points on the island. You can even enjoy a meal or clink champagne glasses on board with sky dining packages.
Sentosa boardwalk
Embark on a leisurely stroll from VivoCity's waterfront promenade to Sentosa. Psst: there are two-way canopy-covered travelators to ease the journey.
Sentosa Express
As one of the more popular modes of entry, Sentosa Express situated at VivoCity (Lobby L, third level) offers easy access to the island from Harbourfront MRT station.
There you have it. Everything you need to know about Sentosa to plan your fun day out!