Photography: Jenny Hill via Unsplash
Keen on kick-starting your running journey? This is how I became a cardio loyalist during a pandemic...
First and foremost, I would like to say this is my personal experience with running and by no means am I a sports expert. Truth be told, I'm just like any other person who loves to Netflix and snack. So how did I jump from lazing around on my couch to pounding the pavement with blood, sweat and tears? This is my personal guide to running for beginners…
Pandemic-induced running
When coronavirus hit the news headlines (way before it even had a proper name), I easily dismissed it as a storm in a teacup. But boy, was I wrong. It was and still is a hurricane that has changed our lives. The icing on the cake? The circuit breaker, which made it even harder to have a sense of normalcy. What could I do if I wasn't allowed to meet my friends for a nightcap at my favourite bar?
Run. That was what I sought solace in. To give you a little background on my fitness level, I exercise occasionally but have no qualms inhaling an entire cake in one sitting.
The first few sessions were exhausting, to say the least, and my legs hurt a lot the day after. But I didn't intend to give up just like that, and it helped that my social life was non-existent at the time. To keep the momentum going, my colleagues and I started a WhatsApp group to motivate each other and compare running scores. That was how I pushed myself to go from running 2.5km to 5km on alternate days. And eventually, I signed up for my first-ever (virtual) 100k marathon!
A bumpy road ahead
Apart from work, my focus shifted to running. I would eagerly wait for dusk so I could head into the wild (figure of speech, of course) and start clocking in my clicks. However, my body obviously didn't take it well as I was gunning for 10km with no warm-up whatsoever. That was when I started reading up on pre- and post-run stretches. Turns out, it really helps when you're of a certain age – your legs need a little tuning up before you hit the trail.
What I learned…
A foam roller is a must-have tool for any runner. It helps to relieve soreness and tension in the muscles. I'd say it feels like you're kneading dough, but it's ten times better when you find those trigger points. Total nirvana.
Hydration is also key (I can't stress this enough!). After running, who knows how much water I've lost. So I make it a point to drink at least 500ml an hour before my run and another 500ml after.
Oh, and this is a no brainer, but do invest in proper running shoes! There are a few qualities you should look for in your kicks: Cushioning, durability and flexible uppers.
Keep things interesting
It can get boring when you run the same route day in and day out. Switch things up by hitting other running trails for a change of scenery. Tired of running long distances? You'll be surprised to know there are different types of runs, from fartleks (playing with speed) to tempos (running at a slightly slower pace than your threshold for about 20 minutes or so). My fave has to be the interval that comprises alternative rounds of fast running and slow jogging.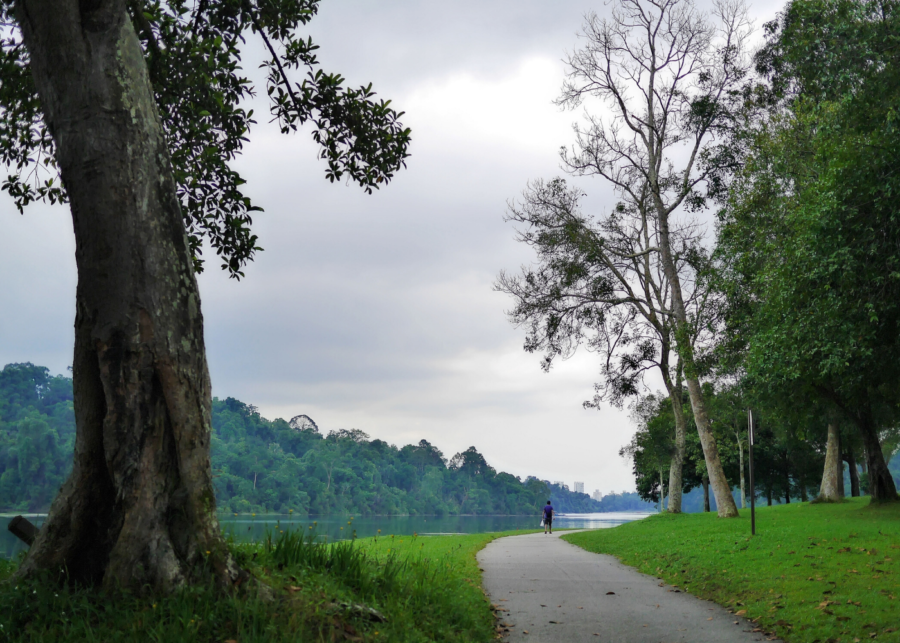 Push yourself and reap the benefits
It's no secret that running improves your cardiovascular health. One of the biggest investments I made in my cardio journey? A fitness tracker. Apart from providing important data like heart rate and sleep score, the nifty device helped to track my performance and kept me motivated.
Tip: Check if your tracker measures your VO2 max. For the uninitiated, it's basically the measurement of the maximum amount of oxygen your body uses during exercise. That helped me push myself to attain a better cardio fitness score (more on this later).
What did I get in return?
Two words: Runner's high. Nope, it's not an urban legend to get you started on the fitness bandwagon. Your brain releases a deluge of endorphins, aka feel-good hormones, when you exercise. That would explain why I'm generally in a good mood after sweating it out, as my anxieties surrounding Covid-19 dissipate. Plus, I sleep better these days, too.
About those VO2 max scores I mentioned earlier? Looking back, they've made me realise how I've slowly changed my lifestyle to make each running session more effective. I've significantly cut down on my smoking habit (this is an obvious reason), which I've been unable to do since the last time I attempted to quit. To loosen up my tight muscles, I've started doing yoga as well. I'm also mindful of what I eat these days. It's nothing major – just healthy little swaps.
Perhaps it sounds like I'm a saint who now treats my body like a temple, but let's be real. On cheat days, I still treat my body like a total wasteland with sugar, trans fats and alcohol. It's called a balanced lifestyle – look it up. Psst: If you were wondering, I have about 20 clicks more before the virtual race ends!
Moral of the story? All it took was a pandemic for me to start taking better care of myself. If I can do it, so can you!