All the delectably good eats at Robertson Quay.
Explore Clarke Quay's quieter neighbour: Robertson Quay. Here's our guide to the finest riverside restaurants, chill cafes, breezy bars and charming hotels.
Everyone heads to Clarke Quay to get sloshed and have a good time. But if you prefer a more chilled ambience, Robertson Quay is your go-to spot for stellar cafes, restaurants, bars and gorgeous hotels (because we all love a staycay). Yes, there are some touristy traps with mediocre food, and a particular patch known as 'expat Disneyland' (you'll know what we mean when you see it), but here's where the good stuff is…
Robertson Quay guide: Best restaurants
1. Esora
Step into this heritage shophouse and you'll be greeted by light woods and nature. Mother Earth is the muse for fine-dining Japanese resto Esora. Each season is transformed into thoughtfully put-together kappo-style dining menus. The attention to detail here is unmatched, with care and consideration placed into every part of your dining experience.
Esora, 15 Mohamed Sultan Road, Singapore 238964
2. Three Buns Quayside
If you're looking to get your burger fix, Three Buns' menu will leave you spoilt for choice. From the house of Potato Head, its beef and lamb patties are 100% grass-fed, free-range, and hormone- and antibiotic-free. So expect a flavourful patty sandwiched between an artisanal bun – a work of art if you ask us. In the mood for something lighter? The hotdogs are equally good.
Three Buns Quayside, 60 Robertson Quay, Singapore 238252
3. Bistecca Tuscan Steakhouse
If you're a serious steak fiend, sink your teeth into Bistecca's massive 1.1kg Fiorentina-style steak. Perfect for three, the steak is served with a trio of sauces (our fave has to be the spicy mustard) and your choice of sides. Its quaint heritage shophouse confines and romantic lighting make this a prime spot for date night.
Bistecca Tuscan Steakhouse, 26 Mohamed Sultan Road, Singapore 238970
4. Po
We love local food in all its forms – here, it's elevated and plated to perfection. Named after the term 'popo' (which means 'grandmother' in Chinese), the restaurant serves up grandma's classics like seafood porridge, spicy rendang and popiah – we hear the skin is handmade daily by heritage hawkers. Complete your meal with a craft cocktail: they're inspired by historical eras from Warehouse Hotel's history as an icon of the spice trade and even as a disco.
Po, Warehouse Hotel, 320 Havelock Road, Singapore 169628
5. Aburiya
Follow your nose to Aburiya – you can smell the delicious aroma of barbecued meats from a mile away. Established in 2003, it's one of Singapore's finest Japanese barbecue restaurants. Come if you're serious about your meats. Top-of-the-line options include the mouth-watering and succulent Tokachi beef that's big on flavour.
Aburiya, #01-03, The Quayside, 60 Robertson Quay, Singapore 238252
6. Wine Connection
This place is every oenophile's dream and gets pretty hectic on a weekend night. It stocks over 30 wine labels from all over the world and it's our top choice for a casual night out with the mates. We won't deny that the reasonably priced booze is a total pulling factor. The locale in Robertson Quay even has a cheese bar, with a good array of matured farm cheeses air-flown in from Europe.
Wine Connection, Robertson Walk, 1 Unity Street, Singapore 237995
7. Bella Pizza
Look forward to authentic Italian fare from this kitchen. Bella Pizza specialises in making high quality and tasty pies. Most of them are Neapolitan style, but you can also expect traditional Sicilian types on the menu. Pick from both white and red pizzas, or even calzones!
Bella Pizza, #01-14, 30 Robertson Quay, Riverside View, Singapore 238251
8. Decker Barbecue
This collab between founder Elliot Decker and restaurateur Min Chan sees authentic Texan cuisine come to Singapore, interestingly, by way of Bali. The casual restaurant seats diners on large picnic-like benches, perfect for sharing the massive slabs of beef brisket, ribs and pulled pork. Complement your carnivorous chow-down sesh with a selection of equally-American side dishes like mac and cheese or brisket beans.
Decker Barbecue, #01-17, The Quayside, 60 Robertson Quay, Singapore 238252
9. Laurent's Cafe & Chocolate Bar
There's no denying Laurent Bernard serves delicious desserts, but it also whips up a pretty mean box of chocolates as well. Not sure what to get? You can't go wrong with its gorgeous Tiffany blue box of pralines.
Laurent's Cafe & Chocolate Bar, #01-11, The Pier at Robertson Quay, 80 Mohammad Sultan Road, Singapore 239013
10. Limoncello Pizza & Grill
The menu features authentic Amalfi-style cuisine, and that includes pizzas. Must-tries include the signature Limoncello pizza with a creamy white base, mozzarella, fresh rocket, porcini and beef sausage. Love your seafood? Savour the bounties of the Amalfi Coast with the tomato-based frutti di mare with fresh seafood and mixed parsley.
Limoncello Pizza & Grill, #01-19/20, Rivergate Condominium, 95 Robertson Quay, Singapore 235256
11. The English House by Marco Pierre White
This restaurant is at once expansive but incredibly intimate, filled to the brim with antiques from pub signs to carnival-themed curios, its walls lined with black and white Terry O'Neill photographs featuring the likes of Bowie and Winehouse. As for the menu? Look forward to British comforts such as beef wellington and fish and chips.
The English House by Marco Pierre White, 28 Mohamed Sultan Road, Singapore 238972
12. Red House Seafood
Be prepared to get your hands dirty when you're chowing on the (unofficial) national delicacy that's served here. With a sauce made of sambal, vinegar, tomato paste and egg, chilli crab is best mopped up with steamed or deep-fried man tous (buns). Take in the breeze and tuck into this national treasure at the seafood restaurant in Robertson Quay.
Red House Seafood, Level 2, Grand Copthorne Waterfront Hotel, 392 Havelock Road, Singapore 169663
13. Shirokane Tori-Tama
A handful of Japanese restaurants line the Robertson Quay terrain, with many Japanese visitors flocking here for a sentimental taste of home. Shirokane Tori-Tama is one such restaurant that skews towards these palates, with yakitori comfort food like the livers, hearts and backs carved from smoky, grilled chicken. Absolutely perfect with a Sapporo or Suntory.
Shirokane Tori-Tama, 11 Unity Street, Singapore 237995
14. Publico Ristorante
This riverside restaurant is well known for its wood-fired pizza – we're still not over the tartufata, diavola and prosciutto pies. And that pizza crust? Superbly divine. If you're a carnivore at heart, feast on the bistecca ribeye or beef short rib that's slow-cooked for 18 hours. Expect fork-tender goodness in every bite.
Publico Ristorante, Intercontinental Singapore Robertson Quay, 1 Nanson Road, Singapore 238909
15. Shunjuu Izakaya
Shunjuu Izakaya grills the competition (pun intended) with its sumiyaki, or charcoal grill, specialties. Often, you can find meaty delicacies served on skewers like chicken wings and asparagus rolled with pork, but here, you can also down that pint of Sapporo beer while savouring grilled foie gras on a stick.
Shunjuu Izakaya, #01-15 Riverside View, 30 Robertson Quay, Singapore 238251
16. Super Loco
At Super Loco, it's all about the vibe. Everything's inspired by the street food and rich cultural experiences of Mexico. Expect a fiesta-esque ambience, colourful interiors and food bursting with bags of flavour. Gather the gang for brunch with a Mex twist or dine familia style over dinner – think fresh ingredients and punchy flavours. Down it all with a jug of frozen margaritas or knock back the finest mezcal served in tasting glasses.
Super Loco, #01-13, The Quayside, 60 Robertson Quay, Singapore 238252
17. Les Bouchons Rive Gauche
Go back to basics at Les Bouchons, which proudly claims to be "The King of Steak and Fries". The exquisite beef cuts are a bang for your buck, considering they come with a bowl of salad and – wait for it – free-flow fries! That's right, free flow. Vegetarians can also enjoy an Impossible steak grilled to perfection.
Les Bouchons, #01-02, 60 Robertson Quay, Singapore 238252
18. Bella Pasta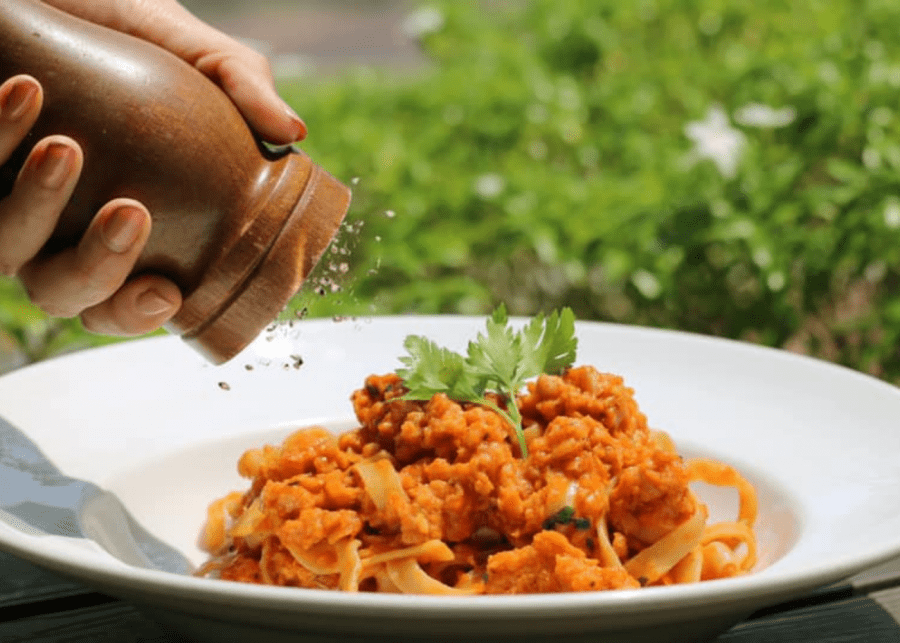 This place ticks all our boxes: great ambience by the river, charming service and superb Italian food. Any vegetarians in the house? Just ask and the kitchen will customise some of the dishes to suit your requirements. No matter what you pick, we're sure you're gonna love it. So much so that you'll be back for these plates and the eatery's super romantic vibes!
Bella Pasta, #01-09, 30 Robertson Quay, Singapore 238251
Robertson Quay guide: Best bars
19. MoboMoga
This is for all the sake lovers out there. The hidden izakaya in Robertson Quay offers delicious Japanese cuisine and an excellent selection of sake. Its sake master, who comes with 20 years of experience, will offer pairing recommendations. That includes some of the best sakes such as the Daichi Tokubetsu Junmai, which isn't easily available at your everyday bar. Want a cosy, casual experience? Head here for a laid-back night with friends.
MoboMoga, #01-58, UE Square, River Wing, 207 River Valley Road, Singapore 238275
20. Beast & Butterflies
Savour one of the artisanal cocktails from its M Social Signature selection as you mingle along the bar's vast 13-metre counter. For something familiar, there's a wide array of classic cocktails, including the iconic Singapore Sling, the reliable negroni and the punchy margarita.
Beast & Butterflies, M Social Singapore, 90 Robertson Quay, Singapore 238259
21. La Maison du Whisky
As its name suggests, La Maison du Whisky is backed by a team of whisky specialists, and there's no better place to pop by for your Manhattan cocktail fix. Thinking of taking home some of that top-notch stuff? Browse through over 100 different kinds of scotch whiskies and purchase them by the bottle.
La Maison du Whisky, #01-10, The Pier @ Robertson Quay, 80 Mohamed Sultan Road, Singapore 239013
22. Boomarang Bistro and Bar
Leave the comfort of your couch and catch the next rugby match at Boomarang. Constantly packed with rugby fanatics on match days, this is one of the best sporting bars in town. Customers here are really friendly and welcoming, too – it's no wonder everyone's a regular! The kitchen also prepares one of the best weekend brunches in town, promising to cure any hangover.
Boomarang Bistro and Bar, #01-15, The Quayside, Robertson Quay, Singapore 238252
Robertson Quay guide: Best cafes
23. Botany Cafe
Opened by the same guys who brought you the now-closed Dazzling Cafe, this spot is adorned with lush foliage. But don't let that fool you. The menu offers hearty dishes like pastas, and east meets west plates. If your palate is seeking something more international, tuck into the ribeye steak with a glass of organic wine.
Botany Cafe, #01-03, 86 Robertson Quay, Singapore 238245
24. Common Man Coffee Roasters
This cafe serves bistro-quality food that promises to be on par with its top-notch coffee. Only organic eggs from free-range chickens and super-fresh produce are used, and coffee beans are roasted daily. It's the perfect place for a hearty brunch for you to start your day, we say.  We'd recommend you order the Turkish Common Man breakfast, organic eggs benedict, or the Common Man full breakfast.
Common Man Coffee Roasters, #01-00, 22 Martin Road, Singapore 239058
25. The Book Cafe
Singapore has an extraordinary number of cafes, so rest assured that we truly mean it when we say The Book Cafe is one of our faves. Two main areas make up the space – one for dining and another with sofas for intense reading and work – with an all-encompassing menu to cater to all tastes. Go ahead, grab a book from the shelf and make yourself comfy.
The Book Cafe, #01-02, Seng Kee Building, 20 Martin Road, Singapore 239070
26. Toby's Estate
One of Singapore's pioneering cool cafes, this Aussie specialty coffee roaster is all about the craft of brewing. Since its opening in Southeast Asia in 2011, Toby's has become a popular brunch spot and go-to cafe for a mean cup of coffee. Want to replicate that potent brew at home? You can pick up packs of local blends or single-origin coffee from the store.
Toby's Estate, 8 Rodyk Street, Singapore 238216
27. Kith Cafe
First things first: Early risers, Kith Cafe opens at 7am. It's a casual spot for great coffee and decent grub. If you've got little ones, introduce them to the toy box but mind where you step – this is a popular cafe for people with puppies.
Kith Cafe, #01-28, 7 Rodyk Street, Robertson Quay, Singapore238215
Robertson Quay guide: Best hotels
28. Studio M Hotel
A favoured and unofficial party hotel among the younger crowds, Studio M ranks high on our list of relaxing boutique hotels. Its key feature is its loft rooms. Spread across four categories, all of them are decked out in minimalist designs, plush beddings and panoramic views of the city from large bay windows. Personally, we love the Executive Lofts as their corner locales offer maximum privacy, larger lounge areas and complete cosy, comfort for stay-in staycays.
Studio M Hotel, 3 Nanson Road, Singapore 238910
29. M Social Singapore
Geared towards the millennial globe-trotter, M Social is the newer player on the Robertson Quay hotel circuit. Comfort is king at this hip hotel. Its chic interiors are the brainchild of renowned designer Philippe Stark. You might never leave your room, as each space is a calming enclave of warm colour tones, with lush textures of plush pashmina throws and soft carpeting.
M Social Singapore, 90 Robertson Quay, Singapore 238259
30. InterContinental Robertson Quay
For when life gets far too much for you, pack your bags and head to InterContinental's sweet digs at Robertson Quay. With its riverfront location, gorgeous rooms with massive windows and amenities, as well as multi-concept dining spots, the hotel makes for a heck of a relaxing weekend.
InterContinental Robertson Quay, 1 Nanson Road, Singapore 238909
31. The Warehouse Hotel
Once an iconic warehouse from 1895, the meticulously restored property boasts a slick, modern design. Only 37 rooms are found here, each boasting unique layouts and a muted palette of taupes and greys elevated with elegant brass furnishings, double-high ceilings, peaked roofs and untouched industrial details. Make it a point to hit the rooftop infinity pool – it's the perfect spot to people-watch and take in views of the riverbank.
The Warehouse Hotel, 320 Havelock Road, Singapore 169628
Now you're all armed and ready to take on the best restaurants, cafes, bars and hotels of Robertson Quay!