Photography: Fico Masseria
From Japan to Bali to Australia, we found beautiful restaurants and cafes in Singapore that will transport you overseas.
Singapore might be a small island. But if you look hard enough, you can find secret spots and hidden gems that will make you feel like you're overseas. So when you're bitten by the travel bug but you're not going on a holiday soon, let this be your guide. We've uncovered restaurants and cafes in Singapore that serve up different cultures from overseas – from the food to the decor. Total wanderlust vibes!
Restaurants and cafes in Singapore to make you feel like you're overseas
1. Italy: Fico Masseria
If there's one cafe that'll make you feel like you're overseas in Singapore, it's Fico Masseria. This idyllic spot has taken social media by storm with its gorgeously sunny alfresco seating area that offers dreamy views of the ocean. Inspired by the masserias (a type of fortified farmhouse) of Italy, the decor combines works from both Singaporean and Puglian artisans. Don't doubt the food either. It takes the simplicity of Italian cooking and uses time-honoured traditions to create a warm and wonderful spread of dishes.
Fico Masseria, 1300 East Coast Parkway, Singapore 438964
2. Hong Kong: Legendary Hong Kong
We've got a soft spot for Hong Kong for obvious reasons, so we can't resist the great vibes of a cha chaan teng. For those of you who aren't in the know – cha chaan tengs are Hong Kong-style tea cafes. Think of it as an Asian tea-time experience. And there's no better place to get the vibe than Legendary Hong Kong. No expense was spared in recreating the true Hong Kong vibe at its flagship store in Jurong. Grab the fam and order up bolo buns, egg tarts, and all kinds of dim sum bites.
Legendary Hong Kong, #03-80, Jurong Point 2 Shopping Center, 63 Jurong West Central 3, Singapore 648331
3. Japan: Hashida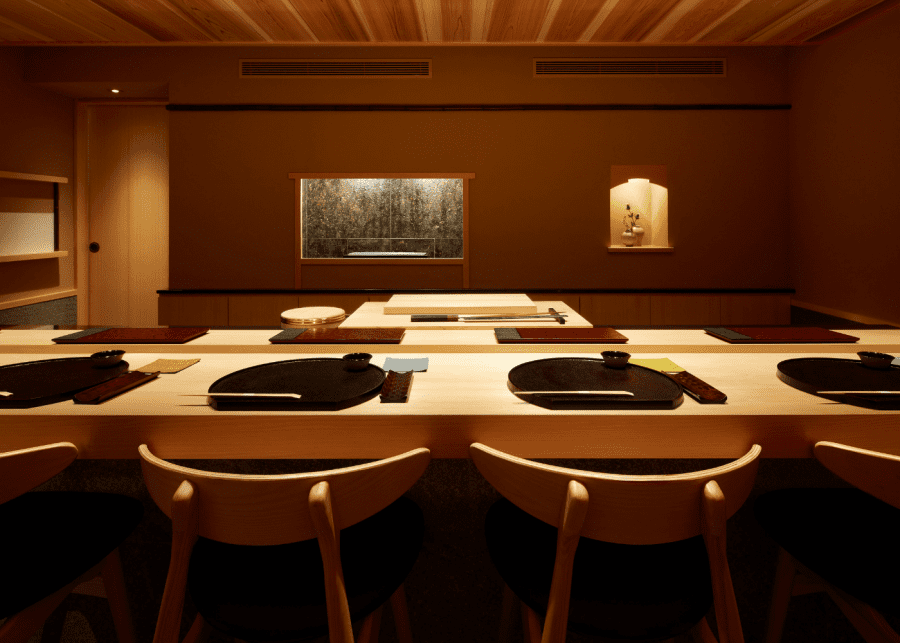 You can experience the Land of the Rising Sun at many sushi spots, but Hashida is probably the best of the bunch. The moment you step in, you'll be transported to a Shinto shrine with the torii gate greeting you. Walk along the Sandō pathway and you'll find three private dining rooms, each designed in different styles and themes. The corner seven-seater room gives the feeling of dining in a traditional Japanese house. But instead of home-cooked food, you get stellar sushi meticulously prepared by culinary maestro chef Kenjiro 'Hatch' Hashida.
Hashida Singapore, #01-01, 77 Amoy Street, Singapore 069896
4. France: Merci Marcel
Parisian chic meets tropical cool vibes at the OG branch of Merci Marcel. The Tiong Bahru space stands out for its lush foliage, rattan furniture and gold with pastel interiors. Park yourself at the sun-drenched garden patio — which is air-conditioned with a glass roof — and tuck into French bakes over a good cup of coffee. Isn't that what the French lifestyle is about?
Merci Marcel, #01-68, 56 Eng Hoon Street, Singapore 160056
5. Africa: Kafe Utu
Get a taste of rich African culture at Kafe Utu. Located in the buzzy 'hood of Keong Saik, the restaurant sits in a shophouse with lively artwork, woven furniture and vibrant colours embellishing the space. The menu is a celebration of the continent, with dishes influenced by countries like Morocco, Nigeria and Kenya. Settle in a cosy seat on the ground floor and put in an order for the Liberian peanut chicken stew, macadamia goat stew or Swahili fish curry. Later on, head to the rooftop for unique African cocktails against the CBD backdrop.
Kafe Utu, 12 Jiak Chuan Road, Singapore 089265
6. India: Firangi Superstar
Firangi Superstar is all set to whisk you away to incredible India. The four dining rooms – Officer's Club, Old Railway Room, Elephant Palace and Jungle Lodge – are designed immaculately, taking inspiration from Bombay, Rajasthan, Chennai and Kashmir. Food-wise, expect Indian flavours with a modern twist like the Prata Waffle. It offers Madras-style fried chicken with curry leaves and garlic sitting atop a waffle-pressed prata and served with butter chicken sauce and jaggery syrup. Trust us when we say dining here is truly a one-of-a-kind experience.
Firangi Superstar, #01-03, 20 Craig Road, Singapore 089692
7. Bali: Going Om
This hidden sanctuary is all about peace and love. Tucked away in the cultural enclave of Kampong Glam, Going Om is tricked out in a hodgepodge of mix-and-match decor for a rustic bohemian vibe. Come nightfall, tables and chairs spill outside the cafe as buskers croon love songs – a common sight on the lively streets of Bali.
Going Om, 63 Haji Lane, Singapore 189256
8. The US: Broadway American Diner
Juicy burgers? Check. Thick milkshakes? Check. Ice cream sundaes? Check. Retro vibes? Double check! Broadway American Diner brings the diners you see on Hollywood TV shows to life. Expect to see vibrant colours of red and white, checkered flooring, tiled walls and neon lights. Make yourself comfortable at one of the vinyl booths and get the BBQ beef burger plus a classic chocolate fudge milkshake on the side.
Broadway American Diner, #01-84B, Arcade @ The Capitol Kempinski, 13 Stamford Road, Singapore 178905
9. Australia: Sarnies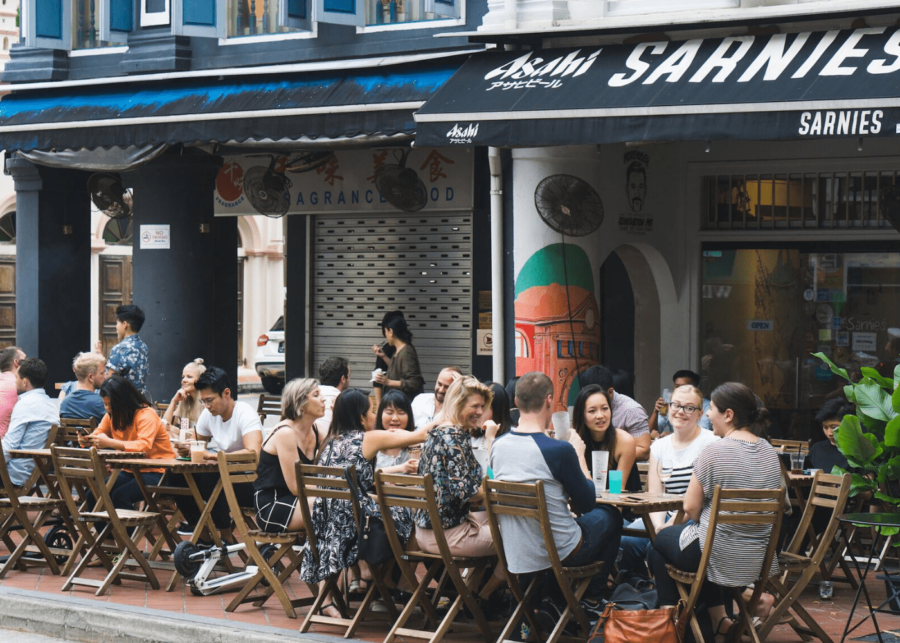 If you're yearning for an Australian hipster cafe, make this your go-to. Sarnies was one of the first decent coffee shops to open in the CBD, making it a hotspot for breakfast and lunch crowds. Wondering what should you get? You can't go wrong with egg and sausage muffins, smoked salmon and cheese bagels, or the gloriously stuffed breakfast wrap alongside a cup of joe. Pro tip: choose the alfresco area and watch the world go by — it's all about the slow-living life down under.
Sarnies, 136 Telok Ayer Street, Singapore 068601
10. South Korea: Cafe Kreams
It's always autumn at this lovely Korean cafe. Walk in and you'll instantly notice the canopy of auburn leaves with warm lighting draping the space. Total K-drama feels, we tell ya. Must-tries on the menu? Korean sweet pumpkin soup, tteokbokki and hamburger beef steak. For coffee, take your pick from a trio of dalgona creations. Oh, and at its sister outlet, Creams Duxton changes things up with a sublime spring theme. Think lush foliage and bright pink flowers adorning the space.
Cafe Kreams, #01-07, Maxwell Chambers, 32 Maxwell Road, Singapore 069115
11. Greece: Zorba The Greek Taverna
Transport yourself to Greece at this riverside spot in Clarke Quay. While soaking in the picturesque views of the Singapore River, nosh on classic Greek plates like hummus, moussaka, greek-style meatballs. Or go all out and make it a big fat Greek feast by ordering the mixed grill platter. It features lamb steak, pork gyro meat, chicken souvlaki and bifteki. Of course, round out the meal with a plate of sweet, sweet baklava.
Zorba The Greek Taverna, #01-02, 3A River Valley Road, Singapore 179024
So, are you ready to "travel" to these restaurants and cafes in Singapore with overseas vibes?
[This article was originally published in 2021 and updated in 2023 by Ashe Liao.]