Enamoured with everything French, Josh and Vivian's fairytale wedding Grand Hyatt Singapore was an elegant ode to Parisian style.
Their outdoor solemnisation in the hotel's rooftop garden, The Gazebo, and their glamorous Grand Ballroom dinner gave guests a slice of the City of Love – where the couple flew to have their pre-wedding shoot. Our favourite touch, an incredibly ornate paper flower 'wall' that served as the backdrop during the exchange of vows, as well as the photobooth area during dinner, added just the right amount of whimsy to the otherwise classy, navy-and-white celebration. And to top it off, the Grand Hyatt's dessert team created delectable macarons in a matching shade of blue as wedding favours. Vivian shares all her memories and advice below…
How they met:
We met while working together at Canon Singapore, and I also happen to be the younger sister of Josh's secondary school classmate. Josh used to visit our house after school to play basketball and soccer, or just to watch soccer matches – that was when he got to know me a lot better.
How he proposed:
We flew to Perth for a holiday, and he proposed to me while we were mid-way through an early morning hot-air balloon ride overlooking the sunrise. He popped the question with a customised diamond engagement ring from Saxifrage Singapore, a custom jeweller, who created a design based on my love for elegant, French style and traditional engagement rings.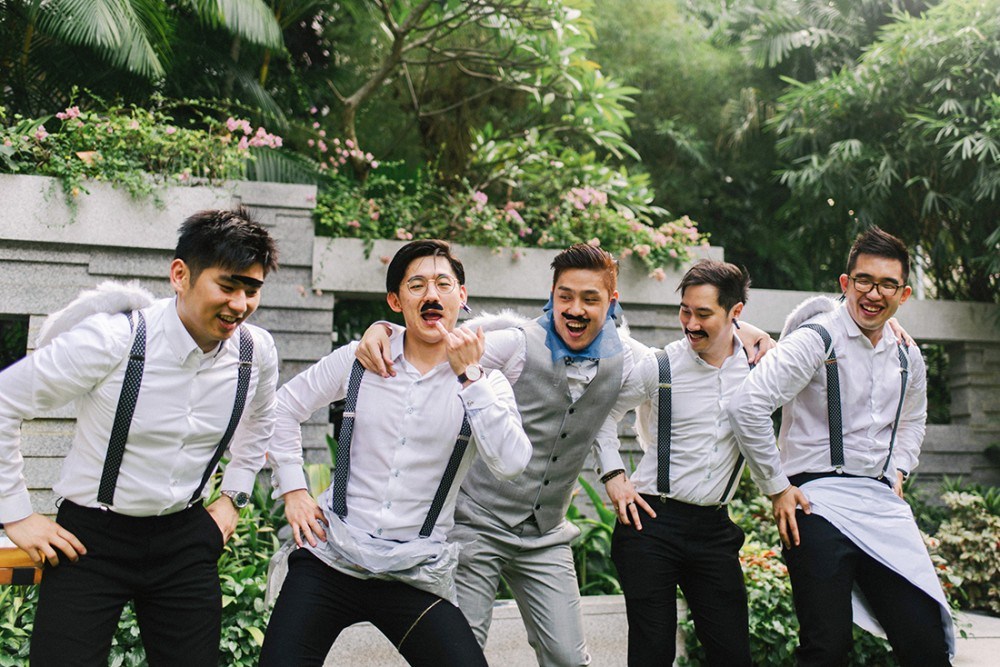 The theme:
We went for a Parisian theme with a colour palette of white and navy. Josh has family and friends in France and fell in love with the people and cuisine after visiting on many occasions. I, too, fell in love with all things French as well as the style of Parisian women. What better way to combine our love for French things with a Parisian-inspired garden wedding?
The decor:
We got the professional help of Ektory to dress up Grand Hyatt Singapore's gazebo and rooftop garden with massive, hand-made paper florals and a customised aisle runner.
We wanted unique types of flowers to exude a whimsical feel, so Ektory developed the concept of an 'international wall' with a distinctly elegant, Parisian vibe. They researched plants and blooms from all over the world and included at least one plant and flower type selected from each continent.
For the dinner, Grand Hyatt Singapore allowed us to customise our ballroom walls into a Paris scene using their giant digital canvases, which covered both ends of the Grand Ballroom. Josh and I had taken our pre-wedding photos in Paris and Prague, and we decided to shoot some key Parisian landmarks like the Louvre and Eiffel Tower, which I designed into two large digital images that were cast onto the walls by the ballroom's in-built visual projectors. On top of that, their in-house floral team was able to customise my florals according to an arrangement I saw online – it had white roses, white eustomas, silver brunia, dusty miller, white verbenas and eryngium supernova.
Memorable moments:
Marching into the ballroom for the first time as a married couple and having all of our close friends and family witnessing our union was incredibly special. All the love and cheer that we were surrounded with was beyond what we could have envisioned for the day. Everyone was laughing, having a good time and filling up on great food – that's how a wedding should be.
The wedding favours:
For the morning solemnisation, we settled on the idea of a 'message in a bottle' – clear, Eiffel Tower-shaped glass bottles with a handwritten thank-you note for each of our guests. We couldn't bring our guests to Paris, but we could bring a part of Paris to them.
During the dinner banquet, we gave out macarons to suit our Parisian theme. Grand Hyatt Singapore's pastry team helped us to match the colour of the macarons to the exact blue used in our wedding theme. Apart from those, we also gave out a pair of Fresh Lip Balms to each guest to symbolise our unity as one.
DIY touches:
I customised all the wedding stationery and invitation cards used for the wedding. We also had special memorial cards placed on chairs during the exchanging of vows, in memory of our loved ones who have passed on – these too were designed by me. I decided to combine all that I love about France (the macarons, the flowers, etc) in a watercolour painting with calligraphy.
Josh and Vivian's wedding advice:
Plan ahead of time to make sure you secure the venues, photographers, videographers and bands that you love and trust. We knew who were wanted as our wedding photographer and had him booked over a year in advance! 'Kiasu' (afraid to lose out), I know, but you do what you need to for the companies and brands you love.
Their tips for a strong marriage:
Listen to one another and learn to give in and accommodate to each other. Create new memories together as a couple and always be there for each other. Love is not about giving each other gifts on special occasions, but cherishing who your other half is when you are with them.
Vivian's tips for brides to be:
Decide on your theme and look through Pinterest for inspiration and ideas… and pin, pin, pin, pin, pin! Pick vendors that you trust and know are great at what they do, because you'll need to let go and rely on them when the big day draws near. I'm glad we picked the people we did.
Vendors
Venue: Grand Hyatt Singapore
Photographer: Bloc Memoire
Videographer: Moo Media
Wedding rings: Cartier
Engagement ring: Saxifrage
Hair & make-up: Jocelyn Tan from Sasa de Maquillage
Flowers & decor: Ektory and Beato
Wedding cake & desserts: Grand Hyatt Singapore
Wedding favours: Grand Hyatt Singapore
Caterer: Grand Hyatt Singapore
Invitation & stationery: DIY by the bride and her bridesmaid, Serena Ong
Band: High Notes