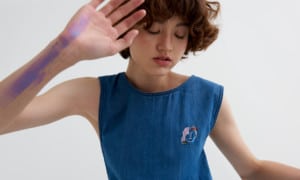 Pomelo's first eco-friendly collection has arrived.
Sustainable fabrics and a clothing donation pick-up service? Round of applause for this move from Asia's fast-fashion player, Pomelo.
If you've caught our stories on ethical fashion, breaking up with plastic and awesome social enterprises in Singapore, you already know how we feel about trying to live a little more consciously and sustainably in a city that's often all about more, more, more. Yes, we love beautiful things and rich experiences, but frankly, we know that we have to make serious changes to the way we shop and who we shop from. So when Asia's fast-fashion player Pomelo announced that it will be releasing its first sustainable collection, Purpose by Pomelo, on 13 June we did a little happy dance. Here's why…
It's made with a difference
We first learned this shocker while chatting to Stephanie Dickson of Green is the New Black: it takes 2,720 litres of water to produce your average cotton T-shirt. You just can't close your eyes to this. We've talked about our own stances (and struggles) against quick shopping highs, but we've gotta applaud this move: according to Pomelo, a Purpose tee saves 1,053 litres more water than that of a conventional tee. Pomelo partnered with the Better Cotton Initiative (BCI) to bring sustainably produced cotton in the mainstream for this 12-piece collection and, significantly, has committed to producing this range in a factory that fairly employs 218 women who are the main breadwinners in their household.
And hey, it's pretty cute
We're liking the playful denim pieces: pinafores, kimonos, jackets, a tote and those jeans with a helluva cuff. You'll notice there's a distinct lack of buttons – this is to allow for the fabrics to be recycled one day after you've loved your pieces to death.
Props to Pomelo for picking up your clothes for donation too…
When you shop from Pomelo's Purpose collection, you can also arrange a free pick-up service for clothes you'd like to pass on to someone who really needs them. Pomelo has partnered with non-profit organisations Second Chance Bangkok, The Mirror Foundation and Phuket Sunshine Village to ensure your gently loved clothes and accessories will go to the right people in need in your region. Nice one, Pomelo.
While we still think the greater message is about changing the way we spend on clothing and making sure we love and use the clothes we introduce into our wardrobe, here's hoping this is the start of something great hat weaves its way through Pomelo's entire offering.
Check out the rest of the Purpose by Pomelo collection when it launches on 13 June: pieces start at $29.