1925 Microbrewery & Restaurant
These unique clubs and watering holes are the allstars of boozing, dancing and chilling out in the city
Need inspiration on where to go for a drink in Singapore? Whether you're looking for a casual bar, late-night club or oh-so-cheap happy hour, here's our guide to the top places to grab a beer, a glass of wine or or a snazzy cocktail across town. Whatever your poison, there's definitely something for everyone. Bottoms up!
1925 Microbrewery & Restaurant
The food menu at this family- run gastro-pub is hearty and highly carnivorous, with mains like chicken kebabs and deep- fried skin, chargrilled beef burgers, and pork belly slices. But what really takes the cake in this family-run gastro-pub is their home-brewed pilsners, along with their wicked cocktails and old world wines.
1925 Microbrewery & Restaurant, 369 Jalan Besar, Singapore 208997. Website, p. (65) 6294 9215
Attica
Clarke Quay's longstanding resident has been made over and now boasts four different spaces to give that "360-degree clubbing experience". Outside the club are Bar Rose, Attica's Champagne and martini bar for chilling by the Singapore River. Inside, the first floor features chart-topping R&B and top 40s, while the second level, connected via the alfresco garden The Courtyard, puts out adrenaline-pumping EDM beats.
Attica, #01-03 3A River Valley Road Clarke Quay Singapore 179020. Website, p. (65) 6333 9973
Barber Shop by Timbre
Despite its name, Barber Shop by Timbre has nothing to do with men's grooming. The thriving live music establishment focuses on blues, soul, funk and jazz music by anchoring local bands like Raw Earth, Lower String Delta, and Chicken Shack Revival. Catch these established and upcoming musicians live on stage from Thursday to Saturday nights.
Barber Shop by Timbre, #01-03 The Arts House, 1 Old Parliament Lane, Singapore 179429. P. (65) 6336 3386
Manhattan Bar

Regent Hotel's swanky 89-seater bespoke cocktail spot offers up a slice of 19th-century New York. American mixologist Ricky Paiva helms the bar, as well as the world's first in-hotel rickhouse, a workshop featuring over 100 American oak barrels for experimentation. Manhattan also has a collection of unusual ingredients like wildcherry bark and shisandra berries.
Manhattan Bar, Level 2 Regent Hotel, 2nd floor, 1 Cuscaden Road, Singapore 249715. Website, p. (65) 6725 3377
Studio 1939
Considered 'The Private Studio' of hip institution Potato Head Folk, Studio 1939 is modelled after Australian artist David Bromley's own working space. Modern artworks curated by Bromley line the walls around the intimate reservation-only space. Feature cocktails, prepared with house-made syrups and high-grade spirits are personal favourites of Dres Masso and his team.
Studio 1939, Level 3 Potato Head Folk, 36 Keong Saik Road, Singapore 089143. p. (65) 6327 1939
Sugarhall

Boasting close to 110 types of cane spirits, this is the place to go for your rum fix on the island. Opened by the good folk from Jigger and Pony (which is just next door), the bar has cleverly categorised the rum-based cocktails into three sections – tropical cocktails, clear spirits and dark spirits.
Sugarhall, 102 Amoy Street, Singapore 069922,  p. (65) 6222 9102
Bang Bang
This snazzy and cheekily- named newcomer comes fitted with state-of-the-art L'Acoustics sound system and a mesmerising LED wall. Pop a bottle of Champagne, and drink up while you move to nu disco and deep house beats by a pool of local and international DJs.
Bang Bang, Pan Pacific Singapore 7 Raffles Boulevard, p. (65) 8127 2808
Operation Dagger
Situated in the basement of an unassuming shophouse (look out for the glass door stamped with a curious rectangle and upside-down crown motif to enter), this cubbyhole of a speakeasy offers a tightly curated menu of interesting concoctions, like The Egg, made with salted egg yolk liqueur, and the omakase, which comes with six different cocktails and some bar snacks.
Operation Dagger, #B1-01, 7 Ann Siang Hill, p. (65) 9296 4704
Southbridge
A rooftop bar with a killer view of the city skyline, Southbridge specialises in oysters – with an impressive variety from the world over, no less – as well as craft cocktails, such as the vodka-based, spice-infused One Night in Bangkok and the Kakubin whisky specialty, Highball.
Southbridge, Rooftop, Level 5 80 Boat Quay, p. (65) 6536 5818
Tanjong Beach Club

Sun, sand, sea, frozen margaritas, and hot chips – this beachside hangout on Sentosa Island is perfect if you want a getaway from the city. Hungry folks can expect upscale and substantial plates, like a USDA Angus prime ribeye, on the dining menu to fill up on while people-watching.
Tanjong Beach Club, 120 Tanjong Beach Walk Sentosa, p. (65) 6270 1355
Bitters & Love
Bespoke cocktails are the order of the day at this no-menu CBD- based haunt. Let the bartenders know what your preferences are, and expect a lot of local flavour to be added to your concoction. One drink they do really well is the kaya (coconut jam) toast cocktail, presented with bread and a dollop of kaya on top.
Bitters & Love, 118 Telok Ayer Street, p. (65) 6438 1836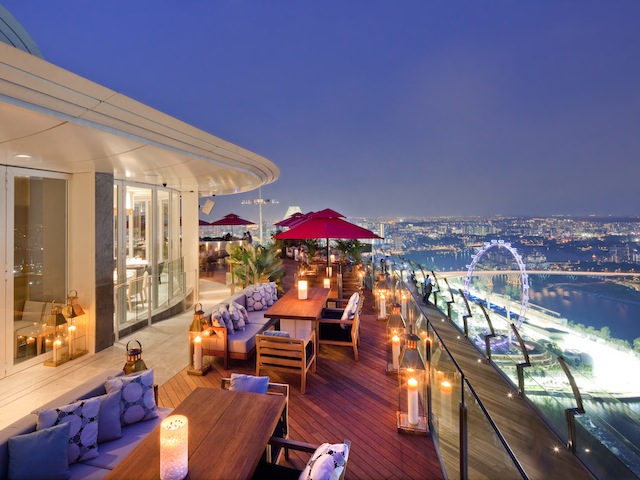 CÉ LA VI
A bar, club and restaurant rolled into one, this swish lifestyle hotspot perched 200 metres atop the iconic Marina Bay Sands boasts panoramic views of the city's skyline. Just as impressive is the modern Asian cuisine, and the throngs of renowned DJs that helm the decks at the Club Lounge. Head on outside to the SkyBar for a solid mix or two, crafted by CÉ LA VI's skilled team of mixologists.
CÉ LA VI, 57/F SkyPark, Marina Bay Sands® Tower 3, 1 Bayfront Avenue, p. (65) 6688 7688
28 HongKong Street
The talented folks behind this award-winning speakeasy certainly know how to craft fine cocktails. Original signatures include Whore's Bath (a heady concoction with Manuka honey vodka, umeshu plum wine, and pear liquor), and an excellent Negroni. Save some room for their stellar bar bites; the truffle mac and cheese balls are worth all the calories.
28 HongKong Street, 28 HongKong Street, p. (65) 6533 20
Zouk
With plenty of awards to its name, Zouk is arguably Singapore's longest-standing nightclub. Having been around since 1991, the club consists of three spaces – Zouk, Phuture, Velvet Underground, and Wine Bar. Music heavyweights like Paul Oakenfold and The Chemical Brothers have graced this world-famous venue. Plus there's ZoukOut, a massive annual dance party on Sentosa that takes place every December.
Zouk, 17 Jiak Kim Street, p. (65) 6738 2988 
Jekyll & Hyde
By day, it's a nail salon for ladies to get their manicures and pedicures done, and by night, it turns into a classy cocktail lounge where you can get bespoke cocktails. They also make one of the best gin and tonics in town, and snacks like the spicy crab mantou (Chinese buns) sliders are not to be missed.
Jekyll & Hyde, 49 Tras Street, p. (65) 6222 3349 
CHIJMES
The historic 160-year-old convent-turned-lifestyle destination has recently undergone a major facelift and is now bigger and better than before, so it's a great time to visit. You'll be spoilt for choice with the array of food and beverage options. Fancy a Scottish whisky? Head to Highlander. Looking for a Mexican experience? There's El Mero Mero. Want to catch a game on the telly while enjoying a beer? Harry's is your answer.
CHIJMES, 30 Victoria Street, p. (65) 6337 7810
Blu Jaz Cafe
Situated in the historic Kampong Glam, this eyecatching three-storey bar is perfect for a casual night out in town. There's a dining and alfresco area on the first floor, a bar and dance floor on the second, and a cosy lounge on the third, with each level offering a different vibe. Take your pick and enjoy the foottapping live music!
Blu Jaz Cafe, 11 Bali Lane, p. (65) 9199 0610
House of Dandy
A bar after our own heart, House of Dandy encapsulates the opulence of the roaring twenties perfectly with its slick interior – think Oscar Wilde's quotes scrawled on the walls, Tom Dixon designers lamps, and British Airforce Spitfires-inspired chairs – and an extensive whiskey list. Not big on single malts? There is a range of boutique spirits, classic cocktails, and cigars, which are just as delightful.
House of Dandy, 74 Tras Street, p. (65) 8661 2340

The Beast
Chicken and waffles, pulled pork hash, freshly-baked cornbread, a mac and cheese burger – these are just some of the amazing Southern treats you can feast on at The Beast, a bourbon bar located in the hip Kampong Glam precinct. They also do brunch on Sundays; don't miss out on the bacon maple-glazed donut and the signature sweet tea!
The Beast, 17 Jalan Klapa, p. (65) 6295 0017
Sum Yi Tai

Housed in a heritage shophouse, this restaurant-bar follows a retro 1980s Hong Kong theme. Chinese tapas – like crispy roast pork and XO carrot cake – is served on the ground floor, a dining club (there's a private dining room as well) is located on the second floor, and on the third you'll find a private rooftop bar – which can only be accessed if you have an invitation or a reservation.
Sum Yi Tai, 25 Boon Tat Street, p. (65) 6221 3665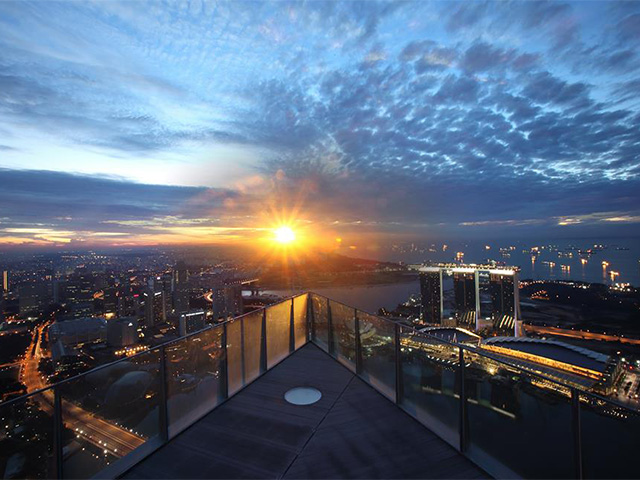 1-ALTITUDE
Elevate yourself up and away from the bustle of the Central Business District (CBD) at the city's tallest bar. Standing at 282 metres above sea level, this three-in-one venue houses a fully alfresco bar (that's 1-Altitude), award-winning restaurant Stellar, and dance club Altimate. Between 6pm and 8pm, head up to the highest level for a glorious sundown soiree that's filled with summery cocktails, jazzy beats, and, of course, a killer view to boot.
1-Altitude, Level, 61, 1 Raffles Place, p. (65) 6438 0410
Neon Pigeon

From the graffiti murals on the walls to the quirky ninja cocktail "cups" from the bar and the industrial-style, dark wood-fitted space, everything about this spot's pretty damn hip. On the menu are Japanese small-plates like edemame hummus, cucumber-goma salar, tuna tartare and baos & bone marrow. In addition to these small dishes, dubbed "birdfeed", Neon Pigeon also whips up some killer cocktails. Its bar program has been growing dramatically with major bartenders like Symphony Loo and Sam Wong, so don't be afraid to challenge them to whip you up a unique bespoke cocktail. Or instead try Symphony's personal favourite, the "Had'da Smoke", a herbal, yet sweet cocktail with whiff of rosemary. She assures us it's both beautiful and yummy!
Neon Pigeon, 1 Keong Saik Road, p. (65) 6222 3623
Singapore Insider is published quarterly, in partnership with Singapore Tourism Board. Pick up the printed edition for free at Singapore Visitor Centres island-wide, including Orchard (junction of Cairnhill Road and Orchard Road), orchardgateway, ION Orchard (Level 1 Concierge), and Chinatown Visitor Centre (2 Banda Street), or download the digital version.