What an adorable puppy!
Looking to add a new furry member to the family? Save a cuddly animal in need at these rescue shelters and pet adoption centres in Singapore.
We all know the joys of having a pet. In fact, studies have shown that your four-legged chum comes with some powerfully physical, mental and emotional benefits, such as reduce stress, anxiety, depression, and even encourage exercise. However, caring for a pet is no walk in park; it's a real commitment. If you're ready to welcome a new family member and inclined to go the adoption route (yay you!), here's our list of pet shelters in Singapore to find your very own Marley or Garfield. Can't adopt one? Many of these places need volunteers to spend time with their animal platoon!
Dogs
Save Our Street Dogs
Established by a group of animal lovers, feeders and rescuers, Save Our Street Dogs (SOSD) rescues, sterilise and rehomes stray dogs in Singapore. The non-profit also makes an effort to educate the public about them and advocate against the culling these homeless canines. You can help SOSD by fostering or adopting the dogs under their care, or sponsor one if you can't keep a pet in your home. SOSD aren't able to accommodate drop-in visitors, so do make an appointment before heading to the shelter.
Save Our Street Dogs, Unit 13/14 Block C, 22 Pasir Ris Farmway 2, Singapore 519325
Action For Singapore Dogs
Besides rescuing, fostering and rehoming stray dogs, Action For Singapore Dogs (ASD) is a strong advocate of sterilisation and is active in campaigns that aims to increase public awareness on responsible pet ownership. All dogs within their care also receives medical and health care. As a non-profit, non-governmental organisation, ASD's work is carried out by volunteers and through contributions, so spread the love even if you're not on the lookout for a new pet!
Action For Singapore Dogs, 80 Lim Chu Kang Lane 1, Singapore 718911
Oasis Second Chance Animal Shelter
OSCAS houses more than 110 mongrels, which are saved from the streets or from being culled. There are many ways you can contribute to shelter if you can't bring one home: donate your money or efforts to the non-profit, or help by fostering or sponsoring a furry friend.
Oasis Second Chance Animal Shelter, 16 Pasir Ris Farmway 2, Singapore 519316
HOPE Dog Rescue
Although HOPE does not have a physical shelter, you can see pictures of their dogs for adoption on their website, then email them for enquiries. Volunteers alert: HOPE also needs extra hands for a range of duties including bringing dogs to and from vet visits, house checks and visits for potential adoption, perform house checks and visits for potential adoption, stray feeding, cooking for rescue dogs, photography, videography, poster design, writing and awareness and outreach programmes.
HOPE Dog Rescue
Voices for Animals (VFA)
Not just a safe haven for retired breeding dogs (you're more likely to find smaller breeds here), VfA is also active in rescuing other animals, including cats, rabbits, hamsters and other domesticated pets, as well as stray feeding and re-homing of the animals. Viewing and adoptions can only be done during an adoption drive, which happens once every month. There is an adoption fee of $250, which is used to help other animals in need.
Voices for Animals (VFA)
Cats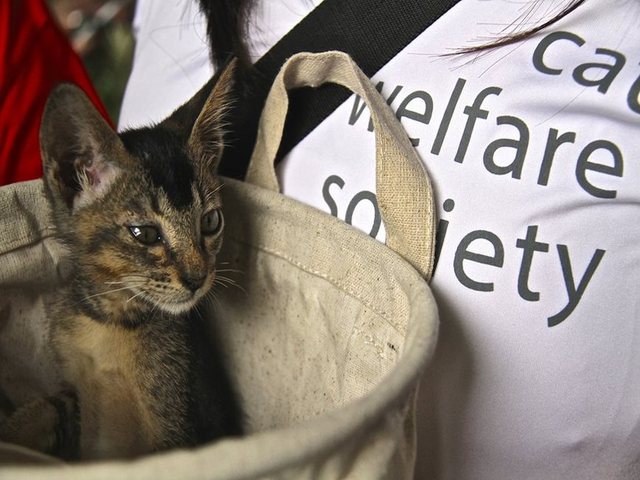 MettaCats
This group of volunteers makes caring, rehabilitating and re-homing abandoned, sick and abused cats their job. Currently, there are more than 100 cats housed at Metta Cattery, all waiting to find a lovely home.
MettaCats
The Cat Welfare Society
If you're a cat lover in Singapore, you'll know this amazing charity for their efforts in promoting humane, responsible and informed actions towards domestic and community felines through various campaigns, classes and workshops. Their Facebook page is also filled with heartwarming cat photos and humour, in case you need a happy dose to turn around a bad day!
The Cat Welfare Society, Orchard Road, Singapore 912303
More adorable animals
Animal Lovers League
Animal Lovers League is one of the largest serving animal welfare groups in Singapore and a registered no-kill shelter that houses over 700 cats and dogs that wish to meet with kind and committed families.
Animal Lovers League, 61 Pasir Ris Farmway 3, Singapore 518232
The House Rabbit Society of Singapore
Facing bunny problems? Turn to The House Rabbit Society of Singapore (HRSS), a non-profit organisation that aims to educate the public on rabbit welfare and care, and raise awareness about abandoned rabbits in Singapore. HRSS also offers rescuing, rehoming, fostering and adopting services for cute adorable fluffy bunnies.
The House Rabbit Society of Singapore, Toa Payoh Central Post Office, Singapore 913104
The Society for the Prevention of Cruelty to Animals (SPCA)
Arguably the most prominent animal welfare charity and adoption centre in Singapore, the SPCA receives about 400 pets and stray animals per month, sadly. The Adoption area is open for public viewing from Monday to Wednesday, Fri to Sunday and Public Holidays, from 11.00am to 4.00pm.
The Society for the Prevention of Cruelty to Animals (SPCA), 31 Mount Vernon Road, Singapore 368054
How to adopt a pet in Singapore
Prior to getting your little furry, or feathery, buddy
Question yourself if you are ready – physically, mentally, emotionally, financially and time.
Do extensive research and stay informed – visit pet shelters, talk to pet owners and look up online.
Searching for the right one
Ready? Time to find your little furry (or feathery) buddy, through the above pet shelters and give needy animals a home.
Administrative matters
Bring your NRIC/FIN card
Take note of adoption fees – generally include vaccination, sterilisation, deworming, microchipping and registration.
Adopter's premises may be inspected; you may be required to mesh up your house's windows and front door
Meeting your soon-to-be pet
There'll be a bonding session with possible adopted animal – usually either at the foster's home or at the pet shelter.
There'll also be a possible interaction session with existing pet(s) if you have one.