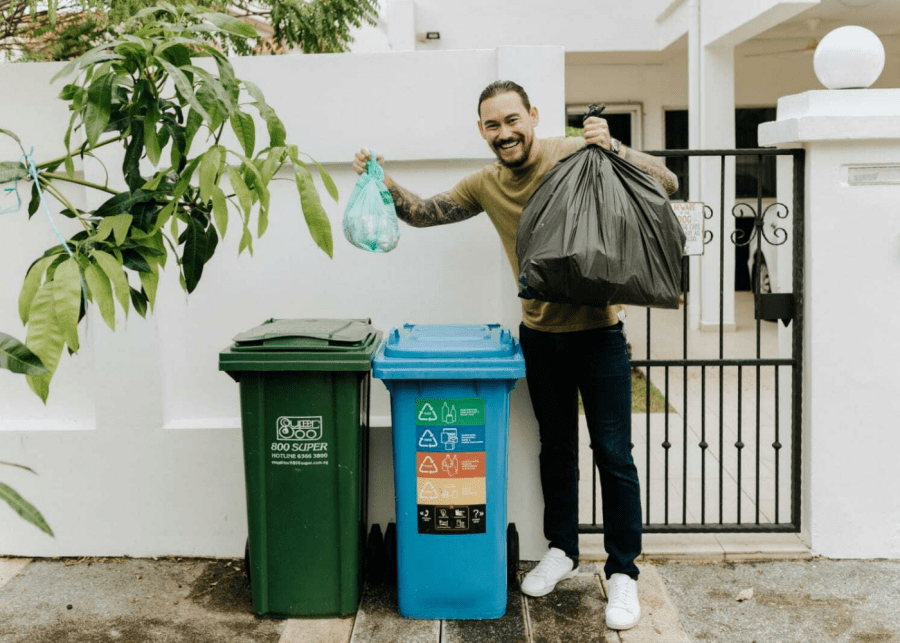 Photography: Paul Foster
Show some love to the earth in simple ways! Paul Foster lets us in on his sustainable journey...
Paul Foster is no stranger to the showbiz scene, having worked as an actor, host and model for two decades. Most recently, you may have seen his affable appearance on Netflix's 2019 docu-series, 'Singapore Social'. But did you know he's also a passionate advocate for environmental issues, humanitarian causes and animal welfare? The eco-warrior uses his social platforms for good, championing change for the benefit of the planet and its communities.
So it's no surprise he's totally on board with WWF's latest Kosong Plan campaign, launched in commemoration of Earth Hour earlier this year. The initiative is a commitment to unite the individuals and businesses of Singapore to work towards the end goal of net-zero emissions (aka offset our greenhouse gas emissions) by 2050. Brew your own plan online and read on for Paul's easy eco-conscious tips to help you make that sustainable switch.
Hi Paul, tell us a little about yourself.
Paul Foster here, a Singaporean of mixed parentage, being half British, half Chinese. I've been very lucky to build a career in the entertainment industry, through modelling, acting and hosting over the last 20 years. With this, I've also managed to build a wonderful network of people whom I'm able to work with to bring about positive change for people and the planet.
Talk us through your eco-conscious habits and how you've incorporated them into your lifestyle.
I still believe in the 3 Rs that I was taught back in school almost three decades ago! So I Reduce, Reuse and Recycle as best I can. Nowadays we can add in more Rs like Refuse, Repurpose and Rethink, and with this foundation, I incorporate [them] as much as possible in my everyday life.
I eat more meatless these days. I recycle all my paper, plastic, glass and metals at home. I separate my organic waste and compost it. I carry my reusable bags, bottles, cups, containers and cutlery with me. I refuse plastic bags, straws, cutlery and containers. I support green responsible brands and, wherever possible, try to limit or decrease my own personal carbon footprint.
What kickstarted your interest in sustainability and climate change issues?
I've always had a love for nature. Growing up with a passion for the outdoors and an affinity for animals, these core values have shaped me to want and need to help from a very young age. To be a voice for the voiceless for local animal welfare groups, [and] to start my very own war on plastics with my personal clean-up initiative, All Clear.
My sustainability journey took a big leap forward in late 2018, establishing key brand partnerships with Timberland, Nespresso and ZeroWasteSG, who are champions in their own right for a greener future. Of course, I've always been a big supporter of WWF Singapore, helping to advocate their initiatives over the years. I know there's so much more to do. But the foundation we're building is just the start to develop more relationships and effect more change on a social, corporate and governmental level.
Can you elaborate on your Kosong Plan and how you'll achieve it?
I'm already going more meatless in my diet two to four times a week, [going] vegetarian and eating more plant-based alternatives. But it's also about finding the right food that's socially, ethically and environmentally sourced as best as possible. And when possible, trying to support local!
For my carbon footprint, I've decided to focus on my car and my personal output, so I use more public transport or walk. Also, I try to find the best way to carbon offset by calculating my yearly output and planting trees or supporting other offsetting campaigns so I can become carbon neutral.
Food is such a huge part of our culture – share with us tips on how to make more conscious eating choices.
Just being very conscious of what you're eating and how much of it you're wasting – that should be the first thing. Cutting down on meat just a little bit will be helpful. It's so much easier now with so many meat alternatives. But you can also look for sustainably sourced foods that make a difference.
Supporting local where possible helps, but understandably we're very limited in this respect for Singapore. Still, when and where you can, do what you can. Food waste is a big contributor on so many levels. Letting fresh produce rot, overbuying or ordering and not using the food, not composting or discarding organic waste also increase greenhouse gases, as they cannot decompose properly amongst other trash in landfills.
One of the companies I've recently partnered up with is Crust Singapore, which is leading the way in creating local sustainable beers from surplus or soon to be expired foods. These guys are also working on Crop Singapore, which will produce naturally-essenced functional drinks made from ugly and surplus fruits.
The ultimate goal is to decrease food waste by creating food alternatives of quality. Hopefully, with more support, we can scale up and start making a bigger difference. Food technology is the way of the future. In Singapore, with so much innovation in this space with meat alternatives, the future is here already and we need to be a part of it!
Any common misconceptions about sustainable living you'd like to shed light on?
I feel the biggest misconception is people thinking that to be sustainable, you have to cut everything out and completely change your lifestyle, which is so far from reality. The trick is to find that balance that works for you as an individual because that's what sustainability means – keeping everything in balance!
You don't have to be 100% but the closer you can get there, by changing your mindset and improving your lifestyle, the better it is for our planet. Again, finding reusables and decreasing single-use plastics, eating less meat just a few times a week, recycling at home, supporting carbon offsetting campaigns, volunteering for a beach clean-up or planting trees, and supporting corporates that are eco-conscious all add up to make an impact.
There are many things we can do as a single person. And by finding alternatives that are better for our environment, together as a collective, our efforts are so much more powerful.
Lastly, what's the best way for a newbie to embark on their sustainability journey?
I think the easiest place to start is from home, which is basically everything you do on a personal level in your life at home that you can easily control. Step by step, with little improvements, you'll realise you're living in a better way for yourself and the planet. This is something everyone has to start doing in one way or another.
We don't need to be 100% sustainable. But most of us need to improve and get as close to this as possible. Even I am learning and improving day by day; everyone just has to find that start and continue on their own journey.
---
Keen to find out more about how to live an eco-friendly lifestyle? Here are some simple tips on sustainable living to get you started!