These entrepreneurs tell us all about their successful pandemic pivots.
Lessons learnt from pandemic pivots include shaping your own identity, keeping the passion alive and showing resilience.
All of us had similar experiences during the Covid-19 pandemic: lockdown, working from home, doing virtual calls, and the like. We stayed home to stay safe, but while some stuck to their paths in life, others did a complete 180. Fearless in the face of change, these entrepreneurs in Singapore stepped into the unknown armed with pandemic pivots for their businesses. Here are their secrets to success…
8 businesses that went through successful pandemic pivots
1. The one that went in a completely different direction
Melody Bay, 33, brand communications and copy strategist at Fresh Pages Co
Mine was quite a dramatic pivot. I went from designing wedding stationery to copywriting for women-led businesses – right before the pandemic hit in early 2020! For multi-passionate entrepreneurs who want to pivot or start another business, there's always reluctance because you feel like you have to start from scratch again. It's all too easy to say, "But I'm already known as a designer/yoga teacher/reiki practitioner; wouldn't it be odd if I suddenly told people I'm also a life coach?"
My answer to that? Not at all, if you communicate the pivot well. It can be a great opportunity to get a head start in the new business because people will think of you as that life coach who's really tuned into people's energy. Or the coach who helps yoga teachers set up their business because she's done it.
Don't pigeonhole yourself. Your identity is yours to shape. Just as you can mix different styles to form a unique and expressive outfit, you can (and should) combine different life experiences and career paths to create your own niche. It's much easier to pivot or start a new business after you've done it once. Even if you're starting in a completely new industry, you'll bring with you valuable experience and unique insights that help you stand out.
2. The one that launched when everything was cancelled
Kriti Gupta, 35, founder of Nimbu
Nimbu is a pandemic baby! The concept was launched on the day Singapore announced Dorscon Orange (the scariest state of the pandemic back then). I vividly remember our first pop-up bustling with excitement. Everyone asked about our strategy with the pandemic looming. All our physical events were cancelled and we were made to pivot on day two.
We took it as an opportunity and worked hard on making a kick-ass website. While our competitors struggled to merge brick-and-mortar with the web, we had a 100% online strategy. E-commerce became the mainstay and backbone of our business.
This pivot worked out great, but we also had a challenge as a circular brand. During Covid, people weren't really jumping on the idea of preloved or second-hand – even less so for little ones. It took a massive amount of education and expensive partnerships with renowned dry cleaning companies to instil confidence in our consumers. But preloved still didn't do well.
Reluctantly, we shut that part of the business during the various Circuit Breakers and reopened once the situation was stable. We worked hard to ensure our preloved collection was thoroughly cleaned, hygienically handled and sent in crisp condition. After tirelessly working behind the scenes and educating our consumers, we reopened the preloved collection a week before Deepavali the same year. Guess what: our entire inventory was wiped out in just a week! The acceptance was phenomenal and beyond what we could've imagined.
Lessons learnt: sometimes opportunities come in seemingly bad packaging. But it's how we perceive them, turn 'em around and make the most of the situation. Also, patience is key – good things come to those who pivot and wait!
3. The one that went digital in the blink of an eye
Anabel Chew, 35, co-founder of WeBarre
Before Covid, we only had physical classes in all our studios in Singapore and HK. Then, the lockdowns happened. We didn't have time to lose (even though I was pregnant and about to give birth to my firstborn). Our team worked non-stop for three days and rolled out our plans to move our entire business digital.
Today, studio classes have resumed and clients couldn't be happier coming back to our happy place. But our digital offerings are still going strong – they're now an added source of revenue.
The big lesson for us as leaders is to react and pivot quickly, whilst keeping to the vision of the brand, instead of making decisions based on knee-jerk reactions. Restructuring the business may need to happen quickly to ensure its sustainability and longevity. As business owners, having mental resilience, being adaptable to last-minute changes, and giving clear direction are key.
4. The one that didn't stop dancing
Lavania Rosie, 37, director and founder of Dance Embassy
When the pandemic hit, studios had to shut and I couldn't do in-person classes. The bulk of my revenue came from corporate. But I was one of the few dance businesses that took my classes online and got featured in the media. I thought I had it under control until my competitors started to offer classes online – some for free. I already had a strong database of students and followers but it wasn't growing.
My husband held the fort as his business was growing exponentially because of the pandemic, but the alpha male in me was restless. I put out content and marketed my classes online. An ex-student reached out and proposed that I – together with Audible, the company she works for – release a Bollywood Dance Fitness podcast.
So, work started. Given that there was no such podcast ever done, this would be the world's first. It was hard work and my firstborn was just a few months old at the time. When I received Audible's check, it was an amount that covered my entire year's earnings – I was very thankful.
I believe that my early pivot of going online, consistently creating content that connected with an audience, and working on collaborations led me to believe that nothing is impossible. We just have to stay true to our craft and be passionate enough to keep working at it.
5. The one with a meaningful community
Elika Tasker, 40, food rebel, nutrition & energy coach, restaurateur & food consultant at Discover Concepts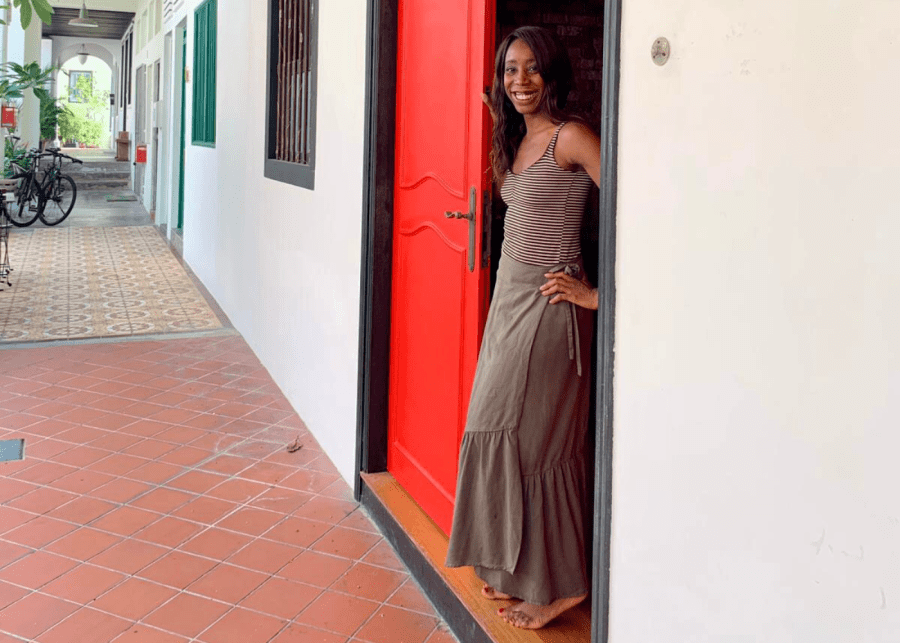 What are the basic needs for optimal health? During the pandemic, we all got a chance to reflect on this. A lot of us started to review more primal needs. Human connection was greatly affected. Social isolation allowed a deep reflection on our relationships and desires to connect with those we love.
This desire and my passion for food got me thinking about how I could support my clients. As a coach for entrepreneurs and business leaders, I was grateful for the opportunity to see my clients work through all aspects of their health – not just the physical.
I felt the bubble of excitement that led me to quit my corporate job and open an organic restaurant. But this time, it wasn't for nutrition education. We were beyond that! It was for the ability to foster meaningful connections through experiences, although food is a supplementary aid. Most of my greatest experiences of meaningful connections revolve around food.
Discover Concepts was born with the aim to build a community of professionals passionate about personal growth not at the expense of their health. The first location, Discover Everton, provided inspiration from its location, as well as a community that nurtured and supported each other consciously with food swaps and giveaways that brought back the kampong spirit. It's gone on to create many micro-communities, from the helpers' nutrition and culinary program to the women's mastermind.
If you're looking for individuals and experiences that support your personal and professional growth, I can't wait to welcome you!
6. The one with a good cause
Henna Thadani, 32, owner and designer at Del Rio Jewels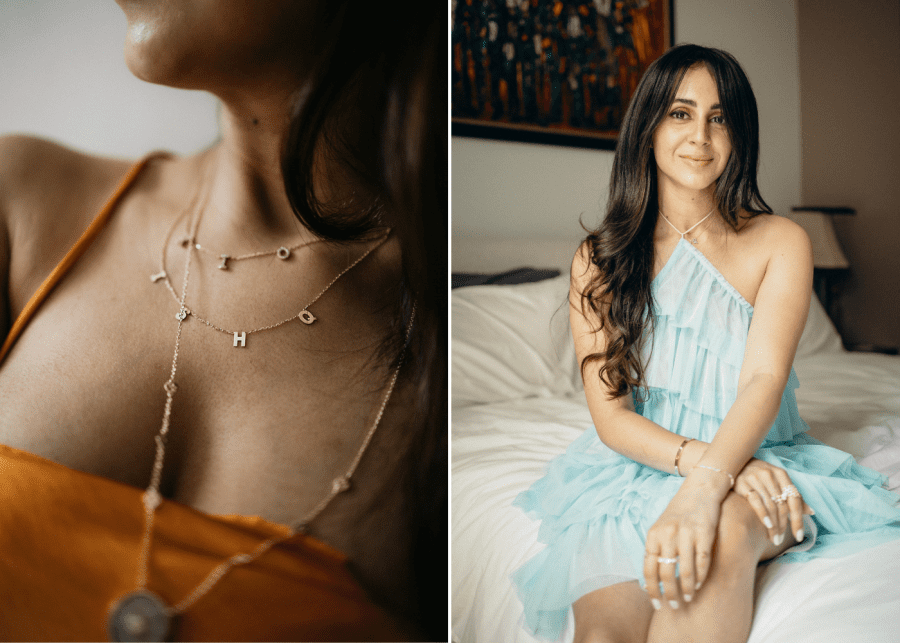 It was rough for all of us during the pandemic. Del Rio Jewels was stocked in a couple of lifestyle stores across Singapore, but since shopping was limited, our online sales skyrocketed because people were staying home and they wanted to feel good about themselves. Jewellery has the power to do just that.
We decided to focus our energy on building a charitable fund through Del Rio Jewels. We held bi-monthly sales of preloved luxury goods on our Instagram and website, and we donated 100% of the proceeds towards helping a child undergoing a life-threatening disease at KK Women's and Children's Hospital. People were staying home more and taking part in those sales as they wanted to be part of something good. We still continue with these sales as part of our permanent programme.
7. The one that boomed online
Pei Shyuan (P.S) Yeo, 42, founder and CEO of Everyday Tour Company
Travel was one of the industries impacted by Covid early on. Being in the tour business, the immediate onslaught was the mass cancellations and refunds for bookings. When it became apparent that it would take a while for tourism to restart, we made a conscious decision to bring our products and services online.
Our virtual tours also evolved with the pandemic. During the stay-home period, they were pre-recorded video clips with live commentary. When it became possible to explore, we did professional live-streaming tours with a host in the studio and guides on the ground. Think of it like live TV news reporting. We also did Singapore Sling virtual cocktail-making classes with super snazzy cocktail kits. Participants learnt the secrets to the iconic cocktail, coupled with a fun trivia quiz and prizes.
Our key learning from this? Rather than looking at peers or partners as competition, look for opportunities to unite, collaborate and offer differentiated products. Everyone is stronger together!
8. The one that built a tribe of dance lovers
Jeevita Pillai, 30, founder of Afrowithjeevi, African dance fitness instructor, sport psychologist
I call Afrowithjeevi my pandemic baby. I'd been teaching Zumba fitness with a tinge of Bollywood and K-pop since 2013. But when the pandemic hit and everything went online, there was something missing in the dance fitness industry – African Dance.
Though I received my African Dance license about seven years ago, I didn't feel ready to dive deeper into it. Thankfully, one of my "nudge queens", Lavania from Dance Embassy, asked if I wanted to teach it virtually. With a bit of hesitation, I said yes. Before I knew it, I was pushing boundaries one step at a time – creating my logo and website and building a tribe of Afrodance lovers.
Ironically, Afrowithjeevi was born when things were so uncertain. The lesson for me? We often run away from uncertainty and try to control the situation as much as we can. But with or without the pandemic, life is uncertain. Embracing that and being curious about it can bring about growth and opportunities.
Feeling inspired yet? If you need expert advice for your business, check out Launchpad, a networking platform that encourages connection, business support and community.