Photography: Raffles Hotel Singapore
Journey with us through the Italian Riviera on a beautiful dining experience at the vibrant Osteria BBR by Alain Ducasse.
Alain Ducasse has a huge reputation. Some say the legendary chef is the best in the world – he's held a total of 21 Michelin stars throughout the course of his career. Of course, I was excited to check out his second stab at the culinary scene here with Raffles Hotel Singapore. Osteria BBR is a rebirth of sorts, opening in 2021 after the closure of BBR by Alain Ducasse during the pandemic. Going from Mediterranean-inspired fare to refined Italian cuisine, Francesco Soletti, armed with stints at Michelin-starred restaurants around the world, now takes the helm as chef de cuisine.
Welcome to Italy: First impressions of the experience
There are many things I loved about dining at Osteria BBR (the list is long). But most of all, I enjoyed having top-notch food and service in an accessible and relaxed dining experience. My experience definitely didn't disappoint!
The setting is casual and modern, with Italian overtones (loved the nice touch with Italian tunes) and a striking, large open kitchen where you can witness multiple chefs hard at work. I loved the 70s retro nod with the orange banquet seating, the colour palette and the design curves. It feels warm and friendly but not overly stuffy. Posh, but comfortable.
As for the food, the selection ranges from antipasti and pasta to seafood, grilled meat and wood-fired pizza.
Osteria BBR by Alain Ducasse review: My honest thoughts
For the best taste of what the restaurant has to offer, we tried the Menu Tentazioni ($128 per person) with a wine pairing (for an additional $98). The sharing meal featured three starters, two mains and two desserts – it sounds like a lot, but everything was perfectly portioned.
To start, we nibbled on Hokkaido sea scallops, beef tartare with parmesan cheese, almonds and carrots, and octopus with bell peppers. Served finely sliced with the tiniest pieces of grapefruit, the plump scallops were a flavour explosion. Personally, I thought the beef tartare was a little overpowered by the strong parmesan cheese, but I'd still give it a strong 7 out of 10. My standout entree? Definitely the octopus. I've never tasted such tender octopus and will definitely be back to experience this again. So worth it.
Moving on to the mains, where we savoured the lobster pasta and beef tenderloin with pumpkin in three ways.  The beef was more a work of art than a meal – totally satisfying, tender and salted with beef jus. Absolute perfection.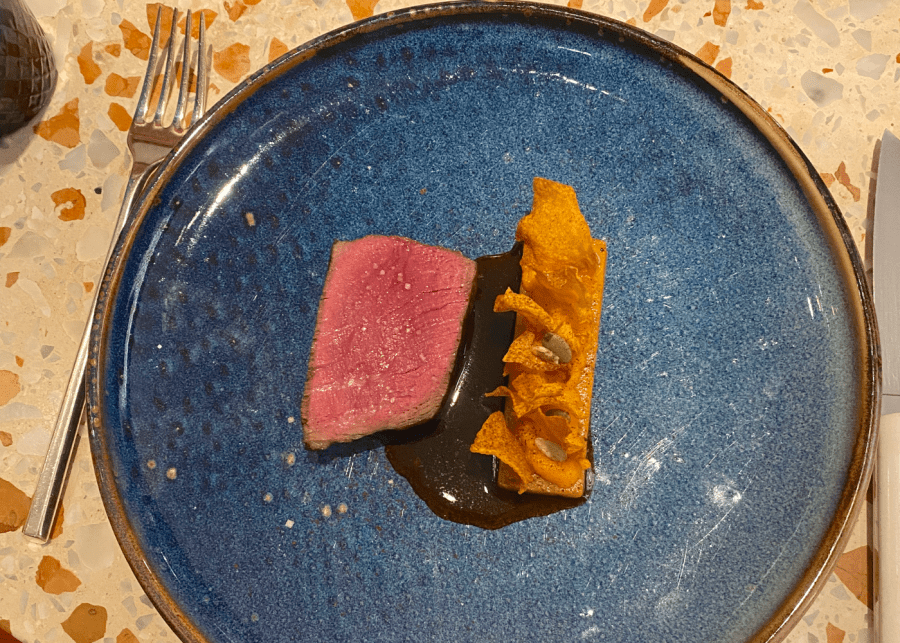 As for the wine pairing, I admit: it wasn't something I'd usually go for. It's always good to start with bubbles, so we enjoyed a non-vintage Italian sparkling, followed by a delightful orange wine (my favourite), and a delish medium-bodied red (Barbera d'Alba). To round it off, we clinked glasses with an amber-hued Jurancon dessert wine and a sweet red Mas Amiel vintage.
I always feel so grown up with a wine pairing, but honestly, I'd have enjoyed the orange and the Barbera d'Alba quite happily without moving on to dessert wines, which I find overly sweet most of the time.
Everything was perfectly matched, and the portion sizes of the food and wine left us satisfied but not completely stuffed, which is the sign of an excellent restaurant in my book.
Finally, for dessert, we enjoyed baba al limoncello, panna montata. That's the restaurant's signature dessert. Quite honestly, it was a pleasantly surprising dish. It's a type of cake that's soaked in a tart limoncello and served with whipped cream. We also had the chocolate and hazelnut composition with coffee undertones. All in all, a completely satisfying end to the perfect dining experience.
This modern and vibrant yet accessible dining experience is one we'll definitely return for. We've got our eye on the set lunch ($39 for two courses) and happy hour deals (from 6pm to 8pm). Both are firmly inked on our 'Singapore to-do' list!
Osteria BBR by Alain Ducasse, Raffles Hotel Singapore, 1 Beach Road, Singapore 189673