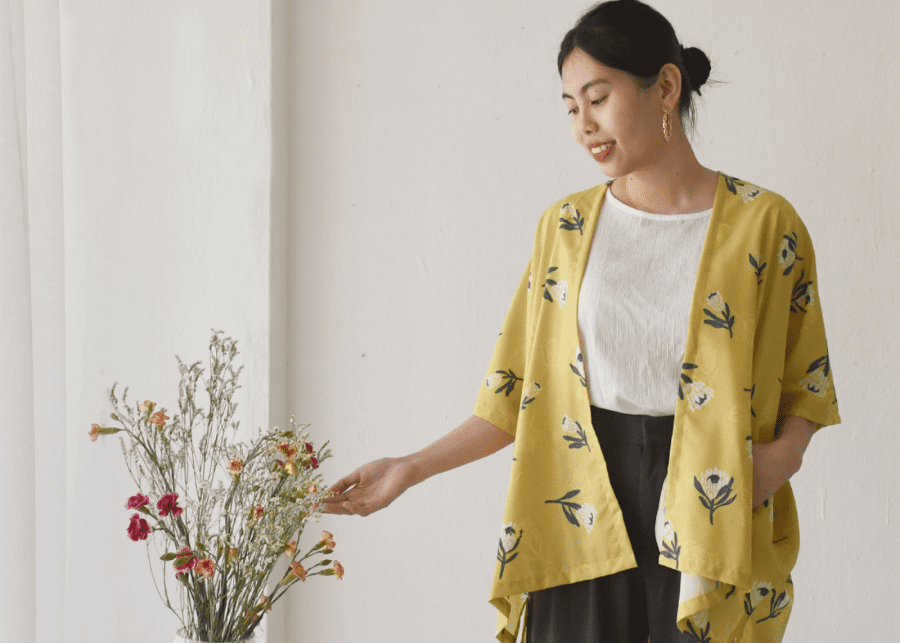 Photography: Weekend Sundries
Add to cart: we're swooning over deals at over 40 homegrown fashion labels like By Invite Only, Weekend Sundries and more, with OCBC Cards
Are you a supporter of all things local, and someone who's also longing for a style makeover? Do both at once, thanks to OCBC Cards. Their latest So Singapore campaign rewards you to shop at over 40 local fashion brands with fabulous deals going at up to 30%. Now, who's in for a marvellous shopping treat?
Weekend Sundries
With threads that scream chic, you're bound to find something at Weekend Sundries. This conscious brand ticks all the boxes: comfort, quality, sustainability, and collections that transcend trends. The textile prints are created in-house so expect locally inspired designs. Even the fabrics are sustainably sourced with eco-friendly materials like organic cotton and Tencel Lyocell. The result? Flowy casual dresses, terrazzo print tops, elegant jumpsuits and Kimono outerwear that are perfect for our tropical weather.
Perks: Enjoy 15% off with a minimum spend of $100 on regular-priced items, till 31 October 2021. Promo code: WSXOCBC
By Invite Only
Never underestimate the power of a great accessory. By Invite Only knows what's up with its beautifully chic range of jewellery. These dainty pieces of wearable art stay far away from nasties like nickel, lead, and cadmium – great for sensitive skin! Take your pick from gold, 925 silver and rose gold finishings.
Perks: Enjoy 10% off with a minimum spend of $80 on regular-priced jewellery items, till 31 December 2021. Valid for both online and in-store purchases.
Promo code: TENOCBC<first 6 digits of OCBC Card number>
Faire Leather Co.
Gentlemen, here's something for you. Get organised while looking suave with Faire Leather Co.'s functional leather bags, briefcases, wallets, cardholders and accessories. Helmed by local creators Joseph and Ryan, the duo manage their own factory with no middlemen involved in the production process. That means competitive pricing for the highest quality leather products. We're particularly sold on the Neo Soft Briefcase – available in burgundy, camel and green, this modern briefcase has compartments for your wallet, business card, phone, tablet, laptop and keys. You'll never forget your essentials.
Perks: Enjoy 15% off sitewide, till 31 October 2021.
Promo code: OCBC<first 6 digits of OCBC Card number>
Nodspark
Have you ever left a nail salon with a minor heart attack because of the exorbitant nail art prices? You won't experience that with Nodspark. Known for being Singapore's leading nail wrap designer, this homegrown label has all sorts of motifs, prints and patterns to dress your fingers. There are even solids, glitter, French tips, cool collabs with leading Asian and international brands, plus a petite selection for kids. We've tried it ourselves and we're happy to report that it's fuss-free and easy to use.
Perks: Enjoy 10% off on nail wraps with a minimum spend of $60, till 31 October 2021.
Promo code: NSOCBC10
Freshly Pressed Socks
Raise your hand if you have an elaborate sock collection. We sure do! Add life to your sock drawer with designs from Freshly Pressed Socks. This Singaporean brand adds fun to an essential apparel, and boy, are they comfy! Celebrate all things local with the label's Singapore Spirit collection. We're talking prints of laksa, nasi lemak, the MRT map, gem biscuits, HDB flats, dragon playgrounds and more.
Perks: Enjoy $12 off with a minimum spend of $60, till 31 October 2021.
Promo code: OCBCFRESH
Terms and conditions apply. Click here for more details and great deals at other local retail brands with OCBC Cards.
This post is in partnership with OCBC Cards.